The New Jersey Nets proved the old adage that you can never count out a veteran squad. Despite a tremendous lack of disinterest for much of the season, the team was able to rally around its star core and push into the playoffs. Despite being outmanned by the deeper, upstart Raptors club, New Jersey used its experience and savvy to beat the Atlantic division champions before eventually succumbing to the will of
LeBron James
and the Cleveland Cavaliers.
Much of the apathy by the Nets this season can be attributed to the obvious age, depth, and frontcourt issues the New Jersey faces going forward. The team made no bones about its interest in trading away franchise-anchor
Jason Kidd
, and while it has postured about keeping
Vince Carter
there is little doubt that the best course of action would be to reshuffle the deck and build on new foundations.
Roster and Financial Breakdown: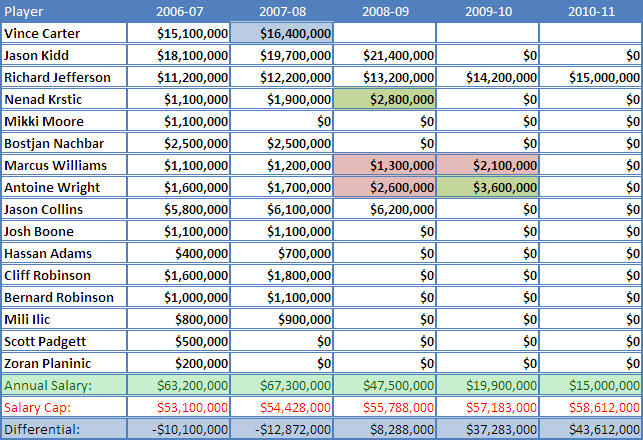 [c](Salary Cap projections were created taking the average increase over the past 5 seasons)[/c]
Record/ Overview:
41-41, 2nd place Atlantic Division, 6th seed Eastern Conference
New Jersey struggled mightily to push themselves above the .500 mark and needed every week of the season to secure themselves a spot in the playoffs. The loss of center/forward
Nenad Krstic
was clearly a major blow to the frontcourt-poor Nets, but there were problems festering prior to that.
Jason Kidd
has captained the Nets attack for the better part of this decade and while he has been masterful in leading his squad to success, the team hasn't had enough to deliver a championship. Kidd will be closing in on 35 coming into next season and while his body is well-maintained it is inevitable that age will eventually catch up to the hall of famer.
It seemed that time and a sense of mortality caught up with Kidd this season and as his urgency for moving on to a championship contender increased, so did the rumors about possible trade destinations. Kidd's on-court demeanor is what drives the Nets team. He keeps
Vince Carter
focused on competitive play and allows
Richard Jefferson
to thrive off the ball. With Kidd posturing as if he had one foot out the door, the Nets as a team struggled to find direction.
With Kidd aging and the current core in somewhat of a transitional period, the Nets would be best served to pick a few of their younger players, Jefferson, Krstic, and Williams, while pairing off the other parts for value going forward.
Current Assets:
The Nets have some quality chips to play with during the offseason. On the higher end spectrum, both
Jason Kidd
and
Vince Carter
have substantial value to other teams. Carter is a free agent, but may be amenable to a sign-and-trade considering the relationship with the franchise.
Jason Kidd
has a sizable contract that is hard to move by rule, but he is highly valued as a player and many teams should be looking to see what they can do to acquire him.
None of the youth of the team has amazing market clout, but
Marcus Williams
showed a lot of promise during an up-and-down rookie campaign.
Bostjan Nachbar
finally emerged as a quality role player, though his 4th year emergence always raises red flags.
Mikki Moore
also took full advantage of his playing time and has certainly established a financial bar for his services.
Antoine Wright
,
Josh Boone
, and
Hassan Adams
don't have much market value themselves, so it's unlikely they would add value to any transaction.
Expiring Contracts-
Vince Carter
has a player option for next season, but it is unlikely that he'll exercise it. Carter is expected to opt-out and look for a new deal. Though both parties have discussed contract extension possibilities, it seems unlikely that the 30 year old Carter would go through a rebuilding phase with New Jersey. It seems safe to say that the Nets aren't in a position to acquire another big man to help them reach contender status, so it's not a stretch to assume Carter and the Nets will part ways.
Bostjan Nachbar
arrived this season as a valuable role player. Nachbar probably earned himself a raise from some team and while he may be valuable as a rotation player, the Nets have more important decisions to make before committing money to additional role players.
Maintaining financial flexibility seems to be more important than committing monies to lesser players at this time. If Nachbar re-signs with the Nets it will most likely happen late in the offseason after New Jersey has made other key personnel decisions.
Hassan Adams
had some excellent moments this past season for the Nets. He's young and talented, so the team will really take a look at him next season if they are transitioning away from their current core. Adams has had some off-court difficulties in the past, but one more year of review on-court could really change his market value.
Josh Boone
began the season on the injured list and wasn't able to get into any sort of a groove. Much like Adams, Boone should get a quality look from the Nets next season before they make a call on retaining him.
Boone was a surprising pick last season at 24, but made some sense considering the presence of Kidd as well as the addition of former teammate
Marcus Williams
. Boone didn't get a real chance to validate the selection because of the time he missed, but he'll probably get another look at low cost next season if the team doesn't find a better option elsewhere.
Bernard and
Cliff Robinson
don't seem to be in the team's future going forward. Cliff is getting close to the end of his productive career and Bernard is one of many young wing players on the Nets roster. Both probably have more value as salary slots to facilitate a trade than they do for the team itself.
Total Cost: $8,100,000
Rotation Players-
Everything begins with Kidd. The Nets can get value in return for Kidd despite his age. The 20 million he'll make in each of the next two seasons will limit the field of suitors, as will the team's Kidd would be willing to play for.
Kidd put up very impressive numbers this season and still has a good 3-4 years left where he could rely on rebounding and passing savvy to captain a team at a championship level, much like
John Stockton
.
Vince Carter
is another player who has decent value on the open market and could return something decent in a sign-and-trade scenario. As a wing, Carter has less value than other positions may and his age doesn't help increase the group of potential destinations. But Carter is still a primary offensive option and has some years left where he'll be successful lead player as long as he doesn't have to be the team leader as well.
Richard Jefferson
has been mentioned in trade rumors over the past two seasons but seems like the player the team would most likely retain based off of his age and position. Jefferson is ideally suited to be a third or second option offensively, but trading Carter and Kidd should help New Jersey to obtain some quality young pieces that Jefferson can grow with in the upcoming years.
Nenad Krstic
also falls into the "build around" boat as opposed to being trade bait. Krstic was well on his way to breaking out for a big season before injury struck, so the case for retention is two-fold on that front.
Most teams will not offer top value in return for a player who missed time with serious injury, instead electing to evaluate recovery on the other team's dime. This is probably best for both Krstic and the Nets as they'll be able to put some exciting complementary pieces around him as he works his way back into form.
Mikki Moore
is the only expiring deal of consequence for the Nets.
Nenad Krstic
's injury allowed Moore to establish himself as a solid rotation player for the first time in his career. The journeyman forward isn't considered a starting caliber player for an aspiring championship team, but he is certainly a qualified backup who can be relied upon to provide some solid minutes for a team.
The Nets are very thin in the frontcourt and will most likely be looking for help in the draft, but depending on the Market for Moore it may serve them well to retain him.
Total Cost: $54,200,000
Prospects-
Marcus Williams
is probably the Nets crown Jewel prospect. Williams was a huge draft day slider last season, but showed the type of playmaking ability that leads one to believe he'll eventually become a quality starting point guard in the future.
Williams and coach Lawrence Frank didn't always see eye-to-eye last season in terms of playing time and defensive commitment. Frank would like to see Williams exert more energy on the defensive side of the court as well as cut down on his high-risk/low-probability passes.
Williams was much maligned last season for being out of condition relative to his peers, so a committed offseason regimen to trim down and maximize his physical potential would go a long way toward getting back into Frank's good graces. Though Williams isn't in terrible shape, making a change in body type ala
Deron Williams
should help Marcus to realize a similar 2nd year leap.
Antoine Wright
didn't have much of a second season after a lackluster freshman campaign. To be fair, there haven't been a tremendous amount of minutes or opportunities for Wright to work himself into a prominent role with Carter and Jefferson dominating the wing position.
Wright has shown promise on the defensive side of the ball and worked his way into solid rotation minutes as a defensive sub. Out of all the complementary wing options on the team, Wright probably still has the most upside as a larger contributor over the last two years of his rookie deal. With the Nets in transition it may be better to simply hold onto Wright and allow some of the pricier options to walk.
Total Cost: $2,900,000
Free Agency
Even if the Nets let Carter walk for nothing the team won't have any significant room under the cap to make a major addition. The team could possibly entertain the notion of retaining both Kidd and Carter and then go hard after a quality mid-level player, but that scenario is not probable given the mid-level market and the teams frontcourt needs.
Players like
Jamaal Magloire
and
Shareef Abdur-Rahim
don't seem to be the type of direction the
Rod Thorn
would be apt to move toward. It is more likely that he'll elect to make some value moves with an eye toward having cap space when the team moves to Brooklyn, which seems the best course of action.
Draft
It's extremely difficult to say what the Nets will target in this years draft. There is quality to be found in the mid-first round, but positional requirements will be determined by what subsequent moves the team makes after June 28th.
It is likely that New Jersey will take the player with the highest physical potential as they are going to want to have assets going into the trade season. There are a multitude of attractive options at slot 17 in this draft, so the Nets should have some bargaining power going forward.
Jason Smith
and
Acie Law
both look like attractive options who could be available when the Nets select. Smith is an amazing combination of athleticism and size, comparable to Yi Jianlin in terms of his face-up tendencies and mobility at 7 feet tall.
Acie Law
has slid in the eyes of many scouts, though impressive workouts could change that quickly. There is tendency for seniors to get overlooked or undervalued while the hype of the lesser-known underclassmen grips the minds of the talent evaluators. But Law is a heady gamer type who has shown clutch tendencies while leading a relatively talent-poor A&M team to great success.