The Orlando Magic got off to a fast start this season, but showed their true colors as the season went on. While the team featured savvy veteran leaders like
Grant Hill
and quality young players like
Dwight Howard
and
Jameer Nelson
, the Magic simply didn't have the talent to finish as well as they started. With
Grant Hill
's contract coming off the books this summer, the Magic will finally find closure to Hill's saga in a Magic uniform and the cap space to be a dynamic player in the 2007 free agent market. With names like
Vince Carter
,
Rashard Lewis
, and
Chauncey Billups
potentially in play, the Magic are in position to come out of this offseason with the firepower to make a run at the Eastern Conference Finals next season.
Roster and Financial Breakdown: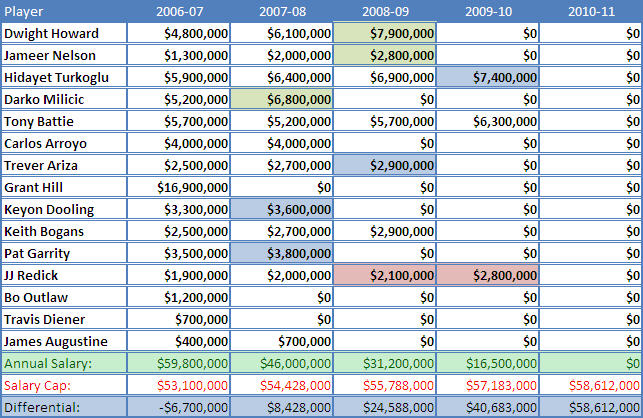 [c](Salary Cap projections were created taking the average increase over the past 5 seasons)[/c]
Record/ Overview:
40-42, 3rd place Southeast Division, 8th seed Eastern Conference
The Orlando brass has been collectively looking forward to this offseason for quite some time.
Grant Hill
's highly-publicized tenure with the team will finally be coming to an end, bringing with it the possibility for the Magic to add a perennial All-Star to play along side
Dwight Howard
. While the Magic will have a lot of important decisions to make in free agency, they will have a number of other tough choices to make including those surrounding the retention of restricted free agent
Darko Milicic
General Manager
Otis Smith
would jump at the opportunity to hang onto Milicic. With a little under $40M currently committed to salaries for the season ending in 2008, this offseason will be one of the most important in franchise history and should provide one of the most intriguing NBA storylines of this summer.
Current Assets:
The Magic don't have much in the way of prospects, but could still find value for what little they do have. JJ Redick probably won't be traded until the Magic are certain of what he can contribute on the NBA level, but teams desperate for outside shooting like Cleveland and Denver would certainly be interested.
James Augustine
didn't see enough time in the NBA to warrant a trade, but his contract will be coming off the books next season regardless.
Along with the unproven Augustine, the Magic will have quite a few expiring contracts at their disposal next season including that of
Carlos Arroyo
. If
Pat Garrity
and
Keyon Dooling
pick up their player options for next season, they will bring the total cap relief the Magic stand to gain to over $10M. Should the Magic fail to sign more than a couple of large contracts this summer, they will likely find themselves in position to be under the cap once again next season. However, they will likely try to spend as much as possible this season, making their expiring contracts all that much more worth trading in the future.
Orlando has the rights of two overseas players, but their potential to contribute in the NBA remains to be seen.
Fran Vazquez
spurned the Magic to remain overseas, but should make a trip across the Atlantic by the end of the decade. Vazquez has put the team in a very unenviable position by signing a four-year contract overseas after seeming like a lock to cross the pond.
Marcin Gortat
was solid in the summer league, and has a legitimate shot and making the team next season. The Pole post man has great footwork, but still needs to add some bulk and polish before he can be a rotation player.
Expiring Contracts-
The Magic have six potential free agents this offseason, only four of which are truly notable.
Grant Hill
's over $16M dollar salary will come of the books, ending the rather unfortunate series of events that have been Hill's stay in Orlando. While his Hall of Fame bound career was derailed by injuries, he is still a very solid small forward. His ankle injuries robbed him of the explosiveness that made him a match-up nightmare, but his court savvy has allowed him to remain effective. It hasn't become clear whether or not Hill will retire this summer, but it seems likely that he will sign on elsewhere and try and win an NBA championship. Phoenix would seem like an ideal fit for Hill, as would Detroit, but don't sleep on him returning to Orlando either. Hill may not want to uproot his family by signing elsewhere, and could return for a fraction of his current contract.
Pat Garrity
and
Keyon Dooling
hold player options for next seasons, but neither seems enthusiastic about opting out. Garrity struggled mightily this season, and wouldn't be able to get a comparable salary on the open market. Dooling on the other hand, may be able to find a suitor, but he has publicly stated that he won't become a free agent. Neither player is a strong candidate to be retained after their contracts expire at the end of next season.
Travis Diener
and
Bo Outlaw
will probably be in the same boat this season, with neither player a lock to be resigned as their deals expire.
One of the most interesting stories of this offseason will stem from the restricted free agency of former 2nd overall pick
Darko Milicic
. The oft maligned Serbian bigman had a career year, and rumblings from the media have him signing a three to five year contract in the ballpark of $8.5M per season. Young bigmen are notoriously overpaid in free agency, and the mystique surrounding Milicic's potential to start playing like a 2nd overall pick may earn him a contract significantly larger than the one he deserves. Will Milicic earn a Nenê-like six year $60M dollar deal? Probably not, but his price could ultimately land in that ballpark. The Magic will be inclined to retain Milicic unless his price gets unreasonably steep.
Total Cost: $30,835,679
Rotation Players-
The Magic don't have an especially strong rotation, but it is heavy with players that get the most out of their abilities. Franchise player
Dwight Howard
is becoming a force on both ends of the court and will become the League's best center sooner rather than later. Howard is set to sign a five year maximum extension this offseason, keeping him in a Magic uniform for the foreseeable future. Howard's sidekick,
Jameer Nelson
, has developed into a quality NBA point guard, but wasn't a perfect fit for Brian Hill's offense. If the Magic hire a coach that wants to implement an uptempo offense, Nelson would have the potential to be significantly more effective. Nelson will be a restricted free agent in 2009, and should be retained. The Magic may pursue a pass first point guard this summer, which could discount Nelson's price when his contract expires.
The Magic's frontcourt features a pair of heady veterans that provide a stabilizing force both on and off the court.
Hedo Turkoglu
started every game he played this season, and is one the Magic's most consistent scorers. His versatility will be valuable next season when he should be playing next to a premier offensive player.
Tony Battie
isn't the most spectacular option in the pivot, but he works hard, and doesn't make a lot of mistakes. Look for Battie to take a backseat to
Darko Milicic
next season if the Magic manage to retain him. Both Turkoglu's and Battie's contracts end in 2010 with Turkoglu having a player option for that final season. Their expiring contracts at that point could provide the Magic with two valuable assets during the 2009 offseason.
The Magic round out their rotation with point guard
Carlos Arroyo
and wings
Trevor Ariza
and
Keith Bogans
. Arroyo may not be retained after his contract expires in 2008 if the Magic acquire another point guard in free agency. His merit as a player is undeniable, but he isn't as effective in the NBA as he is in international play. In contrast, the Magic will definitely try to resign
Trevor Ariza
. He improved significantly this season, and is a jump shot away from being a very effective scorer. Depending on how much playing time he receives, he may be inclined not to exercise his player option for the season ending in 2009. Bogans didn't see a lot of time this season, and should be looking for a new home when his contract expires two seasons from now.
Total Cost: $21,921,420
Prospects-
The Magic don't have many prospects on their roster, but the quality JJ Redick can provide them is intriguing at the least. Possessing one of the best shooting strokes in basketball, Redick failed to live up to expectations this season. After struggling with injuries in the preseason, he had a hard time adjusting to the NBA game. Fortunately, Redick should be prepared for next season when he should find a bevy of open looks playing off of
Dwight Howard
. The Magic's other prospect,
James Augustine
, looked solid in limited NBADL action with the Anaheim Arsenal, but probably won't see his role with Orlando expand unless he blows up in the summer league. Coupling these two players with potential imports
Marcin Gortat
and Fan Vazquez, and the Magic will have something to think about in the coming years.
Total Cost: $1,684,868
Free Agency
The Magic will be one of the few teams with cap space this summer, and have a number of priorities to address this offseason. The team wants to focus its immediate attention, and roughly half of it's nearly $15M in cap space, on signing a premier scorer.
Rashard Lewis
and
Vince Carter
are the two most likely candidates to fill that vacancy. New Jersey has made it clear that they want to sign and trade Carter, and the Magic may field a few of their calls, but probably don't want to give anything away for Carter when they wouldn't have to do the same for Lewis. Unfortunately, Lewis isn't a shooting guard, which is the position that the Magic desperately need to fill. Both players offer dynamic scoring skills, have comparable experience, and would take a ton of pressure off of
Dwight Howard
. However, the Magic will either need to make some sacrifices for Carter, or concede to playing Lewis out of position for this to work.
Chauncey Billups
is has been a name thrown around in the media as a potential target of the Magic, but Orlando may be more inclined to pursue a less expensive point guard. Current Buck
Maurice Williams
would be an ideal fit in Orlando, and coupled with Lewis or Carter, would take the Magic to a different level offensively. Williams is an unrestricted free agent, but may be out of Orlando's price range if even a minor bidding war begins. If Orlando is forced to trade for Lewis or Carter, they may find themselves with the cap room to acquire Williams as well. Signing either one to a max deal straight up would put the team almost exactly at the salary cap level making Williams logistically impossible to acquire.
If the Magic fail to acquire their first choice free agents, there are a number of players they could look to as backup plans. If Lewis and Carter become too pricy, the Magic could try to pry
Gerald Wallace
away from the Bobcats. Signing Wallace would leave the Magic with enough cap space to have a legitimate shot at
Maurice Williams
. If Orlando does sign Lewis or Carter and can't find a way to acquire Williams, they could look to sign the next best pure point guard available,
Steve Blake
. Blake could probably be had for at or near the Mid-Level Exception. The Magic will be investing a great deal in their future this summer, and will try to come away with the best package of talent they can. Once they are done dabbling in free agency,
Otis Smith
will turn his attention to keeping
Darko Milicic
.
Draft
With most of their attention being placed on free agency, the Magic will go into the draft looking to fill out the rest of their roster. The Detroit Pistons will have Orlando's first-round pick as they result of the
Darko Milicic
trade, but the Magic will have two second round picks. Their first pick in the second round (44), will likely be used on the best available guard.
Taurean Green
would be an ideal selection if he falls, due to his ability to distribute and shoot from deep.
Bobby Brown
and JR Reynolds are other options at the point. If the team decides to go with a shooting guard,
Trey Johnson
and
Russell Carter
would both provide depth and experience. With their second pick (54), which they acquired along with
Tony Battie
in exchange for
Drew Gooden
, Orlando should target another swingman.
Joao Gomes
would be a good selection considering his potential, as would a quality combo guard like
Ron Lewis
.