The Toronto Raptors have been arguably the biggest surprise in the Eastern Conference. Their improvement has helped them claim the top seed in the Atlantic Division after finishing 22 games out of that spot last season. Most of the changes that led to this quick turnaround were masterminded by General Manager Bryan Colangelo. His decision to select
Andrea Bargnani
with the 1st overall selection last season continues to look better and better, and the trade he orchestrated for TJ Ford has really helped
Chris Bosh
's development and energized the Toronto offense. The unexpected success the Raptors have seen this season is encouraging, and Colangelo could have the team competing for the top spot in the Eastern Conference sooner rather than later.
Roster and Financial Breakdown: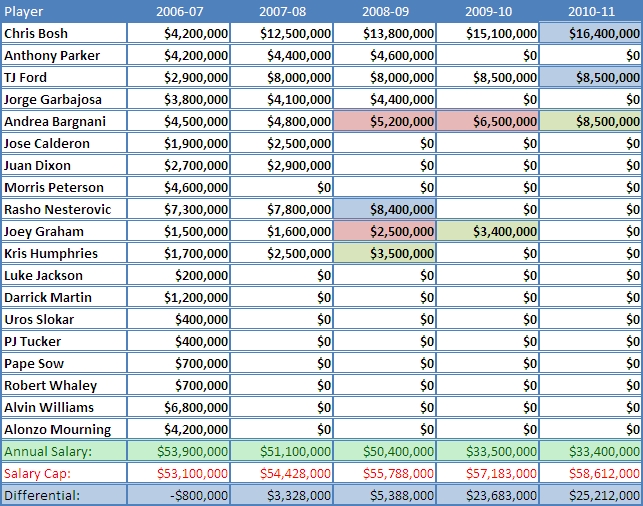 [c](Salary Cap projections were created taking the average increase over the past 5 seasons)[/c]
Record/ Overview:
47-35, 1st place Atlantic Division, 3rd seed Eastern Conference
Parody is largely uncommon in the NBA, as it often takes a franchise a handful of seasons before they turn things around. Bryan Colangelo has helped the Raptors turn things around in just one offseason, and the team will be in position to be even better next season. The team won't have a ton of cap space to work with, but Colangelo should be able to find a way to continue adding pieces.
Current Assets:
There is a nice group of young talent and players with untapped potential on the Toronto roster, and it is clear that they are willing to make moves to add talent. The team could stand to add depth across the board, and could be in the market for a wing in free agency.
Expiring Contracts-
The Raptors have a handful of contracts expiring at the end of the season, many of which are from players who are no longer with the team. Toronto will save 10 million dollars next season when the contracts of
Alonzo Mourning
and
Alvin Williams
finally come off the books, but those saving won't improve the team's cap situation as dramatically as one would assume. With a couple of extensions kicking in, Toronto won't find themselves with a lot of flexibility under the cap. However, they are still elated to finally have the vast majority of their bad contracts terminated.
One of the most sought after players around this season's trade deadline was
Morris Peterson
. The veteran swingman didn't play as much this season as he has in the recent past, but his per minute production has remained consistent with his career totals. This may have indicated that Toronto is trying to keep Peterson for the long run, rather than increasing his value to trade him. Toronto is in possession of Peterson's Bird-Rights, so he should be resigned to a reasonable deal. Whether the Raptors keep him once he is signed remains to be seen.
The contract of
Darrick Martin
will come to an end at the conclusion of this season as well. The well-traveled point guard will probably resurface elsewhere considering Toronto's focus on youth. In contrast,
Pape Sow
and
PJ Tucker
could be brought back simply because they still have the potential to improve. Sow and Tucker performed well in the NBADL, and the Raptors would be well served to try to resign them. They released Tucker midway through the season, so it would be surprising to see him back, but he should find a spot on someone's roster.
Total Cost: $18,987,977
Rotation Players-
The Raptors have a solid rotation, but many of their players are still developing.
Chris Bosh
and TJ Ford have emerged as a great combo, and they are surrounded by savvy players who don't make a lot of mistakes. Recent imports
Jorge Garbajosa
,
Anthony Parker
, and
Jose Calderon
were relatively inexperienced on the NBA level coming into this season, but they still managed to provide the consistent veteran presence that Head Coach
Sam Mitchell
was hoping they would.
Juan Dixon
has put points on the board as expected, while Rasho Nesterovic has been efficiently unspectacular. Moving forward, the Raptors will need to add some pieces to their rotation before they can compete, whether it is through the development of their younger players or through the free agent market.
One of Bryan Colengelo's best moves of last offseason was trading
Charlie Villanueva
for lightning fast point guard TJ Ford. Ford has proven to be the ideal table setter for the Raptors, providing the dynamic playmaking skills that made him the 8th overall selection in 2003. In order to lock Ford down for the long run, Colangelo signed him to an $8M per year contract extension that runs parrellel to
Chris Bosh
's $12M extension. Both players are signed through 2010 and hold a player option for the season ending in 2011, which should prove to be major offseason for the Raptors considering these are two of their most valuable players.
Last offseason, Bryan Colangelo dipped into the overseas free agent market to sign
Anthony Parker
and
Jorge Garbajosa
. Parker, who played three years in the NBA in the late 90's before going overseas, has proven to be a capable contribution from the wing at 32 years of age. In his first year back in the league in nearly a decade, Parker has proven to be efficient in all aspects of the game. Much like Parker, 29 year old rookie
Jorge Garbajosa
has shown the ability to make things happen when the ball is in his hands, and makes smart decisions on the floor. Unfortunately, Garbajosa suffered a horrific leg injury that should slow him down for quite some time. His inside outside presence brought a new wrinkle to Toronto's offense which won't be easy to replace. Both Parker and Garbajosa are signed to extremely reasonable contracts through 2009 when both players should see a small raise.
In the backcourt, Toronto has gotten quality minutes from both
Jose Calderon
and
Juan Dixon
. Calderon has become one of the most efficient backup point guards in the NBA and has proven to be capable of running the point at a high level when TJ Ford is on the bench. At just 25 years of age, Calderon could be in Toronto's long term plans. His contract expires at the end of next season, but the Raptors will have his Bird-Rights meaning he probably won't be going anywhere.
Juan Dixon
, on the other hand, may not enjoy the same luxury. Dixon, who the Raptors acquired from the Portland Trailblazers in exchange for
Fred Jones
, has only one more year on his contract. While he has provided the offensive boost the Raptors were hoping he would, he may be hard for the team to retain him for a reasonable salary when his contract expires.
In the post, Rasho Nesterovic has been a staple of Toronto's starting lineup all season. His numbers haven't been impressive, but his attitude has improved. His contract is rather large for the numbers he is putting up, and he's not going to be getting a similar contract when his deal expires in 2009.
Total Cost: $26,911,353-
Prospects-
The Raptors have three quality young players on their roster, the most notable of which is last season's number one overall pick
Andrea Bargnani
. Bargnani missed the last few months of the season after having an appendectomy, but showed why people believe he has the potential to become elite forward in the future. His size, coupled with his shooting stroke will make him an extremely intriguing player to watch when he returns next season. It is a foregone conclusion that the Raptors will pick up Bargnani's option for the seasons ending in 2009 and 2010. The 2011 offseason could prove to be an interesting one in Toronto, especially is
Chris Bosh
declines his player option.
The other two prospects on Toronto's roster are former first round picks
Kris Humphries
and
Joey Graham
. Humphries, who the Raptors acquired in a trade with the Utah Jazz, played sparingly early in the year, but has shown some improvement late in the season. His next contract will be entirely dependant on how much he improves over the next two seasons.
Joey Graham
has played quite a bit less this season than he did last year as a rookie. While his production hasn't dwindled, it would be encouraging to see him take the summer to improve his perimeter game and come back ready to handle more minutes next season. The development of his jump shot will ultimately determine how productive he can be as a player. The Raptors also signed former lottery pick
Luke Jackson
to a two year deal. Whether Jackson can play on the NBA level remains to be seen, but this isn't the kind of move that has negative repercussions.
Total Cost: $7,870,888
Free Agency
The Raptors will have a little wiggle room under the cap this offseason, but not enough for them to make a big splash in the free agent market. They will be in the market for some front court help, and could use
Morris Peterson
in a sign and trade deal to acquire a bigger name than they originally would have been able to acquire.
Rashard Lewis
would be a great fit alongside
Chris Bosh
and Andrea Bagnani, but the Raptors may not be willing to part with some of the pieces they would have to deal to get him.
If
Morris Peterson
isn't dealt or resigned, the Raptors will have a hole to fill at small forward. If the team decides to pursue a restricted free agent, Aleksandar Pavlovic
Jarvis Hayes
, and Kelenna Azuibuike would be interesting options.
Grant Hill
would also be a welcomed addition, but he is considering retirement and may be averse to playing too far away from his family. The Raptors may not have enough cap space to sign a quality small forward in free agency, but they have the pieces to acquire one through a trade.
In the post, the Raptors will probably try to sign a player that they feel can come in and play a few minutes every night. If the Raptors choose to spend their cap space on a post player,
Chris Mihm
and
Melvin Ely
would both look good providing some muscle next to
Chris Bosh
. Given Bryan Colangelo's propensity to make good moves and the relatively weak free agent class, the Raptors will probably push the envelope and try to acquire someone through a trade.
Draft
The Charlotte Bobcats are in possession of the Raptors' first round pick this offseason, but Bryan Colangelo could opt to trade back in. Players like Aaron Afflalo and
Morris Almond
would look good in the Raptors' system, and probably wouldn't cost the team too much to obtain.
With their late second round pick, Toronto could potentially target an experienced swingman like
Ron Lewis
or Rashawn Terry. If they already acquired a swingman in free agency, the team could take a waiver on a big man like Jamareo Davidson or
Sean Williams
. Depending on how they fair in free agency, the Raptors could have a number of options open to them when they make their selection in the second round.