To help (or possibly hurt) your chances at winning your tournament pool, we bring you 9 notes on the teams we most strongly advise from staying away from in their respective brackets.
Join our NCAA Bracket Pool on Facebook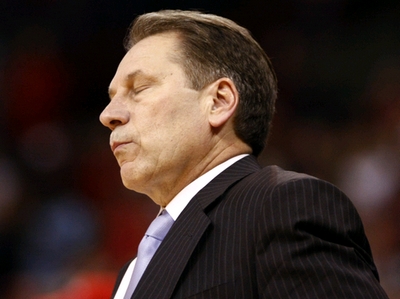 -#2 Michigan State:
Our first rule of thumb is typically "don't bet against great coaches," but unfortunately we need to break that one right off the bat. Michigan State has been able to suffocate the entire Big 10 all season long with their phenomenal defense, but there are a couple of teams in their bracket that are more than capable of giving them too many problems in the frontcourt for them to handle. Southern Cal looks like the first solid candidates, and either West Virginia or Kansas looks like the other depending on who emerges in the Sweet 16.
Raymar Morgan
, the heart and soul of this team, has been a shell of himself as of late (still recovering from walking pneumonia/mononucleosis), and to have any chance at surviving the challenges they're about to face, they'll need him healthy.
-#2 Oklahoma:
The Sooners seem to be struggling as of late, having lost four of their last six games, and some definite red-flags have emerged in regards to their profile as Final Four contenders. For one, Oklahoma is by far the
worst defensive team
of any of the top seeds, something that has proven to be deadly in the past. They seem to be having all kinds of chemistry issues as well, both above and below the surface. Their coach has been forced to bring the hammer down a couple of players (such as
Willie Warren
and Juan Pattillo) for minor infractions, while the team definitely seems to be suffering from an identity crisis in regards to their role players. Point guard Austin Johnson has done a poor job distributing the ball, starting wing
Tony Crocker
has shown horrendous shot-selection, and 6th man Juan Pattillo seemingly shoots the ball every time he touches it as soon as he comes off the bench. It doesn't look like those three have bought into what their role is on this team, which is not a good thing this late in the year. Beyond their inability to get stops on the defensive end, Oklahoma's offense has looked incredibly stagnant, which has made it very easy for teams to clamp down on
Blake Griffin
and neutralize his effectiveness as a scorer in the half-court. Jeff Capel had by far the most talented team in the Big 12 this season, but only managed to finish third in the conference. While he's getting all kinds of publicity for some of the biggest coaching openings around the NCAA, his reputation will take a substantial hit if he can't find a way to take Oklahoma on a deep tournament run.
-#3 Syracuse:
You don't have to tell us about Syracuse's storybook run to the Big East conference finals—we were there in person taking in the whole thing. That doesn't change the fact that this is a team with plenty of flaws, which will likely be exposed as early as the second round against Arizona State. Syracuse is one of the easiest teams a coach has to prepare for, as their game-plan has stubbornly remained unchanged for as long as anyone can remember. Their 2-3 zone is extremely susceptible to a skilled perimeter shooting team, which there are plenty of in their bracket. Like Oklahoma, Syracuse is nothing special on the defensive end, which makes their refusal to ditch the zone all the more confusing. This team also has quite a few players who can be extremely trigger happy, such as
Jonny Flynn
,
Eric Devendorf
,
Paul Harris
and Andy Rautins, and if their 3's aren't falling on any given night, they could be in serious trouble. Considering how many minutes those four had to shoulder this past week, their legs could definitely catch up to them if they aren't careful.
-#4 Wake Forest:
The Demon Deacons clearly peaked too early, and are going through somewhat of an identity crisis themselves. After winning their first 16 games of the year, Wake Forest dropped six of the next 14, and have a rotation that looks to be somewhat in flux. Coach Gaudio has clearly lost faith in the playmaking ability of
Jeff Teague
, and has made Ish Smith his primary ball-handler. This seems to have hurt Teague's confidence, as he's hit just 19 of his last 57 shots in the past five games. Considering that he's Wake Forest's lone threat from beyond the arc, that's not a good sign. While Smith is clearly more of a pass-first point guard than Teague is, he offers so little in the ways of scoring ability and is such a poor decision maker (turning the ball over on 26% of his possessions) that you sometimes wonder just how much they've gained by this move. The fact that Wake Forest becomes so undersized in the backcourt and are forced to bring their best defender (
L.D. Williams
) off the bench really hurts them on that end of the floor too. Considering how young Wake is as a team (not just their players) it wouldn't be surprising at all to see them being knocked off early.
-#5 Florida State:
The Seminoles have had a great run this season, but they have their work cut for them this upcoming weekend. Although they are one of the best defensive teams in college basketball, they could have all kinds of problems putting the ball in the basket against Wisconsin and then likely Xavier, should they advance. FSU's chances depend heavily on whether
Toney Douglas
can find his shooting stroke—if he can't, they'll be in a lot of trouble. Turnovers are a major concern for the Noles, and they just happen to be going up against one of the best in the nation at taking care of the ball in Wisconsin.
-#7 Boston College:
The Golden Eagles, are, as many have already stated, the most over-seeded team in the field, They are nothing short of an awful team defensively, and are incredibly reliant on which side of the bed their best player—
Tyrese Rice
—wakes up on on game-day. Considering that they're facing an extremely underrated USC team that is clearly peaking at the right time, their game against the Trojans looks like a pretty easy game to call.
-#7 Texas
The Longhorns are just 7-7 over their last 14 games, with all of their wins coming either at home or against bad teams. The Big 12 is likely to be exposed in the coming weeks as the most overrated conference in the NCAA, and that will likely start right here against Minnesota. Not having a real point guard running the show is a real Achilles heel in the month of March, and as much as we like
Dogus Balbay
's potential, his 25% turnover rate seems to indicate that he's probably not ready to run the show full time.
Dexter Pittman
's recent play is very encouraging, but he takes away from the thing that Texas does best—which is get after it defensively. The Longhorns have been incredibly streaky from beyond the arc all season long, and they will need
A.J. Abrams
at his absolute best to avoid the "upset" against Tubby Smith's Golden Gophers.
-#10 Maryland
The Terps suffer from many of the same problems as other teams on this list—they are questionable defensively on the perimeter, they are not very efficient on offense, and they rely far too heavily on the merits of one very streaky player (in this case,
Greivis Vasquez
). Cal seems like a steadier choice here, which is not a surprise considering that they are the favorites in this game.
-#12 Western Kentucky
The Hilltoppers seem to be a very popular choice in the dreaded 5/12 matchup that historically always produces an upset, and for good reason, as Illinois' starting point guard Chester Frazier is not expected to play. This is not the same Western Kentucky team that made that terrific run to the Sweet 16 last season, though, as their rock-solid leader and star
Courtney Lee
is starting for the Orlando Magic and their point guard
Tyrone Brazelton
is suiting up for Prokom Sopot in Poland these days. It's true that Illinois will miss the 5+ assists per game that Frazier brought them, but let's keep in mind how tight of a ship Bruce Weber runs—he is clearly their biggest star. Illinois' offense will continue to crawl along as it always does, and it will be their defense that wins them this game. It's not like Western Kentucky's defense is really going to scare anyone anyway.