To help (or possibly hurt) your chances at winning your tournament pool, we bring you 10 notes on the teams we most like in their respective brackets. Stay tuned tomorrow for the teams we most "dislike" in the tournament.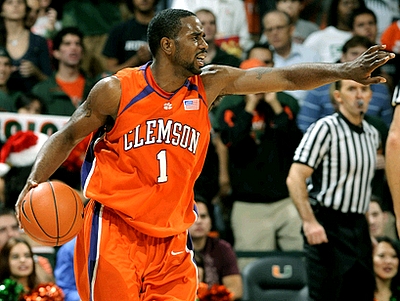 Who We Like
-
#1 North Carolina:
: Not a very original choice, indeed, but this our pick to cut down the nets in Detroit. Lawson's toe was supposedly a problem already before the Duke game, and he looked plenty good there, leading us to believe that this won't be that much of an issue in the tournament. Carolina is the most potent offensive team in college basketball, and with the added intensity that comes along with playing in the tournament, should be at least above average defensively. They have all the ingredients of a championship team, be it a front-court that scores inside and draws tons of fouls, a great point guard, outstanding shooters on the perimeter, a great deal of experience, and a terrific coach.
-
#1 Louisville:
The Cardinals have, in our estimation, the easiest path to the Final Four of any of the #1 seeds. All draftniks should unite in hoping for Wake Forest to make the Sweet 16 so we can witness a potential classic in the making. Louisville is not a great offensive team, but they are arguably the best defensive squad in the NCAA, and should be even better now that
Earl Clark
has woken up in an attempt to get paid for next season.
#4 Gonzaga:
The Zags come into this tournament having won their last 9 games, and for once are actually known just as much for their defense as they are for their offense. Normally we wouldn't trust
Jeremy Pargo
to shoulder the playmaking duties in clutch situations (that hasn't turned out very well this season, but Gonzaga has the luxury of having a big guard in
Matt Bouldin
who is incredibly reliable with the ball and happens to be playing the best basketball of his career of late. It's a shame they'll have to meet UNC in the Sweet 16, cause otherwise we'd have them going even further. We can't rule out an upset here, though.
-
#6 UCLA:
The Bruins are a very popular team to pick against these days—many analysts have them falling to #11 seed VCU in the opening round, and others see them being knocked off by Villanova in the second round in Philadelphia. It's easy to see the logic in that, but we believe very much in experience, defense and superior coaching, which is why we have UCLA advancing to the Sweet 16, where they'll be a formidable matchup against Duke.
-
#6 West Virginia:
We've got the Mountaineers advancing all the way to the Elite Eight, knocking off Kansas and Southern Cal before falling to Louisville. Bob Huggins deserves to win National Coach of the year honors for the job he's done this season, and he's got the talent, experience and especially the toughness to take his team on a deep run.
-
#7 Clemson:
Not only do the Tigers play at a very fast pace, they are also both incredibly athletic and extremely efficient offensively, which should give teams plenty of problems. Add in their full-court press, which draws a ton of turnovers from the opposition, and you're looking at a perfect recipe for an upset. Look for them to knock off Michigan, Oklahoma and Arizona State before calling to UNC in the Elite Eight.
-
#8 BYU
: We've liked BYU ever since we went out to Provo to watch them play against Wake Forest back in January, and they haven't done much to change our minds since then. The Cougars play at a good pace, as they have guards who can create and are unselfish and really execute well as a team, being one of the more fundamentally sound squads you'll find. They are also one of the top-shooting teams in the tournament, both inside and outside the arc, and have a legit star they can go to in
Lee Cummard
if they need a big basket in the clutch. They also defend extremely well on top of that, and have played some good teams this season (like Wake and Arizona State). It's unfortunate that they need to face UConn in the second round (provided they beat Texas A&M), but if there is any team that can knock them off early on, it's definitely the Cougars. UConn has a tendency to get extremely stagnant in the half-court and rely way too heavily on their guards from the perimeter. If
A.J. Price
's shot isn't falling, it could be a long night for Jim Calhoun.
-
#10 Southern Cal
: The Trojans have suffered through a number of injuries this season, but are finally healthy now and are just coming off winning the Pac-10 tournament.
DeMar DeRozan
is playing the best basketball of his young career, and is getting plenty of contributions from the likes of
Daniel Hackett
,
Taj Gibson
and
Dwight Lewis
. Look for USC to knock off the extremely overrated Boston College and then beat Michigan State as well in a slugfest sporting two superstar coaches. We have them losing to another one of our favorites, West Virginia, in the Sweet 16.
-
#11 Utah State
: Utah State's first round matchup with Marquette will be a true clash of styles. The Aggies are one of the slowest paced teams in college basketball, sporting a deliberate motion offense that could really get underneath the skin of an already rattled team like Marquette. Utah State shoots the ball extremely well, does not turn it over, has an excellent frontcourt, and will test Marquette's depth with the way they make them defend the entire shot clock on every possession. Not only will the Golden Eagles be forced to play without their quarterback,
Dominic James
, who is out for the season, they also will be traveling all the way out to Boise, an arena that Utah State is intimately familiar with and is only 300 miles from their campus, within driving distance for their fans. This one looks like a clear-cut upset in the making, as does Utah State's next game, likely against Missouri, who relies incredibly heavily on a full-court press, which may or may not faze Utah State. We have the Aggies advancing to the Sweet 16 and being knocked out by Memphis.
-
#14 North Dakota State
: If any 14 seed is capable of upsetting a 3 seed, it's going to be right here in this matchup between NDSU and Kansas. The Bison won't have to travel too far, it's only 238 miles from Fargo, North Dakota to Minneapolis. Eight of their players are native Minnesotans too, meaning they will likely get plenty of fan support from the local crowd. North Dakota State is a very efficient offensive team who doesn't turn the ball over and is very experienced. They also sport a terrific senior point guard in
Ben Woodside
. Kansas on the other hand is very young and has not been playing its best basketball as of late. Before winning the national championship last season, they had a reputation for being a team that is prone to upsets, as Bucknell showed a few years back.