Before I start this blog, I want to give God the Glory and praise for giving me strength, guidance, wisdom, great parents, opportunities, and health to make it through another season and another day. I had to give God a shout out for his blessings. That's the first thing I always have to do. I would probably be on another path if it wasn't for God and his son Jesus. YA DIG? A lot of people who are reading this might not know me, but I want to thank you for taking five minutes out your day to read my blog once again. You may not know about me and I don't think that's a bad thing. I think it's a wonderful thing because I get the chance to spread my thoughts and experience to you and you don't even know that you're about to be a FAN of
POOH JETER
. To those who already know me, Welcome back!!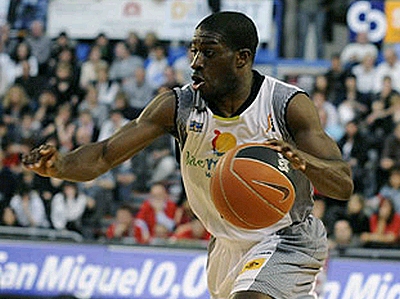 Our team didn't make the playoffs in the ACB, so I've been back home in Los Angeles since Mothers Day. I know, early huh?? Wish I was on a playoff team, but things happen for a reason. I took three weeks off to let my body rest and I started back working with my three trainers June 1st. My conditioning trainer is Laurian Watkins (Pro Skills Sports Academy), Weight lifting coach is Dart Stamps (Training Performance Institute), and Basketball trainer is Danny Walker (D-Walks 360 Sports Training). My workout partner is
Bobby Brown
, not the singer, the hooper, who plays in the NBA for the Minnesota Timberwolves, my cousin Mike Mayo who just signed with Mississippi Valley State, and my other FAM bros and friends.
So I just finished my third year as a professional basketball player playing in the second best league in the world--the ACB in Spain. Time is going by so quick and so fast. I'm getting ready to enter my fourth year as a pro. The main thing is to keep getting better, and better, and better during this process of success. Here's a look at the Resume' so far in my career:
2006-2007
-Signed partial guarantee with Sacramento Kings (released during preseason)
-Signed with the Colorado 14ers in the NBA D-League
-Starting Point Guard in the 1st ever D-League All Star Game in Las Vegas
-Selected Honorable Mention by the league. Voted Rookie of the year by the writers of DraftExpress
-Averaged 26 pts and 8 asts during the playoffs. Team went to the championship game
-Mini camps with Miami Heat and Toronto Raptors -Played Summer League with Sacramento Kings in Vegas and San Antonio Spurs in Rocky Mountain Revue in Utah
-Represented the D- League Ambassadors in China in the Stankovic Cup
2007-2008
-First trip to Europe and signed with BC Kyiv in Ukraine.
-Played in the ULEB cup, now it's called EuroCup. Lead my team in points (14.5) and assists (3.4)
-Lost in the top 16 in the ULEB Cup.
-Team finished in 1st place and went to the championship
-Voted starting point guard in Ukrainian All Star Game
-Voted best point guard in Ukrainian League - Mini Camp with Toronto Raptors -Played Summer League with the Minnesota T-Wolves in Vegas.
2008-2009
-Second trip to Europe and signed with Vive Menorca in the ACB.
-Team didn't make the playoffs.
-#1 in minutes (32 minutes) ACB
-#2 in point guards in evaluations (14.5),
Ricky Rubio
#1, ACB. -#3 in total points (523) ACB
-#6 in scoring (16.3) ACB and averaged 3.1 assists -#7th in steals (1.7) ACB -Averaged 20 plus points against Tau, Granada (28.5pts), Murcia, GBC Bruesa, and Fuenlabrada. - 3rd overall in free throw attempts (147/171= 86%) - Player of the week once against GBC Bruesa
As u look at my resume, you shall see that where ever I play, I improved each and every year as a professional basketball player. I played in the top leagues outside the NBA (ACB, D-League, and ULEB Cup). I'm not trying to sound cocky but I think I showed people that I was one of the top point guards in each league especially that year in the D-League and this past season in the second best league in the world, the ACB. To be the best you have to win and I didn't do that in the ACB.
So what's next? I don't know what God has planned for me for next season. My goal and plan for next season is to get a guaranteed contract with an NBA team. It only takes one team to invest in your skills, so hopefully my resume and the way I play this summer will get the job done. I always played well during summer league, so we shall see how everything goes this summer. I realize that it's not on my time, it's on God time. I just hope that our plans are on the same page.
If the NBA doesn't work out this season, I must go with the plan B option and go back to Europe, which so far has been really good. Hopefully I can go to a winning team that plays in the Euroleague. One thing I haven't done yet is play in the Euroleague, but the ACB has five Euroleague teams and I treated those games like I was part of the Euroleague.
I think playing for a Euroleague team in the ACB is the best of both worlds in Europe, because you're playing against the best players all over Europe and in the ACB. That's what it's all about right?? Winning and playing against the best.
That's why I want to be in the NBA because it's my dream and I want to compete with and against the best players. For that to happen, all I can do is to continue to Keep God 1st, work harder and smarter than my opponents, and take advantage of the opportunities that come way. Proving people wrong is what keeps me getting better. Like Lil Wayne said, "Train all year to be my opponent's misery"!!
NBA DRAFT 09
Spanish players in the ACB that got drafted:Ricky Rubio
- The number one question I get from people is HOW GOOD IS
RICKY RUBIO
? My answer to the question is he is good, but I think if he continues to improve, he will be real good as he gets older. I seen him play a few times this season and I played against him once because he was hurt the first game. I saw how crafty and smart he is in this game of basketball. I think his IQ of the game is what makes him good because he knows where his teammates are at all times. When we finally played against each other, I had 18 points and 4 assists and he had 16 points and 8 assists. He led the league in steals and assists this season. A lot of 18 years don't know the game like he does because he's been a pro since he was 14 years old.
Sergio Llull
- Sergio is a very explosive and quick point guard. I didn't really see him score, but he brought energy off the bench for Real Madrid, especially on the defensive end.
Victor Claver
- To be honest, I think
Victor Claver
is the best pro right now out of Rubio and Sergio. I know people may think I'm crazy for that comment, but hey, it's my opinion.
Victor Claver
is like 6'9; he can score and is very athletic.
I would like to say congrats to those who got drafted. It's an honor and dream come true for all basketball players who get drafted to the NBA. Southern California had a total of seven players that got drafted, like my lil bro
Brandon Jennings
(proud of you bro),
James Harden
,
Jrue Holiday
,
DeMar DeRozan
,
Darren Collison
,
Austin Daye
, and
Chase Budinger
.
To those who don't get drafted, KEEP GRINDING AND DON'T GIVE UP. Like I had to realize, everybody's role in life is different. You, your agent and family now need to come up with goals or steps that will hopefully lead you into a guaranteed contract with a NBA team. Steps will be NBA Summer League, going to training camps, playing in the D-League or Overseas, Mini camps, and back to the Summer Leagues.
It may take one year or even ten years to make it to the NBA. Just make sure you play your best wherever you go, because at the day of the end of the day, you can't blame nobody but yourself with the decisions that you make in life and how you perform on the court.
On another note, my sister Carmelita Jeter is currently #1 in the world in the 100 meters and she just won her first ever USA outdoor sprint title on the 26th of June at the 2009 USA Outdoor Track and Field Championships at the University of Oregon's Hayward Field.
Her time in the event was a 10.72 in the 100 meters. Our last name has the word JET in it for a reason. Hopefully we can be one of the best brother-sister combos in the history of sports. That would be a great goal to accomplish.
Congrats to my bro
Trevor Ariza
for winning the NBA championship with the Lakers. Proud of you bro. Be on a lookout for the Team Jeter page on YouTube. For those who have twitter, add me as a friend. R.I.P. to
Michael Jackson
, the King of Music.
GRACE, PEACE, AND BLESSINGS TO YOU AND YOUR FAMILY. DON'T FORGET THE MOTTO, GET MONEY OR GET LOST!!!