My experience in Europe so far has been real cool. I didn't think it was going to be this cool, but I was wrong. Like I said in the first blog, I play for a team in the Ukraine called BC (Basketball Club) Kyiv . When my agent, Andre Buck, told me that a team in the Ukraine was interested in me, I didn't want to go at first because I really wanted to go to NBA Vet camp and make a team. I had a lot of Vet Camp invites from NBA teams, but they didn't want to guarantee me anything, so I had to go with plan B. My mom always told me to always have an A plan, B plan, or C plan in whatever I do in life, and she is right. Since my A plan wasn't working, I had to go with plan B.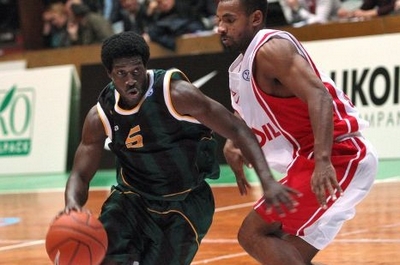 Anyways, I remember my teammate last year from the Colorado 14ers ,
Mike Harris
, always talked about this place in the Kraine that he played for the season before. Then during the Vegas Summer League, I was talking to
Jermaine Jackson
and he was telling me about this one place in the Kraine that he just got done playing with before coming to summer league. So when I called Mike and Jermaine and told them my situation, they both said "POOH YOU ARE GOING TO LOVE IT. KYIV IS POPPIN"!!! After hearing that and talking to my family and friends, I called my agent and told him to tell BC Kyiv to send over the contract because I was ready to sign. I've been here since August, and I just want to tell Mike and Jermaine that they were right, IT'S CRACKIN OUT HERE!!!
Kyiv reminds me of New York City, because there are nothing but taxis out here, and how the apartments and roads are structured. The women out here are BEAUTIFUL. People drive Range Rovers, Maybachs, Bentleys, Maseratis, and even 1978 pintos. I stay right by TGIF Friday, so you know I be there all the time. They have other American food spots called Arizona, SOHO, New York Steakhouse, Sam's Steakhouse, and of course Mickey Dees ( McDonalds). They have a variety of other cultural restaurants that are good also. I have one question, have you heard of chicken soft taco soup??? This one place served us chicken soft taco soup, and my teammate Jacob Jaacks said the chicken soft taco in the soup look like Wolf knuckles.. Hahahahaha..
Our season so far is going real good. We are 12-0 in the Ukrainian Superleague, and 5-2 in the ULEB Cup. That means were 17 and 2 if your math is bad. My head coach is Tomo Mahoric, and his assistants are Bostian Jaske, and Denis Zhuralev. One thing they love to do is practice, which is good, because we're getting better. Our schedule is like this: say we play our ULEB cup game on Tuesday, we rest on Wednesday, then do two a days on Thursday and Friday. The Ukrainian league game is on Saturday, one practice on Sunday, one practice on Monday if we have an away game on Tuesday, but if we have a home game on Tuesday, we would have two a days.
Our two a days practice schedule is like this: Morning practice would sometimes be conditioning, lifting weights, working on some ball handling moves and getting a lot of shots up. Night practice is a lot of five on five drills, and getting more shots up. The two a days are not that bad. I love working out anyway. I'm learning a lot from our coaches, though. Especially how to use the pick and rolls and defending the pick roll. My coaches are helping me improve my leadership skills and showing me ways to run a team. Those are the things I feel I need to get better at. I'm currently averaging 16 points, 4 assists, and almost 4 rebounds per game in the ULEB Cup, which is pretty good, but it can be better. In the Ukrainian Superleague, I'm averaging 13 points and 3.5 assists. My pops told me that I need to step my game up to a higher level if I'm trying to be the best guard in Europe this year, and he is exactly right.
I have to tell you this one story that I experienced while playing over here in the Ukrainian league. We just got done beating this one team on the road, and after the game, the crowd rushes the floor for autographs and to take pictures. Security told the fans that they have to wait till we leave the locker room. So when I left the locker room, I signed autographs and took pictures. This one group of kids asked for a picture and I'm like 'fa sho'. So the person who's taking the picture says 1, 2, 3 and the kids throw up the W and said "WESTSIDE". I couldn't stop laughing. I had them take the picture one more time so we all can throw up W for the West Coast. Tupac, Snoop, and the Game got people in Europe throwing up the W (True Story.)
My Teammates
My American teammates that you probably heard of are Marcus Faison (Siena),
Ryan Stack
(South Carolina), Josh " The Crow" Davis (Wyoming), and Jacob Jaacks (Iowa). Marcus and Jacob been playing in Europe for about eight years. Ryan was drafted by Cleveland Cavaliers during the lockout year. He played 2 years in the NBA and has been playing over in Europe ever since. Josh played in the CBA, in the NBA for about 3 years, and this is his 3rd time playing in Europe. Having Americans on my team in Europe has made my transition so much easier. My other teammates are cool too. 6 players are from the Kraine,
Manu
[Markoishvili] is from Georgia (not Georgia in US. It's a country called Georgia), Kurley is from Croatia, and Mara is from Slovenia. They all speak English and some are teaching me how to speak Ukrainian/Russian. The good thing about this team is that everybody hangs out with each other, and we all want to be WINNERS. This is a good start for our team, but we still have a lot to improve on. Since we started off on top, we have to finish on top in both leagues and be CHAMPIONS. Like Ricky Bobby would say in the movie Talledega Nights, "If you aren't first, you're last"!!!
How I'm Living
The team found me a nice two bedroom apartment, and it feels good having your own place. Especially since this is the first time having my own place. Last year in the D-League, my team stayed at the Marriot Suites which was real cool, but we had to have a roommate. My roommate was my boiii Von Wafer (Denver Nuggets.) The best thing about staying at the hotel was we got Marriot Reward Points staying there from November till May. But now, I got my own place, and I'm sooooo happy. The team didn't give us cars, we all got drivers. Can you say BALLLLLLLIIIINNN (Jim Jones voice)!!!! My driver's name is Art, and he's the coolest dude that I know. He drives a Mercedes MayBach ( just joking, he got a new Toyota Camry, but he keep it clean tho), speaks English, and listens to rap. He wears hip hop clothes, and he loves to cuss.. His favorite word is the MF word and he say that after every sentence. For example, when he's talking to other people he would say 'What up MF' or he would say 'this MF is crazy.' He drove for other Americans and they had to put this American flavor in him. I got him now saying 'YESSSSS SIRRRRR' or even 'WHATS POPPIN!!' We also have maids and you can even have a cook if you want. Life is Good.
Other Americans I played against
Other Americans I played against so far that you would probably know are: Lynn Greer and
Qyntel Woods
(Olympiacos/ Greece),
Luke Recker
and
Quincy Lewis
(Bilbao/ Spain), Shamond Williams, Ruben Douglas, and Fred House (Pamesa Valencia/ Spain),
Tyus Edney
,
Kris Lang
, and
Rodney Buford
(Azovmash/ Ukraine), John Sharper ( Budivelnik / Ukraine),
Lionel Chalmers
,
Mario Austin
,
Reece Gaines
, and Pops Mensah Bonsu (Benetton Treviso/ Italy), Terrance Thomas, EJ Rowland, Matt Frejie, and Rich Melzer (Artland Dragons/Germany), David Young and Terrance Dials (Pau Orthez/ France),
Donta Smith
and Willie Dean (Lukoil Akademic/Bulgaria), Aerick Sanders, Curtis Millage, AJ Bramlett, and Dwayne Broyles (ASK Riga/Latvia), and
David Logan
(PGE Turlow/Poland).. That just shows you that there are a lot of Americans playing basketball all over the world.
The two people that I enjoyed playing against the most were Aerick Sanders and Pops Mensah Bonsu. Aerick and I both went to Serra High School in Gardena, California. When I was a freshman, he was a junior, and he was the best center on the West Coast. He had a lot of D1 coaches come to the school to watch us play and when I saw that, I wanted the same type of attention that Aerick was getting. That motivated me more to be the best. I also played against Aerick in college when he was at San Diego State. Aerick was one of the people that I talked to about coming to BC Kyiv, and I made the right decision thanks to my boiii Aerick, aka Aif Grade. He also wanted me to give Carson, California a shout out, so there it is Aif.
The other person that I want to talk about is my boiii Pops Mensah Bonsu. I played against Pops 2 summers ago at the NBA Vegas Summer League during our rookie year. He was playing for the Mavericks and I was playing for the Kings. We both ended up signing with our teams which allowed us to go to RTP (Rookie Transition Program) in New York. While we were at RTP, people were wondering who was darker between Pops and I.. Everybody said Pops was darker than me, but he wouldn't believe it. So every time I see Pops, we would walk up to people we don't know and ask them who is darker, and they would say Pops. Don't get me wrong, I know that I'm dark. My color is more of a SEXY CHOCALATE. Pops is just BLACK. I told him that his name Pops Mensah Bonsu means Pops is the darkest person on earth. Hahahaha... He once told the referee to give me a tech because I was playing naked, he said that because the Spurs uniform is black. So when you see Pops and I together, be ready to answer the question and I bet you would say POPS IS DARKER.. Hahahahahaha..
Went home for Christmas
I surprised everybody when I went back home for Christmas. I didn't tell anybody that I was coming. Well I told my bro
Brandon Heath
, only because he picked me up from the airport. The first thing that I did when I went home was go to the Barber Shop to cut my fro off. The first thing my barber said was 'DAMMMMNN' (Smokey voice from Friday). He couldn't believe I let me hair grow out like that, but I wasn't going to let nobody touch my crop in the Kriane. I guess Marcus is my new barber, he can cut a lil bit. Anyways, when I left the barbershop, I went back home to the GARRRRR (GARDENA STAND UP) to see my parents and they were sooooo happy to see me. I was happy to see my parents also. My parents are my best friends. I went out that night with my cousin Boobie aka YG Soprano and couple of my friends. We went to Club Suga. Club Suga was poppin that night too. The next day I went Christmas shopping at the Beverly Center with Brandon and
Marcus Slaughter
. We also went to Roscoe's Chicken and Waffles. If you know Roscoe's menu by heart, I got a number 9 (3 wings and a waffle). On Christmas, I got to see my brother and sister, aunties, uncles, and all my cousins. They were so surprised to see me. My aunties made some Gumbo, and u know that was bomb. I left the next day to come back to the Kraine, because we had practice on the 28th. That flight took about 13 hours…GEEEEZ!!
Hope everybody had a wonderful a Christmas and have a great New Year. 2007 is in the past, and now it's time for 2008. Like my bro Ba
ron Davis
would say "CALL 4 HELP 08". The reason why we say that because people better call for help because we are going to be unstoppable in the year 08, like we were in 07... R.I.P. to everybody that didn't make it to see 2008. We all miss you!!! Congratulations to my bro K Breeze and his fiancée Robin. My bro got on one knee on Christmas day. Proud of you guys. Congrats to
Jeremy Richardson
on getting a NBA call up to the Memphis Grizzlies... My bro
Marcus Williams
( New Jersey Nets) is back on the court from injury. Handle ya bizzness bro... So Imma holla at y'all next month. Sorry if my blog is too long, but who cares. Remember, GET MONEY OR GET LOST!!!
GRACE, PEACE, AND BLESSINGS TO YOU AND YOUR FAMILY. REMEMBER TO KEEP GOD FIRST AND EVERYTHING ELSE WILL FOLLOW… HAPPY NEW YEAR!!!