Things been going a little slow out here in Europe since our last game of the first round of the ULEB Cup, which was on January 22nd. Our team has been playing one game a week, so you already know what that means, more PRACTICE (AI voice). I'm not saying practicing is bad at all. As long as we improve and get better on our strengths and weaknesses. Everything will get back moving when the second round of the ULEB Cup starts on February 19th. I'm still out here on the grind, like Cassidy would say.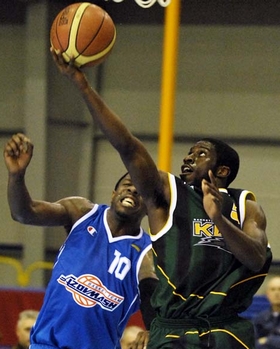 Basketball
Basketball is still going cool. Our team is still undefeated in the Ukraine Superleague (17-0) and we are 7 and 3 in the ULEB Cup. So, if your math is bad, our overall record is 24 and 3 at the moment. We advanced to the next round in the ULEB Cup, which is the top 32 round. Our next opponent is a team from Belgium called Telindus Oostende. I know a couple of Americans that are on the team,
Chris McCray
and
Chuck Davis
. Chris played with the Dakota Wizards in the D-League last season, and I met
Chuck Davis
at the Miami Heat mini-camp last April. Our main goal is to keep GRINDING and WINNING so we can be THE BEST (DJ Khaled voice)!!! Remember, IF YOU'RE NOT GRINDING, YOU'RE NOT SHINING!!! Ya Dig. Other than basketball, life is great. I'm reading Bishop T.D. Jakes book 'Reposition Yourself', which is pretty good. I read one of his books last year called 'Maximizing the Moment' which was good too. I'm also learning how to play the piano. I got a keyboard from the wife of driver, Art. I'm taking free lessons from this lady on the internet, and from this dude name 8th Harmonic. He gives tutorials on how to play songs on Youtube. So far, I learned how to play "Teach Me" by Musiq Soulchild. I'm currently learning how to play Alicia Keys' song "No One." People calling me JOHN and I'm not even a LEGEND yet on these piano keys. Hahahahaha.
Night Life
The night life out here in Kiev is cool. When we have a day off, sometimes my teammates and I go out the night before to the club or something. Our team hangs out a lot when we have time away from basketball, which is a good thing for team chemistry. I had to stop going to the Techno parties, though. I tried it out in the beginning of the season with teammates, and I came to the conclusion that Techno music is not for me. No disrespect, but I can't handle all that noise. People be grooving to the Techno music. I don't know what type of dance moves they be doing, but they be having so much fun. I saw this one chick do some matrix move at the techno party. You know the move when they lean all the way back with the head touching the ground. I've seen some other ones do some crazy karate moves. Techno music is something that I didn't grow up to. I can't do the Penn State, butterfly, or the Yung Joc dance to techno music. People can probably do the Running Man or Roger Rabbit to it though. They have some parties where they play Rap and RnB music. They play all the new music which is good. They love playing that Soulja Boy song "Crank That". I did the Soulja Boy dance at the club, and the people there were so amazed. If I had the time, I would teach people how to do dance moves to songs. I should come out with a video and sell it for $19.99.
All-Star
I want to say congrats to all the people participating in all the events during All-Star weekend. My bro Ba
ron Davis
didn't make the West All-Star team. He is having a great season, but the West is loaded with point guards:
Steve Nash
,
Chris Paul
,
Deron Williams
, and
Tony Parker
could all be all-stars.
Chris Paul
had to make the all-star team, because his team is the best in the western conference and, he's averaging 20 points and 10 assists.
Steve Nash
had to make the all-star team because his team is also winning, and he leads the NBA in assists. And don't forget about the back to back MVP awards. Last year in Vegas, I got the opportunity to participate in the D-League All-Star game during all-star weekend. One of my goals last year was to represent the Colorado 14ers in the first ever D-League all-star game, and I ended up being a starter. That's history right there. I wasn't the only person representing the 14ers, my teammates
Elton Brown
, Von Wafer, and Rick Rickert were all-stars too. Our coaches (
Joe Wolf
and Kent Davidson) and trainer (Mark Morrissey) were the all-star coaches for the West team.
Before I left to go to Vegas, I got a call from NBA TV saying that they wanted to do a story on
Will Conroy
and I during all-star weekend for the first ever D-League All-Star game. I was too pumped when I found out. When I got off the plane in Vegas, the camera crew was waiting for me at the gate for the action. So when I was walking through the airport, a lot of people were wondering who I was. People were asking me if I was
Nate Robinson
or
Earl Boykins
. This one kid came up to me and asked me for my autograph, and after I signed it, he said "Thanks Reggie Bush". I played well in the all-star game, but we lost to the East team. A lot of my friends and family came to support me. I got a chance to get my parents interviewed, which was cool. I got a chance to thank them for everything they have done for me on TV, which was great. Later on that night,
Dijon Thompson
and I went to the NBA Players Association Party, and it was POPPIN. Party was packed. Mary J. Blige and TI performed. I had too much fun during all-star weekend.
Here are my predictions for the All Star events:
Slam Dunk Champion -
Jamario Moon
3-point Champion-
Peja Stojakovic
Skills Challenge-
Chris Paul
Rookie vs. Sophomores- Sophomores (Rudy Guy MVP)
East vs. West- West (
Kobe Bryant
MVP)
D-League All Star Game- Red team (
Dwayne Mitchell
or
Elton Brown
MVP)
Economics
If you didn't already know, European money is stronger than the U.S. Dollar. The U.S. dollar equals to 69 cents in Euro money right now. For example, say a person from the States travels to Paris, France. If the person wants to exchange a $100 dollar bill into Euros, he/she would get back 69 Euros. Before, the American dollar was stronger than all the other countries, but now it's different. The European and Canadian money is more than the American dollar. Ukraine doesn't use Euros. They have their own money called Hryvnia. The American dollar is stronger than the money out here. $100 dollars will convert to 500 of their money.
It's real expensive out here though. I don't buy any type of clothing in the Ukraine. If you don't already know, I love Lacoste clothing. I have almost every color Lacoste polo shirt that's been made. When I first came out here, I saw that they had a Lacoste store, and I was too excited. I went in the store and saw some shirts and jackets that I haven't seen in the States. I grabbed a couple shirts and took them to the counter, and when the lady totaled everything up, it showed on her calculator 600. I said to myself O Yesss Sirrrr!!! I gave her 600 in Ukrainian money, which is $120 American dollars, and she looked at me like I had dog crap on my forehead. She meant $600 in American money. I said to myself "U GOT TO BE KIDDING ME". I told her that I will be right back, but I never returned. I couldn't believe that it cost $300 dollars for a single polo shirt. Back home, Lacoste shirts range between $70-80. I thought I was getting a deal, but I was wrong.
My sister Carmelita Jeter been doing her thang on the track field. She won her last event in the 60 meters at the 101st Millrose Games in New York. She ran the 60 meters in 7.29 seconds. Her next race in the 60 meters will be on February 17th at the Tyson Invitational in Arkansas on ESPN at 2 pm west coast time. Our last name has the word JET in it for a reason. Proud of you Lita.
Stay tuned for my next blog. I will start taking pictures so you can how kool it is in the Kiev. Happy Valentines to my Valentine. I would say her name but that is none of your business. Ya Dig… I would like to give a shout out to everybody that's GRINDING and doing something in their life. If you're not doing anything, what are u waiting for? 2008 is here. Don't forget the motto that I got from cousin YG $oprano, GET MONEY OR GET LOST!!!
R.I.P. to my Grandma Ethel White. Feb.12, 2005. She was the one who gave me my nickname Pooh. It's been 3 years since you been gone. Everybody in the family misses you and loves you. I forgot to say R.I.P. to Brain Marshall and to Dennis Thompson Sr last month. Keep watching over us our angels.
GRACE, PEACE, AND BLESSINGS TO YOU AND YOUR FAMILY. REMEMBER TO KEEP GOD FIRST AND EVERYTHING WILL FOLLOW. GOD IS GOOD ALL THE TIME AND ALL THE TIME GOD IS GOOD!!!