Jacob Eisenberg
As a 6-foot junior at a small rural Western Kansas high school,
Ron Baker
's college basketball prospects were uninspiring. He received overtures from a few distant mid-major programs (South Dakota State and Arkansas-Little Rock, reportedly) and a handful of other Division II and Junior Colleges. Then, in the summer going into his senior year, Baker unexpectedly grew three inches. Suddenly, the three-sport athlete who excelled at shortstop and quarterback saw a real future as a combo guard, and decided to focus exclusively on basketball.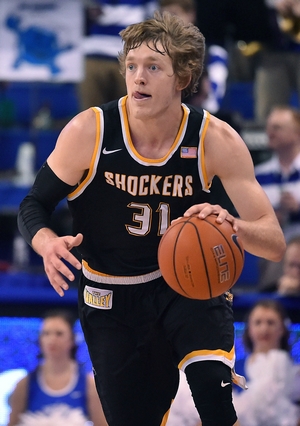 Still, with so many question marks regarding his lack of experience against high-level competition, Baker eventually had to agree to pay his own tuition and redshirt in his freshman year, in exchange for a walk-on spot at Wichita State. Five years later, the decision appears to have paid off: Baker finished his decorated career as a Shocker with NCAA Tournament wins in each of his four seasons as an active player and a Final Four appearance as a redshirt freshman.
Baker sat out much of his redshirt freshman season at Wichita State with a stress fracture in his left foot. Upon his return in the Missouri Valley Conference Tournament, Baker's shooting gave Wichita State a needed-boost en route to the team's eventual Final Four run. Baker showed exceptional poise as a second-year freshman, scoring 16 points along with timely shooting as the Shockers took down #1 seed Gonzaga in the Round of 32.
Baker broke out as a can't-miss player for Wichita State in his redshirt sophomore season. He was named to the All-Missouri Valley Conference First Team, and helped lead the Shockers to a perfect 35-0 record to start the season. Baker's versatility and efficiency on both ends of the floor laid the foundation to his claim as one of the best two-way shooting guards in the country, a title he's held onto for the last three years at Wichita State.
At 6-4 in shoes, Baker may be undersized for the shooting guard position at the next level. However, with a 6-9 ½ wingspan and a 222-pound frame, he makes up for his lack of height with length and strength.
Baker is a solid scorer but isn't necessarily a gunner on the offensive end of the floor (18.2 points per 40 minutes pace adjusted). Still, with a career 58% True Shooting Percentage, he's a very efficient scoring option nonetheless.
From a mechanical perspective, Baker should be a better shooter than his career 36.5% 3P% suggest, one of the biggest reasons his NBA stock hasn't quite got off the ground the way some may have expected. He has a compact and quick release accompanied by sound balance, which makes him a theoretical nightmare for opponents to defend in catch-and-shoot situations. His outside shots just haven't fallen as regularly as you might hope, though, particularly this past season, as he hit just 40-of-118 catch-and-shoot attempts (33.9%) per Synergy Sports Tech.
Baker's shooting represents a key factor in whatever role he might play in the NBA, so it's fair to say that his inconsistency registers as a red flag in scouts' eyes. Regardless, he remained an above-average shooter and demonstrated a consistently passable efficiency in difficult shooting situations. Per Synergy, Baker shot a respectable 36-for-97 (37.1%) on jump shots off the dribble.
To his credit, while his shooting regressed, Baker found other ways to positively impact his team's offense. Most obviously, Baker took on a more ball-dominant role for the Shockers – seeing his assist rate increase from 16.9% as a junior to 21.5% as a senior. Baker's also extremely efficient as a secondary ball-mover, rating as one of just five players in DX's top-100 database who averaged more than 4.0 assists per 40 minutes pace adjusted while posting a turnover rate of 11% or lower.
Baker's ball movement largely goes under the radar but it's a definite NBA-level skill. He's remarkably ambidextrous with his passes, consistently throwing pin-point assists around the court with either hand. He's unselfish, moving the ball without hesitation and he has a point guard's vision when it comes to identifying the open man in split seconds. He's a talented entry-passer into the post and is capable of grabbing a rebound and leading a break on his own, though he is seemingly reluctant to push the ball in transition (only 13.1% of his possessions came in transition, per Synergy.)
One of Baker's biggest advantages leading into draft season is that he's an incredibly intelligent player. He plays within his means, has a stoic demeanor on the court, and shows excellent discipline and chemistry alongside his teammates. He's also one of the best off-ball cutters in the nation and consistently beats defenders backdoor for open finishes at the rim.
Still, Baker has his shortcomings on offense. He doesn't create much offense for himself in the half-court (he got to the rim just 1.7 times per game, per Synergy) and struggles to finish in traffic against long-armed defenders. Against athletic defenses, Baker's half court offense is largely limited to spot-up and pull-up jump shots from the perimeter. He'd benefit by adding a floater to his repertoire as it's clearly lacking. Still, he shows flashes of savviness with his touch in tight spaces, as he finished the season converting on 34-of-58 (58.6%) field goal attempts around the rim. He does shy away from contact at times but still attempted a respectable 4.8 free throws per 40 minutes pace adjusted – hitting on 78.4% of his attempts from the stripe.
Turning the corner on drives against NBA-level defenders will prove to be difficult for him, as he's just an average ball handler and possesses below-average quickness. Those problems will steer him toward settling for even more jumpers at the next level, which further demonstrates the need to get his outside shot back on track.
On the defensive end of the ball, Baker's progress year-to-year has been encouraging. He's highly alert and has a tremendous ability to read/disrupt passing lanes. Physically, he's long and strong enough to survive switches on most players for short spurts. His closeouts are thorough and he's a successful shot-contester on the perimeter. Moreover, his hustle and length make him a dynamic defender: Among prospects in the DX top-100 database, only Baker,
Ben Simmons
and
Kris Dunn
averaged 2.0+ steals per 40 minutes pace adjusted, 0.7+ blocks per 40 minutes pace adjusted, and 6.0+ rebounds per 40 minutes pace adjusted.
Unfortunately for him, his lateral quickness will always be tested against NBA-level athletes and it remains to be seen how successful he can be defending quicker opponents when he's isolated on a spaced-out NBA court, particularly if asked to match up with point guards.
Perhaps the biggest thing working against Baker is his age. He turned 23 in March, so he's already one of the oldest players in the DX top-100. Scouts really would've loved to see his shooting improve from good-to-great in his final year as a Shocker, but it simply didn't happen. He'll need to impress scouts in workouts with his shot if he hopes to make them overlook his multi season-long plateau.
Overall, Baker has certain intangibles that should attract the attention of NBA teams. He went from an unheralded recruit to one of the top players in the nation within a three-year span and has an interesting combination of offensive skills and defensive savvy to potentially succeed as a role player in the NBA. His age, average ball-handling and athleticism, and shooting plateau will likely work against him in the draft process. Still, with his feel for the game and tangible role-player assets, he should receive some looks and will have a real chance of making a NBA team.