Many people questioned the risk Oklahoma City Thunder GM Sam Presti took on draft night, making
Russell Westbrook
the 4th selection in the NBA draft, a few positions ahead of where many thought he should go. There were questions about what position he'd play in the pros, and many saw him as a project player given the still developing skill set he showed while at UCLA.
Fast forward nine months, and it looks like another in a quickly growing line of excellent decisions made by the Thunder GM, as Westbrook has put all those doubts to rest in impressive fashion. Oklahoma City's starting point guard has been arguably the best rookie in the class to date, even though he just turned 20 in November and is only three years removed from being seen as just a mid-major prospect. In the fifth installment of our new "Rookie Retrospective" series, we'll be taking a look at another future star right in the thick of the Rookie of the Year race.
Rookie Retrospective: Russell Westbrook
Point Guard, 6'4, 1988, Oklahoma City Thunder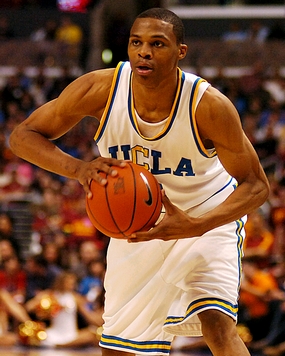 Season-to-date: 15.0 points, 4.9 assists, 4.4 rebounds, 3.1 turnovers, 1.4 steals, 41% FG, 31% 3PT, 81% FT

Since 11/22/08*: 16.0 points, 5.5 assists, 4.8 rebounds, 3.2 turnovers, 1.5 steals, 45% FG, 33% 3PT, 80% FT
*Scott Brooks was promoted to Interim Head Coach on this date, when he made substantial changes to the team's rotation and the players' roles, which clearly affected Westbrook.
Part One: Attacking the Basket
Then:
Offensively, Westbrook's biggest source of production (nearly 30% of his offense) curiously comes in transition. He plays a fairly small role in UCLA's half-court offense (only 8% of his offense comes from either pick and roll or isolation plays), mostly as a complimentary piece—moving off the ball trying to find holes in the defense to get to the rim with his tremendous strength and leaping ability, or shooting wide open jumpers. It's pretty clear when breaking down his footage that he lacks quite a bit of polish on this end of the floor, even if he is extremely effective at the few things he does well.

Westbrook's ball-handling skills are fairly limited, as he has the ability the beat players off the dribble with his tremendous first step going left or right, and is solid getting to the rim in a straight line, but he struggles when trying to do much more than that. He lacks the advanced dribbling skills needed to create his own shot and change directions sharply in the half-court (for example at the end of a shot clock), and thus often looks a bit out of control when dribbling in traffic, forcing him to flip up some awkward shots at the rim. It's not uncommon to see him called for various violations in the rare occasion that he tries to go out and make something happen on his own, be it traveling calls, palming or offensive fouls.
NCAA Weekly Performers, 3/4/08—Part One
Now:
A role player who made his living in transition in college, Westbrook has blossomed outside of the confines of Ben Howland's slow-paced system. He's quickly been thrust into a very large role on the Thunder (2nd on his team in usage, 29th in the entire league). Compared to before, he still gets a large amount of his offense in transition (24%), however he has taken a much more central role in the half-court, now having 49% of his total offense come from isolations and pick-and-rolls.
Westbrook's transition to the NBA game has been accelerated due to his tremendous physical abilities, as he's nearly 6'4 with long arms and one of the quickest first steps in the league. In addition to this, Westbrook has shown an immense learning curve over the past four years (including this offseason), going from a player who was only being recruited by mid-major colleges to now being a starting NBA point guard.
Compared to what we saw 11 months ago, while Westbrook still lacks some notable polish in the finer areas of his game, he's improved on his advanced ball-handling skills, while really thriving with the various opportunities he now has to attack in the half-court. Many of Westbrook's drives start coming off high screens or just simply using his first step to get past man in isolation, but he's also developed a very strong crossover and double crossover to take his man off balance before exploding past. In addition to that, he makes good use of a hesitation dribble in stride, though he still doesn't fully exploit his ability to change pace.
Once in the lane, he shows good ability to contort his body and move the ball around to elude defenders, but he's not great at changing directions just yet, lacking some advanced ball-handling skills in traffic. These deficiencies can lead to turnovers on drives when Westbrook tries to do too much, or an ill-advised foray into a rotating defender who he's unable to shake.
In addition to his outstanding first step and high top speed, Westbrook explodes very well vertically, which helps him in this area of his game. When he doesn't have a clear path to the rim, Westbrook shows good body control and the ability to absorb contact, along with a fearless, attacking mentality. Westbrook's finesse game in the lane could still improve, however, as he's prone to rushing his lay-ups and his floaters have inconsistent mechanics, looking sloppy and unfocused at times, leading to inconsistent results.
Westbrook still thrives the most attacking the basket in transition, where he possesses elite top-end speed, leaks out well, and makes great use of all his physical tools in space.
Part Two: Shooting
Then:
As far as his jump-shot is concerned, Westbrook is mostly a catch and shoot player, hitting only 18 3-pointers on the season (on a 34.6% clip), usually on open looks, in rhythm and with his feet set. His release is not the quickest or most fluid around, and he lacks accuracy when rushed or forced to shoot off the dribble. He has the potential to improve here, but his touch at the moment looks fairly average. In terms of his mid-range game, Westbrook doesn't show great polish here either, as his shot is a bit flat, and he doesn't always take advantage of his terrific leaping ability to create separation from his defender with his pull-up jumper. He seems to be showing more and more sparks as the season moves on here, though.
NCAA Weekly Performers, 3/4/08—Part One
Now:
Westbrook's jump shot has progressed nicely over the past year, as he's shooting similar percentages in the pros despite taking many more of his shots off the dribble and having to adjust for the NBA three-point line. His shot is still clearly a work in progress, however, and if there's any aspect holding back his game at this point, his jump shot is it.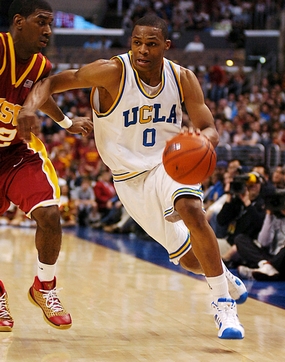 Looking at his mechanics, Westbrook has a nice foundation in place, though still has some work to do on execution. His shot isn't far from textbook form, possessing a high release with decent quickness, while getting good arc and rotation on the ball. Westbrook struggles consistently doing some of the little things, however, like squaring his body to the basket, holding his follow through, and keeping a wide base on the ground, leading to some sloppy-looking shots and some bad misses. These struggles are more noticeable off the dribble or when rushed, but he's coming along.
There is one reason to be optimistic about Westbrook's jumper, and that's his improving free-throw percentage. He shot an abysmal 55% at a freshman (on a small sample size), 71% as a sophomore, and now 81% as a rookie in the league. This type of increase usually foreshadows an improvement in shooting from the field, but it's important to point out that Westbrook's free throw form isn't quite the same as his jump shooting form, as he has a noticeable hitch in his free throw form, cocking back his forearm, which only occasionally shows up in his jump shot.
Westbrook's biggest priority moving forward should be working on his jump shot, and given his learning curve, it's not hard to expect results in the future. Improving his jumper will indirectly improve all other aspects of his offensive game, and it must be said how impressive it is that he's excelled so well in other areas when teams don't need to fully respect his shot just yet.
Part Three: The Pick-and-Roll
Then:
There is no analysis in the DraftExpress database on Russell Westbrook's pick-and-roll game in college. As mentioned earlier, only 8% of his offense came from the pick-and-roll in college, so it's not something we were able to accurately evaluate.
Now:
One of the most impressive aspects of
Russell Westbrook
's emergence has been his prowess in the pick-and-roll game, something that accounts for 33% of his offense on the season. Even though teams frequently will send their guard under the screen, daring Westbrook to hit an open pull-up jumper, Westbrook has excelled with versatility running the pick-and-roll, a staple of the Thunder's offense.
When teams do go under the screen, Westbrook has been formidable enough pulling up from deep, hitting 31% of his threes on the season. However, teams would much prefer that play to Westbrook exploding off the screener to the rim, where he takes full advantage of his outstanding acceleration. What's really impressive is that Westbrook will often have success doing just that even when the defender plays off him.
As a passer, Westbrook sees most of his success from the pick-and-roll game, where he does a good job keeping his head up and surveying the options, showing no evidence of tunnel vision at all. Over the course of the season, he's hit his screener rolling to the rim or popping out onto the perimeter, has hit cutters going to the rim from the opposite side of the floor, and wisely will reset the screen when nothing emerges on the first try. There are some instances of him trying to thread too small a needle, but nothing you wouldn't expect from a rookie.
Going back to his jump shot, this is the area of his game that would most benefit from the improved jumper, as it'd make the pick-and-roll that much more dynamic a threat, forcing defenders to pick their poison. His success in this area is especially impressive given his lack of a jumper and because many of his screen-and-rolls are run with not-so-threatening offensive players such as
Nick Collison
.
Part Four: Point Guard Skills and Court Vision
Then:
As a point guard, Westbrook is not an instinctive playmaker, but is very much capable of bringing the ball up the floor and getting his team into its offense. He is smart, patient, and highly unselfish, and possesses the court vision needed to find the open man without hesitation, picking up quite a few assists just by getting the ball to the right place in UCLA's half-court sets. He lacks some creativity when it comes to improvising outside of his team's offense, though, and it's here that his inexperience running the point guard position, along with his average ball-handling skills, seem to show the most. It should be noted that despite his very high assist totals (4.6 per game on the season, compared with just 2.7 turnovers), when taking into account only the most competitive games UCLA was involved with (the eleven which finished within a 10 point margin), his assists per game drop to 3.2, while his turnovers remain at 2.7.
NCAA Weekly Performers, 3/4/08—Part One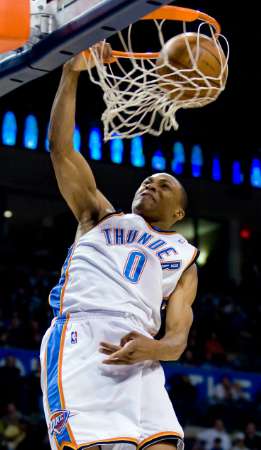 Now:
Russell Westbrook
's roles in the NCAA and the NBA could not be any more different, and it's obviously most evident in this area of the game, where Westbrook is already his team's starting point guard, and the team has been quite competitive since he took on that role, relative to where they were before. It's also worth noting that the team is definitely not playing well in spite of him either, as his 16.39 PER ranks 16th among all starting point guards in the league, and that includes his abysmal play prior to Brooks' takeover.
While Westbrook has obviously excelled thus far, it must be pointed out that he's still a quite limited point guard, and that can be most evidenced by the fact that
Earl Watson
leads the team in assists per game over Westbrook, coming off the bench and playing 5 less minutes per game. Since
Scott Brooks
has taken over, he's done a very good job of putting Westbrook in positions where he is able to excel, while also surrounding him with players who can help mask his weaknesses.
When Westbrook is the team's primary ball-handler, he brings the ball up the floor and initiates the team's offense, and is also capable of dishing out assists in a variety of ways. Most of them come off the pick-and-roll, however he also finds open shooters, shooters coming off screens, and makes quick, simple drive-and-kicks, taking a few steps towards the basket, but kicking out to the perimeter just as the defense starts collapsing on him. Just as Westbrook doesn't really have the advanced ball-handling to weave through the lane on his dribble-drives, he too doesn't do much creating off deep penetrations into the lane, not yet being skilled or poised enough at the point to do it consistently with success.
In terms of court vision, Westbrook is good but not exceptional, excelling mostly through simple plays, as aforementioned, and helping himself out greatly by always keeping his head up and not deciding his moves before he makes them. Westbrook also does a good job running the break in transition, especially off his own steals, but he's a better finisher than passer there for now.
Overall, Westbrook is definitely adequate in terms of running his team's offense, but he's only responsible for 25% of his team's assists and he's not yet at the level where he can consistently create for others on his own, and may never be. Still, the level he's reached as a 20-year-old rookie after not really playing the point in college is remarkable, and it's also worth noting that while Brooks has definitely done a good job surrounding Westbrook with the best players the Thunder have to offer, those happen to include
Desmond Mason
and
Nick Collison
, who while both serviceable and respectable, are not players who can help a point guard much on the offensive end.
Part Five: Defense and Rebounding
Then:
Defensively, Westbrook is nothing short of outstanding, as evidenced by the phenomenal work he did locking down the three top scoring guards in the Pac-10 this season, O.J. Mayo, Jerryd Bayless, and James Harden. He is long, strong and very fundamentally sound, getting into a terrific defensive stance on every possession, moving his feet incredibly well, and being absolutely tenacious getting after his matchup. His wingspan, combined with his huge hands and outstanding anticipation skills make him a terror in the passing lanes, and this is a big factor why he spends so much time in transition offensively.
NCAA Weekly Performers, 3/4/08—Part One
Now:
In terms of physical makeup,
Russell Westbrook
is clearly near the top in the NBA at the point guard position, and is even big and long enough to already defend shooting guards competently as well. His defense to date has been very impressive, however he's had some warts making the transition to the league, as is to be expected, and is clearly not yet at his full defensive potential.
In man-to-man defense, Westbrook has all the tools one could dream of, and does a pretty good job of using them already. Most point guards respect his lateral quickness in isolation and don't try attacking him directly, and when they do, he doesn't disappoint. He also does a good job of using his length to bother shooters on the perimeter, however he's prone to sagging off too much, leading to some easy shots.
Off the ball, Westbrook is very impressive in the passing lanes with his length and anticipation, however he's been prone to losing focus and forgetting about his man off the ball, either that or gambling too far away and not being able to recover, leading to open shots.
It's worth noting that Westbrook has gotten past the rookie wall in the season (he's played more than the 35-40 games most NCAA Tournament teams play), and he's also expending much more energy on the offensive end while also initially adjusting to the league, so some drop off on this end of the floor is to be expected.
Outlook:
Looking forward, the sky is the limit for Westbrook, and it cannot be understated how great his learning curve has been over the past few years, and how likely an indicator it is of future progress. While he may never have the mentality of a do-everything, pure point guard, physically Westbrook is an elite class, and all of the flaws in his game and skill set are ones that he's shown progress with and are very much fixable in the future. That he was viewed as somewhat of a project pick by most prior to the season and is now pacing with NBA-ready rookies
O.J. Mayo
and
Derrick Rose
in the Rookie of the Year race is a testament to both his current ability and his future potential. Regardless of who wins that, it's clear that Oklahoma City has attained another player to build around, and one that will be very exciting to watch grow over the next 10-15 years.