I'm currently awaiting a phone call from my agent alerting me of who I will go to training camp with (provided that anybody out there wants me). While in wait mode, I got a phone call from the media relations guy (Mike, if that's not your title, my bad) from the NBDL Dakota Wizards, Mike. Mike informed my that the NBA would contact me soon about an appearance they hoped I would do. A few days later I was on the phone with an NBA representative who informed me that the NBA has something called the NBA Fair. The NBA Fair is an NBA attraction that travels to state fairs all over the country. Specifically, the NBA Fair travels to fairs that are outside of traditional NBA Markets.
The NBA agreed to pay me to go to the NBA Fair at North Dakota's state fair in Minot, ND, to sign autographs and play games with the kids. I would be obligated to appear for an hour each day for two days. I figured it would be cool, plus there was money involved, duh.
When I stepped off the plane in North Dakota, there was a local sports reporter there who was ready to interview me. You can watch that here: http://www.kxma.com/video.asp?ArticleId=147564&VideoId=11908
I hadnt been back in Dakota for more than a couple of hours, when my old assistant coach told me to first meet him at some hotel bar where it was ladies night. When I got there, I instantly remembered one thing I loved about North Dakota. Ladies night meant that drinks were $1.30. One dollar and thirty cents? For anything? Gotta love that cost of living.
We eventually left the hotel bar and went to another bar that I had never been to before. I remember thinking that if I had to come back and play for the Wizards again, that these new bars could be my part of my solid rotation. It was right then that a woman gave this guy next to me the eye. It wasn't the usual eye, it was more of a dirty dancing type thing that he fully comprehended, while I was still left wondering. Next thing I know, these two go at it. It was probably the most hilarious dancing scene I have ever seen. Why? First of all, neither of them could dance...at all. Picture Napoleon Dynamite rocking out, alone, in his room, to his D-Kwon's Dance Grooves tape. It was like this guy and this girl at the bar figured out how to be equally, yet choreographically, ridiculous. I think of
Sean Williams
Scott in American Wedding. I think of Ben Stiller in Starsky and Hutch. Heck, I even think of the Ben Stiller vs Owen Wilson in Zoolander. Combine all of that in your mind and it becomes the dance-a-palooza that I saw these two strangers engage in that night. Just to clarify, this was not a dance bar by any means.
I decided that I needed to get a picture of the dance-a-thon that was taking place before my eyes. I was wondering how to pull it off without disrupting the magic that had now become a series of lap dances on the bar stool in front of me. See, even though they were in the heat of the dance, more people were still staring at me, the 6' 10" black guy who was there outside of basketball season and not the riverdance bandits. I made my mind up to just go for it. I snapped this photo off real quick: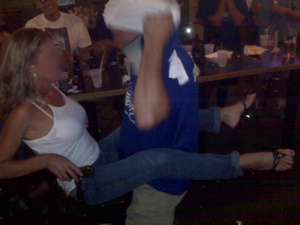 [c]dirty dancing[/c]
As it turns out, right after the flash of my camera phone went off, she unwrapped her legs from around him, and he backed up off her, and it was done, just like I feared. The photo still captures everything I wanted it to. Besides the fact that her legs are propped up like a wheelbarrow, notice his men's softball league jersey, and her jacket that he, in the madness called Dance, has tied around his forehead like a bandana. Classic. I love all of it.
The next day, Mike and I drove out to Minot which is about an hour and a half away. After checking into our hotel, we headed down to the state fair. As we pulled up to the NBA Fair booth, I was getting kind of hyped. Last week
Kris Humphries
was here -- a real NBA player. This week? NBDL Champion of the World, and Memhpis Grizzlies (summer league of course) player,
Rod Benson
.
The booth was pretty big. I wouldn't even call it a booth, really. It had a full NBA sized half court set up on sport court. There were 3 baskets: a 10 foot rim, a 9 footer to the right of the main one, and an 8 footer on the left. To the right of the court was a tent set up with NBA Live 07 on ps3, among other cool NBA stuff that kids would periodically check out.
I sat down on one of the chairs under the pop-up tarp that had all the prizes for participants in the booth. I hadn't been sitting down for more than 5 minutes when I was approached by about 5-7 different people who were on a scavenger hunt at the fair. They had their lists, which I could easily read when they approached me. Number 2 on the list was "Get the autograph of an NBA player". Of course they proceeded to ask me to sign the sheet because I was the NBA player. I wanted to say "Umm, I am an NBDL World Champion and a Memphis Summer League starter, but alas, I am no NBA player". I decided that if I didn't sign the papers, nobody else really could in the whole state. Since I was the closest they were gonna get, I shut my mouth and signed the papers, but it still felt like I was forging my own signature or something.
I headed to the tent in the back where some of the emcees for the event were resting and drinking water, waiting for their turn to get on the mic. We all introduced ourselves. The guy who would be on the court with me during my hour was named Ryan. Ryan informed me that he had read my blog beforehand and since I was "cool", he would spice up our Q and A session a little bit and have some fun with it. I had no objections. I mean, my blog preceded me, gotta live up to the hype!
So, my hour of appearance time came and went. It didn't matter to me. I was having too much fun. I got on the mic and was cracking jokes, playing shooting competitions with the kids, and answering off the wall questions. Ryan and I even spent 20 minutes, aloud, in front of the whole booth, recounting our favorite scenes from the movie "Love Actually". 3 hours later I was still going strong, having fun, keeping the kids hyped up as best I could. I think in a way, I got more respect from the other guys for just having fun and kicking it with them, regardless of time, than anything else.
I was dragged away from the booth by Mike, who reminded me that it was about that time for the Big and Rich concert. Yep, I said it, the Big and Rich concert featuring Cowboy Troy. Big and Rich, for those who don't know, are a big time country music act. Mike informed me that the song I had come to love entitled "I Play Chicken with the Train", was performed by Cowboy Troy himself. Never heard of it? I guess you haven't lived in North Dakota. Let me fill you in on some of the best lyrics of all time:
I play chicken with the train play chicken with the train train, uh huh huh uh huh huh,
You know that I play chicken with the train play chicken with the train train uh huh huh uh huh huh yea,
Who? The big black neck commin' through to you boy you done fell and bumped you head uh huh,
That's what they said,
People say it's impossible, not probable, too radical,
But I already been on the CMA's,
Hell Tim McGraw said he liked the change,
That he likes the way my Hick-hop sounds and the way the crowd screams when I stomp the ground,
Now, big and black, clickty clack and I make the train jump the track like that
I love this song, albeit that it is country music, because there are times when I, being big and black, go clickity clack, and make train jump off the track. You don't like it? Well then boy you done fell and bumped yo head!
Mike and I used our free tickets (they cost $60 normally, for country? really?) and heard Cowboy Troy's legendary track as we walked through the front doors. I've never been to a country concert before, so it was a hell of a scene. For one, everybody had on the "bundle" as I call it. The bundle looks something like this: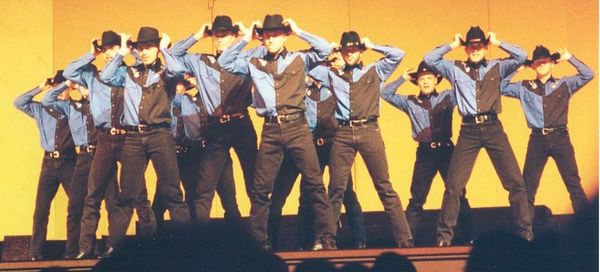 [c]cowboy bundle[/c]
Cowboy hat, tucked in button down shirt, usually flannel, and boots. When I saw Cowboy Troy on stage, I knew he was still true to his black man roots, because his bundle was a little bit baggier than the rest. I bet his was designed by Sean John or Roca Wear. Mike kept telling people that Troy was my brother. Some people actually believed it. How could you really believe that? Do you see what this guy is wearing? Baggy or not, I am definitely bundle-less.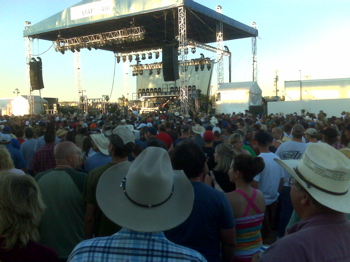 [c]cowboy hats at cowboy troy[/c]
Big and Rich took the stage next. I must say that it was pretty electric, even though I'm not a country fan. The people seemed to love it. Country is the rap of the midwest, I determined. Ryan from the NBA Fair caught up with us, and we headed over to beer table at the far end of the concert. We pretty much enjoyed the rest of the concert from the beer tables.
We had been at the beer area for over an hour when Big and Rich played the song I heard more than any other song while I was in North Dakota last season. The song is called "Save a Horse, Ride a Cowboy". I have been known to sing my own, remixed, version of the song in which I say "Save a life, ride
Rod Benson
." I don't even think that makes any sense, but I'm no cowboy, therefore horses are irrelevant to me. I don't think I'd ever heard 10,000 people sing a country song together at one time, until that very moment when John RIch (I don't know how I know his first name) got up on stage and began his PETA friendly song.
I left Minot and the NBA Fair on Sunday and headed back to sacramento. I was forced to check the Taylor Made Driver a golf pro sold me for $50. Luckily it didn't break and it actually made it out here. I hope the NBA calls me with some other app
I'm currently in Sacramento right now, working out on a daily basis at Basketball Town. This past week I have played against such competition as
Matt Barnes
,
Ricky Davis
,
Justin WIlliams
,
Quincy Douby
,
Bobby Jackson
, and
Mike WIlks
. If there's any place to get better it's here. If there's any time to get better (cliche, so what) it's now. Hopefully my next "The Offseason" post will include my invitation to training camp.
More, always, at the new
www.TOOMUCHRODBENSON.com
. Check me out!