Haffa destroying Harrison?
An article in the BYU-friendly Deseret News reported this week that
Rafael Araujo
was recently involved in a two-on-two workout with fellow Center
David Harrison
. The article claimed that Harrison's agent decided to stop the workout after 45 minutes due to Araujo's domination. Interestingly enough, we heard a completely different tale from people who were actually present. Araujo looked very good, much quicker then normal, and he displayed an excellent inside-outside game that made him very tough to guard. Harrison played good defense on the extremely physical Araujo, blocking a couple of his shots and doing a good job of beginning to shed the soft label he earned with three up and down seasons at Colorado. After an extremely intense 45 minutes of battle between the 280-pound plus centers, the workout was stopped. Anyone that has ever played physical two-on-two half-court basketball can tell you how tiring it is to play at a high level for that long, so the duration is really not that big of a surprise.
The Spurs were represented at the workout, and have reportedly decided that they might not even need to work Harrison out privately in San Antonio because he probably won't be on the board when they pick at 28. Araujo on the other hand is getting enough buzz to move into the lottery portion of our mock draft. He looks like on of those rare guys in this draft that can come in next year and provide an excellent presence in the paint at the 5 spot. Couple that with his excellent work ethic and no-nonsense attitude, and you have yourself a winner for a team like the Sonics who are picking in the late lottery.
Kirk Snyder impresses the Nets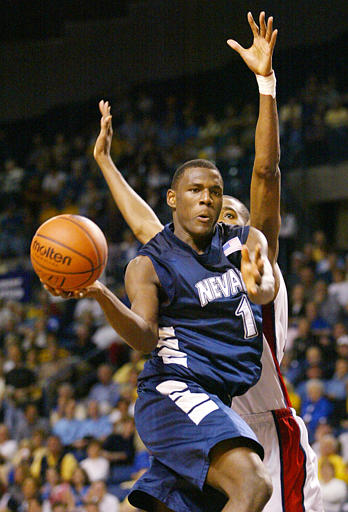 Nevada Shooting Guard,
Kirk Snyder
, who's stock had fallen in the past few weeks as a result of the influx of early entrants, had a phenomenal workout on Tuesday in New Jersey. He was placed on the same team as LSU Forward Jamie Lloreda, who is just now starting to get his feet underneath him after battling Plantar Fasciitis at the end of the NCAA season. Lloreda looked very good for most of the workout, but the effects of not being healthy for so long started to take a toll towards the end. Lloreda and Snyder were matched up against Tim Pickett of FSU and Marcus Douthit of Providence. Douthit, who went under the radar for most of the year but impressed enough teams at Portsmouth to merit a second look, replaced
Ryan Gomes
, who pulled out of the workout for undisclosed reasons. Snyder left no doubt in anyone's mind that he is, at the very least, a first round pick this year. He shot the ball extremely well, took the ball strong to the hoop and finished strong with some highlight reel type stuff. Snyder also displayed a large amount of poise and confidence, and just outplayed Pickett in every way possible, not giving him an inch the entire time. He has a big week coming up now, with workouts at Portland, New Orleans and Atlanta (versus fellow first round candidate JR Smith), three teams that are in desperate need of an impact shooting guard. If things go as well for him as they did in New Jersey, he probably won't even be around for New Jersey to pick at 22.
Pavel Podkolzine is healthy
After fracturing his hand about a month ago in an Italian league game,
Pavel Podkolzine
, who was officially measured at 7'5" with shoes last year by the NBA, is fully healed, just in time to see his team eliminated from the Italian league playoffs. He was actually cleared to play last week already, but only saw 4 minutes of playoff action as his team was swept against Italian powerhouse Montepaschi Siena. That brought his season total to just over 250 minutes on the year in domestic play. Now that he is healthy, look for his agent Justin Zanik to bring him over to the States for workouts. First, though, he will be participating at the Reebok big man camp in Treviso, Italy, from May 30th to June 1st. NBA teams will be there to see how he fares against other players his age.
Josh Childress to Golden State?
Now that the Golden State Warriors have hired former Stanford coach Mike Montgomery, will they use their late lottery pick on another local favorite in Stanford product
Josh Childress
? Logic says no, considering that they already have 3 excellent young players at the 2-3 spots—
Mike Dunleavy
,
Jason Richards
on and Michael Pietrus—but logic has never really been something that Golden State has been a big fan of. Seriously, how else could you explain firing the extremely successful and hard working Musselman for Mike I've never won a big game in my life! Montgomery, who has zero NBA experience?
Slokar might have to wait another year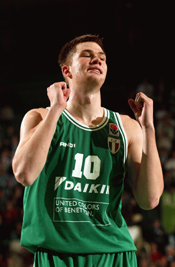 Benneton Treviso power forward
Uros Slokar
has seen almost zero playing time since he put his name in the draft three weeks ago. They know what they have on their hands and they obviously want him back next season. Add in the fact that his team is deep in the playoffs as the third seed in Italy and might not be eliminated in time for him to come over and be evaluated properly in workouts and you have someone who is about to join our list of players who will withdraw from the draft without a first round guarantee. In his case, they'll be looking at teams like San Antonio and Indiana, who wouldn't mind not having another contract next year on their payroll and can afford to wait on a guy like him. A productive season in Italy, though, ala
Carlos Delfino
, might make him a much higher pick next year.