We know which teams will be going head to head, but what will the most intriguing individual player matchups be this coming weekend? Who stands the most to gain or lose?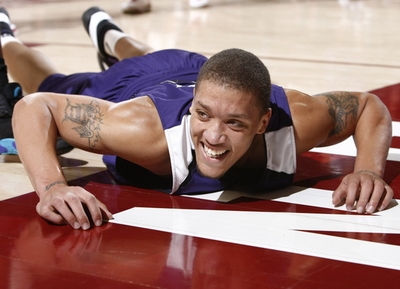 Davon Jefferson/Taj Gibson vs. Michael Beasley, #6 USC vs. #11 Kansas State (Thursday)
This is likely where many NBA scouts and executives will head to on Thursday, for a matchup involving two top 5 picks in
O.J. Mayo
and
Michael Beasley
. While the two won't be defending each other directly, Beasley will have quite a handful to deal with as he goes up against a pair of similarly sized athletes in
Davon Jefferson
and
Taj Gibson
. Jefferson in particular is the type of long-armed combo forward who can give Beasley problem if he's focused on the task at hand for every minute he's on the floor, which has typically not always been the case. Jefferson is quick enough to get out on the perimeter and contest Beasley's shots in the mid-range and on the perimeter, but is strong and explosive enough to handle him down low about as well as you can hope for. He'll have another long-armed athlete with terrific timing as a weak-side shot-blocker in
Taj Gibson
to help him out as well. Considering that both players are highly likely to put their name in the draft and keep it in due to various reasons (age, academic, etc)—they could not have asked for a better showcase to help them with their cause. While you're at it, don't forget about
O.J. Mayo
's best friend
Bill Walker
in this game too...he plays power forward and will match up with Jefferson or Gibson himself.
Trent Plaisted vs. DeAndre Jordan, #8 BYU vs. #9 Texas A&M (Thursday)
Here we have two excellent athletes with very nice long-term potential going head to head, who could both really use a boost to their draft stock for various reasons. Plaisted made a name for himself early this year with fantastic back to back outings against North Carolina and Louisville, but lost some of his shine as BYU faded into the obscurity of the Mountain West conference.
DeAndre Jordan
also started off the season in promising fashion, but has really struggled to be consistently productive ever since. He missed the exposure of being in front of numerous NBA executives who showed up at the Big 12 conference tournament in part to watch him play, as a case of food poisoning relegated him to only 9 minutes in three games. Plaisted and Jordan will be matching up with each other at the center position, and both are heavily rumored to be considering entering this year's draft. It will be interesting to see how they step up to the plate. An important matchup with
Kevin Love
and UCLA looms for the winner of this contest.
Joe Alexander vs. Chase Budinger, #7 West Virginia vs. #10 Arizona (Thursday)
Let's not beat around the bush here…this individual matchup is intriguing partially because it involves two future NBA players at the small forward position who are not only uncommonly athletic, but also both happen to be white. Once you get past that, though, you realize that there are some pretty big differences between the two. For one, Alexander plays the power forward position almost exclusively on this undersized West Virginia team, while Budinger sees most of his time at the 3, but will slide over to the 4 at times as well. Budinger makes his living primarily by spotting up and coming off screens, where he is terrific shooting the ball from behind the arc, while Alexander is used in a lot of isolation and post-up situations, excelling more as a mid-range shooter. Both of their teams will be counting heavily on them for production, and it will be important for them not to fade as they've both been known to do at times in their career. Budinger will likely be declaring for the draft and could really use the boost to his stock that a strong performance can provide-- while Alexander was always viewed as more of a 09 prospect, until he recently strung together a number of fantastic performances that began to make people wonder whether he'll end up in this year's draft instead. Ironically, the winner of this matchup will face another highly touted white guy in a somewhat similar mold, in Duke's
Kyle Singler
.
Josh Young vs. Courtney Lee, #5 Drake vs. #12 Western Kentucky (Friday)
There will be a stark contrast in styles here. Drake is one of the most efficient offenses in America, a slow-paced, three-point shooting team that runs a unique zone defense and rarely turns the ball. Western Kentucky is very athletic and likes to play at a much faster pace. Both teams are very experienced and highly guard-oriented. Western Kentucky has one of the best swingmen in the entire country in
Courtney Lee
, while Drake's Josh Young is the #1 scorer in the Missouri Valley conference and an up and coming star at the collegiate level in just his sophomore season. Both are excellent shooters and athletes at the shooting guard position, although Lee has superior size at 6-5 compared with Young at just 6-1. This will clearly be an all-around team effort for both sides, but the scouts will have their eyes on these two mid-major stars. For Lee it's particularly important to have a good game after a somewhat underwhelming conference tournament. The winner of this matchup will likely face Connecticut, another game that will be heavily scouted.
Sam Young vs. Raymar Morgan, #4 Pitt vs. #5 Michigan State (Saturday?)
This is probably not going to be a pretty game (if Pitt advances past #13 Oral Roberts and Michigan State defeats #12 Temple), as both of these teams are known for grinding it out offensively and putting a big emphasis on playing tough D. Two guys who really epitomize the toughness that their coaches demand are their power forwards—
Raymar Morgan
and
Sam Young
. Both project as small forwards at the next level, but operate as hybrid types because of their rebounding and unpolished perimeter skills (as well as their team's undersized frontlines). Young is riding particular high these days after winning Big East conference tournament MVP honors. He could really use the spotlight that the Sweet 16 provides to help his cause and solidify his stock as a bonafide first round pick, so moving on from this matchup would be very helpful. Morgan is more of a 09 draft prospect at best, but it never hurts to have a big game in the NCAA tournament, where plenty of eyes will be on him.
Tyler Hansbrough vs. D.J. White, #1 North Carolina vs. #8 Indiana (Sunday?)
Should Indiana (underrated badly as an 8 seed) be able to overcome Arkansas in the first round as expected, they will meet North Carolina in what promises to be one of the most high-quality matchups of opening weekend. While
Eric Gordon
will have an extremely difficult task on his hands going up against the likes of
Marcus Ginyard
,
Danny Green
and Quinton Thomas—it will be the
Tyler Hansbrough
/
D.J. White
matchup that will likely decide who wins this game. White will have to show that he has the strength and athleticism to contain Hansbrough in the paint, while still finding a way to give his team serious production on the other end of the floor. He stands a lot to gain, as he would definitely be well served generating some buzz around his name going into the draft process.
Chris Lofton/JaJuan Smith vs. Mike Green/A.J. Graves, #2 Tennessee vs. #7 Butler (Sunday?)
If Butler can get past South Alabama, we'll be treated to a fascinating matchup on Sunday that promises to be a stark clash of styles, between two terrific teams. Tennessee is an up-tempo, aggressive, and athletic team that relies heavily on pressure defense and forcing turnovers. Butler is a slower-paced and extremely experienced squad that plays methodical basketball and likes to run down the shot clock and shoot plenty of three pointers. The engines that make these teams go are their backcourts, four seniors who will be meeting up early next month once again at the Portsmouth Invitational Tournament. Green is the one to keep the eye on the most possibly, as he's a tough as nails lead guard from Philly who gets to the free throw line and rebounds the ball incredibly well, but is also an excellent distributor from the PG position. Both him and
JaJuan Smith
have some similarities, as do Graves and Lofton, two players who rely heavily on their outside shot. Don't miss this game if it indeed goes through.
Shan Foster vs. K.C. Rivers, #4 Vanderbilt vs. #5 Clemson (Sunday?)
Provided the favored seeds hold serve in Tampa, and Vandy beats Siena while Clemson holds off Villanova, then we should have quite a treat on our hands on Sunday. Both teams are led by their upperclassmen wing players, Rivers for Clemson (a junior) and the more heralded Foster (a senior) for Vanderbilt. Both players rely heavily on their outside shot for production, although Rivers is more versatile on both ends of the floor, while Foster is nothing short of an assassin from behind the arc. Both seem to be flying under the radar to a certain extent, which can change very quickly if they can find their stroke here in the tournament.
Jarvis Varnado vs. Memphis' Dribble-Drive Motion Offense, #8 Mississippi State vs. #1 Memphis (Sunday?)
If Mississippi State can take down Oregon, their reward will be playing the top-seeded Memphis Tigers in Little Rock, Arkansas, somewhat of a home game for both teams. John Calipari's Memphis squad utilizes one of the more interesting offenses in the NCAA, the
dribble-drive motion offense
, which apparently has become all the rage these days at all levels of basketball. Their attack focuses heavily on aggressive dribble-drive plays started with mini-lateral passes thrown to any of their four slashers coming from the wing. Getting their players dribbling in stride instead of having them explode off their first step with a ball-screen proves to be very difficult for defenders to stop while on their heels—unless the opposing team has an intimidating shot-blocker in the paint to stop them. That's where having the #1 shot-blocker in the country could come in extremely handy for Mississippi State, and could be a fantastic opportunity for
Jarvis Varnado
to announce his presence on a national stage against arguably the best team in college basketball.