There was not a tremendous amount of injustice done on Selection Sunday, as this NCAA tournament looks to be one of the most interesting and well-matched in recent memory. There were some good teams that didn't make the tournament and many of them will be participating in the NIT, which features some marquee matchups of its own, culminating in a Big Apple championship game in Madison Square Garden on April 2. With a good number of draft prospects on underachieving and mid-level basketball teams, the NIT, perhaps more so than in most years, should prove to be valuable for scouts wanting to catch a last glimpse at some of the nation's finest collegiate players, sometimes against stronger competition than they saw in their conference schedule. An underrated aspect to the NIT is whether the teams participating will play with a chip on their shoulder or if they will come out moping and just looking to finish off the year.
Here is a rundown of the top prospects in the NIT.
NIT Bracket and TV Schedule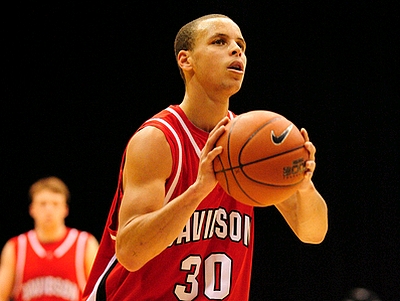 Tuesday, March 17th, 2009:
Stephen Curry, 6-3, Point Guard/Shooting Guard, Davidson, Junior
Davidson at South Carolina, 7 p.m. on ESPN2
Davidson combo-guard
Stephen Curry
, who led the nation in scoring this season and had a fairly successful transition to the point guard position for the Wildcats, has a lot to accomplish in the NIT. After a somewhat underwhelming conclusion to his junior season, Curry must prove to scouts that he is still a lottery prospect and capable of carrying Davidson to victory against high-major competition, which he hasn't faced much of recently. Scouts will be looking to see how he stacks up defensively against South Carolina's quick backcourt and whether or not he can put on one of his trademark scoring exhibitions. With a potential second round match up against
Patrick Mills
and St. Mary's on the horizon, Curry must rise to the occasion and replicate his March magic in the NIT. A deep run ending in Madison Square Garden could draw a great deal of attention to this fledging tournament.
Patrick Patterson, 6-8, Power Forward, Kentucky, Sophomore
UNLV at Kentucky, 9:30 p.m. on ESPN
Patrick Patterson
is one of the top prospects in the NIT, a true force on the blocks with lottery potential. This season he expanded his game, consistently hitting spot up jump-shots and attacking the boards more aggressively. He was unable to be a difference maker in the win/loss column, though, and must continue to play well to finish off the season if he wants to convince scouts that he has what it takes to step into a role right away as an NBA big man. UNLV is a scrappy team, but if Patterson can dominate the paint early on, Kentucky has a good chance of coming out on top. Patterson claims to be on the fence in terms of whether or not he's entering the draft, but a stellar performance could seal the deal.
Patrick Mills, 6-0, Point Guard, Saint Mary's, Sophomore
Washington State at St. Mary's, 11 p.m. on ESPN2
Patrick Mills
came into this season with big expectations and did not do a great job of living up to them. Though he is quick and athletic, he is undersized and does not incorporate his physical gifts into his offensive game nearly enough. Despite being described by analysts such as Andy Katz as a "likely lottery pick," he realistically is a late first rounder at best and must now prove to scouts that there is more to his game. Mills needs a string of efficient offensive performances, heavy on slashing, good shot selection, and efficient distributing if he wants to boost his stock in a point guard heavy draft, especially past the likes of
Jonny Flynn
,
Eric Maynor
and
Darren Collison
, who have all likely leapfrogged him in the pecking order. Scouts will be watching intently, especially if he gets a shot at
Stephen Curry
in the second round as hoped. St. Mary's believes that they were snubbed on Selection Sunday, largely because of the losses they suffered when their star was injured, and that should give Mills some extra motivation to exceed expectations in the NIT.
Jodie Meeks, 6-4, Shooting Guard, Kentucky, Junior
UNLV at Kentucky, 9:30 p.m. on ESPN
There are few scorers in the country as lethal as Kentucky junior
Jodie Meeks
, although that hasn't translated to winning games for his team. After a weak SEC Tournament, and a poor season end in general, the scoring star will look to make his mark on the NIT with scouts watching, waiting to see if he can dominate against a very good UNLV defense. Scouts will also be looking at his defensive ability, which still has a long way to go before he considers himself a lock to play at the next level. At this point, however, Meeks will go as far as his scoring ability takes him and if he plans on testing his stock this year, his best bet is to put the ball in the basket with his sweet shooting stroke.
Talor Battle, 5-11, Point Guard, Penn State, Sophomore
George Mason at Penn State, 8 p.m. on ESPNU
Few players in the NCAA made as many clutch plays as Penn State point guard
Talor Battle
, and after being caught on the wrong side of the bubble on Sunday, few have more to prove. Battle is a good scorer and distributor, but he has to prove to scouts on a nightly basis that he is capable of overcoming his lack of size and strength. He's almost certainly a four-year prospect and he must continue to improve his game on both sides of the floor. As we said in January, "nothing proves a point guard's mettle more than actually winning games." With that in mind, a deep run in the NIT certainly wouldn't hurt his stock.
Robert Vaden, 6-5, Shooting Guard/Small Forward, UAB, Senior
UAB at Notre Dame, 9 p.m. on ESPN2
Robert Vaden
had a solid junior season, shooting the ball efficiently from beyond the arc and emerged as a prospect in the process. Vaden's senior season has been nothing short of disastrous (on and off the court) and this may be the 24 year olds last opportunity to show scouts that he has what it takes to play at the next level.
Luke Harangody, 6-8, Power Forward, Notre Dame, Junior
UAB at Notre Dame, 9 p.m. on ESPN2
After a promising start, Notre Dame faltered in the Big East and fell out of NCAA tournament contention. Junior power forward
Luke Harangody
has had a similarly up and down season, expanding his game out to the perimeter, while continuing to be a load in the post. Scouts will be looking for Harangody to continue to crash the boards while being a more effective scorer in the post. His ceiling isn't particularly high, so it's essential that Harangody maximize his efficiency and prove to scouts he can be a solid reserve at the next level if he wants a shot at getting drafted.
Wednesday, March 18th, 2009:
Greg Monroe, 6'11, Power Forward / Center, Georgetown, Freshman
Georgetown at Baylor, 9 p.m. on ESPN2
Monroe is arguably the most intriguing prospect in the NIT. Considering where his stock stands, this may be one of the last times teams get a chance to evaluate him in game situations. With many critics questioning his assertiveness, it will be interesting to see how Monroe approaches the NIT. After seeming disinterested in the Big East Tournament, Monroe could improve his stock by competing hard throughout.
DaJuan Summers, 6'8, Small Forward / Power Forward, Georgetown, Junior
Georgetown at Baylor, 9 p.m. on ESPN2
Summers is in a similar situation as Monroe, only his stock is significantly lower. He's a likely candidate to declare for the draft this season, despite what he's currently telling the media. A capable scorer with some nice tools, Summers had a very poor showing at the Big East Tournament that is fresh in the minds of NBA decision-makers. Given the disastrous season Georgetown has endured, the effort level he displays could go a long way towards improving his stock.
Jerome Jordan, 7'0, Center, Tulsa, Junior
Northwestern at Tulsa, 9 p.m. on ESPNU
Jordan has progressed steadily over his three years at Tusla. He appears significantly more comfortable on the offensive end, and his scoring ability provides a nice compliment to the shot-blocking ability he displays on the defensive end. Few big men in this draft have as much upside as Jordan, but because the level of competition he plays against in C-USA leaves something to be desired, scouts would surely love to see him go far in this tournament and potentially matchup with
Greg Monroe
in the quarterfinals.
Jack McClinton, 6'1, Point Guard / Shooting Guard, Miami, Senior
Miami at Providence, 7 p.m. on ESPN2
Few players have been as proficient shooting the ball from the perimeter this season as
Jack McClinton
. A dynamite catch and shoot option who could serve as a shooting specialist at the next level, McClinton needs to continue shooting the ball well through the draft process to keep his stock high enough to sneak into the second round, and a successful NIT bid could be a good opportunity for his to get the ball rolling. A potentially very intriguing grudge match with
Nick Calathes
and Florida looms for Miami in the second round.
Aaron Jackson, 6'4, Point Guard, Duquesne, Senior
Duquesne at Virginia Tech, 7 p.m. on ESPNU
Jackson has had a tremendous senior season, posting career highs across the board and more than doubling his scoring average. He's a versatile talent that should use the NIT to gain some momentum moving into the Portsmouth Invitational where he'll have a chance to make some serious progress on his stock. Though he's no lock to make the NBA, Jackson can use the NIT as a springboard into a strong summer that could warrant him some strong professional basketball interest.
Malcolm Delaney, 6'3, Point Guard, Virginia Tech, Sophomore
Duquesne at Virginia Tech, 7 p.m. on ESPNU
While
Gerald Henderson
gets more of the praise for being the most improved player in the ACC, a strong argument could be made that Delaney has come equally as far. After a strong freshman campaign, Delaney has become a high-level scorer, but needs to show more playmaking ability to solidify his stock moving into the summer. Though he's not likely to factor into this year's draft, Delaney could be a name to look out for come this time in 2010.
Curtis Jerrells, 6'1, Point Guard, Baylor, Senior
Georgetown at Baylor, 9 p.m. on ESPN 2
Jerrells has had a productive four year career, but never quite raised his production to a level that would earn him significant NBA attention. With the Portsmouth Invitational in his immediate future, Jerrells will need to show improved playmaking ability while still putting the ball in the basket. The NIT should provide him a good stage to show his wares on a national stage before looking to for a contract this summer overseas. Much like
LaceDarius Dunn
, Jerrells is likely to have his hands full with Georgetown sophomore point
Chris Wright
.
LaceDarius Dunn, 6'4, Shooting Guard, Baylor, Sophomore
Georgetown at Baylor, 9 p.m. on ESPN2
Dunn had a great freshman season and has become a key to Baylor success during this campaign. A high quality shooter who is still developing the other parts of his offensive game, Dunn could definitely use the NIT to gain some attention moving into a season where he'll likely be given free-reign over Baylor's offense. His match up with Georgetown sophomore guard
Austin Freeman
will be one to keep an eye on.
Weyinmi Efejuku, 6'5, Shooting Guard, Providence, Senior
Miami at Providence, 7 p.m. on ESPN2
Efejuku is one of the most versatile players you'll see this postseason, and while he doesn't dominate games as a scorer, he's a productive player with a penchant for the spectacular. Though he's a long-shot to get drafted, he is still a player to keep an eye on.
Kevin Rogers, 6'9, Power Forward, Baylor, Senior
Georgetown at Baylor, 9 p.m. on ESPN 2
A solid athlete with good rebounding ability, Roger took another step sideways this season. After coming on strong as a sophomore, he never seized the opportunity to take a great stake in the Baylor offense –something that has hurt his merit as a prospect significantly. However, players with his type of physical tools always receive an opportunity. He's going to need to take advantage of his touches at the Portsmouth Invitational, and gaining some attention in the NIT certainly wouldn't hurt his cause.
Kevin Coble, 6'8, Small Forward, Northwestern, Junior
Northwestern at Tulsa, 9 p.m. on ESPNU
Coble isn't a great athlete, but he's a tremendous shooter. His form isn't pretty, but it gets the job done. He's diversified his offensive game significantly this season, and his basketball IQ helps him make an impact on both ends of the floor on the NCAA level. Coble should use the NIT to gain some attention as he looks forward to a success senior campaign.
Geoff McDermott, 6'7, Forward, Providence, Senior
Miami at Providence, 7 p.m. on ESPN2
McDermott isn't an NBA prospect, but his match up with Miami junior
Dwayne Collins
is one worth keeping an eye on. Collins is an assertive player who loves to bang underneath while McDermott has a solid finesse game. The contrast of styles should provide McDermott with an opportunity to show when he brings to the table to European coaches.
Unfortunately, Florida's first-round game won't be televised; meaning sophomore point guard
Nick Calathes
, combo-forward
Chandler Parsons
, and power forward Alex Tyus will have to earn a shot to showcase their abilities in the next round. The same goes for Tennessee-Martin's super-scorer
Lester Hudson
and Auburn's undersized power forward
Korvotney Barber
. San Diego State is also off the schedule on the first day, meaning senior duo
Kyle Spain
and
Lorrenzo Wade
will have to earn another opportunity to show their abilities before heading to Portsmouth.