Tyshawn Taylor Interview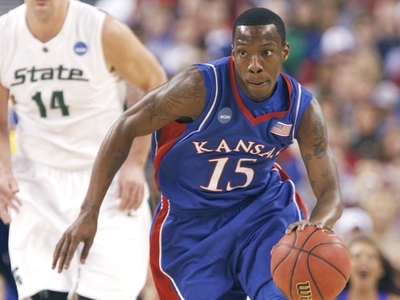 DraftExpress:
How have the last couple of days gone?
Tyshawn Taylor:
I feel pretty good about things. I've been a little winded with the altitude and not being in season I haven't been working out a lot lately. I worked out about a week and a half at school before I came here, but not a lot before that. So I'm just trying to get my wind back, the altitude threw me off a little bit, but I think I've played pretty well.
DX: What do you think your role is on this team? Have they talked to about that at all?
TT:
They haven't really talked to us about that at all, but I just need to do whatever it takes for us to win. Whether that means I have to rebound or play defense, if they need me to score, I can do that too; whatever it takes for us to win. We all have one goal in mind, getting that gold medal, so I think everyone is willing to do what it takes.
DX: What about leadership? Is that something you would like to assert here?
TT:
A little bit, and the coaches have been telling us that we need to bring a little more energy and be more vocal, so I try to do that. It's hard to do that when I'm bending over my knees tired, but as time goes on I think I'll become a better leader on this team.
DX: We were told that 19 players declined an invite to this, what do you think the reasons for that are?
TT:
Maybe just other obligations, I'm not really sure. I talked to
Kemba Walker
(UConn) and he told me he was going to the
Lebron James
Camp, so I think other guys have basketball stuff to do. The guys that are here, I think they're taking advantage of it; I'm happy to be here.
DX: How much of a commitment was this for you? Was it hard to decide between Lebron Camp and representing Team USA?
TT:
It really wasn't that hard for me to decide, I felt like this is what I wanted to do, to get the chance to travel to New Zealand would be a great honor. My [Kansas] teammate
Sherron Collins
came here after his freshman season and didn't make the team, so I felt like if I could make this team it would be a statement and a confidence boost for myself. I'm playing against other guys who are the same age as me who are just as talented and go to great schools, so I think it would be a great honor for me and would give me a little confidence going into my season.
DX: Have you ever been in a situation before where you have to make a team and there is the possibility where you might get cut?
TT:
Not that I can remember. Ever since I got into high school it's kind of been like, Tyshawn you're on this team, this is what you're going to do. But it's never really been like this where I have to work out against guys who are just as talented if not more talented than I am. To have to make this team and impress great coaches like Jamie Dixon, Roy Williams and Jim Boehiem, I've never had to do this. But this is a good experience for me.
DX: Does that put a little more pressure on you to perform in a setting like this?
TT:
Maybe a little bit, but I try not to think about it too much. I feel like if I just play my game they'll see that I'm good enough to be on this team and should be on this team. If I do the things I know I can do and I'm capable of, I'll be fine.
DX: What would it mean for you wear that team USA jersey and try to go for that gold medal?
TT:
It would be a great honor representing my country and my age group. It would be a honor representing those guys who couldn't or didn't make it and to represent my school, they sent me here with high expectations.
DX: Do you feel that coming out here and putting the time in here, looking five years down the road, should that be a factor when it comes time to picking the senior national team as well? Should it start here and springboard into that next category?
TT:
I hope so, I hope that I can make this team and one day continue to keep playing for the USA. I'll come back next year and the year after; if things keep working out for me the way they seem to be, in five or six years I hope I can be playing on the senior team.
DX: Having all of these NBA guys in the gym, does that make it more or less attractive?
TT:
I think it makes it more attractive for me. I think everyone that's in this gym playing basketball wants to go to the NBA, so it's very attractive to me, I love playing in front of a crowd anyway.
Gordon Hayward Interview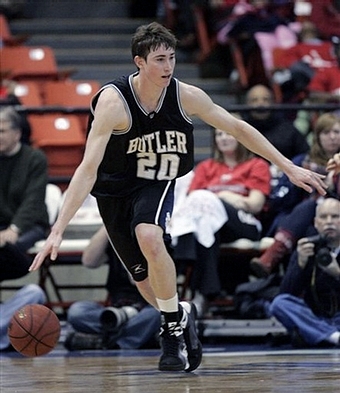 DraftExpress: How do you feel about the last two days?
Gordon Hayward:
I feel good; it's just such an honor to be here. I've never seen so many great players and coaches together at one time; growing up you see so many of these coaches on TV, so it's a great feeling.
DX: How do you feel like you've performed so far?
GH:
I mean I'm doing alright; it's kind of hard having never played with any of these guys before and then just going out and playing. I think I've held my own out there, though.
DX: Some of the guys have mentioned conditioning as a factor, has that been an issue for you?
GH:
It definitely has been, I think the altitude has been affecting it a little bit. My legs have definitely been a little tired. At Butler I'm a guard so I'm usually playing out on the perimeter, but I'm one of the taller guys here and I've been down low guarding the bigger guys. I've been struggling a little, I don't usually play down there and it's tough, it definitely affects your legs a lot.
DX: We heard that something like 19 players passed on the chance to come out here, how tough of a decision was it for you to come?
GH:
It was a tough decision just because you sacrifice a summer and give up some school time that you could use to take classes. But you also give up time with your teammates back in college. For me personally it will probably affect my lifting, I'm going to try to lift here a little bit. It's such a great honor though to play for your country, to play for the USA, I couldn't pass it up.
DX: Do you feel like you're learning from the coaches here?
GH:
Definitely, it's always great to get a new perspective on things and sometimes with your own coach you'll stop listening and someone else can reinforce it. You pick up things from the other players too because they're all good so you pick up from what they're doing too.
DX: What would it mean for you to wear the team USA jersey and go for the gold medal?
GH:
It would be awesome, such a great experience. It's just like what the Olympic team did, playing for your country and representing the United States overseas. We always have that bull's eye on our chest just because we're the USA, but it's great to come together and play for a gold medal like that.
DX: Having all of these NBA guys in the gym evaluating you, does that make this a more attractive setting?
GH:
I don't really know, it's kind of weird. You come here, look over and there are all those guys over there. It's crazy, I never thought there would be this many people her e just watching us and taking notes. I don't know if it makes this more attractive, but it's kind of a humbling experience too.
DX: Is that something that's a goal of yours down the road, to play in the NBA?
GH:
Oh yes definitely, that's always been a dream. I think every basketball player wants to play in the NBA one day, and like I said it's been a dream, but I have a long way to go.