6-foot-9 manchild
Yancy Gates
will be a Bearcat in the 2008-2009 season, according to Cleveland Basketball Club Director Michael Duncan. Gates, a consensus top 30 player, will announce his selection of Cincinnati at a 4:30 PM press conference Monday afternoon at the Cincinnati Board of Education.
This does not come as a surprise to most recruiting experts, as there have been mumblings for quite some time of Yancy's interest in UC. He will have the opportunity to come in and play immediately, while staying close to home and also allowing his stepfather (and AAU coach) Tony Dees to watch him throughout his collegiate career.
"Yancy chose Cincinnati over Indiana and Georgetown," Duncan said. "He is a great commitment for UC, and will be huge in Mick Cronin bringing the program back up to the prominence that Bob Huggins had it at in years past."
Gates led his Cincinnati Withrow squad to a 17-6 record this past season, missing out on a trip to the state final four by a single game. He posted averages of 19.4 points, 8.3 rebounds, and 4.1 blocks per game as a junior at Withrow.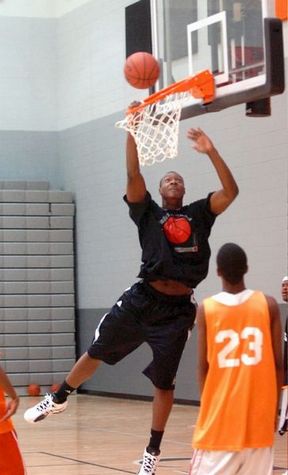 The 245 pound monster is potentially far better then many of his more highly touted counterparts in the class of 2008, but consistency issues have plagued Gates throughout his high school career. His tendency to float around the perimeter frustrates many, given that he is physically superior to virtually every single post player he is matched up against. It is going to be downright scary how good Yancy can become, if he buys into Coach Cronin's system at UC and utilizes his immense physical abilities more effectively in college.
Gates has the ability to beat more traditional power forwards off of the dribble from the outside with his remarkable quickness for a player with such freakish strength. He can keep defenders honest with his ability to hit the three, but can also kill you inside of the paint with his ability to jump through the roof and his feathery soft touch. The skill set that he possesses is not matched by many in his class, and his physical attributes can be matched by only a select few. This is why Yancy has been able to remain a five star recruit throughout his high school days, despite the fact that he has never consistently utilized all of his tools for more then two or three games at a time.
Draft fans should surely keep an eye on Gates, as he has all of the physical traits that NBA teams are looking for in a power forward, to go along with the raw skills on the perimeter that truly make him a special player potentially. If Yancy is able to play consistently once he hit's the Big East and continues to develop at merely an average rate, it will be awfully surprising not to see him in NBA jersey by the time it is all said and done.