A.J. Price
STRENGTHS:
- Craftiness
- Pick and roll play
- Scoring instincts
- Coachable
- Experience
- Leadership skills
- Role-player potential
- Strong Intangibles
- Ability to create for others
- 3-point shooting percentages
- NBA 3-point range
- Pull-up jumper
WEAKNESSES:
- Ability to get to free throw line
- Settles for bad shots
- Stuck between 1 and 2
- Turnover prone
- Ability to fight through screens
- Lateral quickness
- Bad knees?
- Court vision
- Ability to finish around basket
- Average athleticism
- Explosiveness
- Relies too heavily on outside shot
Recent Tweets
All Tweets
DraftExpress: Found my NBA comparison for Shelvin Mack. A.J. Price. Combo, average burst/inside-arc scorer, but great shooter, big balls. Plays w/swagger.
2011-04-16 02:58:19
Top 25s - Full List
Team: Shanghai
Physicals
Positions
Rankings
Salary
Misc
H: 6' 2"
W: 193 lbs
Bday: 10/07/1986
(29 Years Old)

Current: PG
NBA: PG
Possible: PG

RSCI: 24

Agent: Jeff Schwartz
Current Salary:$910,000

High School: Amityville
Hometown: Amityville, NY
Drafted: Pick 52 in 2009 by Pacers
Best Case: Mo Williams
Worst Case: Anthony Roberson

Predraft Measurements
| Year | Source | Height w/o Shoes | Height w/shoes | Weight | Wingspan | Standing Reach | Body Fat | No Step Vert | Max Vert |
| --- | --- | --- | --- | --- | --- | --- | --- | --- | --- |
| 2009 | NBA Draft Combine | 6' 0.5" | 6' 2" | 193 | 6' 3.75" | 8' 1" | 12.4 | 26.0 | 31.0 |



Basic Per Game Statistics

- Comprehensive Stats - Statistical Top 25s

Player Page&nbsp&nbsp| Player Stats | Mock Draft History | Related Articles&nbsp&nbsp| Add to My Draft Express&nbsp
&nbsp
Blogging through the Final Four (Part One)
April 4, 2009
Assigned to guard UConn's star point guard A.J. Price for most of the night, Walton forced Price into one of the worst shooting games of his college career, at the absolute worst time possible. Rather than try to stay steady in the face of constant pressure and look to get others involved, Price forced the issue terribly in a very selfish manner, taking bad shot after bad shot, and completely exposing his lack of point guard skills in the process. He shot 5-20 from the field on the night and had just 1 assist compared to 2 turnovers, looking especially bad trying to make his way to the basket, where he struggled as usual with his lack of explosiveness finishing at the rim. It was hard to understand why he kept pulling up off the dribble time after time early in the offense with a hand in his face—this was likely a big reason why UConn's half-court offense never appeared to have any type of flow, as everyone was forced to create shots for themselves.

[Read Full Article]

---
College Road Report: Connecticut vs Pittsburgh
March 11, 2009
Price appears to be a very different player then the one that we observed last season, lacking explosiveness to the rim now, usually settling for outside jumpers instead of driving to the rim. Regardless of his style of play, we are still looking at a very heady point guard who ranks amongst the tops in his position in the Big East.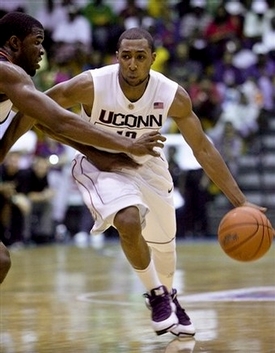 AP



The senior has seen his style of play change due to the serious knee injury that he suffered within the last year, seemingly taking away a lot of his explosiveness. He is only converting on 42% of his 2-point attempts this season (down from 48%), which is an extremely poor rate. His free throw attempts are also down fairly substantially. He struggled desperately against Pitt getting to the rim, usually settling for contested jumpers. Price really had problems creating space against Pitt's Levance Fields, but was still able to get his fair share of points on the board because of his nice skill set.

The main weapon of Price's offensive arsenal this season has been his ability to shoot the ball from beyond the arc. This is seen especially when you consider the fact that he has made more three pointers (68) then both two point shots and free throws (61 a piece respectively). 53% of his field goal attempts come from behind the arc in fact, up from 38% last season. He is perfectly capable of shooting the ball off of the dribble or from a static position, as seen when he slides over to the shooting guard slot. The New York native has displayed no problem shooting the ball out to the NBA three with relative ease, either.

The other top asset that Price owns as a prospect is his ability to run the pick and roll. A very efficient guard, he does an outstanding job of making the proper reads when coming off of ball screens. This will obviously prove key for him at the next level considering that the majority of NBA teams run the pick and roll for a large part of the game. Price's assist output is not an entirely accurate reflection of his court vision, given UConn's use of multiple point guards late in the season. It is pretty clear that he's more of a scorer that a distributor, though, and a bit turnover prone at that.

There is still a ton of work to do with Price on the defensive end. He doesn't have very good lateral quickness, nor does he seem to have much desire on this end of the court. Luckily for Connecticut, they have Kemba Walker to pick up the slack defensively and can stick Price on the lesser threat opposing backcourts have to offer.

Price is currently projected as a second round pick, with his tournament play and workouts playing crucial into solidifying his chances of getting drafted. He should at least get a shot somewhere in this league whether he's drafted or not due to his experience running a team at the highest level of college basketball, and his perimeter shooting.

[Read Full Article]

---
College Road Report: UConn – Georgetown
December 31, 2008
Returning from a torn ACL suffered in the NCAA Tournament only last March, A.J. Price obviously hasn't started the season in top form, though as Conference play begins, he appears to be inching closer and closer to his play level from last season, which earned him recognition as one of the best point guards in the country.

Looking at his statistics, there's a noticeably drop in most areas for Price this season, to be expected for many reasons. His points per 40 minutes pace adjusted and FG% have both dropped substantially, while his assists per 40 minutes pace adjusted are down as well. The assists have as much to do with the four ball-handling guards (Price, Kemba Walker, Jerome Dyson, Craig Austrie) averaging 25+ minutes per game on UConn as it has to do with Price's injury. The scoring and efficiency, on the other hand, appear to be a direct byproduct of the injury, and looking at Synergy Sports Technology's detailed statistics, a few things stand out. Last season, Price attempted 4.1 shots per game finishing at the basket, while he's down to 1.4 this season. Even worse, his efficiency on those possessions has dropped from 0.92 PPP to 0.64 PPP.

In analyzing the tape, it's very noticeable that Price doesn't look nearly as comfortable attacking the basket this season, still recovering from a serious injury to his knee. His ability to get separation, both at the rim, and on pull-up shot attempts, is not as effective just yet, forcing him into some tougher shots, and making it necessary for him to adjust his game, which he has. Price still does a good job getting into the lane, but he's not nearly as quick turning the corner or getting his defender off his hip, which is a large reason why he's attacking much less, and only has attempted 23 free throws in 11 games this season.

As a jump shooter, Price is showing signs of improvement, and his increased three-point percentage (up from 37% to 44%) is one of the main reasons his TS% hasn't plummeted with his decreased efficiency inside the arc. Price is taking 1.6 more three-point attempts per game as well, making the improvement that much more impressive. It's a little too early to tell if this is simply statistical variation, as Price's shooting form still has a few possible issues, with the kicking of his feet forward, the flailing of his right arm, and the sometimes slow release, but it's hard to argue with the results.

As a point guard, there's much to be impressed with for Price, as he shows the type of floor general game many NBA teams look for in a backup point guard. He keeps his head up, distributes the ball, makes smart passes, runs the pick-and-roll, and finds the open man in transition. He wasn't a great drive-and-kick point guard last season, and his injury certainly hasn't helped him there, but the rest of his point guard game is still solid, with him making precision bounce and chest passes to cutters and post-up players.

Defensively, there is still much concern with Price, as he doesn't show a great stance or lateral quickness, and he struggles to get around screens, either not powering through them or going wide around them, leading to open shots.

Looking forward, there's reason to be optimistic for Price this season, as he just had an excellent game against Gonzaga (including hitting an overtime-forcing, contested, pull-up three-pointer), while he was also seemingly one of the only players to show up in Connecticut's loss to Georgetown. If he could get back into form towards the end of Conference play, namely in the Big East and NCAA Tournaments, it would do great things for his draft stock, especially if he can combine his effectiveness as a scorer and point guard last season with his improved three-point shooting this season.

[Read Full Article]

---
Top NBA Draft Prospects in the Big East (Part Two: #6-10)
October 27, 2008
After putting together a season in which he was a unanimous selection for the All-Big East First Team, but saw his junior campaign come to a tragic end after tearing his ACL in the first round of the NCAA tournament, A.J. Price is back for his senior year. The heady floor general will be the key component for the Huskies as they look to stay near the top of what will be a loaded Big East conference this season. How well he managed to recover from that serious injury will play a huge role in seriously UConn can contend for a national championship, and will play a big role in where he ends up getting drafted as well. Between the laptop theft incident and a brain hemorrhage, there has never been a dull moment in Price's career thus far.

Showing average size and strength, but good speed and agility for the point position, Price is equally quick in the open floor and off the dribble, with tremendous ability to change speeds. His aggressiveness attacking the lane makes him a real asset on the floor, although at this point he still relies primarily on his first step to get past defenders. Price has very good ball-handling skills, but doesn't always use his dribble drive moves to get himself free, instead he simply tries to beat opponents with his physical ability.

Price is at his most effective from the mid-range, relying on screens from teammates to set himself up. Often he dribbles back from the screen to free himself up for a shot, but when he does opt to attack the lane, he shows nice ability with a runner he can get over much taller defenders. When he chooses to go all the way to the rim, Price proves to be a mixed bag. He doesn't elevate particularly well, nor does he have adequate upper body strength to handle contact. He does however show solid body control and the touch to put in some difficult shots from tough angles. While it is certainly a plus that he can hit these tricky looks in the lane, he needs to learn to sometimes look for a better option.

Nearly 40% of Price's shots last season came from beyond the arc. While he hits a respectable 36.9% from this spot on the floor, he clearly becomes a less effective scorer this far from the basket. While his form isn't picture perfect to begin with, often possessing an inconsistent release point, it becomes even more profound when he is forced further out. Price's left elbow will fly out to the side quite a bit, putting odd rotation on his shot, he also seems to wind up more from deep, as if he needs the extra oomph to get the range on his shot. He is a streaky perimeter shooter, capable of big nights (5-8 vs. West Virginia) or shooting his team out of a game (2-8 vs. Georgetown); for him the biggest key is better shot selection.

The real appeal to Price's game is his ability to run a team while still looking for his own shot. His 7 assists per 40 minutes last season is third amongst all returning point guards in our database, and his pure point guard rating is second. He primarily gets a lot of his assists by threading the needle to teammates from the perimeter, which, while impressive, also results in the majority of his turnovers. Improving his ability to drive and dish to teammates, would make Price a much more versatile and dangerous playmaker.

Defensively, Price has a long way to go. From what we've seen, he doesn't seem to put much effort in on this end of the floor. Price struggles to fight through screens and doesn't do a great job of closing out on shooters. While he has a pretty good first step on the offensive end, his lateral quickness is suspect and leaves him susceptible to getting beaten off the dribble often.

There is plenty of reason to think that Price will make a solid point guard at the next level, at least as a backup. He has good point guard instincts, solid ball-handling skills, a great pull-up jumper, and a certain toughness scouts look for in floor leaders. Price is a shoot first point guard, that isn't in question, but he needs to become a more consistent scorer like he was during Connecticut's 10-game winning streak in the Big East last season. Improving his effort on defense and the consistency of his perimeter stroke will go a long way to helping his stock, but it is very likely that Price will land somewhere as a backup next season.

[Read Full Article]

---
NCAA Weekly Performers, 2/20/08-- Part One
February 21, 2008
A very easy player to write off after the horrendous season he had last year, A.J. Price has bounced back incredibly strong to deliver a Big East player of the year type season, leading UConn to 10 straight wins at the moment, and solidifying himself as one of the top point guards in the country in the process.

In hindsight, it's easy to realize why Price has struggled so badly last season, after sitting out two full seasons with health (a brain hemorrhage) and then legal (the laptop scandal together with Marcus Williams) problems keeping him off the court. He had a hard time shaking off the rust last season, struggling through poor conditioning and a complete lack of confidence, but is now starting to show some of the terrific offensive skills that made him such a highly regarded high school player to begin with.

Price is a scoring point guard, quick, with average size and solid ability to change speeds and get by defenders off the dribble. He's a very skilled and very aggressive offensive player, who makes his living primarily in the mid-range area. He loves to use the pick and roll to find space to get his shot off, looking terrific hitting step-back shots, and showing a terrific right-handed floater with range that extends all the way out to the free throw line. He elevates off the floor extremely well to create separation from his defender, is outstanding hitting shots on the move, and has one of the most lethal 15-foot pull-up jumpers you'll find anywhere in the country.

When extending beyond the 3-point line, Price's jump-shot loses some effectiveness, although he can still make shots at a solid rate. He is hitting 38.5% of his attempts from behind the arc, albeit on a limited number of attempts. There are some question marks about how well he'll be able to expand his range past the much further NBA line, though, as his shooting mechanics are somewhat unorthodox—kicking his feet, flailing his elbow out, and sometimes even releasing the ball on his way down.

In terms of his slashing, Price is quick enough to get by his man, and does a fairly good job of creating opportunities for himself, but still leaves something to be desired in his ability to finish around the basket. He lacks some size (he's probably closer to 6-1), strength and explosiveness, and therefore has a tough time finishing plays in traffic (hitting around 47% of his attempts at the rim). His very advanced mid-range game helps alleviate a lot of concerns here, though.

What makes Price intriguing is that beyond his scoring, he is also having a pretty spectacular season as a playmaker, surely when evaluating him statistically. Out of all the players in our database, Price currently ranks 4th in pure point guard rating, and 3rd in assist to turnover ratio. Even though he is a scorer by nature, Price does a very good job creating not only for himself, but also for teammates, especially with the work he does on the pick and roll. He executes UConn's offense efficiently, finding the open man unselfishly, making solid post-entry passes from the perimeter, pushing the ball up the floor, and rarely turning it over.

Price is the type of point guard who does a better job finding players from the perimeter (often with bullet passes straight into the teeth of the defense) than he does on the drive and dish. At times he gets a little stubborn or single-minded looking for his own offense, but UConn would probably not have it any other way. Once he's on the move, though, particularly in transition, his court vision looks somewhat average, and he'll at times miss an open man. Even though he's a redshirt junior, his all-around experience level isn't where you would normally expect it to be, and at this point, he is swimming in uncharted waters still. That could all change very quickly if he manages to lead his team deep into the NCAA tournament.

As skilled a player as Price is offensively, he might be just as poor at times defensively. It doesn't look like he was ever really pushed much on this end of the floor in high school, and it's not hard to see how little effort he puts into this part of his game now. He gets caught behind screens on a regular basis (his lack of strength hurts him here), and doesn't quite have the size or length to fight through them and contest shots. Considering his average physical tools (his lateral quickness is nothing to write home about either), he will have to put much more effort into this end of the floor if he's to be considered adequate in the NBA.

From what we can tell so far, Price looks to have all the makings of a very solid backup point guard at the next level, but he could probably still show that he has even more potential for the NBA by returning to school next season. Unless he really explodes in the NCAA tournament, he'd likely be best served using his senior year to improve on expanding his range, his perimeter defense, and his all-around experience as a floor general.

[Read Full Article]

---