Alex Len
Recent Tweets
All Tweets
DraftExpress: RT @WojYahooNBA Potential lottery pick Alex Len of Maryland had surgery to stabilize stress fracture in his ankle and will be out 4-6 mont\u2026
2013-05-03 15:20:09
DraftExpress: Potential lottery pick Alex Len of Maryland had surgery to stabilize stress fracture in his ankle and will be out 4-6 months his agent says
2013-05-03 15:08:16
DraftExpress: Maryland center and projected lottery pick Alex Len (DX #7) will be represented by Michael Lelchitski (@mike_sig) the agent informs us.
2013-04-30 13:48:36
DraftExpress: Next 7-10 days probably. We're gonna start cranking them out here now. RT @Legalyze_It When are you making a draft video for Alex Len?
2013-04-21 15:05:18
DraftExpress: Maryland sophomore center Alex Len is leaving for the NBA the school announced today http://t.co/OPKYj9X6ZZ
2013-04-15 12:23:51
Predraft Measurements
| Height w/o Shoes | Height w/shoes | Weight | Wingspan | Standing Reach | Body Fat | No Step Vert | Max Vert | Bench Press | Lane Agility | 3/4 Court Sprint | Class Rank |
| --- | --- | --- | --- | --- | --- | --- | --- | --- | --- | --- | --- |
| NA | NA | NA | 7' 3.5" | NA | 6.4 | NA | NA | NA | NA | NA | NA |



Basic Per Game Statistics

- Comprehensive Stats - Statistical Top 25s
| Year | League | Name | GP | Min | Pts | FG | FGA | FG% | 2Pt | 2PtA | 2P% | 3Pt | 3PtA | 3P% | FTM | FTA | FT% | Off | Def | TOT | Asts | Stls | Blks | TOs | PFs |
| --- | --- | --- | --- | --- | --- | --- | --- | --- | --- | --- | --- | --- | --- | --- | --- | --- | --- | --- | --- | --- | --- | --- | --- | --- | --- |
| 2012/13 | NCAA | Alex Len | 38 | 26.4 | 11.9 | 4.6 | 8.5 | 53.4 | 4.5 | 8.3 | 54.4 | 0.0 | 0.2 | 12.5 | 2.8 | 4.0 | 68.6 | 2.9 | 5.0 | 7.8 | 1.0 | 0.2 | 2.1 | 1.6 | 2.7 |

Player Page&nbsp&nbsp| Player Stats | Mock Draft History | Related Articles&nbsp&nbsp| Add to My Draft Express&nbsp
&nbsp
Top NBA Draft Prospects in the ACC, Part Four
September 20, 2012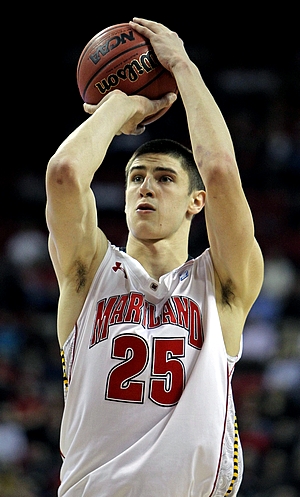 US Presswire



Jonathan Givony

Suspended by the NCAA for the first ten games of the season due to eligibility issues revolving around his professional background dating back to his time with former club Dnipro in his home country of Ukraine, Olexiy/Alex Len had an inconsistent freshman season, but showed enough sparks of potential to leave significant optimism around his long-term outlook.

The intrigue around Len begins with his outstanding physical profile. Standing 7-1, with a huge wingspan, big shoulders, and a frame that will surely fill out nicely over the next few years, Len clearly has terrific tools to work with. He's also a very good athlete for his size, as he runs the floor well, elevates off the ground quickly, and is capable of playing above the rim with ease.

Playing just 21 minutes per game last season upon becoming eligible, Len was up and down as a freshman as noted, stringing together a handful of very impressive performances, but also being a total non-factor in many Maryland contests. This is somewhat understandable considering the cultural adjustment involved with moving from Ukraine, as the language barrier and adaptation to a completely new style of basketball and academic schedule would be a significant burden for even the most talented prospect to shoulder.

Most freshmen at least get the easier non-conference portion of their team's schedule to get their feet wet, but Len was thrown directly into the fire of arguably the toughest conference in college basketball, matching up with future NBA players virtually every single time he stepped on the floor. A pesky ankle injury he suffered mid-way through the season likely didn't help matters either.

Len did not play a very big role in Maryland's offense last season, as he sported just the fifth highest usage rate on the team, despite being their most efficient scorer. With undersized shooting guard Terrell Stoglin, who led the ACC in field goal attempts per-minute by a huge margin, being booted off the team, there will now likely be a much larger emphasis on incorporating him into the offense. Len should be able to shoulder additional playing time and a bigger role as a sophomore after a full offseason in the weight room and more practice time to develop chemistry with his teammates.

With his impressive foot speed and ability to effortlessly elevate around the basket, Len was much more effective as a finisher last season than he was as a post-presence. Showing soft hands and excellent touch, he's capable of scoring with either hand inside the paint. He shows a nice basketball IQ moving the ball within the flow of the offense, sometimes with a nifty bounce pass to a cutter diving to the rim. He also has nice shooting mechanics, making a couple of mid-range jumpers last season.

With that said, Len is still figuring out how to effectively use his talent on a consistent basis. His frame is simply too thin to allow him to establish and hold deep post position, and when he does catch the ball inside the paint, he doesn't always have the footwork, balance and coordination to get a good shot off, particularly in traffic. Continuing to get bigger, tougher and stronger are huge keys for his future, as will simply gaining experience on the basketball court, something he clearly sorely lacks at the moment. He turned the ball over on 25% of his possessions last year, and made just 59% of his free throw attempts, two areas scouts will want to see improvement in this season.

On the other end of the floor, Len's terrific size, length and mobility give him tremendous potential on defense. He led the ACC in blocked shots per-40 minutes last season, over the likes of NBA draft picks John Henson, Tyler Zeller, Bernard James and Miles Plumlee, and averaged a solid 10 rebounds per-40p.

Len has quick feet and good timing stepping out and hedging screens on the perimeter, something you usually don't see 7-1 centers do too often. His main virtue lies as a rim protector, though. He's so tall and long he often doesn't even have to leave his feet to block a shot, and he has a tremendous knack for using his wingspan to alter and reject shots around the rim.

With that said, Len had his fair share of issues in many ACC contests last season, averaging nearly five fouls per-40 minutes versus in-conference competition. He didn't always have the strength, experience or toughness to deny opposing big men deep post position, not fighting hard enough early in possessions to prevent them from catching the ball with two feet in the paint. As he gets older, smarter and more physically mature, scouts will want to see him do a better job in this area.

An extremely talented prospect, yet still in a very early stage of his development, this upcoming season will tell us quite a bit about Len's long-term potential. If he was able to have a productive offseason on and off the court, Len could be poised for a breakout year on a national level. His early season matchup with Nerlens Noel and Kentucky in New York City on November 9th will likely be scrutinized closely.

[Read Full Article]

---
NBA Combine Interviews: Len, Mitchell, Keadji, Murphy
December 31, 1969
[Read Full Article]

---