Alex Poythress
Recent Tweets
All Tweets
DraftExpress: Kentucky announces Alex Poythress will return to school http://t.co/UUHjJalTcI "I want to develop more as a player and win a national title"
2013-04-02 20:12:34
DraftExpress: No news on Alex Poythress. I heard he's still collecting information but leaning towards entering the draft. Nothing official yet.
2013-04-01 11:38:42
DraftExpress: NBA prospects trying to secure a tournament bid this week Alex Len Isaiah Austin Alex Poythress Archie Goodwin B.J. Young Willie Cauley
2013-03-12 09:43:52
DraftExpress: No chance. He's 100% gone I'm told. RT @ChrisRoush31 Curious to hear your opinion on Alex Poythress. Turning into a multi-year guy?
2013-01-15 12:43:10
DraftExpress: Not sure Kentucky is fully taking advantage of Alex Poythress' strengths playing him at the 3. Prototypical faceup 4 in today's basketball.
2012-11-09 21:48:49
Team: Kentucky, Senior
Physicals
Positions
Rankings
Misc
H: 6' 8"
W: 239 lbs
Bday: 09/06/1993
(22 Years Old)

Current: SF/PF
NBA: SF/PF
Possible: SF/PF

Rank 78 in Top 100 Prospects
Rank 15 in NCAA Seniors
RSCI: 8

High School: Clarksville Northeast
Hometown: Clarksville, TN

Predraft Measurements
| Year | Source | Height w/o Shoes | Height w/shoes | Weight | Wingspan | Standing Reach | Body Fat | No Step Vert | Max Vert |
| --- | --- | --- | --- | --- | --- | --- | --- | --- | --- |
| 2015 | Kentucky Combine | 6' 7.25" | 6' 8.5" | 230 | 6' 11.25" | 8' 6" | 9.5 | NA | NA |
| 2014 | Kentucky Combine | 6' 7.25" | 6' 8.25" | 238 | 6' 11.25" | 8' 6" | 10.4 | 37.5 | 41.5 |
| 2013 | Kevin Durant Camp | NA | 6' 9" | 231 | 7' 0" | NA | NA | NA | NA |
| 2011 | LeBron James Camp | NA | 6' 8" | 213 | 7' 0" | NA | NA | NA | NA |
| 2011 | Kevin Durant Camp | NA | 6' 8" | 213 | 7' 0" | NA | NA | NA | NA |
| 2010 | LeBron James Camp | NA | 6' 8.5" | 204 | 6' 11" | NA | NA | NA | NA |
| 2010 | NBA Top 100 Camp | 6' 8" | NA | 201 | 7' 1" | 8' 9" | NA | NA | NA |



Basic Per Game Statistics

- Comprehensive Stats - Statistical Top 25s
| Year | League | Name | GP | Min | Pts | FG | FGA | FG% | 2Pt | 2PtA | 2P% | 3Pt | 3PtA | 3P% | FTM | FTA | FT% | Off | Def | TOT | Asts | Stls | Blks | TOs | PFs |
| --- | --- | --- | --- | --- | --- | --- | --- | --- | --- | --- | --- | --- | --- | --- | --- | --- | --- | --- | --- | --- | --- | --- | --- | --- | --- |
| 2015/16 | NCAA | Alex Poythress | 7 | 22.3 | 8.7 | 3.4 | 6.1 | 55.8 | 3.4 | 5.6 | 61.5 | 0.0 | 0.6 | 0.0 | 1.9 | 3.0 | 61.9 | 2.3 | 4.7 | 7.0 | 0.3 | 0.7 | 0.7 | 0.3 | 3.3 |

Player Page&nbsp&nbsp| Player Stats | Mock Draft History | Related Articles&nbsp&nbsp| Add to My Draft Express&nbsp
&nbsp
2015 Kentucky Combine Measurements and Analysis
October 11, 2015
Alex Poythress has actually lost weight since suffering an ACL tear. He's lost 8 pounds and lowered his body fat percentage despite the time he spent on crutches. Pushing out 19 reps of 185 pound on the bench, the senior forward was the Wildcats' top performer in that test, emphasizing his maturity level which will be a key factor for Kentucky this season. He did not participate in any of the drills or competitive action, as he reportedly is still not 100% after hurting himself last December.

[Read Full Article]

---
Top NBA Prospects in the SEC, Part 9: Prospects #9-14
October 2, 2015
Josh Riddell

A torn ACL in just the tenth game of the season ended Alex Poythress' junior season prematurely, forcing him to watch from the sideline as his teammates pursued perfection. This injury made it easy for him to decide to return for his senior season under John Calipari, something few would have predicted out of high school, and he will now be hoping to end his collegiate career on a positive note.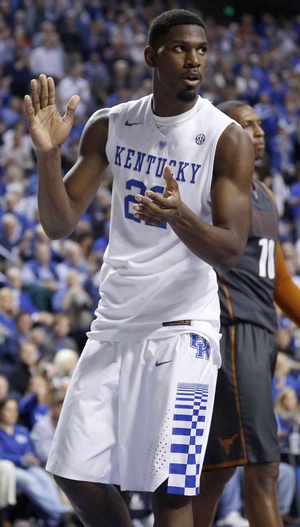 US Presswire



One of the best attributes Poythress possesses as a NBA draft prospect is his physical tools. He was measured at a shade over 6'8" and is also very strong, with a chiseled 240 pound frame. His wingspan doesn't leap off the page at 6'11" but his remaining physical attributes are stellar.

He has great open court speed and is very mobile for a player of his size. He can beat the defense down the floor and finish in transition, converting 66% of his shots around the rim in his sophomore season (his last full season). He was one of the best leapers in college basketball before his injury and will need to show his explosiveness is still there coming back from the ACL tear.

Offensively, Poythress is limited, and relies mostly on his teammates to create shots for him. His 10.9 points per 40 minutes pace adjusted last season ranked next to last among our top 100 and he wasn't very efficient in his opportunities with his 45% true shooting percentage the worst mark in our top 100. He is most comfortable around the rim where he is a capable finisher due to his explosiveness and ability to finish through contact, and will have to show he can still finish at a high level this season.

He has contributed as an offensive rebounder in the past and will need to demonstrate he still has the ability to explode above the rim and chase down balls outside his area. He should be able to easily translate this to the next level, showing NBA teams his role player potential.

Poythress is not a reliable jump shooter, demonstrating poor mechanics that shows he will need a lot of work to become a consistent threat. He's made just 22 of 73 (30%) of his 3-point attempts in his career, and isn't much better from the mid-range either. He also can't create off the dribble even after using his quick first step to get by his defender as he loses the ball off the bounce or makes a poor decision with the ball. He struggles to get all the way to the rim to finish or draw a foul and defenders have little trouble containing him in the half-court. For Poythress to emerge as a real NBA prospect as a senior, he'll likely have to show better potential as a jump-shooter, as its difficult to envision any type of role for him offensively as a pro otherwise.

The bulk of the intrigue around Poythress as a pro prospect currently revolves around his potential to develop into a lockdown defender in time, with the versatility to guard multiple positions many teams are seeking. He has the strength to guard bigger players but also the quickness and agility to move laterally, which should allow him to match up against quicker wings as well. He's an excellent shot-blocker, as his 1.6 blocks per 40 minutes pace adjusted in his last full season was the highest among small forwards in our top 100. Defense will have to be his calling card with his limited offensive game and he has the potential to be a tough defensive player.

In his senior season, Poythress will need to show an improved basketball IQ. He doesn't always make the right or simple play at times, which can leads to turnovers or missed opportunities. He had a poor assist to turnover ratio of 0.45 in his junior season as he looks jittery when he looks to create, resulting in bad turnovers. This is also manifested on the defensive end when he loses focus off the ball or misses defensive rotations. These mistakes will have to be mitigated in his senior season with Poythress being more focused on decision making on both ends of the floor.

It is becoming harder to play the wing in the NBA without being a floor spacer but if enough other roles can be filled, the opportunities will be there as players like Michael Kidd-Gilchrist or Tony Allen have proved. Coming back from injury, he'll have plenty of opportunity to demonstrate his value as a role player playing within Kentucky's talented roster, which will give him the opportunity to show how he fits into a NBA roster.

[Read Full Article]

---
2014 Kentucky Combine Measurements and Analysis
October 11, 2014
Alex Poythress measured as expected, standing 6'7.25 without shoes with a 238-pound frame and a 6'11.25 wingspan, but performed tremendously well in the athletic testing, registering a terrific 3.16 second ¾ court sprint and a 41.5 inch maximum vertical leap, which would rank as one of the top-20 or so marks in our database regardless of position. His 37.5 inch no-step vertical leap would rank among the top-10 in our database. His 26 reps on the bench falls just short of our database record of 27 recorded by the 270-pound Jason Keep in 2003.

[Read Full Article]

---
Top NBA Prospects in the SEC, Part 9: Alex Poythress Scouting Video
September 25, 2014

Mike Schmitz is the video analyst for DraftExpress. Follow him on twitter and check out the DraftExpress video section. He will be breaking down the NBA draft in digital format all year long for us.

[Read Full Article]

---
Top NBA Prospects in the SEC, Part 3: Alex Poythress Scouting Video
October 17, 2013


Mike Schmitz is the video analyst for DraftExpress. Follow him on twitter and subscribe to the DraftExpress YouTube page. He will be breaking down the NBA draft in digital format all year long for us.

[Read Full Article]

---
McDonald's All-American Video Profile: Alex Poythress
April 4, 2012
Video filming and production courtesy of Tad Hathaway of 312 Media
[Read Full Article]

---
McDonald's All-American Week Player Evaluations (Part Two)
April 2, 2012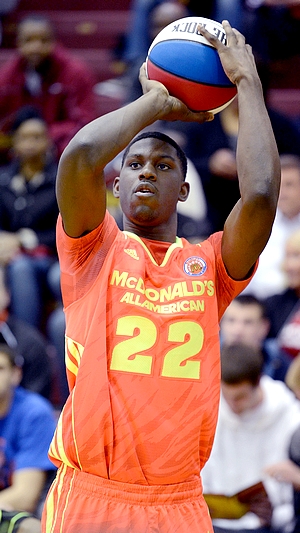 Golin Harris



Alex Poythress had as good a week relative to expectations as anyone in Chicago, opening the eyes of recruiting gurus and NBA scouts to his considerable long-term potential.

Poythress' intrigue begins with his excellent physical tools. He's measured out consistently between 6-8 and 6-9 in shoes in a number of different settings over the past two years, and has a nice 7-1 wingspan to go along with a frame that should be able to add plenty of weight over time.

He's an outstanding athlete as well, explosive around the rim with good agility for a player his size, allowing him to make his presence felt on a regular basis in transition, crashing the offensive glass, and as a playmaker defensively.

Offensively, Poythress is still searching for an identity, as he's clearly not a post player, but doesn't appear to have the skill-level to play on the wing full time either. He shows nice form on his jump-shot, and has the ability to make shots with range out to the 3-point line, even if he was somewhat streaky in this area over the course of the week. His ball-handling skills are similarly a work in progress, and his decision making skills are still catching up to his overall talent level, as he made a handful of questionable plays over the course of the week that demonstrated his lack of experience playing on the wing.

Nevertheless, Poythress' athleticism, instincts and aggressiveness help him find ways to impact games, and he has plenty of time to continue to polish up his skill-set as he's still only 18 years old.

Defensively is where Poythress might be most intriguing right now. He has the size, length and mobility to guard either forward position effectively, as he's able to stay in front of smaller players on the perimeter and is competitive enough to handle himself on the block as well. With a year (or more) of experience underneath his belt playing for a coach like John Calipari at Kentucky, he has a chance to really develop this part of his game, which would make him even more interesting for the NBA.

Also an excellent student reportedly sporting a 3.9 GPA, Poythress had pretty much every college coach in America calling him trying to recruit him over the past few years. It will be interesting to see what kind of role he plays at Kentucky next season as he appears tailor-made to replace Terrence Jones as a face-up power forward. He mentioned in Chicago that he's been recruited to play similarly to the way Michael Kidd-Gilchrist did on the wing.

[Read Full Article]

---