Allen Crabbe
Recent Tweets
All Tweets
DraftExpress: Allen Crabbe and Tim Hardaway Jr seem to be showing the highest skill-level in the shooting guard group. Caldwell-Pope struggling again.
2013-05-17 11:24:15
DraftExpress: Taking a detailed look at Allen Crabbe's game with video analysis http://t.co/zYhJB9IQMp
2013-04-09 14:14:37
DraftExpress: DX NBA Draft Prospect of the Week Allen Crabbe http://t.co/zYhJB9IQMp (by @derekbodner with video analysis from @Mike_Schmitz)
2013-04-09 10:30:57
DraftExpress: Allen Crabbe will enter the 2013 NBA Draft Cal announced http://t.co/MwCG5CFut6 - Not testing the waters.
2013-04-03 17:55:52
DraftExpress: Tough exit for Cal. I think Allen Crabbe needed a big game or two in March to solidify his standing. Scouts sound hot and cold on him.
2013-03-14 23:27:39
Team: Trailblazers
Physicals
Positions
Rankings
Salary
Misc
H: 6' 6"
W: 197 lbs
Bday: 04/04/1992
(23 Years Old)

Current: SG
NBA: SG
Possible: SG

RSCI: 72

Agent: Sam Goldfeder
Current Salary:$862,000

High School: Price
Hometown: Los Angeles, CA
Drafted: Pick 31 in 2013 by Trailblazers

Predraft Measurements
| Year | Source | Height w/o Shoes | Height w/shoes | Weight | Wingspan | Standing Reach | Body Fat | No Step Vert | Max Vert |
| --- | --- | --- | --- | --- | --- | --- | --- | --- | --- |
| 2013 | NBA Draft Combine | 6' 5.25" | 6' 6.25" | 197 | 6' 11.25" | 8' 7.5" | 4.7 | 30.5 | 36.0 |



Basic Per Game Statistics

- Comprehensive Stats - Statistical Top 25s
| Year | League | Name | GP | Min | Pts | FG | FGA | FG% | 2Pt | 2PtA | 2P% | 3Pt | 3PtA | 3P% | FTM | FTA | FT% | Off | Def | TOT | Asts | Stls | Blks | TOs | PFs |
| --- | --- | --- | --- | --- | --- | --- | --- | --- | --- | --- | --- | --- | --- | --- | --- | --- | --- | --- | --- | --- | --- | --- | --- | --- | --- |
| 2015/16 | NBA | Allen Crabbe | 18 | 22.7 | 8.1 | 3.2 | 6.8 | 47.2 | 2.3 | 4.4 | 51.3 | 0.9 | 2.4 | 39.5 | 0.7 | 0.8 | 86.7 | 0.2 | 1.8 | 2.0 | 1.0 | 0.6 | 0.1 | 0.8 | 2.4 |

Player Page&nbsp&nbsp| Player Stats | Mock Draft History | Related Articles&nbsp&nbsp| Add to My Draft Express&nbsp
&nbsp
NBA Combine Interviews: Oladipo, Crabbe, Goodwin, Ennis
May 20, 2013
[Read Full Article]

---
NBA Draft Prospect of the Week: Allen Crabbe
April 9, 2013
Scouting report by Derek Bodner. Video analysis by Mike Schmitz

With Cal losing in the NCAA tournament Round of 32 to Syracuse, junior Allen Crabbe announced shortly after that he would forego his senior season and declare for the NBA draft.

Standing 6'6" with long, wiry arms, Crabbe has good size to play the shooting guard position in the NBA, although he could stand to add a little more strength. While not an explosive athlete, Crabbe is very quick, both in the open court and when running off screens in the half court. He gets a good amount of his offense in transition, where both his ability to streak out and finish as well as his ability trailing the break provide him with scoring opportunities.



Video Analysis:



More Scouting Report Videos

Crabbe's primary asset on the offensive end is his shooting stroke, where he has excellent form, elevation, and touch, with range beyond the NBA three point line. Crabbe is very good as a catch and shoot threat, something which he should be able to translate to the next level immediately. Overall, Crabbe shot 44.1% on catch and shoot opportunities according to Synergy Sports Technology, which in and of itself is already a very good mark. However, due to Crabbe's role as the focal point of the Golden Bears offense, a disproportionately high percentage of these came with a hand in his face.

While Crabbe does do a very good job of maintaining focus and has the high release point and elevation to convert these shots while well defended, when he's less of a focal point of an offense this weapon could become even more dangerous with more space to operate. According to Synergy Sports Technology, Crabbe shot an astounding 53.8% on unguarded catch and shoot opportunities, something which should allow him to easily find a role in virtually any offense. Unfortunately he didn't see enough opportunities like that this season for Cal, as he attempted three times as many shots with a hand in his face and/or shooting off the dribble. His overall 3-point percentage this season was just 35%, after shooting 40% in each of the last two seasons.


US Presswire



Crabbe is also an excellent shooter coming off screens and curls. He does a very good job of using his speed and takes tight angles coming off screens. More impressively, Crabbe has an incredibly quick release that requires very little time and space to get off, with excellent balance and footwork when preparing for the shot. This once again should make it relatively easy to design plays to get Crabbe quality looks in virtually any offensive set.



Top Shooting Prospects in the NCAA Coming Off Screens (min. 100 poss.)






When asked to put the ball on the floor, you start to see some of the deficiencies in Crabbe's game. An overall below-average ball handler for a wing player, without great passing instincts, Crabbe struggles to create off the dribble for either himself or his teammates. He doesn't do a great job using his off hand or changing directions with the ball, and generally looks out of his comfort zone after more than one or two straight line dribbles. He shows some ability to shoot off the dribble, mostly in the form of pull-up jump shots as defenders close out on him or after one dribble to his left. His lack of perimeter ball handling ability limits him greatly in this regard, though.

When Crabbe does get into the lane, he shows good touch on both his pull-up jumper and a floater in the lane, allowing him to score relatively efficiently with his relatively rare forays into the paint. He's not an explosive leaper and does struggle at times finishing through contact, and overall does not seek out contact all that much, resulting in a below average 4.6 free throw attempts per-40 minutes, which ranks 14th among the 21 collegiate shooting guards in our Top-100 prospects.

On the defensive end, Crabbe has good length and moves his feet relatively well. While he could stand to continue adding more strength, and at times can be bullied physically, he has the physical tools to provide some value on the defensive end. However, Crabbe can fairly frequently lose focus on this end of the court, leading to a high center of gravity and an inability to change directions quickly, and he can also lose his man off the ball at times, These are mostly correctable problems, and if a coach is able to get him to consistently focus on this end of the court he has room to improve defensively.

Many, himself included ("I need to get that killer instinct…stop being so passive"), have noted that Crabbe could stand to be more aggressive on the offensive side of the court, and he can appear to coast at times. Scouts have frequently questioned his lack of mental and physical toughness-- both major question marks he will have to dispel during the draft process.

Most of the questions about his aggressiveness would appear to be in relation to him being an offensive focal point, as he was fairly quick and decisive in catch and shoot situations and when coming off of screens. If Crabbe is asked to fill a more complementary role at the next level, his incredibly quick and accurate release should allow him to fit an offensive system very easily, especially if a coach is able to get even average defensive effort out of him consistently.

[Read Full Article]

---
Top NBA Draft Prospects in the Pac-12, Part One
October 5, 2012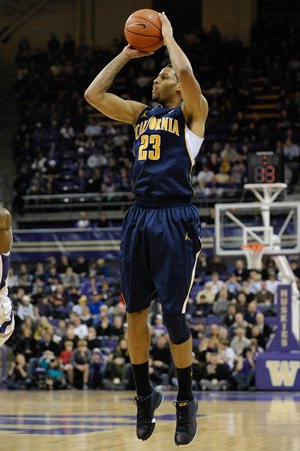 US Presswire



Jonathan Givony

After a strong first season in Berkeley, winning Pac-12 freshman of the year honors, Allen Crabbe stepped into a slightly largely role as a sophomore, not really missing a beat in terms of scoring or efficiency.

Crabbe remains largely the same prospect we profiled a year ago, showing good size for a wing, a solid frame that continues to fill out, and average athleticism for a NBA wing prospect.

His calling card as a NBA prospect continues to be his jump-shot, as he displays terrific mechanics, a natural follow through, deep range, and the size to get his shot off over most Pac-12 defenders at 6-6. He made 40% of his 3-pointers last season once again, mostly on the catch and shoot, and at times coming off screens. While capable, Crabbe isn't as effective shooting off the dribble as he is with his feet set. He converted 40% of his shots with his feet set last season, compared with just 31% on pull ups.

83% of Crabbe's shots in the half-court come on jump-shots, as he remains a relatively one-dimensional at this stage of his development. He's neither quick, nor explosive, having a difficult time beating his man off the dribble and creating high percentage shots on his own. Rarely is he able to get inside the paint in the half-court, and when he does, it's usually to throw up a floater, rather than get all the way to the rim. He's not a great finisher in the lane due to his physical limitations, and he does not get to the free throw line very often.

As the season moved on, opposing defenses had more and more success limited his effectiveness, as they learned that he can be neutralized relatively easily by simply chasing him off the 3-point line. To Crabbe's credit, he knows his limitations and does not force the issue, which is why his turnover rate remained low last season despite his increased usage rate.

On the other end of the floor, Crabbe has work to do to show he can defend his position at the next level. He is a bit undersized for the small forward position, and may lack some lateral quickness to guard most shooting guards. He appears very upright in his defensive stance, having some difficulties staying low to the ground and moving his feet against quicker ball-handlers. He tends to lose his focus at times and relax in his stance too easily, and is also prone to getting overwhelmed physically by stronger matchups, who can expose his average toughness.

There is clearly a place in today's NBA for players with Crabbe's size, shooting ability, and feel for the game. The question is whether Crabbe "is what he is" at this stage, or if he will continue to develop the rest of his game, on both ends of the floor. With a couple of influential seniors graduating, Cal will likely need Crabbe to take the next step in his development and show that he can be a more well-rounded player in his junior year. NBA scouts will be keeping close tabs as well.

[Read Full Article]

---
Top NBA Draft Prospects in the Pac-12, Part One (#1-5)
October 5, 2011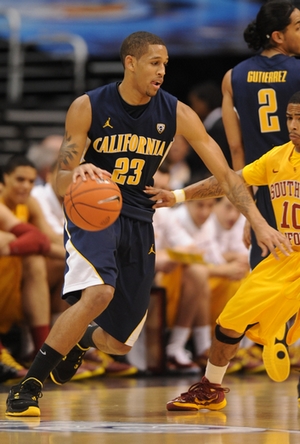 Icon SMI



Kyle Nelson

Allen Crabbe started his freshman campaign slowly but saved his best for last, emerging as Cal's primary option down the stretch and leading the Golden Bears to an NIT-bid. Crabbe averaged 19.8 points per game over his final six games and was named the PAC-10 Freshman of the Year.

Though Crabbe has excellent size for the shooting guard position at 6'6, he must continue to improve his skinny 205-pound frame. He is just an average athlete, as well, and lacks great quickness and explosiveness, which makes getting stronger essential to his draft prospects.

Explosiveness does not factor significantly into Crabbe's offensive game at the moment. As a freshman, he was a perimeter-shooting specialist, with 80% of his shot attempts coming on jumpers. Nevertheless, he was very effective in this role, connecting on 40% of his 5.9 three-point attempts per game. His mechanics are consistent, especially when he is shooting with his feet set, and his range extends well beyond the NBA three-point line. At this stage, Crabbe is most effective as a spot-up shooter, but he should only continue to develop his game off of the dribble and inside of the arc as a sophomore.

Crabbe's game inside of the arc is a mixed bag. He is at his best in transition, where his superior instincts and shooting touch allow him to finish with relative ease.

Though he does not often journey into the lane in the half-court offense, he does show potential as a slasher. While getting stronger would obviously help him better finish in the lane, so too would improving his handles. His first step is just average, but his body control and shooting touch allow him to be an above average finisher around the basket. He struggles to finish through contact, though, and rarely gets to the line, which is evidenced in his 3.4 FTA per 40 minutes pace adjusted.

Despite the weaknesses that he displayed as a freshman, Crabbe's instincts and feel both look well above average, suggesting that he will develop further as he continues to mature. His passing abilities are intriguing and he even had chances to run the pick and roll to mixed results as a freshman. That being said, he should work to improve his decision making, minimizing bad passes and playing to his strengths.

While Crabbe definitely needs to get stronger to improve as a defender at any level, he showed nice potential as a freshman. Though his lateral quickness is average and he needs to work on his fundamentals, his general effort is good and he uses his length to bother his man. Whether or not he'll be able to guard shooting guards at the next level remains to be seen, however, and is worth watching during next year.

Ultimately, while Crabbe emerged as the best freshman in the Pac-10, he still has a long way to go before becoming a legitimate NBA prospect. Maximizing his strength and athleticism is essential as he continues to develop his game because scouts will want to see if he can contribute to a team outside of his spot-up shooting abilities. Cal returns a solid core of talent that is ready to build on last year's success and Crabbe will be a significant factor.

[Read Full Article]

---