Andrew Goudelock
Recent Tweets
All Tweets
DraftExpress: 2013 Top Summer League PERs Luke Harangody Andrew Goudelock Markieff Morris Kelly Olynyk Josh Akognon Mike Scott Stefhon Hannah
2013-07-17 13:31:48
DraftExpress: Also playing for RGV in addition to Patrick Beverley Terrence Jones Andrew Goudelock Hassan Whiteside Tim Ohlbrecht. Lots of talent.
2013-01-09 14:10:49
DraftExpress: 3000 word scouting report & a video await you here: http://t.co/vDhr8A1G RT @DevDaAllstar School me on Andrew Goudelock. Never heard of him
2011-12-25 06:09:26
DraftExpress: Other prospects still available: Jon Leuer, E'Twaun Moore, David Lighty, Jereme Richmond, Charles Jenkins, Isaiah Thomas, Andrew Goudelock
2011-06-23 09:44:54
DraftExpress: NBA Combine Interviews: Marshon Brooks, Andrew Goudelock, Isaiah Thomas http://bit.ly/mDq4GJ
2011-05-24 10:00:46
Team: Xinjiang
Physicals
Positions
Salary
Misc
H: 6' 3"
W: 198 lbs
Bday: 12/07/1988
(26 Years Old)

Current: PG
NBA: PG
Possible: PG

Agent: Andrew Vye

High School: Stone Moutain
Hometown: Stone Mountain, GA
Drafted: Pick 46 in 2011 by Knicks

Predraft Measurements
| Year | Source | Height w/o Shoes | Height w/shoes | Weight | Wingspan | Standing Reach | Body Fat | No Step Vert | Max Vert |
| --- | --- | --- | --- | --- | --- | --- | --- | --- | --- |
| 2011 | NBA Draft Combine | 6' 1.25" | 6' 2.75" | 198 | 6' 4.25" | 8' 0.5" | 9.9 | 32.5 | 37.0 |
| 2011 | Nets Workout | 6' 1.5" | 6' 2" | 203 | 6' 4.5" | 8' 0.5" | 11.8 | 31.5 | 36.5 |
| 2011 | Portsmouth | 6' 1" | NA | 200 | 6' 4.5" | 8' 0" | NA | 30.0 | NA |



Basic Per Game Statistics

- Comprehensive Stats - Statistical Top 25s

Player Page&nbsp&nbsp| Player Stats | Mock Draft History | Related Articles&nbsp&nbsp| Add to My Draft Express&nbsp
&nbsp
NBA Combine Interviews: Marshon Brooks, Andrew Goudelock,Isaiah Thomas
May 24, 2011
[Read Full Article]

---
All-Portsmouth Invitational Tournament, First-Team
April 12, 2011
Matt Kamalsky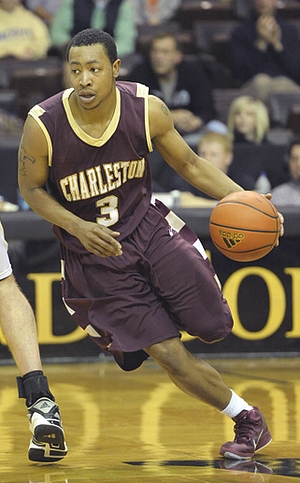 Icon SMI



Amongst the most intriguing prospects slated to compete in the Portsmouth Invitational Tournament, Andrew Goudelock made a strong impression on one end of the floor, but struggled for stretches on the other. He's still one of the most interesting small-school prospects in the draft, and did little to turn scouts off to his ability to space the floor.

Finishing second in scoring over the course of the tournament, Goudelock made 13 of the 22 three point shots he attempted. Capable of getting hot from beyond the arc and hitting shots both off the catch and off the dribble from well beyond the arc, the Charleston product carried his team with his shooting for stretches at the PIT, much like he did during the 2011 season. He shot 43% in catch and shoot situations and off the dribble this season according to Synergy Sports Technology, and only reinforced what we already knew about his perimeter scoring ability.

Despite his scoring prowess, Goudelock started each game in Portsmouth looking to get his teammates involved. While most of his value resides in his ability to make shots, he looked solid at the point guard position when he was looking to defer. He's a sound passer, but doesn't have the terrific footspeed that would allow him to turn the corner regularly enough to draw additional defenders. Though he may be able to handle some minutes at the position down the road, he's going to spend most possessions spotting-up outside the arc.

Though Goudelock's lack of great quickness limits his impact around the basket when he can't find a clear path, it is a substantially bigger issue defensively. The Georgia native had an extremely difficult time fighting through screens at the PIT and was not playing with great intensity. His lateral quickness is not ideal to begin with, meaning he's a bit of a liability when he isn't dialed in—something that seemed to be the case more often than not.

Goudelock has some extremely intriguing characteristics that could allow him to carve out a career in the NBA – ala C.J. Watson. If he can give teams enough reason to believe that he can defend his position effectively, like Watson eventually did, he has a good chance of getting drafted or signed as a free agent.

[Read Full Article]

---
Portsmouth Invitational Measurements and Athletic Testing Results
April 12, 2011
Andrew Goudelock may look a bit small on first glance, but his measurements aren't bad for a point guard, at 6-1 without shoes with a 6-4 ½ wingspan. He also ranked 3rd in the ¾ court sprint and 12th in the lane agility drill. He's not going to blow anyone away with his physical tools, but it was important for him not to measure out "below average" relative to other players at his position in this class.

[Read Full Article]

---
2011 Portsmouth Invitational Tournament, Day Three
April 9, 2011
Andrew Goudelock went 7-9 from three point range on his way to 26 points. Looking intent on proving his mettle as a point guard, the College of Charleston product appeared comfortable running his team, and while he isn't a pure point guard, he's certainly been solid there in the two games we've watched. His decision making is sound, as evidenced by his 5 assists and one turnover today, and he's savvy enough not to dribble into trouble.

If he can prove that he can defend his position at the next level, his shooting this week could endear him to scouts. He's a lights out catch and shoot threat with deep range, and his ability to stretch the floor gives him clear value as a prospect. He's drawing a nice buzz thus far.

[Read Full Article]

---
Trending Prospects (1/6/2011)
January 6, 2011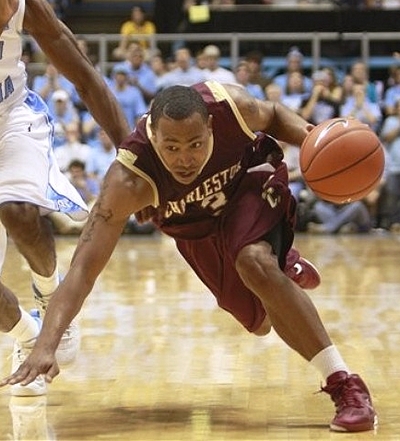 AP



Matt Kamalsky

Hailing from the College of Charleston, Andrew Goudelock epitomizes the small-school college basketball star. A scorer in the mold of Stephen Curry, but without the same quickness, the Georgia native has been productive from the day he stepped foot on campus, scoring 27 point in his first game for the Cougars as a freshman in 2007 and keying each and every one of the program's big victories over the past four years.

Scoring upset wins over North Carolina last year and Tennessee this season, Goudelock has saved his best for last, ranking amongst the top players in our database in point per-40 minutes pace adjusted.

Standing just 6'2, Goudelock functions as Charleston's first option, but shows a penchant for finding the open man when he's well defended. A below average athlete in terms of explosiveness by NBA standards, Goudelock excels on the NCAA level because of his tremendous shot-making ability and his ability to maximize his average quickness by setting up his first-step with jabs and fakes.

The biggest part of Goudelock's offensive arsenal is his jump shot. With more than three-quarters of his shots tagged as jumpers by Synergy Sports Technology, Goudelock is heavily reliant on his ability to hit shots from the perimeter. Fortunately for him and his team, he's knocked down some 47.1% of his total jump shots and is scorching the nets at a torrid 49.4% clip off the dribble. Just as good with his feet set as he is off the bounce, Goudelock has compact mechanics, NBA range, an extremely quick release, great perimeter footwork, and a knack for shrugging off defensive pressure and sticking to his form.

Using the threat of his jump shot to open up his midrange game, Goudelock's lack of great size and quickness force him into some tough situations off the dribble, since he struggles to get all the way to the rim and turn the corner consistently—something that is reflected in his mediocre free throw rate.

Despite his lack of blow-by ability when he puts the ball on the deck, he uses changes of speed well and is shifty enough in the paint with his repertoire of crossovers, shot-fakes, and step-throughs to create ample space for his arsenal of high-effective floaters, runners, and step-back jumpers at the college level.

A creative force from the midrange, Goudelock takes and makes high degree of difficult shots from all over the floor. Seeing a limited number of attempts right around the rim due to his lack of great quickness, that shot-making ability manifests itself in his impressive body-control and renders him fairly efficient when he does get a look near the basket. The talented guard is not one to play above the rim, but he flat out gets the job done on the offensive end.

Spending most of his time off the ball, Goudelock doesn't get to show much in the way of point-guard skills, raising some questions about his position at the next level in the process, but he's an unselfish passer who knows what his team needs from him to win. Most of his touches come in pick-and-roll and one-on-one situations, where he's first and foremost looking to score, even though he does bring the ball up the floor from time to time to initiate Charleston's sets. His ability to show his mettle as a passer and handle pressure more consistently will be worth keeping an eye on throughout the draft process.

Defensively, Goudelock plays hard, shows solid fundamentals, and plays within Charleston's team concept. On the college level, he's usually able to prevent his man from getting all the way to the rim by staying low, giving a cushion when he needs to, and never surrendering an easy basket when defending one-on-one. He doesn't always close out aggressively, though, and his size and lateral quickness would be substantially bigger concerns in the NBA than they are in the Southern Conference.

An exceptionally efficient scorer for the type of shots he attempts, Goudelock lacks NBA physical tools, but he's a terrific shooter from range and knows how to compensate for his weaknesses. While he's had some solid games against quality competition over the years, a tournament berth and a strong showing at the Portsmouth Invitational Tournament would be big steps in the right direction as he attempts to make the transition from small conference scorer to NBA draftee. We've learned over the years not to rule out scorers in Goudelock's mold, but there's no question that he's going to have to catch some breaks and hope that all of his cards fall the right way if he's to make it.

[Read Full Article]

---