Bill Walker
Recent Tweets
All Tweets
DraftExpress: It's happened before. Bill Walker Jarnell Stokes others RT @PatrickMinton can Exum join a team midway through the year? Is this realistic?
2013-04-24 16:22:22
DraftExpress: Amare (looks terribly slow) and Melo (bad shots) both having unimpressive games. Somehow the Knicks are riding Landry Fields & Bill Walker.
2012-01-21 09:14:30
Did he say why? Wanted the ball? RT @Jpdabrams: Asked Bill Walker is he ever thought of going to USC w/ O.J. Mayo. His response? "Hell no"
2010-03-08 20:55:00
Top 25s - Full List
Team: Cedevita
Physicals
Positions
Rankings
Salary
Misc
H: 6' 6"
W: 225 lbs
Bday: 10/09/1987
(28 Years Old)

Current: SF
NBA: SF
Possible: SF

RSCI: 7

Agent: Mike Naiditch

High School: North College Hill
Hometown: Cincinnati, OH
Drafted: Pick 47 in 2008 by Wizards




Basic Per Game Statistics

- Comprehensive Stats - Statistical Top 25s
| Year | League | Name | GP | Min | Pts | FG | FGA | FG% | 2Pt | 2PtA | 2P% | 3Pt | 3PtA | 3P% | FTM | FTA | FT% | Off | Def | TOT | Asts | Stls | Blks | TOs | PFs |
| --- | --- | --- | --- | --- | --- | --- | --- | --- | --- | --- | --- | --- | --- | --- | --- | --- | --- | --- | --- | --- | --- | --- | --- | --- | --- |
| 2015/16 | EURO | Bill Walker | 3 | 8.7 | 4.0 | 1.3 | 4.3 | 30.8 | 0.7 | 2.3 | 28.6 | 0.7 | 2.0 | 33.3 | 0.7 | 1.3 | 50.0 | 0.0 | 1.0 | 1.0 | 1.0 | 0.7 | 0.3 | 0.7 | 1.3 |
| 2015/16 | Adriatic | Bill Walker | 3 | 16.7 | 9.7 | 3.3 | 6.0 | 55.6 | 1.0 | 1.3 | 75.0 | 2.3 | 4.7 | 50.0 | 0.7 | 1.7 | 40.0 | 0.3 | 2.3 | 2.7 | 0.3 | 0.7 | 0.7 | 3.0 | 4.0 |

Player Page&nbsp&nbsp| Player Stats | Mock Draft History | Related Articles&nbsp&nbsp| Add to My Draft Express&nbsp
&nbsp
D-League Showcase- Day Two
January 7, 2009
Walker is having a very good season in the D-League thus far, averaging 19 points and 5 rebounds, shooting an excellent 55% from the field and 40% from beyond the arc. His assist to turnover ratio is not where you would want it to be, averaging over twice as many turnovers as assists, but to his credit, he does have a very large share in his team's offense, and is really being extremely aggressive with his touches.

Walker had an outstanding game yesterday, as he went 10-12 from the field on his way to a team high 26 points and grabbed 7 rebounds in the process as well. Perhaps even more impressive than that however was the way in which he did it. He had several thunderous dunks throughout the game, including a baseline drive in the 3rd quarter where he rose above two players for a three point play. Plays like this erase any doubts about the status of his knees, as he looked extremely comfortable finishing above the rim and also on his hard cuts to the basket. Along with James White, Walker appears to be the most athletic player we've seen in the Showcase thus far.

His ability to slash to the basket and get in the paint was on full display. He doesn't have the ball-handling skills to fully utilize his athleticism yet, but he is clever in his approach – using several maneuvers to get his defender off balance and gain a half a step, driving left most of the time. He also uses his strength very well, driving into the paint and then turning the move into a post up to bully his way to the rim. His mentality is to try and dunk the ball every time, which is definitely how you want to see a player with his tools approach the game.

The one three pointer he took went in, but it was only one, which would suggest a lack of confidence and capability in that area. His stroke looked good, even from the FT line where he went 5-5, but he seemed hesitant to pull the trigger when left open – resorting to pump fakes and drives to the basket. If he can really improve this area of his game he will be a very tough player to match up with. He's only attempting two 3-pointers per-game in the D-League thus far—hitting 40% of his attempts—but the sample size does leave something to be desired just 15 games in. This is obviously a very important part of his development.

His overall guard skills can use some improvement as well, as he didn't look all that comfortable dribbling the ball under pressure and threw some questionable passes in the half-court. His defense was solid all game long, as he was active with his hands and was the first person to several loose balls.

Editor's Note: We incorrectly stated that Danny Ainge left the game after the first quarter. That was incorrect. As we just learned, he had gotten up and moved to a different seat and even stayed to talk to his players after the game was over. We apologize for the error.

[Read Full Article]

---
Cross-Country Workout Swing, Part 5, A.T.T.A.C.K. Athletics, Chicago
May 25, 2008
We had heard a lot of things about how great Bill Walker was looking here in Chicago leading up to this visit, but may have been a bit unlucky to not be able to see all that over the course of our two day visit.

Walker was working heavily on his perimeter shooting (he shot just 31% from behind the arc this season), and indeed looked very focused on shooting the ball correctly. He's had a tendency throughout his career to rush his release and not fully set his feet, and it's pretty clear that they've been working with him on slowing down and using a more pronounced follow-through. The results were fairly solid, but not overwhelming, indicating that he still has work to do on this part of his game. He looked quite a bit better with his feet set than he did shooting off the dribble. His ball-handling ability is another part of Walker's game that is still a work in progress. Despite having the strength to get to the basket at a very good rate thanks to his powerful strides, he needs to improve his ability to change directions with the ball and cut down on turnovers.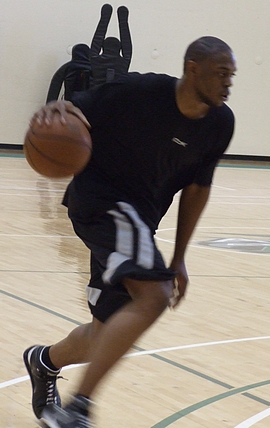 Jonathan Givony/DraftExpress.com



From what we were told, Walker has been shooting the ball a lot better in most of his workouts, which is the reason he's created so much buzz over the past few weeks. "His shooting is very underrated," Mike Procopio told us, "because he's such a great athlete. It's a little inconsistent at times, he needs to get his elbow out and elevate as high as he can. That's what we're working on, and he's responding really well. I compare him to Jerry Stackhouse. He can knock down shots from 15-17 feet, and that's what team will need him to do. That will open up his drives, and his 3-point shot will get consistent in time. When he's open, he'll hit them. He gets up and down on himself quickly. We're just keeping him confident in himself. He's impressed with the ability to make deep shots, but now he needs to just do it a little more consistently."

Regarding the other parts of his game, Procopio had a lot to say as well. "His ball-handling is getting better. Right now he's not a guy that will bring the ball up the court. He can score effectively off of 1 or 2 dribble drives, and that's what he needs. In time he will improve on his ability to Iso and play the pick and roll. He's good enough to create offense for himself. If he needs to get better, bring the ball up the floor, we want him to be able to do that down the road. We do ball-handling in between sets of shooting drills. It's a confidence thing. It will come in time. Again, I go back to Stackhouse-- he was a total off the ball, alleyoop, post-up guy. Now he does everything. Billy has the fundamentals down, he's probably the best athlete in the entire draft, and you have to respect that. The handle will come. He's a competitive, aggressive kid. He's a mean guy on the court, in a good way. "

Something that was especially impressive was the incredible amount of weight Walker has lost since arriving here in Chicago, according to him, over 25 pounds. His body is clearly NBA ready, and the athleticism he lost seems to be coming back, although from what we can tell, it's still not quite at the level it was in high school.

Another thing that caught our eye was the intelligence Walker exhibits off the court. We had a chance to spend some time with him—the results of which you'll see in an interview tomorrow—and really came away thinking that he's an extremely bright and articulate guy, which will surely go a long ways in helping him reach his very high ceiling. It doesn't seem like Walker will be playing in the pre-draft camp next week. He's not ruling out going back to Kansas State, but that doesn't seem all that likely at this point.

Thoughts from Procopio: "Frank Martin, who is one of my best friends, told me that he's one of the smartest players he's ever coached. I passed judgment on him before we started, and I was proven wrong. Thank god Synergy doesn't charge me or him by the clip, because we would both be broke. He absolutely loves watching tape. Right now he's learning how to use his athleticism better and not rely too heavily on it. We're helping him expand what he does by simplifying the game for him. Things like jabs, post-ups, turnarounds, and using athleticism to finish, instead of just creating. He's become more effective this way now. He's a lot more efficient using his footwork and setting people up. He's just a very systematic player. His attitude has been fine here. He's just an emotional kid. He's one of our favorite guys, because he works so hard. He wants to get better. He asks so many questions. He pays attention. He's working on the stuff we're giving him. He is going to be a very good NBA player."

[Read Full Article]

---
NCAA Tournament Performers, 3/26/08-- Part Two
March 26, 2008
Bill Walker closed out his freshman season in the NCAA Tournament much stronger than he did the regular season. After four underwhelming performances in the three weeks leading up to the first round, including an 0-14 shooting performance against Texas, the explosive forward put together two very strong games in which he exceeded his scoring averages. Most impressive though was his ability to carry Kansas State during stretches of their first round upset of USC, while teammate Michael Beasley was on the bench dealing with foul trouble.

The 22-point performance really gave us an opportunity to see the full offensive repertoire that Walker brings to the table. He started right away by knocking down a long jumper from beyond the arc in the game's opening minute. Walker's 3-4 shooting performance from deep was somewhat uncharacteristic, as he shot just over 30% from this range during the season and was very inconsistent with his three point shooting. Walker also looked more comfortable shooting off the dribble than he had since the last time we reviewed him. A couple of times in the first half he was able to pull up against Trojan defenders and with seemingly little effort knock mid-range jumpers. This is an area of Walker's game that is still being developed, and he doesn't go to it very often, preferring to either catch and shoot or take the ball straight to the rim. As has been previously mentioned in write ups on Walker, his somewhat awkward shooting form deters him from being a more consistent outside shooter. He releases the ball out in front of him rather than higher over his head, as well as tending to push the ball more than he allows it to roll off his finger tips.

Walker's quickness and explosiveness were also on display, particularly in the first half. He was able to beat defenders to the rim both from the perimeter as well as the post, where he likes to go to a baseline spin move and muscle his way to the basket. Of particular note from this game was Walker's ability to hang in the air and finish shots with contact. While his general explosiveness has gradually returned to him since his second ACL tear, his body control and hang time have stayed consistently impressive. The most impressive example of this came in the first half of the USC game when Walker was able to beat his defender along the baseline, take off from the left side of the paint, float to the opposite side, and lay in a soft reverse. These are the types of explosive and finesse plays that will attract NBA scouts.

The strong showing continued from Walker in the Wildcat's second round match up with Wisconsin, where the Cincinnati native was able to go for 18 points on 7-11 shooting. We got to see more of Walker's play around the basket in this one, where he showed his ability to pin down his defender and score with his back to the basket. At about 230 pounds, Walker is very strong for a player at this level and rarely has trouble sealing off defenders for position on the block. Once he has the ball, his combination of strength, quickness and leaping ability make him a very tough opponent to slow down. He does however need to improve his touch around the hoop.

We also got to see some more of Walker attacking the basket from the perimeter. He has a fantastic make up for a slasher: quick, explosive, able to take contact and possessing great body control. The major factor holding Walker back at this point continues to be his ball handling skills. Though he was able to keep his turnover numbers down, it was clear to see that he needs to continue to work on this area of his game. His dribble is very loose, and as has been mentioned on this site previously, his crossover dribble is not very effective as he brings the ball very far away from his body as a method of faking out his defender. Walker also got into trouble a few times when he became overly aggressive, taking off in the lane while out of control and picking up offensive fouls.

While his strong defensive play may have not shown up statistically in his two tournament games (no blocks or steals), Walker continued to be a solid presence on the opposite end of the floor. As has been his style all season long, Walker hounded opponents when they controlled the basketball, a few times able to force turnovers thanks to his tenacity. While dropping some of his recently acquired bulk would probably aid his ability to effectively cover wing players in the NBA, he does a solid job at his current stage of development.

The one major concern that arose from this past weekend's games is something that has always been an issue when talking about Walker: his emotions. It has been well documented that Walker is a fiery competitor, but also at times very unstable with how he handles himself on the court. The specific incident that triggered this response came when a minor altercation occurred between Walker and Brian Butch of Wisconsin in which Walker was pushed to the floor by Butch. While things didn't escalate between the two players, Walker's demeanor clearly changed after this, often clapping wildly on defense perhaps as a means of firing himself up even more. These issues can be a reason for concern for GM's in today's image conscious NBA.

Being just a freshman, Walker still has plenty of time to continue to develop at the collegiate level. Given his already blossoming abilities and tremendous athleticism though, it is unlikely that we will see him at Kansas State for very long. There is plenty of speculation as to where he would wind up were he to enter the draft this season, but whether or not he is going to is yet to be seen. The imminent departure of Beasley is likely to have some effect on the decision making process for Walker, as will his history with knee problems. While he could certainly use another season with the Wildcat's to improve various facets of his game, with the possibility (although no guarantee at this point) of being a first round selection looming, Kansas State could be facing the prospects of dealing with a pair of one-and-done players. If Walker decides to enter the draft, he would be very wise to do so without hiring an agent, as he's still very much hovering on the cusp of the first and second round, like many other players.

[Read Full Article]

---
NCAA Weekly Performers, 2/14/08-- Part Two
February 15, 2008
After the second ACL tear of his career, suffered seven games into his freshman season, Bill Walker has come back strong as a sophomore, looking like more than just a shadow of the prospect he was once considered. While not showing the electrifying Vince Carter-like athleticism he displaying in high school, partly due to the toll the injuries have taken on his knee, and partly due to his added bulk, Walker is still a pretty explosive athlete, something he's showing on a regular basis for the Wildcats this season.

Walker's shifted from a swingman to a combo-forward role this season, and it's done him well thus far. On the offensive end, he's showing flashes of good things in most aspects of his game, with his improved jump shot being most notable. He's cleaned up his mechanics, with a more consistent release point and improved arc on his shot, which has resulted in a respectable three-point shot, as he's shooting 34% on the season and 39% since the beginning of December. He has a quick release and does a good job keeping his shoulders square on his shot, though his form isn't quite textbook, as he could push the ball forward a bit less and do a better job holding his follow through. Regardless, he's shown noticeable improvement in this regard in just one season, which is encouraging for his future.

Walker also has an aggressive game attacking the rim, which has its strengths and weaknesses. Walker is good attacking the basket when he isn't very far away (inside 15 feet), where he can operate in a fairly small space and use one or two power dribbles in combination with his explosiveness and body control to quickly get past his man and to the rim. He struggles on drives he starts from behind the three-point arc, though, as his ball-handling isn't very tight. He doesn't sell his crossover well, and can leave it open to his defender, while his footwork and timing could also use some work here, as he is prone to traveling when trying to use advanced moves from the perimeter. Oftentimes, when he'll try to go from left to right or right to left, he won't be able to advance closer to the basket, resulting in a questionable shot attempt.

At the rim, Walker shows a nice ability to take contact and the explosiveness and athleticism to finish strong, still being able to throw down some powerful dunks. When he isn't able to dunk the ball, he does a good job creating lay-up attempts, though his touch around the basket isn't that great, something he'll need to improve on. Playing more forward this year, Walker has made the post-up game a larger staple of his offense, where he does pretty well at this level, showing a nice dropstep where he has the explosiveness and elevation to start on one side of the block and finish on the other side of the rim.

Walker's mid-range game is a work in progress. He shows flashes of a nice pull-up jumper, with good body control and elevation, though he isn't great creating off his dribble and can be prone to some questionable fadeaway jumpers. Another work in progress is his passing game--he shows nice vision on occasion, but can be prone to making some questionable or lazy passes, leading to turnovers.

On the defensive end, Walker has shown nice versatility with an attacking style, defending aggressively in the post and on the perimeter. Down low, he holds position well against larger players, while using his length and athleticism to contest shots and not give anything easily. On the perimeter, he plays up in his man's face and uses his hands well, though he can be beat by over-pursuing. With his physical tools and aggressiveness, he has the potential to be a very good and versatile defender at the next level. Walker has also really upped his efforts on the boards this season, attacking aggressively on both ends of the court, both when he's near the rim and when he needs to come from out of position on the perimeter.

Walker could declare for the draft after this season, where he should be in first round discussions, though teams will likely look long and hard at his knee to assess whether it poses a long-term injury risk. Walker needs to continue improving his outside shot and ball-handling, both of which will be important to his future success. Also, since he projects as mostly a small forward in the pros, he might consider losing some of the bulk he's added this season, if it could help return some of the explosiveness he's lost since high school.

[Read Full Article]

---
Observations from Opening Week
November 14, 2007
While it was Michael Beasley that prompted us to review the tape of the Kansas State-Pittsburgh State matchup from this past weekend, it was Bill Walker's presence that really made things interesting. Having missed the season opener with a thumb injury, Walker played just 16 minutes in the second game due to cramps that kept him out of the entire 2nd half. He did make the most of his time on the court, though, showing us on a number of occasions that his athleticism is back, and then some following the ACL injury he suffered last year.

Walker looks to be in very good shape relative to the last time we saw him at the Treviso Eurocamp. He exploded off the ground on a few occasions for alley-oop attempts, offensive rebounds or loose balls, being extremely active getting in the passing lanes with a bundle of frenetic energy that really set the tempo for Kansas State in his time on the floor. His first step looked pretty explosive—even if his ball-handling skills still aren't very fluid—and Walker was very aggressive bodying up his matchup on both ends of the court.

This was just a small taste against an obviously inferior opponent, but it did leave plenty to look forward to regarding the rest of the season. A lot of teams are already circling November 29th on their calendar. That's the day Oregon is coming to Manhattan to play Kansas State.

[Read Full Article]

---
Top NBA Draft Prospects in the Big 12 (Part One: #1-#5)
October 8, 2007
Deemed ineligible to play high school basketball in Ohio last year, Walker decided to take accelerated courses so that he would be able to play college basketball by the end of the winter semester. He signed on to play at Kansas State, largely due to the relationship that he had with then coach Bob Huggins. In the next year, an unfortunate knee injury and Huggins' departure to West Virginia would both occur, leaving Walker in a situation he could have never possibly envisioned being in.

In the mere six games that the West Virginia native played as a freshman for KSU, he posted averages of nearly 10 points and 4 rebounds per game, while shooting 40% from the field. This is a far cry from the immediate impact that many basketball analysts felt Bill would have on college basketball. He never seemed to find a rhythm due to the fact that he competed in less than 10 practices, and had his season ended prematurely with a torn ACL (his second of his career) against Texas A&M on January 6th.

DraftExpress was able to get a sneak peak of Walker this summer at the Reebok EuroCamp in Treviso, where he looked to be a mere shadow of his former self. He appeared to be at least 20 pounds overweight, and without the jaw dropping athleticism that made him such an intriguing prospect. It should be noted that this was only four months after his ACL injury, so he was nowhere near fully recovered and still had plenty of rehabilitation to do before the games really count.

Walker's ability to regain his old form athletically will prove crucial as to what type of player that he eventually becomes, given that his game was so dependent upon his explosive first stop and jaw dropping leaping ability. In the few games that he played for the Wildcats last season, he showed off the same breath taking body control that he did as a prep phenom, but wasn't quite as explosive as he was when on the high school ranks. O.J. Mayo's old running mate showed improved consistency from midrange (both off the dribble and spotting up), but did not connect on one single three pointer. It could be said that very little could be taken from the games that we saw last season because of the time that it takes for many players to adapt to the college game, but it did give us a glimpse of what Bill had to offer.

Luckily, DraftExpress has been hot on the trail of Bill Walker for nearly three years. He was originally a member of the high school graduating class of 2007, but his loss of eligibility in Ohio made him eventually become a 2006 prospect. On the AAU circuit, Walker showed why he was such a highly regarded prospect, both as an immediate contributor and the superstar he could become down the road.

The athletic gifts that Bill displayed at this time were by far his greatest asset. His body was a chiseled 225 pounds back then, and evenly distributed to both his upper and lower body. The powerful legs that he owned shot him up through the air, dunking absolutely everything within 6 feet of the basket. He would also show off an impressive first step and emerging (but inconsistent) jumpshot. Walker's jumper is a bit shaky at times, primarily due to the inconsistent release point that he has. While he explodes well off the ground on his jumper, he would often shoot the ball quite flat, instead of putting some arc on his shot. Once corrected, the results were drastic. In a high school game against one of the top teams in Kentucky, for example, "Sky Walker" finished with 50 points and 25 rebounds, including six made 3 point shots.

In terms of creating offense off of the dribble, Walker is more than adept for a small forward. He uses his large hands to control the ball well when putting it on the floor, and also does an excellent job adjusting his body when airborne. Although the .7 assist per game average he posted may not reflect it, he actually looked to be an above average passer at the prep ranks.

Switching ends of the floor, effort is the sole determinant of how good of a defender Walker eventually becomes. At times, he looks like a lockdown defender, using his size and strength to put the clamps on opposing offensive players. Then at other times he exerts little effort, doesn't fight through screens, and relies solely on his athleticism. Defense will not be an area of concern for Bill however given his solid fundamentals and physical gifts, as long as he exerts solid effort.

The million dollar question is going to be whether Bill is able to regain his old form or not. If he is able to get back to where he was pre-injury, he will immediately be amongst the top three or four wing prospects that the 2008 draft has to offer. However, if Walker remains the shell of himself that we saw this summer, he becomes a much more marginal prospect. Given the outstanding work ethic that Walker has shown over the years, it seems likely that he regains his old form, although nothing is a certainty when it comes to knee injuries. Either way, he will team with fellow freshman Michael Beasley to form the best forward duo that the Big 12 has to offer, and the one that the most NBA scouts will be flocking to see.

[Read Full Article]

---
2007 RBK Eurocamp: Day Two (Part One)
June 11, 2007
One of the more bizarre spectacles of Day Two of the Treviso Eurocamp was the sudden appearance of Kansas State freshman Bilk Walker, seemingly out of nowhere. Walker tore his ACL six months ago or so, and obviously was not expected to be a part of this prestigious international tournament. Here he is, though, 15-20 pounds or so overweight and looking like a complete shadow of himself, missing point blank dunks and being unable to create much off the dribble of his very slow first step. He actually started off the game with a flurry, knocking down one pull-up jumper from mid-range, another from 3-point range, and then an easy cut and finish—all in the span of 90 seconds or so. From that point on it all went south…looking like he really should be back in Kansas doing physiotherapy rather than promotional appearances for a sneaker company, cause this obviously isn't doing anything for his draft stock. We're just hoping he doesn't reinjure himself.

[Read Full Article]

---
Bill Walker Graduates, Qualifies; Headed to KSU
October 24, 2006
DraftExpress has learned that Cincinnati North College Hill star Bill Walker has graduated high school early and obtained a qualifying standardized test score, and plans to enroll at Kansas State. The only thing that could possibly hold Walker back is the NCAA Clearinghouse, however his paperwork has already been sent in and no red flags are expected.

This ends the long and crazy saga that has followed Walker over the last year. After winning his second straight Ohio state championship in March, rumors began to swirl around that the high flying wing had actually played in 16 games as a freshman for Rose Hill Christian in Kentucky during the 2002-2003 season. The Ohio High School Athletic Association rules state that once a player enrolls in high school, his eligibility clock begins running and lasts for eight semesters. The OHSAA has been incredibly strict on this rule, so it was not likely that Walker would win his appeal attempt.



Bill Walker



Bill hired Bob Huggins' attorney (and Jason Maxiell's NBA agent), Richard Katz, to represent his case. They claimed that the paperwork submitted by Rose Hill Christian was altered, and that Walker was indeed in his proper grade. In August, the OHSAA denied the senior's appeal, and he stated that instead of transferring elsewhere out of the state of Ohio to play basketball, he would remain at North College Hill to finish his academic career.

Rumblings came out early this spring that the 6-foot-6 athletic marvel was going to attempt to graduate early and play for Huggins at K-State, but there was an extended period of silence out of Walker's camp since this was reported. Countless phone calls to his camp were not returned to anyone in the media during this time, so everyone was forced to sit back and see what resulted.

The D-1 Greyhounds star will attempt to enroll in Manhattan this semester if possible, but will certainly be in classes by the time second semester begins. This now eliminates any doubt as to Walker's availability to be selected in the 2007 NBA Draft, as it has been established that his original high school graduating class was 2006 and he will have a year of college basketball under his belt. Draft fans and scouts alike will certainly be following Bill throughout his time in Manhattan, due to the fact that he might be the most physically imposing wing prospect to come out of high school since LeBron James, and has terrific NBA potential with further development of his perimeter skills.

[Read Full Article]

---
Las Vegas AAU Summer Tournaments: Thoughts from Day One
July 23, 2006
Walker did not particularly stand out today with Mayo's amazing performance, but he delivered his two or three guaranteed highlight reel dunks and still finished with 17 points. The Cincinnati product did not seem to have his head in the game, disappearing at times and leaving fans wondering when (or if) they will ever see this athletic marvel put it together for multiple games in a row.

The 6'6 wing has all of the ability to take over a game whenever he chooses, but often finds himself standing around the perimeter when he doesn't have the ball in his hands. Today he showed off some great lift on his jumpshot, but displayed very little arc, causing an erratic shooting performance from outside. Inside of fifteen feet however, Walker was a man amongst boys, getting to the free throw line twelve times. The 225 lb. SF also showed off his excellent court vision, dropping off four assists, although it would have been closer to seven had his teammates been able to catch a pass.

All in all, it was a solid but unspectacular performance for Walker. It was a bit frustrating from a scouting prospective due to the fact that he could have easily had 25 or so points had he chosen to be more assertive and looked to score more often. Regardless, Bill came out and showed everyone why he is considered one of the two or three best high school players in the country today at The BigTime.

[Read Full Article]

---
The Unofficial High School National Championship
February 24, 2006
Bill Walker put his freakish athleticism on display for the nearly 17,000 on hand with five breath taking dunks. The best of those was easily his fourth quarter dunk off of an out of bounds pass from Mayo in which he soared over Michael Beasley, caught the ball and cocked it back in mid-air, then threw it down with ferocity.

Athleticism aside, Walker showed the bad side of his game in much of the first half against Oak Hill. After the first two minutes of the game, he totally disappeared for the remainder of the half. Bill wasn't aggressive at all, and put up some extremely contested mid-range jumpers off the dribble that made many shake their heads in disbelief.

In the second half, Walker came out inspired and scored 19 points. He seemed to understand that the strong points of his game were slashing to the basket, using his great athleticism to his advantage, and simply overpowering foes instead of shooting contested outside jumpers. Walker did manage to hit one there pointer in the second half however, showing great lift and form on his jumpshot. The only major flaw on Bill's shot is that it is very flat, therefore making it inconsistent. When he has arc, he will shoot a respectable percentage from three, evidenced by him making four out of five three pointers en route to his 50 point, 25 rebound performance against one of the better teams in Kentucky a few weeks back.

Many within the national recruiting scene feel that while Mayo is the better player now, Walker has more potential. I totally agree with that, due to the fact that Walker is just beginning to develop a perimeter game and is already the second best player in his class nationally. He is just beginning to tap into the endless well of upside that he has, and it's going to be fun to watch how far he comes along in the future.

What will be more interesting, however will be where Bill Walker plays next year. As it stands now, the OHSAA is currently investigating whether Walker will be eligible for the second semester of next year or not. OHSAA rules state that a player is only eligible for eight semesters once he enrolls in high school. It has been reported by many that Walker enrolled in North College Hill a semester early, and would therefore be ineligible for the second semester of next year. The hot rumor around Cincinnati has the two transferring to Oak Hill Academy next year, only if Walker is deemed ineligible by the OHSAA as he would still be eligible in Virginia. It will be very interesting to see this story unfold, and DraftExpress will have the latest on the topic as it arises.

[Read Full Article]

---
O.J. Mayo and Bill Walker: Interview (Part III)
August 11, 2005


Bill Walker Interview



DraftExpress: There have been a lot of conflicting reports as to what your actual list of prospective schools is. Can you set the record straight and tell me what schools you are considering?

Walker: Right now, we've just thought about it. We're not going to put a list out right now. There's a couple of schools. We're just looking forward to going to college together.

DraftExpress: It's been known that Keenan Ellis, O.J., and you are a package deal…but I recently heard that Kevin Love will be attending school with you guys as well. Can you tell me a little bit about how that all came about?

Walker: We were just joking around one day with Kevin one day in the hotel about coming to college with us and he said he was with us. We were like "cool", and we've got our power forward.

DraftExpress: Now that you've got Kevin, all you need is another wing to play along yourself and you've got an entire starting five. Do you have any ideas of who else you'd like to play with?

Walker: I'm pretty sure that once we pick a school, someone else will want to come join with us.

DraftExpress: Who do you think your toughest matchup has been this summer?

Walker: Nobody really sticks out in particular. Nobody really.

DraftExpress: A lot of fans really have no idea of the work ethic that you and O.J. have. Can you tell me what your daily workout regimen has been this summer?

Walker: Probably wake up about 12. Shower and eat, then go to the gym from about 1 til 3. Shoot pull up jumpers, full court ball handling drills, stuff like that. Then I'll lift weights. The rest of the day I'll just hang out. Those are my off days. Like Monday, Wednesday, Friday I'll do that. Tuesdays and Thursdays, it's a lot of defensive stuff, weight lifting, and shooting a lot of set shots.

DraftExpress: A lot of people have said that while O.J. may be gaining more publicity right now and is a better player in the moment, you actually have more potential because your game is not fully developed. What do you think you need to do to live up to that potential?

Walker: People are just really looking for me to become more of a jump shooter. It's going to happen with time. The more reps I get, the better I will get, and the more comfortable I will become with shooting the ball.

DraftExpress: Do you prefer playing strictly outside on the perimeter or using your strength down low and playing the role of a "power" small forward along the lines of players such as Ron Artest and Joey Graham?

Walker: I like both. If I get a guy who's too slow, I'll take him out to the perimeter and go by him. If I get a smaller guy to play my quickness, I like to use my strength and post up.

DraftExpress: Tell me a little about the alley oop that you caught against the NY Panthers at the buzzer to win the game. Was that a set play or did you and O.J. just kind of draw that up yourselves?

Walker: At the end of the game, guys really get up and play you hard. We have a play that's designed for the lob. Everybody thought that O.J. was going to shoot the ball so they broke to O.J. and I was open for the lob on the back side and it happened just how we drew it up.

DraftExpress: With the NBA's age minimum being put in, you guys are obviously going to have to school for a year. There's a huge debate of college vs. prep school. What are you guys thinking now? Are you definitely going to college? Are you considering prep school?

Walker: I mean I might be…I don't know, I mean…It's a while away. It's too far away to call that. Right now, I'm set on going to college.

DraftExpress: What is it like to have a target on your back everywhere you go?

Walker: It's a gift and a curse. You want it, but then again, it's a task. You have to be up for the challenge every game.

DraftExpress: You and O.J. have quite the fan following at most of your games, but you guys seem to have an abnormally large group of critics, notably your local media. Why do you think so many people are looking for faults within you guys?

Walker: I don't know, its human nature. You don't have to like somebody. I'm not really pressed if someone does like me and I'm really not pressed if they don't. I just go out and play my game.

[Read Full Article]

---
O.J. Mayo and Bill Walker: High School Phenoms (Part II)
August 11, 2005
In all of my years of watching high school basketball, I have NEVER seen a player as electrifying as Bill Walker. He has the ability to just totally change a game with his amazing leaping ability. Anything that is within 10 feet of the rim at the level he plays at will automatically be dunked, and I am not exaggerating at all. It is safe to say that if Bill is able to get into the painted area, someone will be getting dunked on or he will be getting to the foul line. The powerful wing has the ability to take smaller defenders down to the blocks and post them with ease, or he can take bigger, slower defenders out to the perimeter and blow by them with his outstanding quickness. Walker possesses the ability to knock down the three point shot, although it is still very inconsistent at the moment. Like Mayo, Walker has all of the tools to become a lockdown defender. Great size, length, athleticism, lateral quickness, rotations…just about anything you can ask for in a wing player. His superior leaping ability allows him to be an above average shot blocker, which is always a bonus when dealing with a wing player.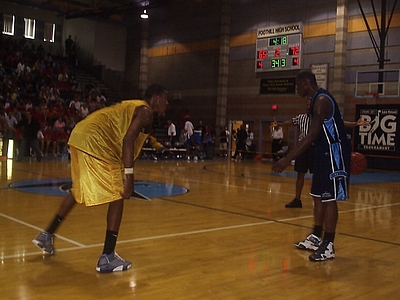 Rodger Bohn/DraftExpress.com



Bill's main weakness is his outside shot, which he is diligently working on. I had the pleasure to watch one of his workouts and it seems to be his main focus. The rising junior has nice form, excellent lift, and a high release point on his shot, but it can be a bit flat during the game, which accounts for his inconsistency. In his workouts, he doesn't miss much because he has people reminding him to put more arc on his shot. For some reason, though, it just doesn't seem to always carry over into the games. Walker's next weakness is that he is only an average ball handler for a wing player, although he does possess an excellent crossover. Like his jumpshot, I remain confident that Bill will develop into an above average ball handler due to his great drive and superior work ethic.

If one had never seen either of these two play, you would probably come walking away from this tournament thinking Bill Walker was the top junior in the country. He continues to show more and more development in his outside game and will be absolutely unstoppable at the high school level once he hones his jumpshot a little more. You must keep in mind that O.J. had an off tournament and did not always play up to his usual level of ability. However, that does not take anything away from the amazing tournament that Bill Walker had.

[Read Full Article]

---
O.J. Mayo and Bill Walker: High School Phenoms
April 8, 2005
Bill Walker, a 6'7 WG/WF, is O.J.'s best friend and teammate on both the high school and AAU level. He partakes in daily workouts with O.J. during the high school season and the AAU season. During the high school season, the duo participates in daily three hour workouts. During the AAU season, those daily workouts range from three to six hours. Walker is unquestionably one of the top leapers in the country and possesses a deadly three point shot. The Vince Carter (Early Toronto and current New Jersey days) comparisons are inevitable, and I am hard-pressed to disagree with them. What makes Bill even more lethal is that he has a chiseled 220 pound physique that gives him the ability to outmuscle any player on the high school level if he chooses to post up. Barring an age limit being put in place, Bill and O.J. are definitely at the top of the list of draft prospects for the 2007 draft.

[Read Full Article]

---