Branden Dawson
Recent Tweets
All Tweets
DraftExpress: RT @GoodmanCBS Scuffle between Branden Dawson and Adreian Payne earlier today. No charges Izzo will bring both of bench tonight at Pen ...
2013-01-16 16:47:22
DraftExpress: Scuffle between Branden Dawson and Adreian Payne earlier today. No charges Izzo will bring both of bench tonight at Penn St.
2013-01-16 16:44:15
DraftExpress: Jabari Parker saying Branden Dawson worried him at MSU is strange. Duke has Rodney Hood Alex Murphy Semi Ojeleye Matt Jones Sulaimon...
2012-12-21 02:43:07
DraftExpress: RT @diamond83 Jabari Parker Main reason for not picking Michigan State was Branden Dawson's presence | http://t.co/mtA31FHF http://t.c ...
2012-12-21 02:26:22
DraftExpress: Jabari Parker Main reason for not picking Michigan State was Branden Dawson's presence | http://t.co/mtA31FHF http://t.co/zmEcqtYx
2012-12-20 19:23:01
Team: Michigan State, Sophomore
Physicals
Positions
Rankings
Misc
H: 6' 6"
W: 206 lbs
Bday: 02/01/1993
(20 Years Old)

Current: SF
NBA: SF
Possible: SF

Pick: 32 in 2014 Mock Draft
Rank 14 in NCAA Sophomores
RSCI: 19

High School: Lew Wallace
Hometown: Gary, IN

Predraft Measurements
| Height w/o Shoes | Height w/shoes | Weight | Wingspan | Standing Reach | Body Fat | No Step Vert | Max Vert | Bench Press | Lane Agility | 3/4 Court Sprint | Class Rank |
| --- | --- | --- | --- | --- | --- | --- | --- | --- | --- | --- | --- |
| NA | 6' 6" | 206 | 6' 9" | NA | NA | NA | NA | NA | NA | NA | NA |



Basic Per Game Statistics

- Comprehensive Stats - Statistical Top 25s
| Year | League | Name | GP | Min | Pts | FG | FGA | FG% | 2Pt | 2PtA | 2P% | 3Pt | 3PtA | 3P% | FTM | FTA | FT% | Off | Def | TOT | Asts | Stls | Blks | TOs | PFs |
| --- | --- | --- | --- | --- | --- | --- | --- | --- | --- | --- | --- | --- | --- | --- | --- | --- | --- | --- | --- | --- | --- | --- | --- | --- | --- |
| 2012/13 | NCAA | Branden Dawson | 35 | 27.0 | 9.0 | 3.9 | 7.3 | 53.5 | 3.9 | 7.1 | 54.6 | 0.0 | 0.1 | 0.0 | 1.2 | 2.2 | 53.8 | 2.1 | 3.7 | 5.8 | 1.3 | 1.6 | 0.9 | 1.9 | 1.6 |

Player Page&nbsp&nbsp| Player Stats | Mock Draft History | Related Articles&nbsp&nbsp| Add to My Draft Express&nbsp
&nbsp
Top NBA Draft Prospects in the Big Ten, Part Two (#2-5)
September 8, 2012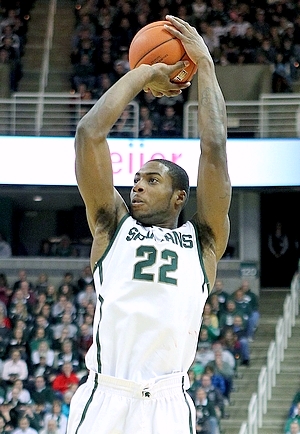 US Presswire



Jonathan Givony

In the midst of a solid freshman campaign, Branden Dawson suffered a torn ACL in his left knee on March 4th, ending what was otherwise a very promising season that put him firmly on the radar of NBA teams.

Dawson's recovery has reportedly gone extremely well, and he recently tweeted that he's "100% and good to go for the season."

The former McDonald's All-American played 21 minutes per game last year as part of Michigan State's rotation, mostly at the small forward position. With seniors Draymond Green, Brandon Wood and Austin Thornton graduating, Dawson's minutes and role will likely increase in his sophomore year.

Dawson's biggest appeal at the moment revolves around his terrific physical attributes. He has solid size for the wing at 6-6, a 6-9 wingspan, a chiseled frame, and tremendous athletic ability, which he's more than happy putting to full use on any given possession. Dawson is an extremely fluid and explosive forward, quick off his feet, with a very good second bounce, as evidenced by his excellent offensive rebounding and shot-blocking numbers.

Dawson wasn't a prolific scorer last season, but he was extremely efficient, making an excellent 59% of his 2-point attempts. Rarely asked to do much shot-creation in Michigan State's offense last season, Dawson played almost exclusively off the ball. He gets most of his possessions off cuts, crashing the offensive glass, and running the floor in transition, where he is simply a tremendous finisher thanks to his athletic gifts and aggressive mentality. It will be interesting to see what type of role he assumes now that the focal point of Michigan State's offense, Draymond Green, is off to the NBA.

With his strong frame and quick first step, Dawson is capable of putting the ball on the floor a bit in a straight line, especially driving left, but he's not what you would describe as a great ball-handler at this stage. He has a tough time changing speeds or directions with the ball after his initial drive is cut off, which makes it difficult for him to create his own shot in pick and roll or isolation situations like most NBA wing players are expected to. He does, however, show nice potential as a post-up threat, which will serve him well both next season and down the road.

Dawson's biggest Achilles heel by far is his perimeter shot, as he didn't make a single 3-pointer last season, and hit just 59% of his free throws. This is a major concern when projecting to the NBA, as there is virtually no such thing as a small forward that is not even remotely a threat to make a long-range jump-shot in today's NBA. To his credit, his shooting mechanics, while fairly deliberate, aren't terrible, and he did make a handful of mid-range jumpers as the year moved on, so there is certainly hope he can still develop this part of his game considering he's only 19 years old.

Dawson was supposed to have this entire summer to dedicate to skill-development, but instead he was forced to focus on rehabbing his knee. That might have set back his development somewhat--something we'll learn a lot more about once the season starts.

Dawson's most consistent skill is the toughness and energy he brings on every possession. He's a tremendous offensive rebounder (#1 amongst all NCAA small forwards in fact)), and also ranked as the best shot-blocking small forward amongst freshmen. He was already one of the best wing defenders in the Big Ten last year, despite only being a freshman.

Dawson has ideal physical attributes for the defensive end, with his excellent size, length, frame and athleticism. He has the lateral quickness to stay in front of guards, and the strength to contain forwards, making him an extremely versatile asset guarding the pick and roll in particular. He puts a great effort in and has excellent instincts as a shot-blocker and ball-thief, which, all things considered, will likely make him an appealing prospect for NBA teams even regardless of how his offense comes along.

Where and when Dawson might get drafted will largely depend on the development of his ball-handling skills, perimeter shooting ability, and all-around scoring ability, which we'll have to continue to track over the next year or two at Michigan State.

[Read Full Article]

---
McDonald's All American Game Interviews/Practice Highlights, Part Two
April 15, 2011
[Read Full Article]

---
Mcdonald's All-American Week Player Evaluations
April 5, 2011
Amongst the more impressive physical specimens at the McDonald's All-American game, Branden Dawson (#18 Scout, #13 Rivals, #20 ESPN) exceeded expectations with his bruising style of play throughout the week.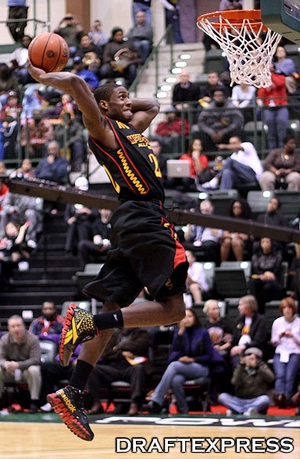 Jim Hlavac / DraftExpress



An exceptional run-jump athlete with a sturdy frame, long-arms, and giant hands, Dawson has physical attributes somewhat similar to those of Kawhi Leonard. He shares Leonard's tremendous rebounding ability too, looking extremely good crashing the glass on both ends for a future small forward.

On the offensive end, Dawson is still clearly a work in progress. He's very capable of finishing above the rim, but is still developing the perimeter shooting, ball-handling, and passing to ease his transition to the wing at Michigan State. Dawson showed improvement in each of those areas this week, and was one of the few players able to contain Austin Rivers in practice on the defensive end thanks to his blend of length, lateral quickness, and intensity.

Dawson has impressive role player potential, and with continued development as a perimeter scorer could be a big piece of the puzzle as Michigan State looks to retool. He certainly fits the mentality Tom Izzo looks for.

[Read Full Article]

---
2011 McDonald's High School All-American Dunk Contest Videos
April 1, 2011
Future Michigan State Spartan Branden Dawson was in the contest but did not advance to the final round.





Branden Dawson tosses it to himself from behind the arc and then catches it off of the bounce, grabs it two-handed before giving a slight windmill and dunking with both hands.





Branden Dawson quickly shoots it from behind the 3-point line and then catches it on the bounce and dunks it one-handed just before his time expires.

[Read Full Article]

---