Branden Dawson
Recent Tweets
All Tweets
DraftExpress: At #56 New Orleans Pelicans take Branden Dawson from Michigan State. DX Profile http:/www.draftexpress.com/profile/Branden-Dawson-6246/
2015-06-26 00:07:29
DraftExpress: RT @GoodmanCBS Scuffle between Branden Dawson and Adreian Payne earlier today. No charges Izzo will bring both of bench tonight at Pen ...
2013-01-16 16:47:22
DraftExpress: Scuffle between Branden Dawson and Adreian Payne earlier today. No charges Izzo will bring both of bench tonight at Penn St.
2013-01-16 16:44:15
DraftExpress: Jabari Parker saying Branden Dawson worried him at MSU is strange. Duke has Rodney Hood Alex Murphy Semi Ojeleye Matt Jones Sulaimon...
2012-12-21 02:43:07
DraftExpress: RT @diamond83 Jabari Parker Main reason for not picking Michigan State was Branden Dawson's presence | http://t.co/mtA31FHF http://t.c ...
2012-12-21 02:26:22
Team: Bakersfield
Physicals
Positions
Rankings
Salary
Misc
H: 6' 7"
W: 230 lbs
Bday: 02/01/1993
(22 Years Old)

Current: PF
NBA: PF
Possible: SF/PF

RSCI: 19

Agent: Jim Tanner

High School: Lew Wallace
Hometown: Gary, IN
Drafted: Pick 56 in 2015 by Pelicans

Predraft Measurements
| Year | Source | Height w/o Shoes | Height w/shoes | Weight | Wingspan | Standing Reach | Body Fat | No Step Vert | Max Vert |
| --- | --- | --- | --- | --- | --- | --- | --- | --- | --- |
| 2015 | NBA Draft Combine | 6' 5.5" | 6' 6.75" | 230 | 6' 11" | 8' 9" | 5.8 | 28.5 | 34.5 |
| 2010 | LeBron James Camp | NA | 6' 6" | 206 | 6' 9" | NA | NA | NA | NA |
| 2010 | Paul Pierce Camp | NA | 6' 6" | 206 | 6' 9" | NA | NA | NA | NA |
| 2010 | NBA Top 100 Camp | 6' 5" | NA | 202 | 6' 11" | 8' 5" | NA | NA | NA |



Basic Per Game Statistics

- Comprehensive Stats - Statistical Top 25s
| Year | League | Name | GP | Min | Pts | FG | FGA | FG% | 2Pt | 2PtA | 2P% | 3Pt | 3PtA | 3P% | FTM | FTA | FT% | Off | Def | TOT | Asts | Stls | Blks | TOs | PFs |
| --- | --- | --- | --- | --- | --- | --- | --- | --- | --- | --- | --- | --- | --- | --- | --- | --- | --- | --- | --- | --- | --- | --- | --- | --- | --- |
| 2015/16 | DLEAGUE | Branden Dawson | 6 | 17.0 | 6.3 | 2.8 | 6.8 | 41.5 | 2.8 | 6.8 | 41.5 | 0.0 | 0.0 | &nbsp | 0.7 | 2.5 | 26.7 | 2.0 | 1.8 | 3.8 | 0.5 | 0.3 | 0.5 | 1.3 | 1.7 |

Player Page&nbsp&nbsp| Player Stats | Mock Draft History | Related Articles&nbsp&nbsp| Add to My Draft Express&nbsp
&nbsp
NBA Combine Competitive Action Recap: Day Two
May 16, 2015
17 points, 5 rebounds, 0 assists, 2 turnovers, 7-12 2P, 0-0 3P, 3-4 FT, 24 minutes

After a relatively quiet first game, shooting just 3-11 from the field, Branden Dawson had a much stronger outing in his team's final game, leading them in scoring with 17 points despite seeing just 24 minutes of action. Dawson did not have a great showing in the shooting drills in the morning, sporting a fairly slow and mechanical looking jumper with somewhat of a hitch at the end of his release, but he nevertheless made a number of mid-range jumpers off the dribble in rhythm in the game, looking fairly confident and aggressive in doing so. He also showed some ball-handling ability in the open floor, another element of his game that we didn't see too much of in his time at Michigan State.

Dawson also used his tremendous athleticism to finish above the rim repeatedly, and defended a variety of different positions, grabbing some strong rebounds as we've grown accustomed to seeing from him.

Dawson's lack of size (he measured 6-5 ½ without shoes) is a bit of a tough sell at the power forward spot, but his 6-11 wingspan, chiseled 230 pound frame, and outstanding athleticism does give him a fighting chance when he's playing the way he did today. Teams do like his pedigree after playing under Tom Izzo for four years, and even if he doesn't hear his name called on draft night, he'll certainly continue to get looks from NBA teams, especially if he can find a way to become at least a passable corner 3-point shooter.

[Read Full Article]

---
Branden Dawson Updated NBA Draft Scouting Report
May 9, 2015
Matt Kamalsky

A player we've written about in our Big Ten preseason coverage each of the last three years, Michigan State senior Branden Dawson saw his college career come to an end at the hands of the eventual National Champion Duke Blue Devils in the 2015 Final Four. Never making the transition to the perimeter, Dawson's scouting report reads similar to how it read after he bounced back from ACL surgery as a sophomore.


US Presswire



As has been the case throughout his career, Dawson's intrigue starts with his tremendous athleticism. He's a powerful athlete with good speed, strength, and outstanding explosiveness off of two feet. With some 20% of his possessions coming in transition, where he shot 75% as a finisher according to Synergy Sports Technology, he's a highlight waiting to happen when he finds a lane to the rim, especially in the open floor.

His physical profile also translates nicely to the defensive end, where he was terrific at times defending multiple positions at the college level en route to earning Big Ten All-Defensive Team honors as a senior. Dawson was one of 11 players to average over 25 minutes per game last season and record 2 blocks and 1.5 steals per-40 minutes pace adjusted. He'll need to be a bit more physical than he already is on the block to make up for his lack of size in the pros, but has a chance to be a very good defender at the next level offering similar versatility on both the perimeter and interior.

Exhibiting the same trademark grit that has become common among Michigan State big men during Tom Izzo's tenure, Dawson is also a terrific rebounder, ranking 13th in offensive rebounding and 8th in defensive rebounds per-40 minutes pace adjusted among players in our top-100.

The issue with projecting Dawson to the next level, as has been the case for some time now, is his lack of offensive skills, particularly on the perimeter. Pegged, perhaps unfairly, as a small forward by some early in his career--due to his lack of height, Dawson was 0-9 from three over the course of his college career and went 11-40 from the midrange as a senior, while shooting a career low 49% from the line this season. He has yet to develop the shooting touch that would allow him to slide over to the small forward position (offensively) for extended stretches.

Dawson isn't entirely inept offensively. He's a terrific finisher who can attack the basket in a straight line when given a lane and make use of his physical tools going one-on-one in the post. The Gary, Indiana native isn't a liability with the ball in his hands as his 1.7 assists per-40 minutes pace adjusted isn't anything special, but it ranks 4th among power forward prospects in our top 100. His lack of polish on the block limits him against collapsing defenses and longer, comparably athletic players, but he flashes some ability from the post attacking the middle of the lane for jump shots and spinning to score baseline on his best nights.

Dawson is a player who, when engaged, was a difference maker at the college level, as his inclusion on the All-Big 10 2nd Team suggests. Looking ahead, Dawson's lack of improvement on the perimeter coupled with his short stature for a power forward will give team's pause, but his excellent toughness, defensive potential, and rebounding ability will earn him plenty of workouts and it wouldn't be entirely surprising to see a team draft him in the hopes he emerges as a Renaldo Balkman or Mike Harris style energy guy down the road.

[Read Full Article]

---
Top NBA Prospects in the Big Ten, Part 4: Prospects #4-7
October 8, 2014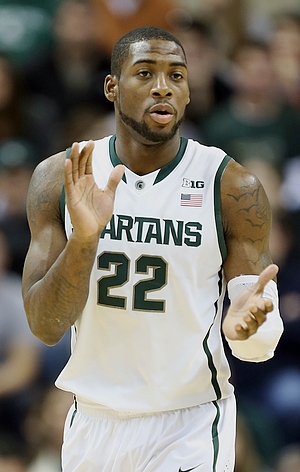 US Presswire



Josh Riddell

Branden Dawson returns to Michigan State for his senior season looking to end his collegiate career on a high note, and finally reach the potential he's flashed since his high school days. With the Spartans losing graduated seniors Adrien Payne and Keith Appling, as well as NBA Draft early entry Gary Harris, and on paper fielding one of their least talented teams in some time, Dawson will definitely be asked to be a major part of the Michigan State rotation and help lead them back to the NCAA tournament.

The key for Dawson in his senior season is to show he can be a perimeter player at the next level. He currently plays primarily close to the basket but doesn't project to fit such a role in the NBA based on his physical tools. In his collegiate career, he has only attempted nine total three pointers, making none of them. It's difficult to find even a single instance in the past 20 years of a wing player who didn't make a single 3-pointer in three seasons of college basketball who ended up getting drafted. He doesn't need to be a lights out three point shooter, but will need to show he is capable playing away from the basket, as this is where he will be slotted in most NBA rotations.

Dawson clearly possesses the physical tools of a NBA player, measured at 6'6" with a long wingspan (measured at 6'9" in 2010) with excellent strength to accompany his length. To go along with his NBA ready frame, he has excellent agility and explosiveness and moves up and down the floor with ease. He punctuates many of his finishes around the rim with powerful dunks, as he uses his length and explosiveness to rise above the defense impressively.

Getting most of his offense in transition, off cuts and putbacks of offensive rebounds, Dawson does not look to create his own shot but is great at finishing the chances provided to him. Many of his field goal attempts came around the rim and Dawson excelled at finishing against bigger players, as he shot 69.3% on 114 attempts according to Synergy Sports Technology, which placed him 18th in the nation among all players with at least 100 attempts. His ability to finish at the rim should be able to replicated against NBA defenders, but he will need to find other ways to score as he risks damaging his team's spacing if his offense doesn't need to be respected outside the paint.

One of the biggest areas of improvement for Dawson this year from a NBA Draft perspective is his jump shooting. He has never been a prolific jump shooter and shot just 28.6% on 21 attempts last season. His fundamentals need some tweaking and he often looks hurried on his jump shots, which puts him off-balance.

He did not look comfortable with the ball in his hands for extended periods of time, either leading the transition opportunity or trying to create in the half court. He struggled putting the ball on the floor, which slows his ability to create offense. This, along with his inability to hit jump shots, really limits his offensive ceiling. Dawson hasn't improved either of these areas during his time at Michigan State and these skills will be crucial for him to succeed at the next level.

Dawson continues to be one of the best offensive rebounders from the small forward position, as his 4.2 rebounds per 40 minutes pace adjusted ranked third among SFs last season. This represents a slight uptick from his 3.3 offensive rebounds per 40 minutes pace adjusted his sophomore season and back in line with the 4.2 per 40 minutes pace adjusted from his freshman season.

Defensively, Dawson has the potential to be a major asset at the next level, as his combination of size, length and agility work together nicely. He can defend either wing spot and has the lateral quickness to slow dribble penetration and the length to contest jump shots. His 1.8 steals and 1.3 blocks per 40 minutes pace adjusted were both near the top of all SFs in our database and a unique production, as only 28 players accomplished these same averages last season. He doesn't shy away from the defensive glass, as his 7.6 defensive rebounds per 40 minutes pace adjusted ranked fourth among SFs last season .

Dawson has had his development slowed by injury, as he missed the tail end of his freshman season due to a torn ACL, meaning his off season had to be spent rehabbing instead of improving, before missing nine games last season due to a broken hand. He will hope to remain healthy all season, allowing him to show off his skill set and any off-season improvements for NBA teams. With the attrition from last year's Elite Eight team, Dawson will need to become a more consistent offensive contributor while shouldering a bigger role offensively, especially scoring from the perimeter, will make him even more attractive to NBA teams.

This is a big year for Dawson, as he hopes to show his offensive skills have caught up to his physical tools and defensive potential, making him a more attractive draft prospect. His lack of true position hurts him, as he looks like a perimeter player playing mainly close to the rim. While the skills and potential Dawson has previously demonstrated should be enough to get him many long looks from the NBA, both in the short and long term, if he can show he has become a more complete player by being more comfortable offensively on the perimeter, he should see his stock continue to rise as the season progresses.

[Read Full Article]

---
Top NBA Draft Prospects in the Big Ten, Part 6 (#6-10)
September 21, 2013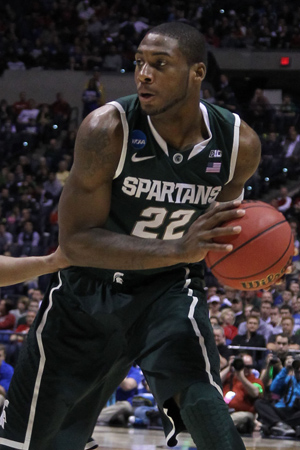 US Presswire



Derek Bodner

When we last checked in on Branden Dawson, he was in the early stages of recovery from a torn ACL he suffered at the end his freshman season. Dawson's recovery went smoothly and he was ready for the Spartans opener only 8 months after the injury and finished his sophomore season without further complications.

While the clean return from injury qualifies as a huge success for Dawson in and of itself, the improvements in his game were perhaps less than what might have been hoped for, at least from expectations before the injury. Those expectations likely had to be dialed back a bit, since the injury caused Dawson to spend the majority of his summer in a swimming pool rehabbing rather than on a basketball court improving his jump shot and perimeter skills.

Perhaps because of the injury, Dawson didn't take on a bigger offensive burden for the Spartans despite the departure of Draymond Green. Dawson saw his scoring average drop from 16.4 points per 40 minutes pace adjusted to 13.7 as he continued to fill a high energy, highly efficient, low-usage role in the Michigan State offense.

From an offensive standpoint, and when looking at his status as a prospect as a whole, much of his game is based around his absolutely superb physical characteristics. Standing 6'6" with good length, a strong frame and incredible explosive ability, there are few wing players at any level that can match his physical acumen.

Dawson is able to use his athletic prowess to take advantage of scoring opportunities in transition, off of cuts to the basket, and from offensive rebounds, where, despite a drop from 4.2 offensive rebounds per 40 minutes pace adjusted to 3.3, he remains the most prolific offensive rebounder among small forwards in our top 100. He has an incredibly quick and explosive second jump, allowing him to get attempts up frequently after he crashes the offensive glass.

As a finisher at the rim, Dawson's touch is at times questionable despite his athletic gifts, something which he exacerbates a bit by rushing his shots and taking out of control attempts. This especially presents itself in transition, where he can be forced into questionable shots and turnovers when pressured and forced to react to defensive attention. Still, his sheer speed and athleticism makes him a considerable threat in these situations.

In the half-court, Dawson's rudimentary ball handling skills present an even bigger problem, despite a good first step that could be a weapon if he were to further refine his perimeter skills. Dawson struggles to change direction with his dribble in either direction, and can become very turnover prone and out of control when defenders pressure him off the bounce.

The bigger problem for Dawson in the half-court, however, is his jump shot. After connecting on only 26.1% on his jump shots during his freshman season, per Synergy Sports, Dawson made very little progress during his sophomore season as he connected at a 28.3% clip, having not yet made a three pointer in either of his two collegiate seasons. Dawson is particularly ineffective in catch and shoot situations, which are typically fairly high percentage shots. He needs to do a better job in terms of positioning before receiving the pass, and he has a long release with a lot of extra motion, something that could impact the repeatability of his release. He was more effective off the dribble, and he gets excellent elevation and has a high release point, something that allows him to get shots off in these situations. That being said, his balance is once again questionable at times, and we're dealing with such a small sample size (28 total jump shots off the dribble) that trying to read into any of these statistics and using that to predict future performance is highly questionable.

One area where Dawson shows some potential is as a post scorer, where his size, strength, and length afford him some possibilities here. He has a high release point, and shows some touch over either shoulder, something that he could use when he has a smaller wing defending him. While not converting an incredibly high percentage of these chances, he has been able to offset that by drawing fouls fairly frequently on the block.

On the defensive side of the ball, Dawson's physical attributes once again present an incredibly intriguing package, and his impact is much more realized on this side of the court. He has the strength and lateral quickness to defend either wing spot, while also having incredible anticipation skills to add to his physical gifts. At 2.4 steals per 40 minutes pace adjusted, Dawson is third among any wing player in the top 100 of our database. When you combine that with his 1.4 blocks per 40 minutes pace adjusted (second among wing players) as well as his excellent ability to stop defenders on the dribble drive, Dawson has the physical tools, anticipation skills, and effort to be an impact defender at the next level.

Overall, Branden Dawson continues to be the same incomplete player as the one we profiled last time. A tantalizing defensive talent and physical specifmen, Dawson has much needed development of his perimeter game in order to utilize that talent at the next level. The development of a reliable catch and shoot game, in particular, would make it far easier for Dawson to fit into an offensive scheme at the next level. His injury in the spring of his freshman season and the resulting summer he lost due to rehab makes his lack of refinement in his perimeter game not all that unexpected, but it makes it increasingly important for him to show substantial growth in those aspects this season.

[Read Full Article]

---
Top NBA Draft Prospects in the Big Ten, Part Two (#2-5)
September 8, 2012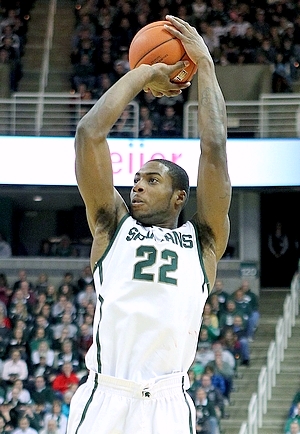 US Presswire



Jonathan Givony

In the midst of a solid freshman campaign, Branden Dawson suffered a torn ACL in his left knee on March 4th, ending what was otherwise a very promising season that put him firmly on the radar of NBA teams.

Dawson's recovery has reportedly gone extremely well, and he recently tweeted that he's "100% and good to go for the season."

The former McDonald's All-American played 21 minutes per game last year as part of Michigan State's rotation, mostly at the small forward position. With seniors Draymond Green, Brandon Wood and Austin Thornton graduating, Dawson's minutes and role will likely increase in his sophomore year.

Dawson's biggest appeal at the moment revolves around his terrific physical attributes. He has solid size for the wing at 6-6, a 6-9 wingspan, a chiseled frame, and tremendous athletic ability, which he's more than happy putting to full use on any given possession. Dawson is an extremely fluid and explosive forward, quick off his feet, with a very good second bounce, as evidenced by his excellent offensive rebounding and shot-blocking numbers.

Dawson wasn't a prolific scorer last season, but he was extremely efficient, making an excellent 59% of his 2-point attempts. Rarely asked to do much shot-creation in Michigan State's offense last season, Dawson played almost exclusively off the ball. He gets most of his possessions off cuts, crashing the offensive glass, and running the floor in transition, where he is simply a tremendous finisher thanks to his athletic gifts and aggressive mentality. It will be interesting to see what type of role he assumes now that the focal point of Michigan State's offense, Draymond Green, is off to the NBA.

With his strong frame and quick first step, Dawson is capable of putting the ball on the floor a bit in a straight line, especially driving left, but he's not what you would describe as a great ball-handler at this stage. He has a tough time changing speeds or directions with the ball after his initial drive is cut off, which makes it difficult for him to create his own shot in pick and roll or isolation situations like most NBA wing players are expected to. He does, however, show nice potential as a post-up threat, which will serve him well both next season and down the road.

Dawson's biggest Achilles heel by far is his perimeter shot, as he didn't make a single 3-pointer last season, and hit just 59% of his free throws. This is a major concern when projecting to the NBA, as there is virtually no such thing as a small forward that is not even remotely a threat to make a long-range jump-shot in today's NBA. To his credit, his shooting mechanics, while fairly deliberate, aren't terrible, and he did make a handful of mid-range jumpers as the year moved on, so there is certainly hope he can still develop this part of his game considering he's only 19 years old.

Dawson was supposed to have this entire summer to dedicate to skill-development, but instead he was forced to focus on rehabbing his knee. That might have set back his development somewhat--something we'll learn a lot more about once the season starts.

Dawson's most consistent skill is the toughness and energy he brings on every possession. He's a tremendous offensive rebounder (#1 amongst all NCAA small forwards in fact)), and also ranked as the best shot-blocking small forward amongst freshmen. He was already one of the best wing defenders in the Big Ten last year, despite only being a freshman.

Dawson has ideal physical attributes for the defensive end, with his excellent size, length, frame and athleticism. He has the lateral quickness to stay in front of guards, and the strength to contain forwards, making him an extremely versatile asset guarding the pick and roll in particular. He puts a great effort in and has excellent instincts as a shot-blocker and ball-thief, which, all things considered, will likely make him an appealing prospect for NBA teams even regardless of how his offense comes along.

Where and when Dawson might get drafted will largely depend on the development of his ball-handling skills, perimeter shooting ability, and all-around scoring ability, which we'll have to continue to track over the next year or two at Michigan State.

[Read Full Article]

---
McDonald's All American Game Interviews/Practice Highlights, Part Two
April 15, 2011
[Read Full Article]

---
Mcdonald's All-American Week Player Evaluations
April 5, 2011
Amongst the more impressive physical specimens at the McDonald's All-American game, Branden Dawson (#18 Scout, #13 Rivals, #20 ESPN) exceeded expectations with his bruising style of play throughout the week.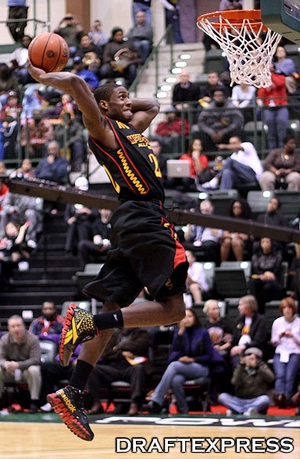 Jim Hlavac / DraftExpress



An exceptional run-jump athlete with a sturdy frame, long-arms, and giant hands, Dawson has physical attributes somewhat similar to those of Kawhi Leonard. He shares Leonard's tremendous rebounding ability too, looking extremely good crashing the glass on both ends for a future small forward.

On the offensive end, Dawson is still clearly a work in progress. He's very capable of finishing above the rim, but is still developing the perimeter shooting, ball-handling, and passing to ease his transition to the wing at Michigan State. Dawson showed improvement in each of those areas this week, and was one of the few players able to contain Austin Rivers in practice on the defensive end thanks to his blend of length, lateral quickness, and intensity.

Dawson has impressive role player potential, and with continued development as a perimeter scorer could be a big piece of the puzzle as Michigan State looks to retool. He certainly fits the mentality Tom Izzo looks for.

[Read Full Article]

---
2011 McDonald's High School All-American Dunk Contest Videos
April 1, 2011
Future Michigan State Spartan Branden Dawson was in the contest but did not advance to the final round.





Branden Dawson tosses it to himself from behind the arc and then catches it off of the bounce, grabs it two-handed before giving a slight windmill and dunking with both hands.





Branden Dawson quickly shoots it from behind the 3-point line and then catches it on the bounce and dunks it one-handed just before his time expires.

[Read Full Article]

---