C.J. Fair
Recent Tweets
All Tweets
DraftExpress: C.J. Fair will also return for his senior season Syracuse announces http://t.co/rZ0mIQgbIF
2013-04-24 14:51:56
DraftExpress: C.J. Fair iso'd one on one vs Georgetown's best defender is the shot you want in that situation? Fair shooting 34% in iso sits. this year.
2013-03-15 21:04:07
DraftExpress: Top NBA Prospects in the Big East (#11-15) - http://t.co/EQEFfOfw - Vander Blue, Gus Gilchrist, Fab Melo, C.J. Fair, Talib Zanna
2011-10-17 08:21:38
DraftExpress: Saw him play a bunch in high school. We may have written about him even. RT @FearTheFan: Take a look at C.J. Fair
2010-11-27 07:54:47
Team: Syracuse, Junior
Physicals
Positions
Rankings
Misc
H: 6' 8"
W: 203 lbs
Bday: 09/13/1991
(21 Years Old)

Current: SF/PF
NBA: SF/PF
Possible: SF/PF

Pick: 59 in 2014 Mock Draft
Rank 38 in NCAA Juniors
RSCI: 84

High School: Brewster Academy
Hometown: Baltimore, MD

Predraft Measurements
| Height w/o Shoes | Height w/shoes | Weight | Wingspan | Standing Reach | Body Fat | No Step Vert | Max Vert | Bench Press | Lane Agility | 3/4 Court Sprint | Class Rank |
| --- | --- | --- | --- | --- | --- | --- | --- | --- | --- | --- | --- |
| NA | 6' 7.5" | 216 | 6' 9" | NA | NA | NA | NA | NA | NA | NA | NA |



Basic Per Game Statistics

- Comprehensive Stats - Statistical Top 25s
| Year | League | Name | GP | Min | Pts | FG | FGA | FG% | 2Pt | 2PtA | 2P% | 3Pt | 3PtA | 3P% | FTM | FTA | FT% | Off | Def | TOT | Asts | Stls | Blks | TOs | PFs |
| --- | --- | --- | --- | --- | --- | --- | --- | --- | --- | --- | --- | --- | --- | --- | --- | --- | --- | --- | --- | --- | --- | --- | --- | --- | --- |
| 2012/13 | NCAA | C.J. Fair | 40 | 34.9 | 14.5 | 5.4 | 11.6 | 47.0 | 4.7 | 10.0 | 47.0 | 0.8 | 1.6 | 46.9 | 2.9 | 3.9 | 75.5 | 2.1 | 4.9 | 7.0 | 0.7 | 1.1 | 1.1 | 1.6 | 1.6 |

Player Page&nbsp&nbsp| Player Stats | Mock Draft History | Related Articles&nbsp&nbsp| Add to My Draft Express&nbsp
&nbsp
Top NBA Prospects in the Big East, Part Four
October 18, 2012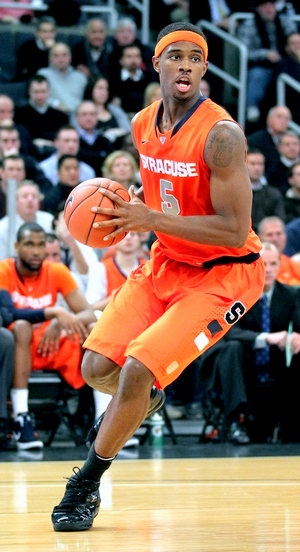 US Presswire



Joe Treutlein

After a solid freshman season, C.J. Fair took a small step forward as a sophomore, slightly expanding his role, seeing his playing time rise from 19 to 26 minutes per game, but not increasing any of his per 40 minute numbers noticeably.

On the floor, the story is much the same, as Fair hasn't developed much with his individual skills in any particular area. Fair still sees almost all of his possessions operating off the ball, mostly on cuts to the basket, and does very little in terms of creating his own shot from the perimeter or in the post. His two-point percentage actually declined significantly this season from 55% to 49%, but given his relatively low usage, that might just be statistical noise. Still, for a player specializing in off-ball scoring around the basket, he'll have to do a better job in the future.

Fair's perimeter shot didn't improve noticeably either, as he made just six 3-pointers on the season, though his improvement from 61% to 74% from the free-throw line was a welcome sign. It's possible this could translate to in-game situations next season, and definitely would be a boon to Fair's stock if it did. To his credit, he has developed a very formidable runner in the lane over the past two seasons, and appears to be capable of translating that touch to the perimeter. That's something he will likely have to do by the time he leaves college, considering he measured just 6-7 ½ and 216 pounds at the Nike Skills Academy, even though he sees plenty of minutes at power forward.

Defensively, Fair had another solid season putting in the consistent focus and energy necessary to succeed in Jim Boeheim's zone scheme, but as is always the case, it doesn't show us much of how he'd fare in more consistent man-to-man situations. At his size, and with his average length (6-9 wingspan), he'll surely have to spend most of his time guarding small forwards at the professional, something he isn't gaining a great deal of experience at in Syracuse's zone.

Looking forward, Fair's lack of noticeable improvement in any significant area is concerning, but he did manage to expand his role without setback and should have opportunities to continue doing so over the next two years. Getting his inside scoring efficiency back to where it was as a freshman and making noticeable strides with his perimeter shot should be his two biggest short-term priorities, but further honing his skills in all areas of the game couldn't hurt either. It's still too early assess Fair's NBA potential, but high energy players with his size and athleticism always deserve looks, and he has time to continue improving.

[Read Full Article]

---
Top NBA Draft Prospects in the Big East: Part Three (#11-15)
October 16, 2011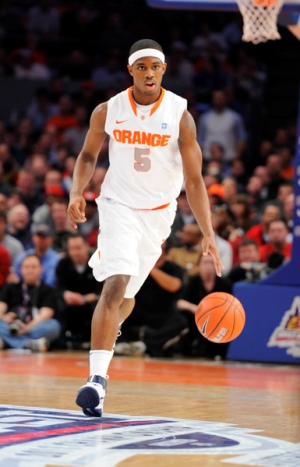 Icon SMI



Joseph Treutlein

A top-100 recruit out of high school, C.J. Fair had a modest debut season for Syracuse last year, averaging 6.4 points in 18.6 minutes per game.

Standing 6'8 with a solid frame and very good length, Fair is a good overall athlete for a combo forward, being fast in the open floor and showing nice vertical explosiveness when he builds momentum. He's still raw with most of his skills and has a certain awkwardness to some of his movements, but likely can improve on that with time.

On the offensive end, Fair does the vast majority of his work operating off the ball, with just 19 of his 218 possessions logged by Synergy being of the isolation variety. He sees most of his possessions on cuts, offensive rebounds, and spot-up opportunities, doing very little to create his own shot and not showing much in terms of a perimeter jumper yet.

Working off the ball, Fair shows a very active motor and solid awareness of spacing, constantly moving around in Syracuse's offense and doing a nice job finishing on cuts in the lane. He shows nice creativity and touch at the rim, finishing well on the move. His athletic abilities also show up much better in transition, where he does a better job harnessing his leaping ability when relatively unimpeded to the basket and not having to worry about putting the ball on the floor.

Fair also sees a lot of opportunities on spot-up, straight line drives, something he shows varying success with depending on the situation. Fair's ball-handling skills are still underdeveloped, not showing much in terms of change of direction ability or control in tight spaces, while he also struggles getting to top speed with the ball in his hands. In well spaced situations, he's able to utilize his long strides to overcome these shortcomings and excel, but when the lanes are crowded he struggles to consistently produce. He does occasionally flash an impressive spin move and shows solid instincts when he has space to operate, but is still very raw overall.

The biggest area Fair is lacking in right now is with his perimeter shooting ability, something he shows very little of on a consistent basis. He took just 32 jumpers on the season according to Synergy, while scoring a poor 0.72 points per shot on those attempts. His FT% was a similarly disappointing 61%. Fair's form is not particularly refined or consistent and his touch is problematic the farther he gets from the rim, something he will definitely need to work on given his lack of shot creation abilities.

Defensively, as is the case with most Syracuse players, Fair is mostly untested as a one-on-one perimeter or post defender, playing almost exclusively the forward spots in Syracuse's 3-2 zone. Like most Boeheim players, Fair shows a good level of focus and activity on defense, constantly keeping his eyes on the ball and moving well off the ball to stay with his man and contest shots, but he appears very raw in the few instances he's tested on isolations. Fair has a high center of gravity and doesn't look very comfortable moving laterally, something he'll definitely need to improve on despite the lack of opportunities to do so at his school.

Looking forward, Fair is still a very raw player who shows flashes in a lot of areas, and he will probably need more time and opportunities to fully developed. While he looks like he'd be ready to expand his game some this season, that may be tough to do given Syracuse's situation, as they're returning the vast majority of their rotation and have a strong recruiting class incoming with two ESPN Top-25 recruits. Continuing to improve his ball-handling, perimeter shooting, and defense should be among Fair's priorities, but he still has plenty of time left to add some polish to his game as he's still just 20 years old with three years left on campus.

[Read Full Article]

---