Cory Jefferson
Recent Tweets
All Tweets
DraftExpress: RT @Joshua_Riddell Today's DX prospect look is at Markel Brown. Cory Jefferson and LeBryan Nash profiled as well http://t.co/buR8hzY8VS
2013-09-26 16:51:32
DraftExpress: New DX Scouting Reports this week Cory Jefferson Kelly Olynyk (Video) Anthony Marshall Carrick Felix Solomon Hill http://t.co/Ga2EXBdc
2013-01-31 14:22:25
DraftExpress: Cory Jefferson was a non-factor his first 3 years at Baylor. Now he ranks 2nd in the Big 12 in PER. Is he a NBA player? http://t.co/ycmUnyVW
2013-01-31 13:27:06
DraftExpress: Top NBA Prospects in Big 12 (#6-11) http://t.co/ac8fCVbX Rodney McGruder, Jordan Henriquez, Steven Pledger, Cory Jefferson Sheldon McClellan
2012-10-03 06:29:31
Team: Baylor, Senior
Physicals
Positions
Rankings
Misc
H: 6' 9"
W: 210 lbs
Bday: 12/26/1990
(23 Years Old)

Current: PF
NBA: PF
Possible: PF

Pick: 52 in 2014 Mock Draft
Rank 13 in NCAA Seniors
Rank 58 in Top 100 Prospects
RSCI: 78

High School: Killeen
Hometown: Killeen, TX




Basic Per Game Statistics

- Comprehensive Stats - Statistical Top 25s
| Year | League | Name | GP | Min | Pts | FG | FGA | FG% | 2Pt | 2PtA | 2P% | 3Pt | 3PtA | 3P% | FTM | FTA | FT% | Off | Def | TOT | Asts | Stls | Blks | TOs | PFs |
| --- | --- | --- | --- | --- | --- | --- | --- | --- | --- | --- | --- | --- | --- | --- | --- | --- | --- | --- | --- | --- | --- | --- | --- | --- | --- |
| 2013/14 | NCAA | Cory Jefferson | 36 | 29.3 | 13.6 | 4.8 | 9.7 | 49.4 | 4.4 | 8.7 | 50.8 | 0.4 | 1.0 | 37.8 | 3.6 | 5.5 | 64.6 | 2.8 | 5.4 | 8.1 | 1.0 | 0.4 | 1.3 | 1.4 | 2.3 |

Player Page&nbsp&nbsp| Player Stats | Mock Draft History | Related Articles&nbsp&nbsp| Add to My Draft Express&nbsp
&nbsp
Top NBA Draft Prospects in the Big 12, Part 3 (#3-5)
September 26, 2013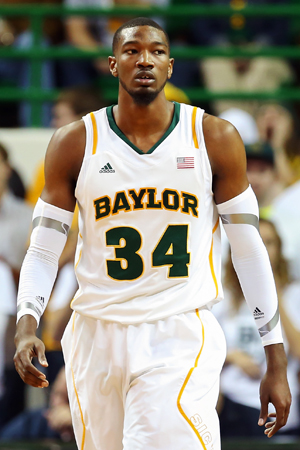 US Presswire



Kyle Nelson

We last covered power forward Cory Jefferson nine months ago, as the Baylor junior was in the midst of a breakout season. Why are we writing about him again so soon? His breakout season ended even better than expected. After a tough winter, Jefferson averaged 16.9 points and 7.3 rebounds over the course of his last 10 games of the season, a stretch that included #4 Kansas, #13 Kansas State, #14 Oklahoma State, and an NIT Championship run. After graduating from Baylor and flirting with the NBA Draft, he decided to return as a fifth year senior, ready to embrace a larger role as a player and as a leader.

At 6'9 and with a 7'0 wingspan, Jefferson has excellent size and length for the power forward position. Though he must continue to add muscle to his wiry 220-pound frame, he is much stronger than he looks and has put on nearly 50-pounds since high school. He is also an elite athlete, extremely explosive around the rim and quick in the open floor.

That Jefferson possesses an NBA-caliber physical profile is nothing new; his increased productivity and efficiency, on the other hand, have left scouts impressed. After seeing just 10.5 minutes per game and 4.8% of Baylor's offensive possessions as a sophomore, Jefferson earned 28.1 minutes per game and 14.5% of its possessions as a junior. He responded by posting 18.3 points per 40 minutes pace adjusted -- up from 13.3 as a sophomore -- while making 61.3% of his field goals. He ranks as the third most efficient scorer in our top-100.

On film, it's easy to see why he is so efficient, as he has emerged as one of the most powerful and prolific finishers in the NCAA while displaying a soft shooting touch, as well. Additionally, he has developed some rudimentary footwork in the post, which allows him to add elements of a back-to-the-basket game, particularly variations on spin moves and jump hooks, to his proficiency finishing off of cuts, dump offs, and put backs. While his post game is still raw at this point, his development has been impressive and scouts will be watching to see if he continues to improve.

In addition to further developing his post repertoire, he must also get stronger, an issue that manifests itself in his subpar 5.5 free throw attempts per 40 minutes pace adjusted. He is able to power through many post defenders at this level, but his occasional struggles will only multiply at the next. Furthermore, scouts will be watching to see how he adapts to Pierre Jackson's absence, as Jackson and Jefferson displayed good chemistry in the pick-and-roll.

Most impressive, however, is his emergence as a jump shooter. As a sophomore, he took just 12 jump shots and made three; as a junior, he took 43 and made 21. Displaying a soft shooting touch, fluid mechanics, and a very high release point, Jefferson not only looked far more comfortable as a shooter down the stretch, but also should be able to translate his jump shooting to the next level. His shot selection could improve, and it remains to be seen whether he can consistently knock down mid-range jump shots, but his junior season left quite a bit of room for optimism.

His defensive profile is mixed, however, stemming from his lack of lower body strength. As we have mentioned before, he likely will struggle to guard NBA power forwards in the post due to his lack of lower body strength. Furthermore, it remains to be seen whether he has the lateral quickness to defend the pick-and-roll at the next level. Also worth noting are his struggles as a rebounder, as he failed to improve as the season wore on, not looking particularly engaged and lacking the instincts to fully utilize his stellar physical profile. Still, he grabbed 21.4% of Baylor's rebounds – even while sharing the frontcourt with Isaiah Austin and Ricardo Gathers – and ranked as the ninth best rebounder in our top-100.

Like we have written in the past, his length and athleticism will allow him to develop into a very good post defensive presence in time should he get stronger and develop his fundamentals. After all, his 2.7 blocks per 40 minutes pace adjusted are a testament to the kind of impact that he can have defensively, even if he is not always fully engaged.

Currently ranked 47th in our Top-100 and a projected second round pick in this year's draft, Jefferson has come a long way since his #78 ranking in a lackluster class of 2009. He is a year older than his class due to his red-shirt year and he will turn 24-years-old during his rookie season. That being said, he was one of the biggest surprises of the 2012-2013 season and even at 22-years-old seems as though he has plenty of room to grow, on the floor and in the weight room. Matching his offensive intensity on the defensive end of the floor and as a rebounder will go a long way to help scouts overlook some of his more glaring weaknesses. For these reasons, expect his stock to rise significantly with continued improvement, and it is safe to say that, between Jefferson and his frontcourt-mate Isaiah Austin, scouts will have plenty of reasons to journey down to Waco, Texas this season.

[Read Full Article]

---
Trending Prospects: Cory Jefferson
January 30, 2013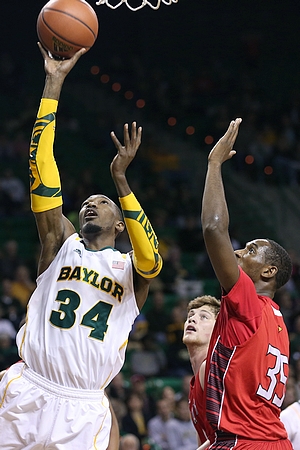 US Presswire



Derek Bodner

With the loss of Perry Jones, Quincy Acy and Quincy Miller, Cory Jefferson, who had been a bit player during his first two-plus seasons at Baylor, had a big opportunity to finally step into a prominent role. More of an athlete than a basketball player until this year, Jefferson's sizable increase in both minutes and role has to this point been a nice surprise, albeit one met with guarded optimism. His scoring average has increased from 13.3 points per 40 minutes pace adjusted to 17.2, and he has been doing so at an efficient 63% true shooting percentage.

The majority of the intrigue around the 6'9" Jefferson remains his physical profile, as he's an excellent athlete with a very long wingspan. While his frame could still stand to add a fair amount of strength, he has reportedly bulked up to 215 pounds, a sizable increase from the reported 170 pounds he weighed in at as a freshman at Baylor. Continuing to show that he can add weight to his somewhat narrow frame will be important for him considering he's already 22-years old, despite being a junior.

Jefferson uses his athleticism on the offensive end mainly by contributing off the ball, with nearly 60% of his offense coming off cuts to the basket, offensive rebounds, and in transition, according to Synergy Sports Technology. Jefferson has excellent open court speed, able to beat his man down the floor with regularity. He also does a good job moving without the ball when his man goes to provide weakside help defense, which, when combined with his explosiveness, makes him a regular threat to finish plays emphatically around the rim. He's converting an excellent 61% of his 2-point attempts on the season, which ranks him amongst the most efficient prospects in our top-100 rankings.

Another area of Jefferson's game that is impressive is his ability to grab an offensive rebound and maintain control without bringing the ball down to his body. While not an overly dominant offensive rebounder – or rebounder overall, for that matter – Jefferson converts these looks at a good clip thanks to the aforementioned ability to keep the ball high and a quick second jump.

Jefferson has also tried to expand his post game, although with mixed returns. Nearly 24% of his offense has come in these sets, and overall he has converted at a solid rate against collegiate big men. That being said, his limited repertoire of moves and polish in this facet of the game still leaves quite a bit to be desired. He is beginning to show some comfort with a turnaround jump shot over his left shoulder and a little bit of a hook over his right, but he has virtually nothing in the way of counter moves and is extremely limited with his left hand. He's overall fairly methodical in the post and doesn't appear all that natural in this regard, and how much of it will translate to the next level is very much in question considering his narrow frame and average skill-level.

Away from the basket, Jefferson doesn't show much comfort. In the pick and roll game Jefferson is limited to hard dives to the basket, which if he meets a defender and is forced to put the ball on the floor or stop short of the paint he is largely stifled, as handling the ball beyond one or two power dribbles in the post is something Jefferson doesn't appear comfortable with yet.

Jefferson has also accumulated a grand total of 5 assists in 539 minutes so far this season, generating an assist on just 3% of his possessions. To his credit, he also doesn't turn the ball over very much, just 14 times all year.

His jumper is neither fluid nor consistent at this stage, although he has shown some limited ability to hit a mid-range shot from 15 feet and in. His bump in free throw percentage to 76% this season is very notable, particularly since he has already attempted more free throws this year (71) than his previous two seasons combined (58). It will be interesting if he can continue to translate this part of his game to finding a consistent mid-range jumper, something that would likely be beneficial to him long-term playing the power forward position full time.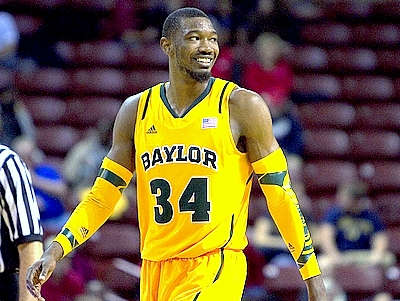 US Presswire



Jefferson is somewhat of a mixed bag defensively as well, although his potential on this end of the court is undeniable. With an increase in minutes, his blocked shots have fallen off from the incredible 4.6 blocks per 40 minutes pace adjusted to a more modest 2.9, but his combination of length, explosiveness, and timing still make him an overall formidable weakside help defender, and he impacts quite a bit of attempts in the lane. He has also done a much better job of limiting his foul trouble this year, dropping from 5.0 fouls per 40 minutes pace adjusted to 3.0, doing a better job of staying on the ground and not biting on pump fakes.

While Jefferson has slowly but consistently added muscle to his wiry frame, his lower body strength still gives him some difficulties defending the post. He does a fair job of denying position early, and his length helps him mostly overcome his lack of strength, but he can at times give up ground to skilled low post players, something that could become a more pronounced issue at the next level.

On the perimeter, Jefferson can struggle moving his feet laterally for somebody who is otherwise a stellar athlete, and as a result he tends to give a substantial amount of room to ball handlers on pick and rolls.

On the glass, Jefferson is solid, but not incredible, grabbing 7.3 defensive rebounds per-40, which ranks just around average for his position amongst top-100 prospects. Jefferson doesn't do a particularly good job of boxing out, instead relying on his length and athleticism to track down balls. He also doesn't appear to be all that instinctive of a rebounder. With added bulk and better focus, it's possible that Jefferson could still improve in this area, something he'd likely need to considering his limitations offensively.

Cory Jefferson's overall level of production in his first season of regular playing time certainly presents some intrigue for a player with his physical attributes. However, for a player who redshirted after his freshman season and will already be 22 years old at draft time should he elect to declare this spring, the overall lack of polish and the fact that he's somewhat stuck between the 4 and the 5 positions presents some questions when projecting him to the next level.

With that said, players with his combination of size, length and athleticism are not that easy to come by, so it's certainly not difficult to see him ending up on a NBA roster. Whether he's able to stick long-term will likely depend on his ability to continue to add weight to his frame and polish up his skill-set offensively, as well as showing he's willing to do what it takes to maximize himself as a rebounder and defender.

[Read Full Article]

---
Top NBA Draft Prospects in the Big 12, Part Four
October 2, 2012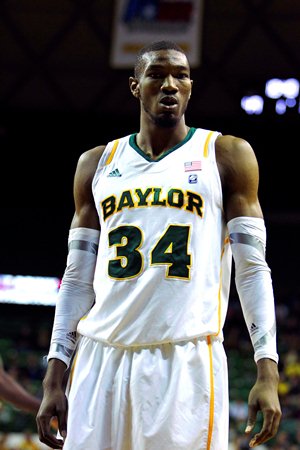 US Presswire



Jonathan Givony

Playing just 454 total minutes in his first three years at Baylor—one of which he redshirted—Cory Jefferson has yet to truly receive much of an opportunity to show what he can do at the collegiate level. With fellow big men Quincy Acy and Perry Jones off to the NBA now, though, this might be the year that he gets a chance.

Jefferson's calling card as a NBA prospect revolves around his combination of physical tools and shot-blocking prowess. Standing 6-9, he possesses a narrow frame that should fill out in time, as well as a very long wingspan. He's a solid athlete on top of that, running the floor well and being capable of playing above the rim with ease.

A fairly limited offensive player, Jefferson scored just 3.6 points per game in 10.5 minutes last season. Pretty aggressive looking to receive the ball with his back to the basket, he doesn't possess the strength or footwork to be a very attractive target at this stage against better competition. That doesn't seem to stop him from trying, though. He's dished out just 3 assists in 454 total minutes at Baylor thus far, as it's pretty clear that he is not looking to create any easy looks for anyone once he catches the ball.

Where Jefferson is at his best is as a finisher, where his terrific length and explosiveness make him a very reliable target for dump-off passes from his guards, and will allow him to make an occasional highlight reel via the offensive glass. He doesn't look to have much in the ways of a jumper or ball-handling skills, leaving him mostly at the mercy of his guards to create offense for him.

While Jefferson's skill-level offensively isn't particularly impressive, he's actually fairly advanced on the defensive side of the ball. His tremendous length and mobility help him out quite a bit here, but he also shows great patience, awareness and confidence—almost the exact opposite of his work on the offensive end. Blessed with excellent timing as a shot-blocker, Jefferson simply changes everything around the rim, rejecting 4.6 shots per-40 minutes pace-adjusted. This would have been the second best rate in the Big 12 last year had he played enough minutes to qualify, so it will be interesting to see what he can do with more burn.

He's not without flaws here either, though. Due to his lack of strength, he has some issues keeping stronger players from backing him down inside the paint, causing him to foul at a relative high rate. He defended primarily centers last season, something he likely won't be able to do at the professional level with his skinny build standing just 6-9. Can he guard power forwards who step outside and attack off the dribble? That remains to be seen. His rebounding rate wasn't particularly impressive last season either, especially offensively considering how small a role he played there.

With highly touted freshmen big men Isaiah Austin and Ricardo Gathers entering the fold for Baylor, Jefferson will have to show improvement to show he's worthy of more consistent playing time than he's seen the past two years. Turning 22 this December, he's already older than most of the players in his class, so this will be an important season for him to show that he's more than just an impressive physical specimen.

[Read Full Article]

---