Dorian Finney-Smith
Recent Tweets
All Tweets
DraftExpress: Fab Melo has put some serious work into his body. Dorian Finney-Smith not playing great but seems very intriguing. Garden surprisingly empty
2011-11-23 10:01:50
Team: Florida, Senior
Physicals
Positions
Rankings
Misc
H: 6' 8"
W: 205 lbs
Bday: 05/04/1993
(22 Years Old)

Current: SF
NBA: SF
Possible: SF

Pick: 51 in 2016 Mock Draft
Rank 12 in NCAA Seniors
RSCI: 22

High School: Norcom
Hometown: Portsmouth, VA

Predraft Measurements
| Year | Source | Height w/o Shoes | Height w/shoes | Weight | Wingspan | Standing Reach | Body Fat | No Step Vert | Max Vert |
| --- | --- | --- | --- | --- | --- | --- | --- | --- | --- |
| 2014 | Nike Skills Academy | NA | 6' 7.5" | 214 | 6' 11" | NA | NA | NA | NA |
| 2012 | Kevin Durant Camp | NA | 6' 7" | 200 | 6' 11" | NA | NA | NA | NA |
| 2010 | LeBron James Camp | NA | 6' 7" | 189 | 6' 9" | NA | NA | NA | NA |
| 2010 | Kevin Durant Camp | NA | 6' 8" | 189 | 6' 9" | NA | NA | NA | NA |
| 2010 | NBA Top 100 Camp | 6' 6" | NA | 189 | 6' 11" | 8' 6" | NA | NA | NA |



Basic Per Game Statistics

- Comprehensive Stats - Statistical Top 25s
| Year | League | Name | GP | Min | Pts | FG | FGA | FG% | 2Pt | 2PtA | 2P% | 3Pt | 3PtA | 3P% | FTM | FTA | FT% | Off | Def | TOT | Asts | Stls | Blks | TOs | PFs |
| --- | --- | --- | --- | --- | --- | --- | --- | --- | --- | --- | --- | --- | --- | --- | --- | --- | --- | --- | --- | --- | --- | --- | --- | --- | --- |
| 2014/15 | NCAA | Dorian Finney-Smith | 28 | 27.9 | 13.1 | 4.9 | 10.4 | 47.2 | 3.1 | 6.3 | 50.3 | 1.8 | 4.1 | 42.6 | 1.6 | 2.7 | 58.7 | 2.6 | 3.6 | 6.2 | 1.6 | 1.1 | 0.9 | 1.9 | 2.6 |

Player Page&nbsp&nbsp| Player Stats | Mock Draft History | Related Articles&nbsp&nbsp| Add to My Draft Express&nbsp
&nbsp
Top NBA Prospects in the SEC, Part Eleven: Prospects #14-17
September 29, 2014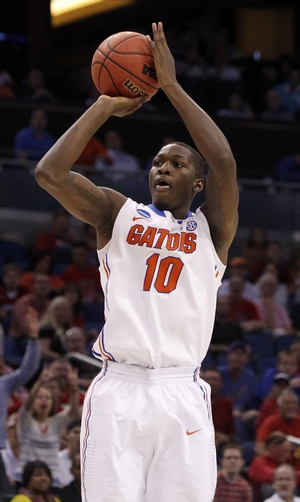 US Presswire



Derek Bodner

After transferring from Virginia Tech to Florida following the firing of Seth Greenberg, Dorian Finney-Smith successfully adjusted to coming off the bench for the Gators, winning SEC 6th man of the year while playing a key role on a very good Florida team.

Despite seeing slightly less playing time with the Gators than he had two years earlier during his freshman season with Virginia Tech, Finney-Smith was far more productive on a per-minute basis. His scoring jumped from 9.1 points per 40 minutes pace adjusted to 14.3, while slightly improving upon his rebounding efforts as well, from 10.1 to 11.0 per 40 minutes, once again adjusted for pace. Overall, his Player Efficiency Rating increased from 12.9 to 16.9 during his sophomore year with the Gators.

As we noted when previewing Finney-Smith last season, he has an outstanding physical profile for a small forward, standing nearly 6'8" in shoes, with a 6'11" wingspan, excellent quickness and athleticism, and a frame that looks like it can add a decent amount of bulk. That being said, his physical profile projects much better as a small forward than a power forward, and in order to make that transition to the NBA, his perimeter skills were something that he desperately needed to improve upon to really establish himself as a prospect.

The results were a little bit mixed this past season in that regard. Finney-Smith did become slightly more effective as a jump shooter, connecting on 30.8% of his overall jump shots, a slight improvement from the 26.3% he shot during his freshman season at Virginia Tech.

That being said, considering how important connecting from the perimeter is to his NBA hopes, and that he had over a year and a half off to work on his shot as he sat out due to transfer rules, the improvement was perhaps more modest than many were hoping for. He's still wildly inconsistent with his jumper, showing many of the same questionable mechanics that we noted in our previous write-up.

Finney-Smith still lacks considerable polish on the perimeter, or in virtually all aspects on the offensive end. He creates very little off the bounce, as, while he's a good athlete with a quick first step, he's not all that fast with the basketball in his hands, slowed down by his rudimentary ball handling. He also, despite still playing much of his time at the power forward position, creates virtually nothing out of the post.

Where Finney-Smith does factor in is off the ball. He gets a large portion of his offense off of cuts to the basket, in transition, and from offensive rebounds, where he pulls down a very strong 4.2 offensive rebounds per 40 minutes pace adjusted. However, he still struggles to convert these opportunities at a high clip, shooting just 38.6% on shots generated from offensive rebounds, per Synergy Sports.

While Finney-Smith is a very good athlete, with incredible quickness and good leaping ability, he overall struggles to finish around the basket. He shot only 44.8% on attempts around the basket which, while an improvement over the 36.8% he shot in similar situations at Virginia Tech, is still well below average for a player with his physical attributes. He did a slightly better job going up strong this past season, but he still attempts difficult shots more often than he should, tends to take some time to gather himself after receiving the ball down low, and overall just doesn't seem to have great touch around the paint.

The defensive side of the ball is an area where Finney-Smith did make substantial improvements. He looked much more consistently engaged at Florida under Billy Donovan. His effort level was strong throughout, he was more frequently in a good defensive stance, and he seemed far more in tune with team defensive concepts and rotations. He still struggles to defend in the post at times, as he simply doesn't have the lower body strength to defend some of the stronger post-up options, even at the collegiate level. Despite this improvement on the defensive end, Finney-Smith didn't generate much in terms of defensive stats, generating only 0.7 blocks and 0.7 steals per 40 minutes pace adjusted. Still, he came a long way in realizing the defensive potential he has with his outstanding physical profile.

On the one hand, Dorian Finney-Smith increased his production while playing on a very good Florida team, while showing slight improvement in his jump shot, and he became a more consistent defensive contributor. On the other hand, Finney-Smith still has a long way to go in developing the skills he will need to succeed on the perimeter in the NBA. There's a market in the NBA for a player with his outstanding physical and athletic profile, but he will likely need to make substantial progress on his set jump shot if he wishes to really carve out a niche at the next level.

[Read Full Article]

---
Top NBA Prospects in the SEC, Part Five (#5-9)
October 19, 2013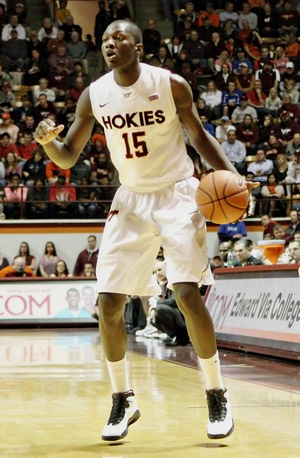 US Presswire



Josh Riddell

After being named to the ACC All-Freshman First Team, Dorian Finney-Smith decided to transfer from Virginia Tech to Florida when Head Coach Seth Greenberg was fired. After sitting out a season, Finney-Smith is poised to be a big contributor on a Florida team that has been hampered by injuries and suspensions to its returning players.

Finney-Smith has some excellent physical tools, as his 6'8" frame is complemented nicely by a reported 6'11" wingspan. He needs to add some strength to his lean 205 pound frame though, as he has a tendency to get pushed around by bigger players. Finney-Smith has excellent open court speed for a player of his size, as his long strides allow him to get up and down the floor quickly.

Most of the optimism revolving around Finney-Smith's pro prospects stem more from his physical tools and potential than his actual production as a freshman. He averaged only 6.3 points per game and he was not efficient at all from the field, as he shot an incredibly poor 31% on two point attempts, although he was able to convert 36.6% of his three pointers. His length did help him pull down 10.1 rebounds per 40 minutes pace adjusted, 4.0 on the offensive end (which ranked 5th among small forwards and 6.1 on the defensive end.

Offensively, Finney-Smith did not excel in any single area during his freshman year, but he showed flashes of potential that will grab the attention of scouts if he's been able to improve his skill-level in his year off the court since transferring. The majority of his offense came from spot-up opportunities, where he shot only 31% on catch and shoot attempts. His mechanics are a bit flawed, as one or both of his elbows flare out on his jump shots, which hurts his accuracy. He'll have to improve his jump shooting if he wants to continue to be a perimeter player at the next level, as he saw most of his minutes at power forward at Virginia Tech.

Compounding his struggles on the perimeter, Finney-Smith did not have much success finishing at the rim, shooting only 36.8% on shots around the rim categorized by Synergy Sports Technology. He has shown the explosiveness to play above the rim at times but looked hesitant to show this in traffic. This contributed to his struggles at the rim, especially on offensive rebounds, as he looked unsure when attempting to finish with defenders surrounding him. This caused him to lay the ball up tentatively, which lead to either a block or missed attempt on what should be a relatively easy finish.

Defensively, Finney-Smith's physical tools give him the foundation to be a strong defensive player, but he was inconsistent on this end of the court in his freshman season. Quicker players were able to get past him off the dribble, although his length often allowed him to recover and block or alter their shots. He probably won't be able to erase these mistakes against craftier offensive players, so he'll need to focus on keeping his defender in front of him off the dribble with better footwork.

Also, he looked lost on times in rotations as he was often out of position on defense, either by being in the wrong position or being too slow on his rotation. However, his quickness and length allowed him recover nicely and challenge the offensive player. Scouts will want to see that he has a better grasp on team defensive concepts this season while using his physical tools to make an impact on defense.

It will be interesting to see how Finney-Smith fits into the offensive system of Florida. One of their main sets is a side pick and roll, which Finney-Smith was not too involved with at Virginia Tech. In the small amount of possessions he did play in the pick and roll, he had the tendency to rush through the screen to pop out for a three point attempt. Billy Donovan will want to see more discipline in setting a good screen to free up his teammates before looking for his own shot.

After a year off and now being thrust into a major role at Florida, Finney-Smith will be one of the more intriguing players in the SEC this season. Scouts will be looking to see how Finney-Smith improved during his year off and whether he has been able to add to his offensive repertoire. Finney-Smith has a great opportunity to be a major contributor this year and he has a nice foundation built on his physical features, but he will need to add some bulk and find an offensive niche to be taken more seriously as a draft prospect.

[Read Full Article]

---