Durand Scott
Recent Tweets
All Tweets
DraftExpress: Vegas ASM Pro Day Sergey Karasev Lorenzo Brown & Trevor Mbakwe playing 3 on 3 vs C.J. Aiken Durand Scott and Khalif Wyatt. 28 teams here.
2013-05-31 20:21:03
DraftExpress: Top NBA Draft Prospects in the ACC, Part 6: Dexter Strickland, Ryan Kelly, Reggie Johnson, Daniel Miller, Durand Scott http://t.co/jF57Zgba
2012-09-24 10:03:18
DraftExpress: Top NBA Prospects in the ACC, Part 3 (#11-15) http://t.co/bM0yslZo Reggie Johnson, Lorenzo Brown, Seth Curry, Durand Scott, Milton Jennings
2011-09-21 12:30:35
DraftExpress: Speed is everything in today's NBA & Strickland is one of the fastest players in the NCAA RT @jpisor21: Dexter Strickland over Durand Scott?
2011-09-20 08:37:38
DraftExpress: Top NBA Draft Prospects in the ACC, Part Two: http://bit.ly/blMUkg - Tyler Zeller, Xavier Gibson, Iman Shumpert, Ari Stewart, Durand Scott.
2010-10-21 12:52:24
Team: Brindisi
Physicals
Positions
Rankings
Salary
Misc
H: 6' 3"
W: 198 lbs
Bday: 02/22/1990
(25 Years Old)

Current: PG/SG
NBA: PG/SG
Possible: PG/SG

RSCI: 26

Agent: Andrew Vye

High School: Rice
Hometown: New York, NY

Predraft Measurements
| Year | Source | Height w/o Shoes | Height w/shoes | Weight | Wingspan | Standing Reach | Body Fat | No Step Vert | Max Vert |
| --- | --- | --- | --- | --- | --- | --- | --- | --- | --- |
| 2013 | Portsmouth | 6' 2.75" | NA | 198 | 6' 8.5" | 8' 4" | NA | NA | NA |



Basic Per Game Statistics

- Comprehensive Stats - Statistical Top 25s
| Year | League | Name | GP | Min | Pts | FG | FGA | FG% | 2Pt | 2PtA | 2P% | 3Pt | 3PtA | 3P% | FTM | FTA | FT% | Off | Def | TOT | Asts | Stls | Blks | TOs | PFs |
| --- | --- | --- | --- | --- | --- | --- | --- | --- | --- | --- | --- | --- | --- | --- | --- | --- | --- | --- | --- | --- | --- | --- | --- | --- | --- |
| 2015/16 | Italian | Durand Scott | 7 | 24.7 | 11.6 | 4.4 | 8.4 | 52.5 | 3.3 | 5.3 | 62.2 | 1.1 | 3.1 | 36.4 | 1.6 | 2.0 | 78.6 | 1.1 | 2.3 | 3.4 | 1.4 | 0.9 | 0.0 | 1.9 | 2.7 |
| 2015/16 | Eurocup | Durand Scott | 6 | 29.0 | 10.7 | 4.5 | 7.7 | 58.7 | 4.3 | 6.5 | 66.7 | 0.2 | 1.2 | 14.3 | 1.5 | 1.8 | 81.8 | 0.5 | 4.2 | 4.7 | 1.3 | 0.2 | 0.0 | 1.3 | 2.8 |

Player Page&nbsp&nbsp| Player Stats | Mock Draft History | Related Articles&nbsp&nbsp| Add to My Draft Express&nbsp
&nbsp
Top NBA Draft Prospects in the ACC, Part Six
September 24, 2012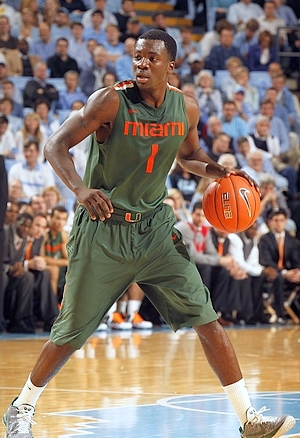 US Presswire



Joe Treutlein

Heading into his senior season, Durand Scott has had a very flat trajectory in his development in his three years at Miami, posting very similar stat lines every season. On the court, Scott also remains largely the same player as the one who stepped foot on campus as a freshman, and will likely need to show some growth this year to put himself more firmly into NBA discussions.

On the offensive end, Scott's dribble-drive game remains his hallmark, and he possesses the same strengths as the last time we profiled him. Showing a very strong handle with either hand and nice creativity, Scott has no problem breaking down the defense in a variety of situations, being equally effective in transition, isolations, and pick-and-rolls.

At the basket, Scott is a good but not great finisher, using a solid combination of power and finesse depending on the situation, while probably being most impressive with his ability to competently score with either hand around the rim. He does show some issues scoring consistently when facing frontcourt weak side help, however, which could only become more of an issue at the next level. For this reason as much as any other, it's likely critical Scott improve in another area of his game to diversify what he brings to the table.

Scott's shooting is the most obvious issue he could improve to get him more firmly on the radar, but he hasn't shown much progress thus far. Scott hasn't averaged more than 2.0 three-point attempts per game in any of his three seasons, and despite an impressive bump in his shooting to 39.1% as a sophomore, he fell back to earth as a junior when he shot 31.1%. Scott would help himself greatly to see a strong improvement in both his attempts and efficiency this season, but at this late stage in his development it might not be that likely.

The other area Scott can help himself with is developing into more of a traditional point guard, but this is another area where he hasn't seen much growth since his freshman season. Despite his strong ability to break a defense down and the flashes of nice drive-and-dish passes he makes, he doesn't really seem to have a true point guard's feel for managing an offense and balancing his own scoring and passing. Scott's 4.9 assists per 40 minutes pace adjusted as a freshman were actually the best of his career, as he posted just 3.7 by the same metric as a junior.

Defensively, Scott continues to be a strong asset to his team with his solid combination of size, athletic ability, fundamentals, and tenacity, making him effective in both isolations and pick-and-rolls. He can show troubles consistently staying in front of some of the quicker lead guards in the NCAA, however, and may be a bit between positions on the defensive end projecting to the NBA, being small for a shooting guard and not quite quick enough for a point.

Looking forward, Scott has had a solid college career and brings a well-defined set of skills to the table, but doesn't really overwhelm in any one area and may be caught between positions on both ends of the floor. His lack of growth in every facet of his game over his three seasons isn't encouraging, but he still has time to take his game to the next level as a senior.

With his solid size and ability to create his own shot--and the premium that is placed on this skill--Scott will have a plethora of opportunities to play professionally and continue to improve his game, which could lead to a shot in the NBA down the road if he isn't able to get one immediately following his collegiate career.

[Read Full Article]

---
Top NBA Draft Prospects in the ACC, Part Two (#6-10)
October 19, 2010
Jonathan Givony

A top-25 recruit according to Scout.com and a product of a storied high school program for NYC point guards, Rice, Durant Scott had a successful freshman season. His rookie performance earned him a spot on the ACC All-Rookie team.

Scott brings good physical attributes to the table at the point guard position, as he has excellent size at around 6-3, to go along with a strong frame and solid athleticism. He sports a powerful first step and good quickness, which gives him a nice framework to build off for the future.

Offensively, Scott acts as his team's primary ball-handler and distributor, even if he isn't what you would necessarily call a pure point guard at this stage. His main focus revolves around creating his own shot and getting to the basket, two areas in which he certainly excels in right now.

Scott was about as aggressive a slasher as you'll find amongst freshman guards last season, showing a tenacity for making his way to the rim both in transition and in the half-court that will serve him quite well as his college career progresses.

A very good ball-handler, capable of driving in either direction, he has no qualms about using his strong, mature frame to power his way inside and then finish through contact, showing a toughness that is characteristic of many New York City guards. He's a pretty good finisher on top of that—despite not being terribly explosive—understanding the nuances of using the glass and being pretty effective utilizing floaters when unable to make it all the way to the basket.

As a shooter, Scott is nowhere near as effective at the moment, knocking down just 26 of the 89 total jumpers he took last season (29%). He has a bit of a hitch in his mechanics, flailing his elbows out and sporting a long, deliberate release. While he did show the ability at times to make shots from beyond the arc despite his unorthodox stroke, for Scott to reach his full potential as a prospect, he must demonstrate that he can continue to make strides in this area.

As a playermaker, Scott is currently a bit of a mixed bag. On one hand, he appears to be an unselfish player who is willing to make the extra pass, particularly within the flow of the offense or in drive and dish situations. He seems to have a good basketball IQ and posted a solid 1.55/1 assist to turnover ratio as a freshman. On the other hand, he's not a particularly creative distributor and seems to get tunnel vision at times with his forays to the rim. It's clear that he is still learning the nuances of the position at this point. Considered more of a combo guard coming out of high school, Scott made a good choice going to a school like Miami where he can improve his point guard skills by playing his future pro position on a full time basis.

Defensively, Scott is very effective. He has both good physical attributes with his nice size, strength and length and the mentality to take advantage of them, showing nice toughness and a good intensity level. He does a nice job keeping opposing players out of the paint, and uses his length effectively to contest shots out on the perimeter. At the college level Scott is asked to guard up to three positions, which exemplifies the versatility he brings to the table. He was already one of the best rebounding guards in the ACC last season as a freshman.

All in all, Scott is definitely a player to keep an eye on this upcoming season to gauge how much he improves on his weaknesses. If he can find a way to make strides as a perimeter shooter and playmaker, he certainly has a chance to enter the NBA conversation, as early as this year possibly. Much of that could depend on the type of success his team with him at the helm, though. Either way, Scott is someone we'll be monitoring closely.

[Read Full Article]

---
Jordan Brand Classic / International Game
April 20, 2009
Durand Scott is someone we've been meaning to formulate a scouting report for, and we expected this week would be a good time to do so, but there really isn't a whole lot we can say with confidence after this week. He's a rangy athlete with a good handle in the open court (however it gets shaky in tight situations), and he's a capable shooter with range to the three-point line. Spotting up he appears very reliable even in spite of a slight hitch in his mechanics, however he didn't show much ability pulling up off the dribble. He doesn't appear to have much of a point guard's game at this moment, being more of an undersized two, and his decision-making in general is questionable. He did appear to be a fairly intense defender at times, though.

[Read Full Article]

---