Frank Kaminsky
Recent Tweets
All Tweets
DraftExpress2: RT @SynergySST It was inconceivable that Frank Kaminsky would be here 3 years ago. Amazing path to this point. http://t.co/3mxrdNOtuI
2015-06-25 20:37:49
DraftExpress2: It was inconceivable that Frank Kaminsky would be here 3 years ago. Amazing path to this point. http://t.co/3mxrdNOtuI
2015-06-25 20:36:49
DraftExpress: Frank Kaminsky's demand has increased quite a bit recently as teams looking for immediate help widely view him as a safe and attractive pick
2015-06-25 10:31:45
DraftExpress2: RT @SynergySST Frank Kaminsky is making 63% of his catch and shoot jump shots in the NCAA Tournament.
2015-04-04 21:27:29
DraftExpress2: Frank Kaminsky is making 63% of his catch and shoot jump shots in the NCAA Tournament.
2015-04-04 21:25:40
Team: Hornets
Physicals
Positions
Salary
Misc
H: 7' 1"
W: 231 lbs
Bday: 04/04/1993
(22 Years Old)

Current: PF
NBA: PF
Possible: PF

Agent: Kevin Bradbury

High School: Benet Academy
Hometown: Lisle, IL
Drafted: Pick 9 in 2015 by Hornets

Predraft Measurements
| Year | Source | Height w/o Shoes | Height w/shoes | Weight | Wingspan | Standing Reach | Body Fat | No Step Vert | Max Vert |
| --- | --- | --- | --- | --- | --- | --- | --- | --- | --- |
| 2015 | NBA Draft Combine | 6' 11.75" | 7' 0.75" | 231 | 6' 11" | 9' 1.5" | 9.4 | NA | NA |



Basic Per Game Statistics

- Comprehensive Stats - Statistical Top 25s
| Year | League | Name | GP | Min | Pts | FG | FGA | FG% | 2Pt | 2PtA | 2P% | 3Pt | 3PtA | 3P% | FTM | FTA | FT% | Off | Def | TOT | Asts | Stls | Blks | TOs | PFs |
| --- | --- | --- | --- | --- | --- | --- | --- | --- | --- | --- | --- | --- | --- | --- | --- | --- | --- | --- | --- | --- | --- | --- | --- | --- | --- |
| 2015/16 | NBA | Frank Kaminsky | 16 | 14.5 | 4.3 | 1.7 | 4.2 | 40.3 | 1.1 | 2.8 | 40.9 | 0.6 | 1.4 | 39.1 | 0.4 | 0.5 | 75.0 | 0.5 | 1.8 | 2.3 | 1.0 | 0.4 | 0.4 | 0.3 | 1.0 |

Player Page&nbsp&nbsp| Player Stats | Mock Draft History | Related Articles&nbsp&nbsp| Add to My Draft Express&nbsp
&nbsp
2015 NBA Draft Combine Measurements Analysis
May 13, 2015
-Frank Kaminsky: The Wisconsin star measured 6'11.75 without shoes to go along with a middling 6'11 wingspan and a 231-pound frame. Those numbers are similar to those of Cody Zeller (6'10.75, 6'10.75 wingspan, 230 pounds) and better than Kelly Olynyk, who measured 6'10.75 without shoes and a 6'9.75 wingspan. Kaminsky lacks outstanding length and was the only player in attendance to post a wingspan to height ratio below 1.0, but his height ranks prominently among similarly skilled big men in recent memory.

[Read Full Article]

---
Frank Kaminsky Workout Video
May 13, 2015
An interview with Frank Kaminsky featuring footage from his pre-draft workouts with Charlie Torres in Santa Barbara, California.


---
More Pre-Draft Interviews/Workout Videos
-Myles Turner Workout Video
-Satnam Singh Interview
-Satnam Singh Workout Video
-Alan Williams Interview
-Stanley Johnson Interview
-Kelly Oubre Interview
-Frank Kaminsky Interview
-Chris Walker Interview
-Chris Walker Workout Video
-Cameron Payne Workout Video
-Cameron Payne Interview
[Read Full Article]

---
Frank Kaminsky Interview
May 7, 2015
Discussing a variety of topics with Frank Kaminsky in Santa Barbara, including what he's working on on and off the court, his time at Wisconsin, and how he's looking forward toward the pre-draft process.

(Video may not load with Internet Explorer. Use Chrome or Firefox)

[Read Full Article]

---
Frank Kaminsky NBA Draft Scouting Report and Video Breakdown
April 20, 2015
Scouting Report by Jonathan Givony. Video Analysis by Mike Schmitz

Arguably the most improved player in college basketball the past two years, Frank Kaminsky swept all conference and national player of the year award honors after leading Wisconsin to the NCAA Tournament Championship game. He went from averaging 1.8 points per game as a freshman and 4.2 as a sophomore to 18.8 as a senior and the clear-cut most productive player in the NCAA, with a top-ranked PER of 35.5.

(Video may not load with Internet Explorer. Use Chrome or Firefox)

Kaminsky has excellent size for a power forward at 7-0, with a frame that has improved substantially over time and still has some room for growth. While not a fast-twitch, incredibly explosive athlete, he is an extremely fluid, agile and coordinated big man, who runs the floor well and shows great mobility for a player his size, as evidenced by his strong rebounding, blocked shots and steal numbers.

What makes Kaminsky a unique prospect revolves heavily around the versatility and efficiency he displays on the offensive end. He is a matchup problem every time he steps on the court, an extremely skilled 7-footer who opposing teams need to game-plan for at all times. His ability to handle, shoot, pass and score from anywhere on the floor gives him terrific flexibility to be utilized in different lineups and half-court sets, which is increasingly valuable and sought after in today's NBA game.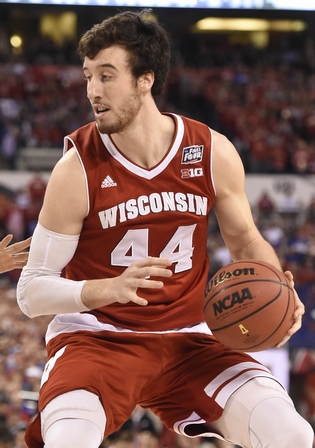 US Presswire



Kaminsky is a deadly outside shooter, converting 42% of his 3-point attempts, which is the best rate in the history of our college basketball database (dating back 14 seasons) for a 7-footer with at least 100 attempts. His shooting mechanics are excellent, especially with his feet set, and he also has the added bonus of being able to come off screens, which is extremely difficult to stop from a player his size. He is very intelligent moving off the ball, cutting into open spaces with great timing, and does a nice job of keeping defenses guessing about what he will do in the pick and roll, as he's capable as both a roller or popping out to the 3-point line.

If a defender closes out too aggressively on his jumper, Kaminsky has no problem putting the ball down and making his way to the basket off the dribble, where he can finish with soft touch and using either hand. He is a very good ball-handler for a 7-footer, showing excellent footwork and body control weaving through the lane, often mixing in creative spin-moves showcasing his terrific coordination and skill-level.

He can attack slower players off the dribble with a solid first step in isolation or even pick and roll situations as the supersized ball-handler, which makes him difficult to contain in smaller lineups where he's utilized as a stretch-5, something he's big enough to pull off frequently.

The key to this offensive versatility is not only Kaminsky's skill-level, but also his outstanding feel for the game, as he lets the game come to him and has no problem blending in and playing a role. He sees the floor well and can execute a variety of different passes from all over the floor, which will make it very easy for a team to run offense through him, as he can be trusted to make good decisions with the ball.

Kaminsky turned the ball over on an incredibly low 9.9% of his possessions this season, the third best rate among players currently projected to get drafted, while posting an 18.4% assist percentage that is better than many guards. His .47 PPR will be the best rate ever for a drafted player standing over 6-9 in the history of our database. He's an extremely unselfish player, possibly to a fault at times, as he tends to pass up good shots on occasion as part of Wisconsin's extremely patient/deliberate offense.

While he's unlikely to enjoy quite the same caliber of success in the post in the NBA as he did in college, Kaminsky is a capable option with his back to the basket, especially at the power forward position where he'll often be defended by players much smaller than him. He has excellent footwork here and the ability to score with either hand, and is not afraid to use a couple of pound-dribbles to move his man around and get better position. Kaminsky's post-game was actually his most frequent source of production at the college level, responsible for nearly a third of his touches in the half court, and a place where he found a great deal of success, converting 54% of his field goal attempts according to Synergy Sports Technology. With that said, he does have some difficulties finishing over length at times due to his average combination of strength, length and explosiveness, so it remains to be seen how effective he'll be in this area against better competition.

(Video may not load with Internet Explorer. Use Chrome or Firefox)

Beyond that, there are some question marks Kaminsky will have to answer as he makes the transition to the NBA game. The biggest one is on defense, where he was mostly utilized as a center by Wisconsin, but will likely need to adjust to guarding smaller players on the perimeter at the power forward spot. Stepping out and staying in front of quicker players is often challenging for a 7-footer, and Kaminsky's average length and explosiveness won't help much on that front.

He does have some good tools he can utilize here to combat that, as he already shows very nice agility covering space in the pick and roll, with solid lateral quickness, strong footwork, and good timing to help get the job done. He's a competitive player who shows good intensity and who will almost certainly work as hard as he can to maximize his deficiencies. The fact that he developed into an excellent defensive rebounder by his senior year (8.8 per-40, sixth best in the DX Top-100) is clearly a good sign.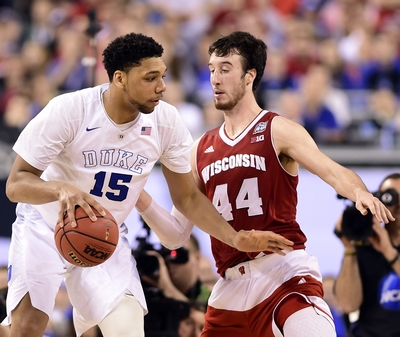 US Presswire



Continuing to add weight will be beneficial for Kaminsky, as he struggled quite a bit as a post-defender at times at Wisconsin, giving up deep position and getting backed down by stronger players inside the paint. He also wasn't much of a rim protector in college (1.9 blocks per-40), due to his average reach and vertical explosiveness, which might limit his ability to see extended minutes at the center position.

Kaminsky has improved by leaps and bounds over the last four years thanks to Wisconsin's terrific player development program, which may lead some NBA teams to question just how much room he still has left to grow as a player. He is the second oldest player currently projected to be drafted in the first round, so there may be an element of "what you see is what you get" with him. With that said, what you get is a terrific basketball player, with a very impressive combination of skills for a player his size, which is increasingly difficult to find, and highly sought after at that. Look for Kaminsky to get invited to the NBA Green Room and hear his name called very early on draft night, and then carve out a long and successful NBA career.

[Read Full Article]

---
Frank Kaminsky vs Karl Towns and Willie Cauley-Stein Video Analysis
April 5, 2015
A detailed video analysis by Mike Schmitz of how Wisconsin's Frank Kaminsky fared in his matchup with Kentucky's top-10 pick big men Karl Towns and Willie Cauley-Stein at the NCAA Final Four last night.





More Situational Videos from Mike Schmitz



-Jahlil Okafor vs Frank Kaminsky
-Myles Turner vs Kentucky's NBA Frontcourt
-Kristaps Porzingis vs Barcelona
-Ben Simmons vs Ivan Rabb
-Jakob Poeltl vs Cliff Alexander
-Montrezl Harrell vs Kentucky's NBA Frontcourt
-Rashad Vaughn vs Arizona
-Christian Wood vs Arizona
-Jerian Grant vs J.P. Tokoto
-Bobby Portis vs Damian Jones
-D'Angelo Russell vs Louisville
-Delon Wright vs Rondae Hollis-Jefferson
-Stanley Johnson vs Anthony Brown
-Robert Upshaw vs Jakob Poeltl
-D'Angelo Russell vs Indiana
-Justise Winslow vs Justin Anderson
-Mario Hezonja vs Real Madrid
-Karl Towns vs Jarell Martin
-Delon Wright vs Tyrone Wallace
-Jerian Grant vs Kris Dunn
-Christian Wood vs James Webb
-Kevon Looney vs Arizona
-R.J. Hunter vs Iowa State
-Kennedy Meeks vs Kentucky
-Emmanuel Mudiay's Chinese Playoff Comeback
-D'Angelo Russell vs Rondae Hollis-Jefferson
-Jahlil Okafor vs Jakob Poeltl
---
Take a look at our video section for a compilation of all the videos we've produced this year.
[Read Full Article]

---
Jahlil Okafor vs Frank Kaminsky Head to Head Matchup Video Analysis
December 5, 2014
A detailed video analysis by Mike Schmitz of how Duke's Jahlil Okafor and Wisconsin's Frank Kaminsky performed in their head to head matchup this past week in Madison.





More Situational Videos from Mike Schmitz



-Kyle Anderson vs Aaron Gordon
-Rodney Hood vs. K.J. McDaniels
-Andrew Wiggins vs Jabari Parker
-Dante Exum vs Team USA at the FIBA U19 World Championships
-Zach Lavine w/out Jordan Adams/Kyle Anderson
-Clint Capela vs Jusuf Nurkic
-Jabari Parker vs NBA Length
-Nik Stauskas vs Gary Harris
-Noah Vonleh vs NBA Length
-Elfrid Payton vs Elite Competition
-Doug McDermott vs NBA Length
-Jabari Parker vs Aaron Gordon
-Joel Embiid vs NBA Caliber Centers
-Julius Randle vs NBA Length
-Andrew Wiggins vs Marcus Smart
---
Take a look at our new video section for a compilation of all the videos we've produced this year.
[Read Full Article]

---
Top NBA Prospects in the Big Ten, Part 3 Frank Kaminsky Scouting Video
October 7, 2014

Mike Schmitz is the video analyst for DraftExpress. Follow him on twitter and check out the DraftExpress video section. He will be breaking down the NBA draft in digital format all year long for us.

[Read Full Article]

---
2014 adidas Nations Interview: Frank Kaminsky
August 18, 2014
[Read Full Article]

---