Gus Gilchrist
Recent Tweets
All Tweets
DraftExpress: Top NBA Prospects in the Big East (#11-15) - http://t.co/EQEFfOfw - Vander Blue, Gus Gilchrist, Fab Melo, C.J. Fair, Talib Zanna
2011-10-17 08:21:38
DraftExpress: It turns out tha Gus Gilchrist didn't actually enter the draft. Not sure where that one was started.
2011-04-28 02:55:18
DraftExpress: Settling in courtside at MSG for Cincinnati-USF. Another look at Jarrid Famous, Gus Gilchrist and Yancy Gates.
2011-03-09 07:11:01
DraftExpress: Sucks for Gus Gilchrist to be stuck on such a bad team. Would be a lot easier to evaluate him if he had some high-major guards next to him.
2011-03-08 09:07:21
DraftExpress: At the Big East Tournament. Got the best seats in the house for this Villanova-South Florida game. Let's see what Gus Gilchrist has to offer
2011-03-08 07:12:32
Top 25s - Full List
Team: Virtus Bologna
Physicals
Positions
Rankings
Misc
H: 6' 10"
W: 239 lbs
Bday: 10/15/1989
(26 Years Old)

Current: PF/C
NBA: PF/C
Possible: PF/C

RSCI: 78

High School: Progressive Christian Academy
Hometown: Clinton, MD

Predraft Measurements
| Year | Source | Height w/o Shoes | Height w/shoes | Weight | Wingspan | Standing Reach | Body Fat | No Step Vert | Max Vert |
| --- | --- | --- | --- | --- | --- | --- | --- | --- | --- |
| 2012 | Portsmouth | 6' 9.5" | NA | 239 | 7' 2.75" | NA | NA | 24.8 | NA |
| 2010 | Amare Stoudemire Camp | NA | 6' 10" | 243 | 7' 2" | NA | NA | NA | NA |



Basic Per Game Statistics

- Comprehensive Stats - Statistical Top 25s
| Year | League | Name | GP | Min | Pts | FG | FGA | FG% | 2Pt | 2PtA | 2P% | 3Pt | 3PtA | 3P% | FTM | FTA | FT% | Off | Def | TOT | Asts | Stls | Blks | TOs | PFs |
| --- | --- | --- | --- | --- | --- | --- | --- | --- | --- | --- | --- | --- | --- | --- | --- | --- | --- | --- | --- | --- | --- | --- | --- | --- | --- |
| 2014/15 | Italian | Gus Gilchrist | 14 | 18.4 | 5.2 | 2.1 | 5.8 | 35.8 | 2.1 | 5.7 | 36.3 | 0.0 | 0.1 | 0.0 | 1.1 | 1.9 | 55.6 | 1.8 | 3.0 | 4.8 | 0.3 | 1.0 | 0.6 | 1.2 | 2.3 |

Player Page&nbsp&nbsp| Player Stats | Mock Draft History | Related Articles&nbsp&nbsp| Add to My Draft Express&nbsp
&nbsp
Top NBA Draft Prospects in the Big East: Part Three (#11-15)
October 17, 2011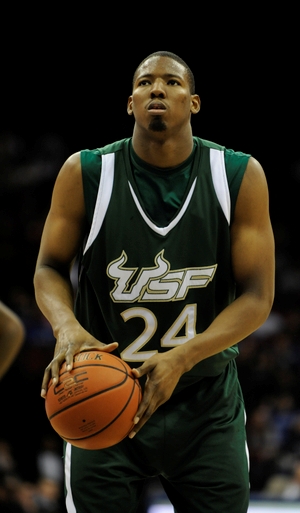 Icon SMI



Jeff Rush

Gus Gilchrist came into the 2010-11 season as the clear offensive leader for South Florida after the departure of Dominique Jones. He held up his end of the bargain, leading the Bulls in scoring and finishing 2nd in rebounding, but struggled to lead his team to victories, as they won 10 fewer games than they did the year before. On top of that, he did not show significant progress in his skill level. Heading into his senior year, Gilchrist will have one more opportunity to take his game to the next level in Tampa.

Gilchrist possesses solid size and an intriguing frame for the next level, but is not a high level athlete by any measure. He plays the game almost exclusively below the rim and this often hurts his ability to finish in the paint -a legitimate concern as he progresses to the professional ranks.

As we pointed out last year, Gilchrist's game revolves around his jump shot. He hunts for jumpers, often leaving good position in the post or popping after setting a ball screen when a roll to the basket would have been the better play. He has not expanded his game the way that scouts had hoped and saw a significant drop in his shooting percentages when he became the primary offensive option in his junior year. Most of the 7% drop in his true shooting percentage can be attributed to his struggles from the three point line where he took a step back from the interesting efficiency he showed as a sophomore in a limited sample.

Gilchrist spends most of his time at the 4, which would be his position at the next level, and at 6'10" he is one of the bigger power forwards in the Big East. Though this gives him a decided advantage over smaller power forwards in post-up situations, he tends to settle for shots away from the rim rather than using his physical tools down low. He does have the ability to make jumpers after facing up in the post, and will take advantage of slower opponents by putting the ball on the floor with simple drives to the rim, but lacks a degree of physical assertiveness on the block.

While Gilchrist's numbers may not have progressed significantly since his freshman year, he remains a capable offensive threat for a player his size, especially when you consider the number of looks he has to create for himself. According to Synergy Sports Technology, only 15% of the power forward's touches come off of basket cuts, an indictment of the ability of his guards to create easy looks for him.

Outside of his scoring arsenal, Gilchrist hasn't shown significant development in any one area, remaining essentially the same player he was as a freshman on a number of levels. His per-40 pace adjusted statistics are fairly stagnant across the board, and though his efficiency as a scorer has varied, the rest of his game has not, both qualitatively and on paper. He remains the same average rebounder who is not an impact defender or an eager passer.

Gilchrist is not a particularly intimidating defender at this point. As we've noted in the past, Gilchrist is not very quick laterally which makes him a liability on the perimeter. He also lacks the toughness and the explosiveness to cause problems as a defender in the post. It is clear by watching Gilchrist that his focus and effort are concentrated mostly on the offensive end of the floor, and an improvement on the glass and as a defender around the rim would be a significant plus for the rising senior.

Although he can be very effective on the offensive end of the court by using his size, length and ability to shoot the ball, Gilchrist has some things to work on to improve his draft stock. His game has not shown the type of improvement that you would want to see after his breakout freshman year. That being said, any player with the size, length, and ability to shoot the ball that Gilchrist possesses is certainly intriguing, and regardless of his progress this season, he is an ideal candidate for the Portsmouth Invitational Tournament.

[Read Full Article]

---
Top NBA Draft Prospects in the Big East, Part Three (#11-15)
October 9, 2010
Walker Beeken

After a very strong start in 2009-2010, South Florida's Gus Gilchrist suffered an ankle injury that kept him off the court for a fifteen game stretch during the middle of the season. Though he returned to action in mid-February, Gilchrist couldn't regain his early season form, where he averaged over 20 points and 7 rebounds per game through his first seven games. With the departure of Bulls star guard Dominique Jones to the NBA, Gilchrist will have his chance to shine and prove that his early season numbers were no fluke.

Playing as a face up big man at South Florida, Gilchrist's game on the offensive end resolves almost completely around his jump shot. With Jones drawing so much attention and setting him up for open looks last season, it will be interesting to see if he's able to score with the same efficiency without him. Gilchrist's shooting numbers were no doubt impressive last season though. He saw big increases in his percentages from the field, the 3 point arc, and the free throw line, leading to a true shooting percentage of 58%, up from 45% as a freshman. This improvement projects well for him going forward, as his height and quick release should enable him to be an effective shooter at the professional level on pick-and-pop and other catch-and-shoot situations.

Gilchrist is somewhat of a black hole on offense though, often floating around the perimeter and hunting jump shots, with passing the ball usually just an afterthought. When he does attempt to pass or make a play, it's obvious that his feel for the game is behind his natural talent and scoring instincts, as he struggles taking care of the ball, as evidenced his very poor .21 to 1 assist to turnover ratio.

Even when Gilchrist takes his game into the post, he's still looking primary for a turnaround or face up jumper. He showed flashes of other post moves with improved footwork and a soft touch around the basket, and if he can add that to his offensive arsenal, he has the potential to put up big scoring numbers this season as a junior.

On the defensive end, Gilchrist still has quite a bit of work to do before he's capable of adequately defending NBA power forwards. He has the necessary size and length, but as we mentioned before, his lateral quickness and elevation are marginal at best. He doesn't display great toughness either, as shown by his just average rebounding numbers. In fairness though, his rebounding was much better prior to his ankle injury. Watching his work on the glass and on defense this season should give a better indication of where he really is when healthy.

When looking down the road, Gilchrist is a player to keep an eye on, mainly due to his potential as a shooter for a guy his size. The strides he made as a player from his freshman to sophomore season were encouraging, and he still seems to be nowhere near his full potential. He still has a ways to go on the defensive end and with his overall feel for the game, but if he can match his production from last season's hot start and sustain it throughout this season, he should at least find himself on the radar of NBA scouts.

[Read Full Article]

---
Top NBA Draft Prospects in the Big East Part Three (#11-15)
October 15, 2009
Joseph Treutlein

South Florida's third leading scorer as a freshman, Gus Gilchrist had a solid start to his collegiate career, but there is much room for improvement, and his team could really use it after their disappointing 9-21 season.

Physically, Gilchrist has good size for a power forward at 6'10 with a frame seemingly capable of holding more weight, but there are questions about him projecting to the next level at both power forward and center. Athletically, Gilchrist has good mobility and balance despite looking a bit awkward in his movements. However, he's not an incredibly explosive athlete, not getting much height vertically and showing below average reactiveness around the rim.

Looking at his game, Gilchrist is not the most fundamentally sound player in the world, though he does show flashes of skills in many areas, and clearly has a good deal of natural ability. As a spot-up shooter, Gilchrist has range to the college three-point line and good touch, however his form is sloppy and inconsistent, especially when rushed, and sometimes he rushes things when he doesn't even need to. These problems are painfully evident at the free-throw line, where he shots a woeful 56%. His efficiency in general is a major cause for concern, as he had just a 45% true shooting percentage, a very low mark, especially for a big man.

In the post, Gilchrist is very much a work in progress, having raw footwork and not much in terms of post instincts, looking out of sorts when faced with help defenders. When he gets his man on an island, however, his natural tools shine through, as he's capable of pulling off some rangy moves, showing pretty good touch when he creates the space to get off a shot. Gilchrist is nowhere near his potential in the post, as in addition to his raw repertoire, he doesn't seem to have great base strength, struggling to finish through contact and not being able to power up very well. Hitting the gym hard to work on lower body strength should be among his priorities, as it could pay dividends for his post game, while it certainly wouldn't hurt his rebounding either, which is quite poor for someone his size at just 4.4 boards per game in 24.2 minutes.

Aside from finishing on the occasional cut or pick-and-roll, this is pretty much where Gilchrist's offensive contributions end, as he doesn't have a noteworthy face-up game and he doesn't put much effort into passing the ball, averaging just half an assist per game.

Defensively, Gilchrist is below average in terms of lateral quickness for a power forward, but not awful. His high center of gravity and below average reflexes don't help his cause here, though, leading to issues in isolations on the perimeter. He does manage to keep up with his man when chasing him into the lane, but his lack of vertical explosiveness doesn't allow him to recover with the block very often. In the post, Gilchrist's fundamentals need a lot of work, as he doesn't body up very well and gives up position easily, also in part due to his lack of strength.

While Gilchrist has a lot of warts with his game, there is cause for optimism, as he definitely brings some raw talent to the table, and it appears he's not at his peak physically. Becoming a more efficient and fundamentally sound offensive player will be key for him, and cleaning up his jumper and working on his post moves should be among his priorities, along with doing everything possible to maximize his athletic ability, especially focusing on his lower body. Looking forward, it's clear Gilchrist is a ways away from thinking about the NBA, but with some work, it could be in his future.

[Read Full Article]

---