Hollis Thompson
Recent Tweets
All Tweets
DraftExpress: More undrafted: Leon Radosevic, Hollis Thompson, Kostas Sloukas, Jordan Taylor, Eric Griffin, John Shurna, Mitchell Watt, Ricardo Ratliffe
2012-06-29 12:04:35
DraftExpress: DX Video Interviews: Royce White, Quincy Miller, Hollis Thompson: http://t.co/VczI29Eq
2012-06-18 12:11:53
DraftExpress: RT @nicoleauerbach: Georgetown's Hollis Thompson to declare for the NBA draft, forgo senior season, per school release.
2012-03-27 06:37:10
DraftExpress: DX Trending Prospects 2/19: John Jenkins, Hollis Thompson, Kim English, Elijah Johnson - http://t.co/dom0hYfj
2012-02-19 10:30:11
DraftExpress: Top NBA Prospects in the Big East (#6-10) - http://t.co/UmV3hOBn - Peyton Siva, Roscoe Smith, Hollis Thompson, Maalik Wayns, Ashton Gibbs
2011-10-17 12:04:47
Top 25s - Full List
Team: 76ers
Physicals
Positions
Rankings
Salary
Misc
H: 6' 8"
W: 206 lbs
Bday: 04/03/1991
(24 Years Old)

Current: SF
NBA: SF
Possible: SF

RSCI: 66

Agent: Andrew Vye
Current Salary:$816,482

High School: Loyola
Hometown: Los Angeles, CA
Best Case: James Jones
Worst Case: Bostjan Nachbar

Predraft Measurements
| Year | Source | Height w/o Shoes | Height w/shoes | Weight | Wingspan | Standing Reach | Body Fat | No Step Vert | Max Vert |
| --- | --- | --- | --- | --- | --- | --- | --- | --- | --- |
| 2012 | NBA Draft Combine | 6' 6.75" | 6' 8" | 206 | 6' 9.5" | 8' 6.5" | 6.0 | 28.5 | 36.5 |
| 2011 | Nets Workout | 6' 6.5" | 6' 8.5" | 201 | 6' 10" | 8' 8" | 5.3 | 28.0 | 30.0 |



Basic Per Game Statistics

- Comprehensive Stats - Statistical Top 25s
| Year | League | Name | GP | Min | Pts | FG | FGA | FG% | 2Pt | 2PtA | 2P% | 3Pt | 3PtA | 3P% | FTM | FTA | FT% | Off | Def | TOT | Asts | Stls | Blks | TOs | PFs |
| --- | --- | --- | --- | --- | --- | --- | --- | --- | --- | --- | --- | --- | --- | --- | --- | --- | --- | --- | --- | --- | --- | --- | --- | --- | --- |
| 2015/16 | NBA | Hollis Thompson | 18 | 28.0 | 9.3 | 3.2 | 8.1 | 39.7 | 1.2 | 2.9 | 41.5 | 2.0 | 5.2 | 38.7 | 0.9 | 1.3 | 69.6 | 0.8 | 3.4 | 4.2 | 1.4 | 0.8 | 0.3 | 1.4 | 2.8 |

Player Page&nbsp&nbsp| Player Stats | Mock Draft History | Related Articles&nbsp&nbsp| Add to My Draft Express&nbsp
&nbsp
NBA Combine Interviews: White, Miller, Thompson
June 18, 2012
[Read Full Article]

---
Trending Prospects (2/19/2012)
February 19, 2012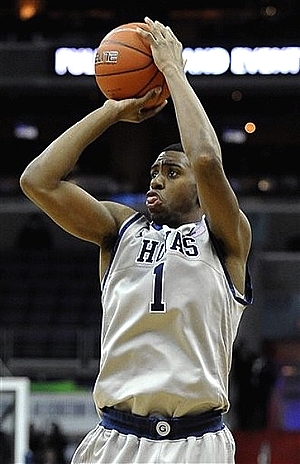 AP



Walker Beeken

After surprisingly declaring for the 2011 NBA Draft following his sophomore season, Georgetown's Hollis Thompson ultimately decided to withdraw his name and return for his junior year, where he's continued to show steady improvement, while increasing his scoring and taking on a larger role for the Hoyas.

Thompson spent quite a bit of time playing as a face-up power forward in his first two seasons, but has been operating more on the wing as a small forward as a junior, where his game and physical attributes are better suited. Standing at 6-8 with a wiry frame that has improved since arriving at Georgetown, and a solid 6-10 wingspan, Thompson is a smooth athlete who is more comfortable on the perimeter on both ends of the floor.

As an NBA prospect, Thompson's calling card is his perimeter shooting, where he's proven to be outstanding, knocking down a career-high 48% from 3-point range this season, despite an increase in attempts. He has textbook form, deep range, and a quick release, which along with his size at 6'8", allow him to get off his shot without needing much space. Thompson ranks as one of the best shooters in college basketball, which in and of itself is enough to put him firmly on the NBA radar.

Thompson does most of his damage spotting up with his feet set, but he's also shown that he's capable of being run off screens, where he squares himself up nicely for his jumper. In addition to his catch-and-shoot abilities, Thompson is also very effective shooting off of a dribble or two on close-outs, connecting on an excellent 42% of his pull-up jumpers this season.

Thompson has become slightly less dimensional every year, taking a lesser proportion of his shots outside the arc in each of his three seasons in college, but still can't be considered anything more than an average shot-creator at best. He lacks the explosive first step and advanced ball-handling moves to get by his man off the dribble, only getting to the free throw line 2.8 times per-40 minutes pace adjusted, which is one of the worst rates amongst players in our Top-100 rankings.

With that said, he seems to play within himself and understands his limitations, turning the ball over on only 13% of his possessions and making 52% of his shots inside the arc, which could bode well for his potential as a role player at the NBA level, where he'd likely be utilized mainly as a floor spacer, spot shooter and opportunistic scorer.

Much of Thompson's potential to carve out a niche at the NBA level could depend on how well he's able to play on the defensive end. As we've mentioned before, his size and length are sufficient, but he's not a standout athlete, and he could still stand to add some strength to his frame to defend NBA small forwards on a regular basis.

He's been able to spend more time defending on the perimeter this season, and while he doesn't appear to be the toughest player, and is not immune to getting beat off the dribble at times, he does put a solid effort in, seems to understand positioning, and does a good job contesting shots with his footwork and length. Considering his size and wingspan, he shouldn't too have too much of an issue defending most NBA caliber small forwards, which is something teams will likely want to study more in private workout settings. The improvements he's shown on this end of the floor have been quite promising this season, though.

Overall, Thompson is a prospect who clearly has a skill to hang his hat on with his outstanding perimeter shooting. His average ball-handling skills may limit his upside in the eyes of some NBA scouts, but if he can continue to prove himself as a capable defender and make some slight improvements to his offensive game to increase his versatility, he has a great chance of carving out a niche in the league. NBA teams are always looking for perimeter shooters with prototypical size who can space the floor, and at age 20, it isn't a stretch to say that Thompson may not be a finished product.

[Read Full Article]

---
Top NBA Draft Prospects in the Big East, Part Two (#6-10)
October 14, 2011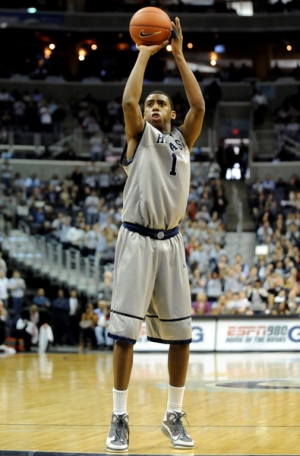 Icon SMI



Kyle Nelson

Georgetown wing Hollis Thompson was a surprise early-entrant in the 2011 NBA draft, as rumors surfaced that he was unhappy with his role on the underachieving Hoyas. After his excellent individual performance in a first round NCAA Tournament loss to upstart VCU, Thompson impressed scouts in group workouts and, as he is Georgetown's best returning scorer, will likely face much higher expectations as a junior.

Thompson has an excellent physical profile for an NBA wing, standing around 6'8 with a long and wiry 205-pound frame that looks as though it will continue to develop. As we have written before, he is far more fluid than explosive as an athlete, but he is a tough and aggressive player, which allows him to compensate somewhat when he's focused.

Though he looks the part of an NBA player, his production failed to increase significantly as a sophomore, where he averaged just 8.6 points in 23.3 minutes per game and saw less than 10% of Georgetown's offensive possessions.

That being said, Thompson was an extremely efficient scorer as a sophomore, particularly excelling as a spot-up shooter, where he found over 40% of his offensive possessions according to Synergy Sports Technology. Thompson was Georgetown's best perimeter shooter, connecting on 45.7% of his 5.1 attempts per-40 minutes pace adjusted while showing NBA range. His mechanics are solid and his size and length make it is very difficult for collegiate defenders to block his shot.

His game is less effective inside of the arc, though he showed potential as a sophomore that suggests that he will continue to improve as his role increases. Improving his handle significantly is essential if he wants to be more than a roleplayer at this or any other level. Though his handles are raw and he rarely drives right, his first step looks above average and he is a good finisher around the basket. Furthermore, he developed his mid-range game somewhat as a sophomore, looking far more comfortable pulling up and creating off of the dribble. Should he continue to improve as a shot creator, his stock will rise significantly.


It is difficult to evaluate Thompson defensively as he will likely not have to guard power forwards at the next level, but when he was dialed in, he was a tough and aggressive player despite his lack of ideal post size and strength. On the perimeter, his lateral quickness is just average, but he does a good job of keeping his man in front of him and closing out on perimeter shooters. His energy level and focus were rarely consistent, however, and improving his awareness in Georgetown's team defense is something that he must improve upon immediately.

It is worth noting that many of Thompson's frustrations were about his role: primarily, coming off of the bench as a power forward. In this light, it is difficult to determine whether or not inconsistency and, at times, passivity are significant issues or a product of playing out of position alongside of a trigger-happy backcourt. While Georgetown's frontcourt depth is still not great, its backcourt depth is equally lacking and Thompson should have more opportunities as a wing scorer in his junior season.

What is clear, however, is that scouts have not seen Thompson at his best in a Georgetown uniform and that he is primed for a breakout junior season. While his lack of elite quickness and explosiveness limit his potential at the next level, his combination of excellent size and shooting ability are both valuable assets that will allow him to remain in the NBA Draft discussion even if his skill set does not improve considerably.

[Read Full Article]

---
Top NBA Draft Prospects in the Big East, Part Five (#21-25)
October 15, 2010
Walker Beeken

After a freshman season playing limiting minutes (19.5) and posting underwhelming numbers for the most part, Georgetown's Hollis Thompson enters his sophomore season with an opportunity to build on some of the flashes of potential he showed. Used primarily as a combo forward off the bench last season, Thompson is clearly more of a natural small forward physically and skill-wise, with his game suited more for the perimeter on both ends. He may find more minutes as a stretch 4 man this season though, due to the loss of Greg Monroe to the NBA, and the fact that the Hoyas return all 3 starters from their 3 guard attack.

When looking at Thompson's physical attributes, he certainly passes the eye test for an NBA wing prospect. While he could stand to add some strength to his wiry frame, he has nice size at 6'7" and appears to have a long wingspan as well. As an athlete, Thompson moves very fluidly and possesses good but not great explosiveness and elevation.

Thompson's strength on the offensive is his ability as a standstill shooter from the perimeter. He shot an outstanding 44% from the 3 point line last season, displaying deep range and solid mechanics. Outside of his wide open catch and shoot opportunities, he didn't show much else on the offensive end last season though. It will be interesting to see how Coach John Thompson III utilizes him this season, as his game may be more versatile than what we were able to see from the minimal role he played on offense as a freshman.

Becoming more of a threat to drive the ball on close-outs could really expand Thompson's game. At this stage, he lacks the advanced ball-handling skills to effectively change speeds and directions, but he does seem to have a good feel for the game, which should serve him well as he develops his game off the dribble.

Defensively, Thompson has a nice as upside with solid lateral quickness to contain dribble penetration and a long wingspan and quick hands to smother his man and create turnovers.

At this point, Thompson appears to be a prospect who is likely another season away from breaking out and making more of a name for himself. He fits the mold physically for an NBA wing prospect though, and if he continues to expand on his dribble game and shoot with the accuracy he did last season, he is definitely worthy of keeping an eye on as a prospect for the future.

[Read Full Article]

---