Jae Crowder
Recent Tweets
All Tweets
DraftExpress2: RT @DwainPrice When you go to the D-League you do what Mavs F Jae Crowder did. He played 2 games and got 2 triple-doubles. Act like you do\u2026
2014-03-04 18:44:46
DraftExpress2: When you go to the D-League you do what Mavs F Jae Crowder did. He played 2 games and got 2 triple-doubles. Act like you don't belong there!
2014-03-04 18:13:30
DraftExpress: I love this Jae Crowder pick at #34 for Dallas. Toughest SOB in the draft, and probably also the best defender. Will carve out a NBA career.
2012-06-28 10:44:36
DraftExpress: Jae Crowder grew an inch and a quarter since the Nets Combine two weeks ago. He's now a much more attractive 6-4 3/4 without shoes.
2012-06-08 12:38:19
DraftExpress: Jae Crowder's standing reach was 102.75 in NJ, but only 99 in Chicago. Grew an inch and 1/4 in height, but lost almost 4 inches in reach.
2012-06-08 03:26:50
Team: Celtics
Physicals
Positions
Salary
Misc
H: 6' 6"
W: 241 lbs
Bday: 07/06/1990
(25 Years Old)

Current: SF
NBA: SF
Possible: SF

Agent: Glenn Schwartzman
Current Salary:$915,243

High School: Villa Rica
Hometown: Villa Rica, GA
Drafted: Pick 34 in 2012 by Mavericks
Best Case: Shorter, Saner Ron Artest
Worst Case: Tasmin Mitchell

Predraft Measurements
| Year | Source | Height w/o Shoes | Height w/shoes | Weight | Wingspan | Standing Reach | Body Fat | No Step Vert | Max Vert |
| --- | --- | --- | --- | --- | --- | --- | --- | --- | --- |
| 2012 | NBA Draft Combine | 6' 4.75" | 6' 6.5" | 241 | 6' 9.25" | 8' 3.5" | 9.0 | 31.0 | 34.5 |
| 2012 | Nets Workout | 6' 3.75" | 6' 5.5" | 242 | 6' 8.5" | 8' 6.75" | 13.6 | 30.3 | 32.3 |



Basic Per Game Statistics

- Comprehensive Stats - Statistical Top 25s
| Year | League | Name | GP | Min | Pts | FG | FGA | FG% | 2Pt | 2PtA | 2P% | 3Pt | 3PtA | 3P% | FTM | FTA | FT% | Off | Def | TOT | Asts | Stls | Blks | TOs | PFs |
| --- | --- | --- | --- | --- | --- | --- | --- | --- | --- | --- | --- | --- | --- | --- | --- | --- | --- | --- | --- | --- | --- | --- | --- | --- | --- |
| 2015/16 | NBA | Jae Crowder | 17 | 29.9 | 11.1 | 3.8 | 9.1 | 41.3 | 2.5 | 5.2 | 48.9 | 1.2 | 3.9 | 31.3 | 2.4 | 2.9 | 81.6 | 1.4 | 3.4 | 4.8 | 1.9 | 2.2 | 0.4 | 1.6 | 1.9 |

Player Page&nbsp&nbsp| Player Stats | Mock Draft History | Related Articles&nbsp&nbsp| Add to My Draft Express&nbsp
&nbsp
NBA Combine Interviews: Harkless, Taylor, Crowder
June 17, 2012
[Read Full Article]

---
NBA Prospect of the Week: Jae Crowder
February 29, 2012
Jonathan Givony

Possibly the most improved player in college basketball, and currently the front-runner to win Big East player of the year honors, Jae Crowder is in the midst of a spectacular senior season, which could very well end up earning him a well-deserved spot in the 2012 draft.

One of the most efficient players in the NCAA, on both ends of the floor, Crowder is the heart and soul of a Marquette squad that has exceeded expectations and will likely finish second in the very competitive Big East conference.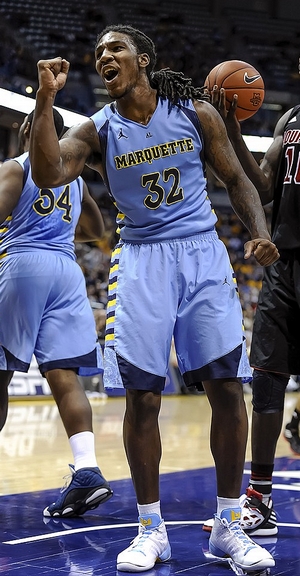 Icon SMI



Just getting to where he is right now is somewhat of a miracle considering his very unique background, forcing him to attend two junior colleges prior to Marquette. However, his terrific play is something that NBA teams have come to expect out of Marquette prospects given the success of the likes of Wesley Matthews, Lazar Hayward and Jimmy Butler over the past three years.

Like all of those Marquette forwards that came before him, Crowder is a pretty unconventional player in terms of his style of play. With a ripped frame more reminiscent of a NFL tight end than a NBA small forward prospect, Crowder is not a particularly fluid or explosive player, relying more on strength, smarts, timing and determination to get the job done, rather than pure talent.

Crowder gets most of his offense by working off the ball, be it spotting up from the 3-point line, diving to the rim to position himself for drop-off passes from his guards, running the floor in transition, posting up, or through his work on the offensive glass.

He's extremely intelligent operating off the ball, having a knack for moving to the right spot to catch and finish in a simple and effective manner, despite rarely playing above the rim. He uses the glass nicely and has terrific touch around the basket, which helps explain how he's able to convert 61% of his attempts inside the arc even though he is usually at a distinct size disadvantage. Although he's not a high flyer, he rarely misses high percentage looks.

The senior is especially effective in transition, sprinting the floor with purpose whenever he gets a chance, running straight to the front of the rim, and being very physical looking to receive the ball in the paint. This also makes him a factor in the half-court in post-up situations, where he uses his body effectively, draws fouls at a good rate, and does an excellent job finishing through contact, again, mostly below the rim. There's nothing pretty about his game, but it's brutally effective at this level.

Crowder is also a much improved shooter, attempting over 50% more shots from beyond the arc this season, but hitting them at a better rateó38% compared with 36% last season. The key seems to be his shot-selection, which is excellent, with 84% of his jump-shots coming with his feet set. The work he's put into refining this part of his game is obviously a factor as well, as he's managed to raise his free throw percentages from a paltry 62% to a much more respectable 73% this season.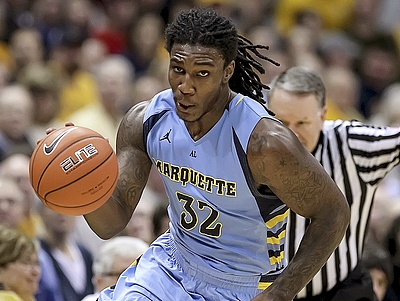 Icon SMI



Crowder's basketball IQ is further exemplified in his assist-to-turnover ratio, which is better than many of the point guards in our top-100 rankings. Smart, poised, mature and always under control, he's the type of player who knows his role perfectly and understands how to maximize his time on the floor, which is likely a major factor in his team's success this season.

Crowder's biggest weakness as a small forward prospect is his inability to create his own shot. A below average ball-handler, he has a difficult time scoring in isolation settings, not looking very fluid with the ball, and struggling to change directions on the fly. It's not a stretch to say that he will need to live off scraps in the NBA, which makes increasing the range and consistency of his jump-shot that much more important.

Crowder's best attributes revolve around his play on the defensive end, where he's one of the most versatile and effective players in all of college basketball. One of the rare players who truly guards every position on the court one through five, often within a single game, Crowder takes great pride in shutting down his matchup, and is a willing contributor as a team defender as well.

Physical and intelligent, with long arms, a strong frame, good footwork, excellent fundamentals, and nice anticipation skills, he follows the game-plan, gets in the passing lanes prolifically (ranking 5th amongst NCAA prospects in steals per-40), steps in for charges and never takes possessions off.

Despite possibly lacking a degree of lateral quickness to shut down some of the quicker wing players he'll match up with in the NBA, Crowder knows how to force opponents to settle for the shot he wants them to take, and won't give up an inch when matched up with bigger forwards.

Seeing most of his time at the college level at power forward, Crowder will need to convince NBA teams in workouts that he won't have any issues moving down a position to the 3. While he may not possess the same size, explosiveness or upside of some of the other forwards in this draft, and may not pass the initial eye test with flying colors, Crowder has plenty of excellent qualities that are highly in demand and should help him carve out a role in the NBA.

[Read Full Article]

---
Top NBA Draft Prospects in the Big East: Part Five (#21-25)
October 21, 2011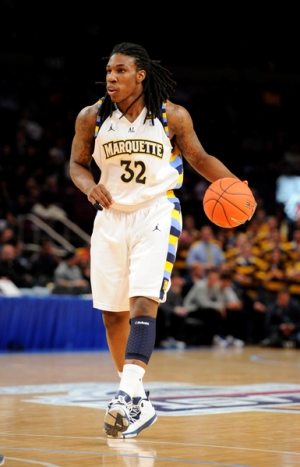 Icon SMI



Jeff Rush

First it was Wes Matthews, then it was Lazar Hayward, and last season, it was Jimmy Butler. It seems like every time Buzz Williams has had one of his talented wings or combo-forwards lined up for a big season, that player has delivered in a big way. While it would be unfair to compare Jae Crowder to his predecessors, his efficiency last season has the former Junior College Player of the Year positioned to take a big step forward.

At this point, Crowder's game is based mostly on effort, but his future will be largely dependent on the skills that he develops to build on that intensity. Crowder is a solidly built 6'6 235-pound combo forward and is a decent athlete, but not the explosive leaper that would give him potential at the four-spot at the next level. He does make the most of what he has, but like Jimmy Butler two years ago, did not stand out with his physical tool as a junior. Despite his shortcomings, Crowder makes up for what he lacks athletically with a relentless motor that allows him to get things done against bigger and more athletic players.

Crowder is most effective offensively capitalizing on the holes he finds in the defense by making swift cuts to the rim, aggressively attacking the offensive glass, or filling a lane in transition. He has a knack for getting himself into position to be in the sight lines of players who are driving to the basket and does a pretty good job of finishing the opportunities they create for him. While Crowder isn't a great leaper, he does a very good job of keeping balls alive and using a quick second jump to secure offensive rebounds. He is not an elite finisher at the rim, shooting a respectable 54% around the rim according to Synergy Sports Technology, but is effective at getting himself to the line to compensate. Crowder is a questionable foul shooter at this point, knocking down just 61% of his free throws, but his relentless effort and ability to make simple plays ranks him among the top-10 percent of all NCAA players in terms of Points Per-Possession.

Crowder's ability to make simple plays and produce at such an efficient level is a result of his fairly good feel for the game. His 2.0 assist-to-turnover ratio is indicative of the low-mistake style of basket he plays. He isn't a dynamic play-maker, but for someone who plays as hard as he does, he proves to be quite a good decision-maker. This coming season, it would be nice to him become more comfortable making plays for himself on the perimeter, as he'll need to shore up his ball-handling ability if he wants to improve his potential at the small forward position at the next level.

On the perimeter Crowder is a threat in both spot up and pick and pop situations. He shot a very respectable 35.9% from the three point line on 4.6 attempts per 40 minutes pace adjusted last season, and that was after struggling from deep to end the year. The main concern about his jump shooting is the inconsistent form that he showed throughout the year. He has learned how to compensate for this by developing different ways to get his shot off, sometimes to a fault. His tendency to fade away unnecessarily is one of his worst habits from the perimeter, and while it helps him get his shot off over defenders, it also makes the shot less accurate and less consistent. During the course of the game he will often shoot the ball three or four different ways, which makes it tough to get into a rhythm. He'll need to hone that area of his game and his ball-handling ability and midrange game, neither of which were tools for him from the perimeter at all last season.

Marquette does not go to Crowder in the post all that often despite the fact that he was very successful when given the opportunity. He loves to go over his right shoulder, usually trying to get himself to the basket although he will throw in a turnaround jumper to keep defenders honest. Crowder will also face up in the post and use his superior decisive and solid quickness to drive or shoot a short jump shot when given the chance. Not unlike Jimmy Butler, Crowder's ability in the post is intriguing to say the least, but it isn't going to help him define himself as a long-term three during his senior year.

Defensively, Crowder filled almost every role imaginable for the Golden Eagles last season. He guarded everything from small forwards to centers and his coach had enough confidence in him to let him switch pick and rolls on more than a few occasions. Crowder was most effective in the post, despite his lack of height and jumping ability, he showed great positioning and was very good at staying under his man and not allowing himself to be backed down into the post. Defending on the perimeter was a little bit more of a struggle. Even though he has good feet, Crowder was not as effective staying in front of quicker players. This is a concern going forward because he will almost certainly have to move to the wing at the next level.

In his first year at the Division 1 level, Jae Crowder did a very good job adapting to the huge step up in competition from his two years in junior college. At this point Crowder is an undersized power forward with the ability to shoot the ball and a motor that allows him to be more effective than you would expect given his size and athletic ability. For Crowder to play in the NBA he will have to make great strides in his skill set. We set essentially the same path for Jimmy Butler one year ago, and considering the work ethic Buzz Williams instills in his players, Crowder is going to be a player worth monitoring as he's in a terrific spot to improve, showcase his skills, and potentially define himself as a more legitimate perimeter prospect.

[Read Full Article]

---