Jermaine Taylor
STRENGTHS:
- Ability to get to free throw line
- Go-to scoring mentality
- Scoring instincts
- Ability to create own shot
- Defensive potential
- Lateral quickness
- Strong Intangibles
- Ability to finish around basket
- Ability to finish through contact
- Athleticism
- NBA body
- Rebounding tools
- 3-point range
- Mid-range Jumper
- Pull-up jumper
WEAKNESSES:
- Shot-selection
- Turnover prone
- Advanced ball-handling skills
- Ball-handling skills w/either hand
- Ability to fight through screens
- Commitment to playing defense
- Perimeter defense
- Did not win in college
- Ability to create for others
- Poor passer
Recent Tweets
All Tweets
This year's Jermaine Taylor? RT @mouthofhoops Aubrey Coleman will play himself into strong 1st round consideration w/his play in Portsmouth
2010-04-02 21:28:02
Playing at Portsmouth didn't hurt DeMarre Carroll (1st round pick), Jermaine Taylor or Jon Brockman, so why is Deshawn Sims too good for it?
2010-03-05 12:07:21
Top 25s - Full List
Team: NON-NBA College Team: Idaho
Physicals
Positions
Salary
Misc
H: 6' 5"
W: 207 lbs
Bday: 12/08/1986
(28 Years Old)

Current: SG
NBA: SG
Possible: SG

Agent: Tony Dutt

High School: Tavares
Hometown: Tavares, FL
Drafted: Pick 32 in 2009 by Wizards

Predraft Measurements
| Year | Source | Height w/o Shoes | Height w/shoes | Weight | Wingspan | Standing Reach | Body Fat | No Step Vert | Max Vert |
| --- | --- | --- | --- | --- | --- | --- | --- | --- | --- |
| 2009 | NBA Draft Combine | 6' 3.5" | 6' 4.75" | 207 | 6' 8.75" | 8' 5" | 5.8 | 34.0 | 37.5 |
| 2009 | Portsmouth | 6' 3.5" | 6' 4.5" | 208 | 6' 8.25" | NA | NA | NA | NA |



Basic Per Game Statistics

- Comprehensive Stats - Statistical Top 25s
| Year | League | Name | GP | Min | Pts | FG | FGA | FG% | 2Pt | 2PtA | 2P% | 3Pt | 3PtA | 3P% | FTM | FTA | FT% | Off | Def | TOT | Asts | Stls | Blks | TOs | PFs |
| --- | --- | --- | --- | --- | --- | --- | --- | --- | --- | --- | --- | --- | --- | --- | --- | --- | --- | --- | --- | --- | --- | --- | --- | --- | --- |
| 2014/15 | DLEAGUE | Jermaine Taylor | 22 | 27.0 | 11.3 | 4.1 | 10.9 | 37.7 | 2.8 | 6.3 | 44.9 | 1.3 | 4.6 | 27.7 | 1.8 | 2.6 | 70.2 | 0.5 | 1.8 | 2.3 | 3.0 | 1.0 | 0.2 | 2.3 | 1.6 |
| 2014/15 | DLEAGUE | Jermaine Taylor | 17 | 27.9 | 13.7 | 5.6 | 12.9 | 43.4 | 4.4 | 8.4 | 52.1 | 1.2 | 4.5 | 27.3 | 1.3 | 2.1 | 61.1 | 0.8 | 2.5 | 3.4 | 2.5 | 0.8 | 0.1 | 1.9 | 2.0 |

Player Page&nbsp&nbsp| Player Stats | Mock Draft History | Related Articles&nbsp&nbsp| Add to My Draft Express&nbsp
&nbsp
Portsmouth Invitational Tournament: All-First Team
April 14, 2009
Itís hard to argue that any player helped his stock at Portsmouth more than Jermaine Taylor, the most talked about player here this week, and the only one to spark mumblings of a potential first round selection. Measuring in at 6í4.5 in shoes while sporting an impressive 6í8.25 wingspan, Taylor helped himself both on and off the court this week.

In going back to analyze the tape we have of Taylor from Synergy Sports Technology, a few things stand out when comparing the footage to what we saw live. The most notable contrast is how much more evident Taylorís athleticism was in this setting as opposed to at Central Florida, primarily due to the different level of defensive attention he was paid. At UCF, Taylor saw frequent double teams and aggressive weakside rotations on his drives to the rim, which in combination with his just adequate ball-handling led to him not being able to often fully utilize his athletic tools. Here at Portsmouth, being able to operate out of a Flex offense that put in many more isolation situations where he only needed a single dribble to get to the rim, and generally getting the ball with more space to operate, Taylor really shined, showing how explosive and versatile an athlete he really is.

Taylor doesnít have the greatest command of advanced ball-handling moves just yet, and his left hand is noticeably underdeveloped, but his slashing game is quite effective for other reasons, namely his strong first step in combination with his excellent body control and shiftiness with the ball in the lane. Heís terrific at making strong, aggressive moves coming off a screen or in other quick actions, showing great footwork and excellent body control. Also, while he isnít the most versatile ball-handler, heís effective enough with the ball in space and he shows a good understanding of his limitations, as evidenced by his outstanding 0.13 turnovers per possession this season, which is even more impressive given that Taylor has the third highest usage rate in our database.

Taylorís well-developed frame allows him to finish through contact at the rim, while he also has a solid floater in his repertoire that he can utilize when necessary. His mid-range game is an effective weapon as well, being able to pull up in the 5-15 feet range going in either direction. Taylorís body control on pull-up jumpers is exceptional, always staying upright with shoulders squared to the rim, however his release is prone to sloppiness when he has a hand in his face, leading to some errant misses.

Taylorís jump shot in general is also impressive, as he shows range to the college three-point line with very strong form, being capable of scoring coming off screens, spotting up, or pulling up. As with his mid-range game, his release can get sloppy when a defender closes out hard, but otherwise his form is excellent.

As for the other aspects of his offensive game, Taylor shows solid court vision even though he didnít dish out many assists at UCF. His passing game is clearly a work in progress, as he definitely has a scorerís mentality, and it showed when he tried to adjust his game at Portsmouth, leading to some ill-advised turnovers. Taylor is also aggressive on the offensive glass, using his combination of strength and athleticism to get his hands on balls over players much bigger than himself.

On the defensive end, Taylor is fairly unimpressive, not making use of his excellent physical tools consistently, showing an inconsistent stance with perimeter defense, not putting in consistent effort to move laterally, constantly lagging through screens off the ball, and showing a general lack of focus oftentimes. Still, itís clear that he has considerable potential on this end of the floor with his wingspan and athleticism, and it does manifest from time to time, though he has a long way to go to even be an average defender by NBA standards.

Looking forward to the draft, Taylor clearly has an NBA body with NBA athleticism and some NBA skills, which is why there have began to be some mumblings about looks in the first round. Still, despite his incredible scoring talents, questions will remain about his shot-selection and lack of contributions in most other areas, namely defense. Taylor will certainly have some chance to make an NBA roster this year, but whether he sticks around will depend on how he develops his ball-handling, defense, and if he can adjust from an offensive focal point to playing in a smaller role.

[Read Full Article]

---
Portsmouth Invitational Tournament, Day Three
April 11, 2009
Jermaine Taylor had another very impressive performance, making 9-18 attempts from the field to finish with 21 points, 5 rebounds, 2 assists and 3 turnoversóin just 23 minutes. He again put his impressive physical and scoring tools on full display, utilizing changes of speed to get to the basket with NBA caliber moves, using screens intelligently, showing a terrific first step, and finishing through contact around the basket. His ability to use shot-fakes and score off the dribble is simply outstanding, and the way heís able to operate out of quick actions with pinpoint accuracy and extreme aggressiveness has really put him at another level at this event. He probably heard the talk that he took too many shots in the last game and actually tried to be a little too unselfish at times, which took away from what makes him so effective, and also caused him to turn the ball over a few times. Defensively, he needs to improve, and his ability to dance with the ball and create for himself in pure one-on-one situations isnít great just yet, but itís hard to see how he could have helped himself more so far this week. There are some rumblings here that he might be able to make a case to hear his name called in the first round even when itís all said and done

[Read Full Article]

---
Jermaine Taylor:"Getting a PIT invite was another step toward the NBA"
April 11, 2009
It was a little over a month ago, while waiting in an airport, that Jermaine Taylor received word from Central Florida coach Kirk Speraw that he had been invited to the Portsmouth Invitational. The senior, who had quietly risen to number three in the national scoring race, was, needless to say, excited.

ďI looked at it as a big opportunity, as getting closer to my dream,Ē says Taylor. ďGetting that invite was another step toward the NBA.Ē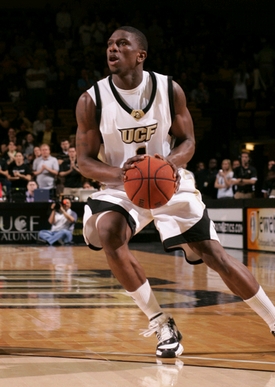 Icon SMI



Fast forward to day three of the Portsmouth Invitational, and suddenly Central Floridaís all-time leading scorer is the hottest name there is amongst scouts in attendance. Taylor, playing against some of the best seniors in the country, has amassed 51 points in his first two games, by far the highest total amongst the 64 players in attendance.

True to himself as a player, Taylor says he hasnít changed his game in the slightest in order to prepare for the audition in front of all 30 NBA franchises. The gunner who was a big time scorer during his days with the Knights has continued to be much of the same with his new set of teammates for the week.

Of course, the constant struggle for players like Taylor in showcase events of this kind, is finding the happy median between looking for shot opportunities, but distributing the basketball enough so as to not be labeled selfish. Rather than agonizing over something that ultimately is going to be subjective anyway, Taylor is keeping his mind focused on the game on the floor rather than the one in the stands.

ďEvery time I step on the floor I donít think about things like that, I think about playing my game,Ē he says. ďI donít want to rush anything, but every time I think I have a shot and itís there, Iím going to take it. If it isnít there, Iím going to pass it off. Thatís whatís been working for me, so I donít want to go away from that now.Ē

Not that heís needed to go away from it. Taylor, in addition to putting up impressive scoring totals, has been doing so with very efficient shooting as well, connecting on 20 of his 42 shot attempts in the first two games. The numbers and performances have been enough to attract the attention of several NBA teams according to Taylorís agent Michael Whitaker. Whitaker says that a handful of team representatives have taken the steps to introduce themselves to his client and state that theyíll be contacting him down the road about individual workouts.

Whitaker finds himself in a similar situation to the one he was in last season when he first started representing current San Antonio Spur George Hill. Hill, a rookie out of IUPUI, was very much like Taylor in that he was an unknown commodity from a small school. Thanks to a slew of solid workouts and promotional work from Whitaker, Hill shocked draft pundits when he was selected in the first round. Whitakerís work with Hill is a major reason why Taylor signed on with him.

ďWhat heís done for George [Hill] is great,Ē says Taylor. ďHe was in the same position that Iím in right now. He came from a small school, not too many people knew about him, and he went first round. Iím trying to do the same thing; I have all the confidence in my agent and right now heís showing me that heís doing a good job.Ē

Taylor is keeping up his end of the bargain as well, and shows no signs of slowing down. When he hasnít been on the court playing in front of scouts, he is spending his down time at a nearby gym continuing to work on his game before his next performance. He says that coming into the week his ball-handling skills were a bit of a concern for him, but he has managed to avoid dribbling the ball more than he has to. Now heís focused on only one thing, what he does well right now.

Teammates and opponents shouldnít take offense that heís only worried about making sure he gets his, as Taylor says, thatís just the nature of the beast.

ďWhen Iím on the court, thatís how I feel,Ē says Taylor.

ďWe can be friends and get along, Iím not a mean guy, and off the court I do get along with the guys. On the court though, at something like this, you have no friends. You have to go to work. Iím just playing my game and they play their game.Ē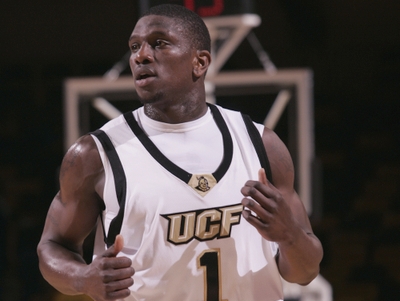 Icon SMI



Maybe itís just a chip on his shoulder from having attended a smaller school. Central Florida received almost no coverage this season save for a couple of conference match ups with Memphis. Rather than viewing this as a negative, Taylor sees it as an opportunity to make a fresh impression on the scouts, rather than trying to break out of a label he was given from a couple of games on TV.

And while it is possible that some of the players defending him this week may see Taylorís gaudy scoring numbers as nothing more than a byproduct of playing in Conference-USA, the stoic scorer couldnít be any more ok with that fact if it is the case.

ďI hope people donít really look at me as a major factor,Ē he says. ďI know I didnít go to a big school and I wasnít an All-American, so I hope they take me lightly, that just means itíll be bad for them.Ē

Thus is the nature of events like Portsmouth, and the reality for players like Taylor. His entire chance of achieving a lifelong dream of playing in the NBA can be made or broken in the course of just four games. He intends to continue his training in Indianapolis at the conclusion of the tournament this weekend; heíll be working with the same staff that helped prepare George Hill for the draft. Taylor knows he still has work left to be done in his final game, though, he isnít about to let the opportunity of a lifetime pass him by due to complacency after a pair of games.

ďI want to show that I can play against the guys who went to Texas, the guys who went to Boston College, wherever. Just because Iím doing well after two games doesnít mean Iím going to let up and stop working, thatís not the kind of person I am.Ē

Thatís what he hopes the NBA is about to find out.

[Read Full Article]

---
Portsmouth Invitational Tournament, Day Two
April 10, 2009
Although his final stat-line might not have been quite as jaw-dropping as Jon Brockmanís, there wasnít a player who helped their NBA draft stock in day two more than Jermaine Taylor. He displayed an NBA-level ability to create offense for himself, showing that his status as the #1 scorer in college basketball wasnít just a product of the level of competition he played at, and that he has no problem putting the ball in the basket against some of the best wing players in the NCAAófor example Marquetteís Wes Matthews in this particular game. Physically, he passes the eye test and then some, showing a NBA caliber body and better athleticism than almost any wing player in attendance here.

Taylor looked like nothing less than a scoring machine in this game, showing a complete offensive arsenal by scoring in a variety of ways. He showed an advanced ability to operate in the mid-range area, making a number of very smooth pull-up jumpers, showing excellent mechanics and creating separation from his defender in impressive fashion. Even though he only made 1 of his 4 attempts from beyond the arc, itís pretty obvious from looking at him that he can really stroke the ball. He also showed the ability to move off the ball, utilizing screens nicely and then taking the ball to the basket with excellent body control. His ability to create his own shot looked much more impressive in person than we had given him credit for from watching him on film, as he has a quick, powerful first step, long strides, terrific footwork, and even some shifty hesitation moves. His strength and aggressiveness got him to the free throw line at will in this game, and he converted 7 of his 9 attempts from the charity stripe.

Showing that same type of hunger to put the ball in the basket that all great scorers have, Taylor was an absolute jet leaking out in transition, creating numerous easy scoring opportunities in the process. We can now see why college football coaches were so interested in him at the wide receiver position, as his ability to get from one end of the court to another was absolutely outstanding, even if he might have been cherry-picking just a little on a possession or two.

That same hunger to score translated to the offensive glass as well, where he picked up no less than 4 extra possessions for his team. It also may have caused him to look a little too much for his own offense at times, as he did get up 24 field goal attempts in just 32 minutes without recording a single assist. Some teams we talked to felt like he may have played a bit selfishly at times, but itís a little bit hard to fault him for that too much considering whatís at stake here and how well he started off (with 18 points in the first half).

Although you donít want to take away too much from a single game in a setting like this, it was hard not to come away extremely impressed with what Taylor showed here in his first game. Judging by the reaction of a couple of scouts we spoke with, we werenít the only ones who felt that way. He reminds us quite a bit of Kelenna Azubuike, both in his build, athleticism, scoring instincts, and overall game. Weíre curious to see how he manages to follow this game up. Players like him are what makes the PIT great, as heís really using this setting to separate himself from many of the wing players in this class.

[Read Full Article]

---
NCAA Weekly Performers, 1/26/09óUnder the Radar Edition
January 26, 2009
Quietly putting up some of the best numbers of any shooting guard in the country this year, Jermaine Taylor is nearly single-handedly keeping his Central Florida team relevant in Conference USA.

The numbers are pretty hard to argue with. Taylor ranks 2nd amongst all prospects in points per-40 minutes pace adjusted, doing so on extremely efficient shooting numbers (57% 2-P%, 39.5% 3-P%). Heís the clear-cut focal point of his teamís offense (narrowly edging out Stephen Curry for the national lead in field goal attempts per-40), and the fact that he still manages to remain respectably efficient definitely shows you that heís not just another mid-major chucker.

Undersized for the shooting guard position at 6-3 or 6-4, Taylor makes up for that with a frame more likely to be found on the gridiron than on the hardwood. Thatís not a surprise considering that he was a highly recruited high school football player, offered scholarships by in-state powerhouses Florida, Florida State and Miami. His exceptional strength shows up often when you watch him play, be it grabbing offensive rebounds, bulldozering his way through the lane, or finishing through contact amongst the trees around the rim.

Taylor is a good athlete, even very good for the Conference USA level. He gets to the line at a solid rate, and gets more than his fair share of rebounds, blocks and steals to help pad the stat-sheet. He is an aggressive slasher, showing a nice crossover, and solid body control, but could still stand to improve his ball-handling skills, particularly with his left hand, which is exceptionally weak. He looks out of control at times, forcing the issue and driving into brick walls, which makes him a little bit too turnover prone. Heís also capable of making plays for others, though, showing solid court vision and a knack for finding teammates slashing to the rim.

Taylor is not an easy guy to evaluateóhis team relies on him incredibly heavily for offensive production in order to stay afloat in every game they play in, and thus heís often the sole focal point of opposing defenses, and forced to take bad shots. As evidence, consider the fact that his team doesnít have a single player averaging double figures besides him.

The part of his game that seems to have improved the most throughout college is clearly his shooting stroke. As a freshman, he shot just 44% from the free throw line, while as a senior he now ranks as one of the most prolific 3-point shooters in college basketball, at a good clip no less, with defenders typically draped all over him. He has excellent shooting mechanics and terrific arc on his jumper, being capable of making shots with his feet set or off the dribble, outside the arc or inside it, showing a nice mid-range game.

Defensively, Taylor is not effective in the least bit, even against the weaker competition UCF faces. He seems to have poor fundamentals and is extremely quick to get out of his stance, looking somewhat lackadaisical fighting through screens and showing very poor awareness defending off the ball. His lack of size will surely be considered a weakness when NBA teams evaluate him as a prospect for the next level, but at the college level there is no reason why he shouldnít be more effective considering his tools. Obviously the incredibly large offensive load heís forced to shoulder for UCF limits the amount of energy he can expend on this end of the floor, but heís going to have to show that he can hold his own on both ends of the floor if he wants to make an NBA roster.

With the NBA pre-draft camp no longer an option for players like Taylor, he would likely be well served competing in a setting like the Portsmouth Invitational Tournament, where he can show a different side of his game than heís able to at UCF. There are some considerable strengths that he brings to the table as a prospect, but there are also plenty of question marks about his size, the level of competition he faces and his ability to translate his production to a setting where he isnít the sole focal point of his offense. Heíll get plenty of looks from NBA teams regardless.

[Read Full Article]

---