Jerome Jordan
Recent Tweets
All Tweets
DraftExpress: At the D-League Showcase in Reno. Best non-affiliated prospect I've seen today is definitely Jerome Jordan. Looks like a legit NBA backup.
2013-01-08 00:36:51
DraftExpress: Zeke Marshall: best case Ryan Hollins, worst case Jerome Jordan? Somewhere in there. Giving Miss St's bigs problems. Challenging everything.
2011-11-09 08:31:11
Group #2 in Minnesota today: Grevis Vasquez, Devin Ebanks, Darington Hobson, Derrick Caracter, Jerome Jordan, (Sherron Collins Replacement).
2010-05-24 13:37:02
Greivis Vasquez's graduation was today, so he did not participate. Jon Scheyer out due to illness. Jerome Jordan out w/pulled quad.
2010-05-21 16:28:00
West Coast Workout Swing Part 1: BDA Sports Los Angeles - Jarvis Varnado and Jerome Jordan: http://bit.ly/aKpUQa
2010-05-13 06:28:17
Top 25s - Full List
Team: NON-NBA College Team: Nets
Physicals
Positions
Salary
Misc
H: 7' 1"
W: 244 lbs
Bday: 09/29/1986
(29 Years Old)

Current: C
NBA: C
Possible: C

Agent: Todd Ramasar
Current Salary:$816,482

High School: Florida Air Academy
Hometown: Kingston, Jamaica
Drafted: Pick 44 in 2010 by Bucks
Best Case: Theo Ratliff
Worst Case: Dwayne Jones

Predraft Measurements
| Year | Source | Height w/o Shoes | Height w/shoes | Weight | Wingspan | Standing Reach | Body Fat | No Step Vert | Max Vert |
| --- | --- | --- | --- | --- | --- | --- | --- | --- | --- |
| 2010 | NBA Draft Combine | 6' 11.5" | 7' 0.75" | 244 | 7' 5.25" | 9' 5" | 6.9 | NA | NA |
| 2009 | LeBron James Camp | NA | 7' 0.5" | 245 | 7' 6" | NA | NA | NA | NA |
| 2009 | Amare Stoudemire Camp | NA | 7' 0.5" | 245 | 7' 6" | NA | NA | NA | NA |



Basic Per Game Statistics

- Comprehensive Stats - Statistical Top 25s

Player Page&nbsp&nbsp| Player Stats | Mock Draft History | Related Articles&nbsp&nbsp| Add to My Draft Express&nbsp
&nbsp
Interview & Workout Footage with Jerome Jordan
June 15, 2010
Footage and an interview from an afternoon we spent with Jerome Jordan working out in Los Angeles.





[Read Full Article]

---
West Coast Workout Swing Part 1: BDA Sports Los Angeles
May 13, 2010
One of the more unique prospects in this yearís draft in terms of sheer physical tools and upside, Jerome Jordan only started playing high level basketball about five years ago as a high school junior after he moved to the United States from his home country of Jamaica. Incredibly raw when he first stepped on campus at Tulsa, Jordan has consistently improved his skill level each year in school, with his offensive production along with it.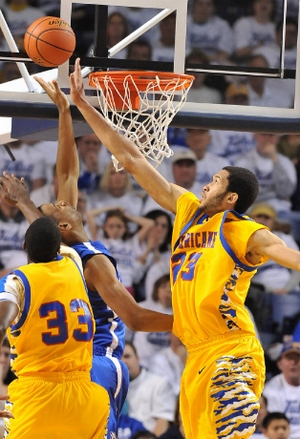 AP



Here at Impact, Jordan is working on improving some of the weaker parts of his game, while also diversifying his skill set to make an easier transition to the NBA. The pick-and-roll game is obviously a major emphasis for him in his training, especially on the defensive end, where he showed a high level of awareness and attentiveness in the scrimmage portion of the workout, actively hedging and recovering every play, keeping his eye on his man and the ball, and doing a great job of staying between the ball and his man on rolls, picking off a few over-the-top passes with his excellent length. His lateral quickness will likely never be a major strength, but he looks far more comfortable here than he did in college on the perimeter, and if he plays with this level of attentiveness, he should have the physical tools to be a solid pick-and-roll defender in the NBA.

Offensively, Jordan looked good hitting jumpers out to 18-20 feet, mostly spotting up out of pick-and-pop situations, though he also spent a good deal of time using his length and athleticism on rolls to the basket. We saw small flashes of this mid-range jumper this season at Tulsa, so itís good to see him continuing to display this part of his game, as it could be quite an asset moving forward. He showed an aggressive tendency to dunk everything on pick-and-rolls, emphatically on most possessions, though the killer instinct didnít show up the same way in post-up situations, where he seemed content to rely on his finesse game, which wasnít hitting consistently in the competitive portion of the workout.

Jordan looked to be in very good shape overall, while heís said to be emphasizing lower body and core strength in his strength training, something that will be very important for him at the next level, where his high center of gravity combined with still developing body could make things tough for him defending the post initially. Some have questioned his defensive effort and focus at times this season at Tulsa, as his blocked shots per 40 minutes pace adjusted have been on the decline for the past three seasons, something you donít want to see from a player with his length and athleticism. This could also very well be due to the adjustments opposing teams have made to playing against him, though.

While some have criticized Jordan for his laid back demeanor during certain games this season, itís hard to question his off the court work ethic, given the leaps and bounds heís improved skill-wise over the past four years. The work heís doing here should help him projecting to the NBA, as getting better acclimated to pick-and-roll defense is something that needs to be high on his priority list, given how rarely he was put in that situation at Tulsa. Likewise, continuing to work on his mid-range jumper will only ease his transition, but further developing his body, which looks like it can still add quite a bit more strength, will probably be as important to his success as anything else.

Jordan is part of a large group of prospects fighting for a spot in the late first round, but should be able to help himself in workouts, where he will likely be matched up frequently with players like Daniel Orton, Solomon Alabi, Artsiom Parakhouski, and Hassan Whiteside. Also, a player with his unique background and physical tools will likely draw largely varying opinions from NBA teams, especially in a draft this deep, so there certainly could be a team picking earlier that falls in love with his long term potentialólike Charlotte did with Alexis Ajinca a few years back. Going to a team with strong coaching and an emphasis on player development such as San Antonio, Houston, or Oklahoma City would be ideal for him, and would certainly go a long way towards maximizing his potential.

Interview with Jerome Jordan

Jim Hlavac: How are your workouts going so far?

Jerome Jordan: Itís been pretty good man. Weíve been out here just trying to get better and just get bigger and stronger.

JH: How have these workouts been different than what you did in college?

JJ: Itís more focused on the individual. Itís more personalized. In college, itís more generalized for the whole team.

JH: What specifically are you working on in your game to get ready for the NBA?

JJ: Just getting stronger and stuff and refining my post moves. And working on stepping away from the basket and making a few moves there.

JH: Are there any NBA guys you pattern your game after or you watch to learn from them?

JJ: Two guys I try to watch the most are Kevin Garnet and Tim Duncan.

JH: You started playing basketball late in life, tell us about that and your first couple of years in basketball.

JJ: Yeah, I started playing late; probably around age seventeen. I just shot up and kept growing. I always watched basketball, but never played. Once I took it up, I really liked it and everyone encouraged me to keep playing.

JH: You made huge strides every year at Tulsa. How much more room do you have to grow?

JJ: Everybody has different aspirations for themselves. I just see myself as young in the game and coming out here trying to get better. I think the skyís the limit, I just have to keep working on it everyday.

JH: Thank you for your time, and good luck.

[Read Full Article]

---
NCAA Weekly Performers, 2/26/10
February 26, 2010
Matthew Kamalsky

A player who emerged on the draft radar as an extremely raw sophomore, Jerome Jordan entered his senior year (after surprisingly electing not to even test the waters) as one of the top centers in his class from a NBA draft perspective. His final season in Tulsa has put his strengths and weaknesses on full display, and while heís shown some positive developments this season on the offensive end, heís shown some concerning limitations as well.

Regardless of what Jordan brings to the table in terms of skills, his physical profile makes him a prospect. Possessing outstanding size, a huge wingspan, and a slowly improving frame, Jordan has adequate athleticism and ample size for an NBA center. Though he could stand to add some weight to his frame and lacks a degree of fluidity in his movements, Jordan passes the look test and qualifies as an extremely rare commodity on the college basketball landscape. On top of that, heís improved considerably from his freshman year.

Perhaps the biggest strides Jordan has made lie in his offensive game. He continues to flash an array of drop-step moves, hooks, and even an occasional turnaround jump shot. Given his tremendous wingspan, Jordan has little trouble getting off shot from the post Ėsomething heís had to do frequently this season since he doesnít have a true point guard to create easy looks for him, and is often able to do so in impressive fashion. His awareness appears much better than it did in the past, though, as heís doing a better job of passing out of double teams and is significantly less turnover prone than he was earlier on in his career.

While he has had his share of quality games, he struggles with the consistency of his post repertoire, looking extremely smooth on one play and largely uncoordinated on the next. Displaying only adequate hands, the fact that Jordan converts roughly half of his post possessions, which account for 66% of his total offensive according to Synergy Sports Technology, is a testament to his imposing size and improved skill set.

When heís not taking advantage of his size with his back to the basket, Jordanís physical stature makes him a very solid finisher right at the rim. His touch has continued to improve, and heís done a better job drawing contact and getting to the line. Not the most physical player down low, but not shying away from contact, Jordan ranks amongst the top players in our database in free throw attempts per-40 minutes pace adjusted. Not the most natural or instinctive player, Jordanís offensive game isnít as predicated on his size as it once was, but still leaves a lot to be desired in terms of polish.

While Jordan has some endearing qualities offensively, his defensive ability remains highly problematic at this point, especially when you consider his tools. Though he blocks shots at an extremely respectable rate, Jordan is often slow to react defensively, even when defending the ball. Allowing offensive players to get into his body when defending one-on-one, and showing very concerning lateral quickness, Jordan does a decent job staying out of foul trouble, but simply isnít the stopper that his physical tools afford him the opportunity to be. He must improve his agility and timing as a weak-side defender rotating into the paint and somehow become more adept at stepping out onto the perimeter against the pick and roll.

Still not going straight up on shooters consistently and looking a bit upright and apathetic, Jordanís lack of fire is never more apparent than it is when heís defending. This is a major concern when projecting him to todayís ultra-fast and guard oriented NBA, as he surely isnít talented enough on the offensive end to compensate for being a defensive liability.

Able to get by on his tools at this level, Jordan will have ample opportunities to prove himself in the draft process against the other centers in this class. At the end of the day, 7-footers donít grow on trees, and the expansion of his offensive game is promising to say the least, especially considering how little experience (virtually nil) he had coming into the college ranks. However, until Jordan improves his intensity level and is able to defend his position in the NBA in a respectable way, heís unlikely to see much playing time and thus may have a problem sticking around for very long.

[Read Full Article]

---
LeBron James Skills Academy Player Profiles
July 13, 2009
-Jerome Jordan-Seeing is believing when it comes to Jerome Jordan, as there might not be a player in this yearís draft class who makes a stronger initial impression on first glance. His physical tools are amazing, starting with his legit 7-feet size, his excellent frame, or his pterodactyl 7-6 wingspan. When it came to the actual games or drills, though, it was a whole different story. Jordan showed flashes of potential with the way he finished around the rim, but for the most part he looked clumsy or not focused (depending on your perspective) trying to make catches with his so-so hands, and also seemed very lethargic in the competitive part of the drills. He may be a little bit too laid back for his own good, prompting one scout in attendance to go as far as to call him ďa less athletic Patrick OíBryant.Ē We wouldnít go quite that far, but Jordan definitely needs to show a higher intensity level if he wants to justify passing up being the 2nd or 3rd best center in the 2009 draft by returning to Tulsa for his senior year.

[Read Full Article]

---
NCAA Weekly Performers, 3/9/09
March 10, 2009
After coming on strong towards the end of his sophomore campaign, Jerome Jordan has taken his game to the next level as a junior, increasing his production and efficiency in a number of areas, while still playing the same amount of minutes. Jordan started off the year slowly but really came on strong once conference play kicked off, upping his scoring averages to over 17 points per game.

The most apparent area you can see Jordanís improvement is on the offensive end, where he looks much more comfortable in the post compared to last season, having a stronger repertoire of moves and better recognition of how to use them. Jordanís game still lacks obvious polish in the post, however he has established a versatile groundwork of moves to use, showing flashes of jump hooks, turnaround jumpers, and drop steps with range out to 8 feet and the ability to turn off either shoulder to execute his moves. While Jordan looks quite awkward at times in the post, his footwork given his lack of experience and his coordination given his undeveloped strength are both things to be encouraged about.

Jordanís best move at this stage would have to be his right-handed hook shot, which he shows nice touch on and range out to 6 or 7 feet. Aside from that and drop steps deep in the post, however, Jordanís is just inconsistently successful with his other moves, especially against defenders who can match up with him physicallyóunfortunately very few and far between in the conference he plays in. Jordan also needs a lot of work on moves with his left hand, and he reacts very poorly to double teams, often leading to turnovers. Jordanís footwork is good enough to get the job done when he gets matched up with his defender on an island, however in the tight spaces created but double teams, his lack of polish becomes painfully evident. Jordanís underdeveloped strength also becomes apparent when heís getting bodied up, throwing off his finesse moves. Jordan shows flashes of power moves in the post, having the size, extension, and athleticism to dunk over players from a few feet away from the basket, but he needs more lower and upper body strength to consistently take advantage of this, while he may also lack a mean streak.

As for the rest of Jordanís offense, he does a good job on the offensive boards, taking advantage of his size and showing the mobility and hands to track down some rebounds, while heís also capable of catching and finishing at the basket, even though he isnít used much on pick-and-roll plays in college. Jordan doesnít show much of a jump shot yet, but his 76% free-throw shooting (up from 69%) and solid form from the line suggest he should be able to add a mid-range jumper in time. As a passer, Jordan does show decent court awareness from the post, however he is prone to making bad decisions and he definitely can get flustered when reacting to double teams.

Defensively, Jordan hasnít been as effective a shot blocker this season as last, but he still ranks 8th in our database per 40 minutes pace adjusted, using his size and timing to swat away a decent number of shots. Jordanís improved nicely with his man-to-man defense, however, showing good patience and decent fundamentals in the post, always keeping his hands up and using his length to force tough shots. He is prone to being backed down at times with his high center of gravity and still developing body, but heís showing signs of improvement. Jordan also shows potential hedging pick-and-rolls, showing great mobility for his size and flashes of surprising ability to change directions at decent speed without losing balance. He is still a bit too foul prone, averaging just under 5 fouls per-game per-40, which is definitely a concern considering the type of big men he typically faces.

Jordanís level of competition also has to be taken into consideration, as many of his Conference USA opponents lack the frontcourt players to give him much of a challenge, and his production and efficiency levels were inconsistent against major conference competition, especially those with strong, physical big men.

Looking forward, Jordan is still quite a raw player, lacking experience, polish, and not having a fully developed body just yet, but the pieces heís added to his game and the improvements heís made in multiple areas in such a short time should be very encouraging to many talent evaluators, as his learning curve appears to be very steep. Jordan still has some work to do before he would be able to consistently contribute in the NBA, and in the long term heíd likely be best served by spending another year in school expanding his game, but teams would have a tough time passing on a player with his physical tools and upside in the mid to late portion of the first round, making the draft a potentially enticing option.

[Read Full Article]

---
College Road Report: Tulsa vs Ohio University
December 8, 2008
Statistically, it would appear that Jerome Jordan was a relative non-factor based on his pedestrian 7 points, 6 rebounds, and 2 blocks in 24 minutes on the hardwood. However, the impact that Jordan had on the game extended far beyond the box score.

The first thing that stands out about seeing Jordan in person is the outstanding physical package that he has to offer. He combines a condor-esque wingspan with a massive frame that could easily add a considerable amount of weight to it, which is pretty impressive considering he already weighs 240 pounds. He has a very strong lower body already at this point, leaving the bulk of his physical growth to be absorbed in his upper body.

Given Ohio Universityís lack of a legitimate inside presence Jordanís sheer size and the fact that he could score on the block made coach John Groce divert from his usual strategy and go with a 2-3 zone that was packed in the key. This defensive attack was very successful in limiting the touches the athletic Jordan received in the pivot, especially in the first half.



In the few instances that Jordan did receive the ball on the blocks, he was immediately double teamed by a pair of Ohio University players and forced to make a quick decision. While there were a few times that he identified the double team quickly and made a pass to a guard on the weak side, there were also times were he made awful decisions, resulting in his season high 3 turnovers.

With the opportunities quite limited to see Jordanís scoring moves in person (he only attempted four shots), there wasnít a whole lot that could be absorbed about his ability to score on the blocks. He did give you glimpses with a gorgeous right hand jump hook, in which he had outstanding extension. The Jamaica native also had a tip-dunk from a standstill and showed off some nice footwork with an up and under move that he finished at the rim. Nothing spectacular, but pretty impressive for a considerably raw, athletic seven footer.

Certainly a work in progress on the offensive end, Jordan is far from on the defensive side of things. He completely changed the game every second he was in against Ohio University with his ability to alter/block shots. He displayed the ability to stay on the ground and not bite for pump fakes against his much smaller frontcourt oppositions, displaying great timing and patience in this area.

After struggling considerably with defending the pick and roll last season, he has shown considerable improvement this year. Jordan had no problem hedging out on ball screens and then quickly recovering, showing impressive lateral quickness in the mean time. Jordanís defensive rotations were also far better then last season, leading one to believe that he is beginning to understand the game a bit more given his lack of inexperience playing at a high level.

Jordan did a solid job of rebounding the ball, taking up two players on either end of the court. He exhibited more defensive fundamentals in terms of boxing out, leaving his teammates to corral many loose rebounds. On the offensive glass, he crashed very hard throughout the game despite the fact that he constantly had two players putting a body on him in effort to negate his presence.

Limited to only 24 minutes of action due to foul trouble, Jerome picked up a few questionable foul calls throughout the game. All of Jordanís fouls basically came on smaller post players barreling themselves into the seven footer, completely initiating the contact. Jordanís lack of upper body strength hindered him severely in this area.

Jordan displayed a pretty good demeanor on the court, visibly playing hard and running the floor as hard as he could. Like Hasheem Thabeet, Jordan runs the floor fairly awkwardly (but effectively). The junior really battled to establish (and maintain) position on both blocks despite his poor strength.

Overall, the biggest observation that we could draw from watching Jordan in person was the impact that he can have on a game that doesnít show up in the stat sheets. There is still no doubt that Jordan is far from a finished product and needs to improve considerably before he can make an impact on an NBA team. However, it is also impossible to deny the athletic gifts the seven footer has and how good he could potentially become down the road.

[Read Full Article]

---
Top NBA Draft Prospects in the Non-BCS Conferences (Part Two: #6-15)
November 13, 2008
After averaging just 2.7 points and 2.1 rebounds in under 8 minutes per game as a freshman, no one in America could have projected Jerome Jordan to develop into one of the top mid-major prospects in college basketball. Thatís exactly what he did, though, after improving his sophomore numbers to a more respectable 10.5 points, 7.9 rebounds and, most importantly, 3.7 blocks, in 26 minutes per game. Considering his physical tools, and realizing that heís only really going into his third season of organized basketball (he barely played in high school after transferring from his native country of Jamaica to Redemption Christian Academy in New York to Florida Air Academy, where he was deemed ineligible) there is a lot to get excited about if Jordan can make another similar leap in ability this season.

Jordan passes the airport test and then some, standing a legit 7-feet, with a very good frame, a pterodactyl wingspan, and solid athleticism. He is quick off his feet, and runs the court well, looking particularly impressive finishing plays with ease around the basket. In terms of physical attributes, he looks the part and then some.

Offensively, Jordan is mostly a non-factor at this point in his development. He sees little to no touches inside the paint, and displays poor footwork when he does get the ball, possessing nothing more than a basic drop-step move and a developing jump-hook shot with his right hand. His touch does not look bad, and his hands appear to be fairly reliable, which at least leaves some room for optimism regarding the future considering how little basketball experience he has. He was able to up his free throw percentage from a dismal 27% as a freshman to 69% last season, although we never got a chance to see him attempt a mid-range jumper or put the ball on the flooróthings that are very likely out of his repertoire at the moment.

Jordan appears to understand that his place is in the paint, and thus seems to want to play inside, which is a pretty good sign. Something that is holding him back considerably, though, besides his incredibly obvious lack of polish, is the very poor strength he possesses at the moment. He is not strong enough to hold his spot on the block, and really struggles trying to finish through contact. He gets pushed around with ease by unimposing college players, which means he will have to bulk up substantially if heís to have any chance at competing in the post against NBA big men.

Defensively is where Jordan shows the most potential as a prospect. He seems to have nice timing, which combined with his freakishly long wingspan, allows him to block shots at a very high rate. He currently ranks as the 2nd best returning shot-blocker in college basketball in fact. Jordan seems to compete fairly hard, although he lacks a significant amount of strength, experience and awareness on this end of the floor, making him very foul prone, and a bit naÔve biting for pump-fakes. He struggles stepping away from the basket to hedge screens and such, and doesnít possess a great understanding of the nuances of team defense, making him a step slow at times rotating from the weak side.

Jordan is a very good offensive rebounder thanks to his excellent physical tools and above average activity level, but heís not quite as effective a defensive rebounder. He gets boxed out pretty easily and struggles to fight back when being pushed aroundóJoey Dorsey gave him a very hard time for example in all three of their matchups last season.

If history has taught us anything, itís to be patient with projects like Jordan, and avoid the urge to overhype. He needs a good amount of time and development to even begin to reach his full potential as a basketball player, even if the tools he displays are impossible to ignore. Jordan will surely play in the NBA down the roadóthe question is how soon, and in what capacity. How much heís improved this offseason should tell us a fair amount, as heís still very much an unknown commodity at the moment.

[Read Full Article]

---
Blogging through Championship Week (Part Five)
March 18, 2008
A mobile seven footer thatís largely gone under the radar to this point, the sophomore really turned it on to close the season, averaging 16.3 points, 12 rebounds, and 4.8 blocks over his final six games, though he also averaged an impressive 3.7 blocks per game for the season, in just 25 minutes per game.

Jordan had a good showing against Memphis, even though his team wasnít in the game from the start, scoring 17 points along with 9 rebounds and 4 blocks. His first offensive possession left me shaking my head, as he caught the ball on the deep right block, matched with Joey Dorsey, and strangely tried to drop-step baseline, looking very awkward and traveling with the ball as he simply had nowhere to go. Later in the game, it became clear what he was trying to do, as he went back to the same move twice. On these next two attempts, though, Jordan executed the drop-step and got underneath the rim, finishing with a reverse lay-up on one attempt and a reverse dunk on the other, showing off just how mobile and long he really is.

While the moves were pretty impressive, itís worth noting the third one came in the gameís final minutes when Memphis had emptied the bench and Jordan had a 6í8, 300 pounder guarding him in Memphisí Pierre Niles., who didnít really try to defend the move. Also, itís a bit strange that a player with his physical tools and fairly raw overall post game would have a move of this difficulty as his go-to move. Itís also puzzling how Jordan kept going to the deep right block to get position, when he didnít show any moves off his right shoulder (though he faked it multiple times), yet never tried to post up on the deep left block, where with his size, he could consistently utilize a hook shot across the lane that would be pretty much unblockable. Looking at his post game as a whole, he has nice touch and clearly has a lot of potential, but itíd be nice to see him develop some better post awareness in his future and make better use of simpler, easier moves that he could abuse defenses with.

As for the rest of his offensive game, Jordan got open around the rim to finish with his size and touch often, notably finishing on one alley-oop dunk where he showed very nice coordination, and he also hit a right-handed hook shot off the glass from the right block on one occasion. He didnít show any mid-range game, though heís shooting a decent 69% on free throw attempts on the season, and his shooting form doesnít look bad. Continuing to improve on his free throws and rounding out his post game should be among his priorities offensively moving forward.

On the defensive end, Jordan showed excellent timing on his shot blocks, using his great length and size to consistently patrol the painted area. His elevation isnít great, but his mobility and size make up for that, and heís clearly not at his athletic peak yet, not having much muscle mass. His shoulders arenít particularly broad, so heíll be someone limited in how much bulk he can add, but he still can improve significantly here. With man-to-man defense, Jordan looked good in the post, contesting and blocking shots with his length, but he didnít show much in terms of fundamentals, not really bodying up and mostly relying on his shot-blocking abilities.

All in all, Jordan is an extremely raw and extremely intriguing player, and itíll be interesting to watch him develop in the next two seasons. He still has a long ways to go on all aspects of the game, but with his size and length, he obviously has the potential to play in the NBA when itís all said and done, and maybe even more than that if he makes some serious strides this summer.

[Read Full Article]

---