Jimmy Butler
Recent Tweets
All Tweets
DraftExpress2: Here's what I love about basketball. For every spoiled entitled big time recruit who doesn't pan out there's a Jimmy Butler.
2013-05-08 20:07:58
DraftExpress: Some guys (like Ryan Gomes Jimmy Butler) made no 3s their first year in college but they had to stay and develop a jumper which they did.
2013-02-07 12:56:11
DraftExpress: Jimmy Butler to ex-Marquette teammate Jae Crowder: don't blow off Portsmouth "you want to show you like to compete" http://t.co/vLv7P0od
2012-03-11 10:28:59
DraftExpress: RT @chadfordinsider: If you read one story on the NBA Draft this week, read this one on Jimmy Butler. Amazing young man. http://t.co/cBieWHo
2011-06-18 11:40:13
DraftExpress: RT @stackmack: Wow. Just watched the @DraftExpress interview with Jimmy Butler from the combine. Thrilled he's chasing his NBA dream: ht ...
2011-05-24 10:03:25
Team: Bulls
Physicals
Positions
Salary
Misc
H: 6' 8"
W: 222 lbs
Bday: 09/14/1989
(25 Years Old)

Current: SF/PF
NBA: SF
Possible: SF

Agent: Happy Walters
Current Salary:$2,008,748

High School: Tomball
Hometown: Tomball, TX
Drafted: Pick 30 in 2011 by Bulls

Predraft Measurements
| Year | Source | Height w/o Shoes | Height w/shoes | Weight | Wingspan | Standing Reach | Body Fat | No Step Vert | Max Vert |
| --- | --- | --- | --- | --- | --- | --- | --- | --- | --- |
| 2011 | NBA Draft Combine | 6' 6" | 6' 7.75" | 222 | 6' 7.5" | 8' 5.5" | 5.4 | 32.0 | 39.0 |
| 2011 | Portsmouth | 6' 6.25" | NA | 215 | 6' 8" | 8' 5" | NA | 31.0 | NA |



Basic Per Game Statistics

- Comprehensive Stats - Statistical Top 25s
| Year | League | Name | GP | Min | Pts | FG | FGA | FG% | 2Pt | 2PtA | 2P% | 3Pt | 3PtA | 3P% | FTM | FTA | FT% | Off | Def | TOT | Asts | Stls | Blks | TOs | PFs |
| --- | --- | --- | --- | --- | --- | --- | --- | --- | --- | --- | --- | --- | --- | --- | --- | --- | --- | --- | --- | --- | --- | --- | --- | --- | --- |
| 2014/15 | NBA | Jimmy Butler | 65 | 38.7 | 20.0 | 6.5 | 14.0 | 46.2 | 5.4 | 11.1 | 48.4 | 1.1 | 3.0 | 37.8 | 5.9 | 7.1 | 83.4 | 1.8 | 4.1 | 5.8 | 3.3 | 1.8 | 0.6 | 1.4 | 1.7 |

Player Page&nbsp&nbsp| Player Stats | Mock Draft History | Related Articles&nbsp&nbsp| Add to My Draft Express&nbsp
&nbsp
Situational Statistics: the 2011 Forward Crop
June 19, 2011
Looking through the rest of this class of forwards, a few things stand out. First is how well Jimmy Butler seems to rank in virtually every category, starting with overall offensive efficiency (6th), and continuing with turnover rate (2nd best), free throw rate (2nd) and transition scoring (2nd). If he can improve his ability to make shots with his feet set (13th, 36% FG) he will likely carve out a long career for himself considering how staunch of a defender he is.

[Read Full Article]

---
NBA Combine Interviews: Chris Singleton, Jimmy Butler, Lighty, Hopson
May 23, 2011
[Read Full Article]

---
All-Portsmouth Invitational Tournament, First-Team
April 12, 2011
Matt Kamalsky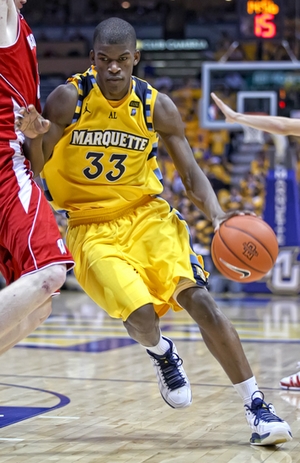 Icon SMI



Capping off a brilliant series of performances at the Portsmouth Invitational Tournament, Jimmy Butler scored 19 points in the championship game to help his team cruise to an easy victory, and win MVP honors in the process. The most consistent player throughout the course of the week, few players did as much for their stock as Butler was able to.

The Texas native is not a freak athlete, or the type of player you'll see on an ESPN highlight reel any time soon. He does not have the pedigree of a future NBA All-Star. His physical tools are fairly average, and he still needs to develop certain parts of his skill set, namely his shooting consistency from the beyond the arc, to maximize his value. However, when evaluating a player like Butler, who simply plays winning basketball, has terrific intangibles, and does all of the little things the help his team, it is important to look at what he can do before condemning him for he can't be.

Butler is a heady player who plays within a team concept. He defends, he makes the extra pass, he crashes the glass, he has a terrific basketball IQ, and his attitude is a coach's dream. A product of tireless reps in the gym and a detail oriented system, the senior has a very solid floor game, makes good decision with the ball, scraps on both ends, and maximizes the physical tools he does have.

Throughout the week, Butler flashed an improved midrange game, looking far more comfortable knocking down pull-up jumpers than he did last season. If that development is indicative of what we can expect his spot-up jump shot to look like by the end of the spring, Butler could emerge as a coveted role-player by the time the draft rolls around.

His athleticism won't allow him to create consistently one-on-one at the next level, but he's a functional ball-handler who can take what defenders give him. If he develops the ability to stretch the floor, there's no question that he'll be a nice addition to a team with a bench full of athletic scorers.

Butler may struggle with the athleticism of elite wings at the NBA level, but much like Lazar Hayward and Wesley Matthews before him, he's well versed in compensating for his limitations and takes pride in his play defensively.

Buzz Williams was in attendance at Portsmouth this week, and his mark on Butler's game is clear. Spending minutes in the post early in his career, Butler showed that he's comfortable out on the perimeter in the limited sample of games we were able to take in here. If his work ethic plays into his shooting ability from beyond the arc and it shows in workouts, Butler has the makings of a terrific rotation player. Take into account the fact that he is just 21 years old, and it is easy to see why he's caught the interest of NBA executives looking to help their team win more games.

[Read Full Article]

---
Portsmouth Invitational Measurements and Athletic Testing Results
April 12, 2011
The MVP of the tournament, and likely the top prospect at the PIT, Marquette's Jimmy Butler, measured out a solid 6-6 ¼ without shoes and 215 pounds, giving him excellent size for a NBA small forward, albeit just an average wingspan (6-8) and standing reach (8-5).

[Read Full Article]

---
2011 Portsmouth Invitational Tournament, Day Three
April 9, 2011
Jimmy Butler had another impressive showing in leading his team to victory. The Marquette product finished with 19 points on a super efficient 7-11 shooting. He was all over the place defensively, showed great timing crashing the glass, made some excellent passes, looked extremely comfortable scoring from the midrange, and did nothing to dispel the assertions that he has good role-player potential and is one of the most polished players in attendance at this year's PIT. We will feature him in a more detailed report later this week, but in the meantime, here's an interview we conducted with him after the game, which highlights many of the things NBA teams like about him so much as an "intangibles guy":





[Read Full Article]

---
Top NBA Draft Prospects in the Big East, Part Five (#21-25)
October 15, 2010
Matthew Kamalsky

An unheralded high school player, Jimmy Butler landed at Marquette after spending a year of his eligibility at Tyler Junior College. Glued to the bench and struggling to produce early in his career behind the likes of Dominic James, Jerel McNeal and Wesley Matthews as a sophomore, Butler showed great competitiveness and emerged as exceptional complement to Lazar Hayward last season. Though Darius Johnson-Odom seems poised for a big year, Marquette's success in 2011 will be influenced just as much, if not more, by the play of Jimmy Butler. Arguably the most efficient offensive wing in the NCAA last season, if Butler takes another large step forward he could garner some NBA attention.

Butler's has two major obstacles in emerging as a high-level draft prospect. First, he is not a tremendous physical specimen. Built similarly to former Memphis prospect Shawne Williams, Butler is very smooth on the court, using rangy strides to get to the rim. However, he lacks explosiveness, a strong frame, and great lateral quickness. Butler does have a long wingspan and good size for a small forward, the position he's projected to play in the NBA, but scouts will put his athleticism under the microscope as he faces NBA caliber athletes virtually every night in Big East play.

The second obstacle Butler faces in proving his mettle as a prospect revolves around the roles he's played offensively. Spending some time out on the perimeter where he showed remarkable progress as a junior, Butler spent a large portion of his minutes as a sophomore acting as the de facto power forward when injuries plagued Marquette's undersized lineup, getting almost half of his touches off of cuts and offensive rebounds. Endearing himself to Williams with his play defensively, efficiency crashing the glass, and knack for finishing opportunities his teammates created for him, Butler branched out considerably last season, but could still use more touches out on the wing to continue refining his budding perimeter game. With Lazar Hayward out of the picture, this could be Butler's first season as a high-usage threat, and his ability to maintain his efficiency with more touches is worth keeping an eye on.

The diversification of Butler's offensive arsenal made the difference for him last season and promises good things this year, as his development has given Buzz Williams the flexibility to use him in a multitude of ways on the offensive end. As a sophomore surrounded by NBA prospects, Butler attempted just 18 jump shots, knocking down just 4 of them. After a summer of hard work with Lazar Hayward, Butler made half of his 38 catch and shoot attempts last year and connected on 40.3% of his 2.1 jumpers per-game overall. Displaying an exceptionally high release and emerging as a capable threat pulling up off the dribble, Butler has a very solid shot selection, has learned to hit the corner three, is able to exploit mismatches, plays within his skill set, and could have an outstanding year if his jump shot continues to improve.

Butler's development last season, coupled with his solid basketball IQ and functional, albeit simple ball-handling repertoire allowed him to score effectively in both spot-up and isolation situations last season while not turning the ball over at a high rate. Though Butler's jumper gives him intrigue as a prospect, his ability to get to the basket is what made him such a versatile threat last season. He isn't going to blow by anyone off the dribble, but he's developed his right hand to the point that he can take what defenders give him on the perimeter. He uses his body exceptionally well to shield the ball and exploits his rangy strides to create some good looks for himself around the rim.

Able to create easy looks by attacking in one-on-one situations, crashing the glass, or ducking in when his teammates penetrate, Butler shows a knack for capitalizing on his ability to be in the right place at the right time. A very solid finisher despite the fact that he gets his shots blocked by more athletic defenders on occasion, lacks great strength, and seldom plays above the rim, Butler shows good body-control and a good feel for using angles to make plays.

Defensively, Butler shows excellent discipline. Much like Lazar Hayward last season, Butler does an excellent job of staying in position and has excellent fundamentals, but doesn't have the lateral quickness to recover when he's beat. Unlike Hayward, who could use his strength to defend much bigger players in the paint, Butler's best asset is his wingspan. Though he does his best to prevent his man from getting position, his lack of great strength hurts him in the post, but he contests shots well and can make an impact in the passing lanes. His lack of leaping ability limits him as a rebounder, but he gives ample effort cleaning the glass.

Though there is a ton to like about Butler on the college level, he has some work to do on his NBA draft stock. His physical limitations will make his play this season that much more important to his pro-prospects, but if he's able to become a high caliber shooting threat and more dynamic in one-on-one situations, he could garner some attention. A strong candidate for the Portsmouth Invitational Tournament, Butler's transition from roleplayer to potential first option will be one to keep an eye on, as he could make a splash if he remains as efficient as he has been.

[Read Full Article]

---