Joe Jackson
Recent Tweets
All Tweets
DraftExpress: Top Non-BCS Conference NBA Prospects #16-#20 Kendall Williams Joe Jackson Tony Snell Elias Harris Javon McCrea http://t.co/UgyiqimM
2012-11-20 16:24:00
DraftExpress: Cross between Iman Shumpert and Joe Jackson. RT @tikelgcny: Thoughts on Kris Dunn? I'm a big Ed Cooley fan
2012-03-28 11:08:30
DraftExpress: RT @GaryParrishCBS: Joe Jackson will remain at Memphis. He's decided not to transfer, according to his former summer coach Eric Robinson.
2012-01-01 04:17:21
DraftExpress: I remember watching Joe Jackson in AAU before his HS sr year, right as the hype was peaking. I went up to Josh Pastner & asked: "he's a PG?"
2011-12-31 11:47:32
DraftExpress: Tough situation for Joe Jackson. He is & always has been a terribly flawed player. But been treated like a NBA future allstar his whole life
2011-12-31 10:22:07
Team: Memphis, Junior
Physicals
Positions
Rankings
Misc
H: 6' 0"
W: 163 lbs
Bday: 02/08/1992
(21 Years Old)

Current: PG
NBA: PG
Possible: PG

Pick: 56 in 2014 Mock Draft
Rank 28 in NCAA Juniors
RSCI: 19

High School: White Station
Hometown: Memphis, TN

Predraft Measurements
| Height w/o Shoes | Height w/shoes | Weight | Wingspan | Standing Reach | Body Fat | No Step Vert | Max Vert | Bench Press | Lane Agility | 3/4 Court Sprint | Class Rank |
| --- | --- | --- | --- | --- | --- | --- | --- | --- | --- | --- | --- |
| NA | 6' 0.5" | 163 | 6' 3" | NA | NA | NA | NA | NA | NA | NA | NA |



Basic Per Game Statistics

- Comprehensive Stats - Statistical Top 25s
| Year | League | Name | GP | Min | Pts | FG | FGA | FG% | 2Pt | 2PtA | 2P% | 3Pt | 3PtA | 3P% | FTM | FTA | FT% | Off | Def | TOT | Asts | Stls | Blks | TOs | PFs |
| --- | --- | --- | --- | --- | --- | --- | --- | --- | --- | --- | --- | --- | --- | --- | --- | --- | --- | --- | --- | --- | --- | --- | --- | --- | --- |
| 2012/13 | NCAA | Joe Jackson | 36 | 32.6 | 13.6 | 4.7 | 9.0 | 51.9 | 3.6 | 6.6 | 54.4 | 1.1 | 2.4 | 44.7 | 3.2 | 4.4 | 73.0 | 0.5 | 2.9 | 3.3 | 4.8 | 1.7 | 0.2 | 2.8 | 2.0 |

Player Page&nbsp&nbsp| Player Stats | Mock Draft History | Related Articles&nbsp&nbsp| Add to My Draft Express&nbsp
&nbsp
Top NBA Prospects in the Non-BCS Conferences, Part Six
November 20, 2012
US Presswire



Joe Treutlein

After two shaky seasons to start his collegiate career, and rumors of a possible transfer midway through his sophomore campaign, Joe Jackson is looking to live up to his considerable high school accolades as a junior.

Standing 6'0 ½ with a solid 6'3 wingspan and top tier quickness and explosiveness, Joe Jackson is an outstanding athlete in many aspects, but is still held back by his very thin frame and lack of strength. While the 20-year-old could still get stronger and even add some mass to his body, he's likely always going to be on the frail side by NBA standards, something he'll need to overcome with his other attributes.

Jackson struggled badly as a freshman, and was unable to effectively run the offense for Team USA in the U-19 World Championships in 2011, though he did manage to take some subtle strides forward his sophomore season. While his strengths and weaknesses on the floor remain the same, he saw his free throw rate, assist rate, and scoring efficiency all tick slightly upwards last year as he better adjusted to the NCAA game. Most significant was the fact that he was able to bring his meteoric turnover rate from an impossible 5.7 turnovers per-40 minutes as a freshman to a much more manageable 3.5 per-40 as a sophomore.

On the offensive end, Jackson is a score-first point guard most comfortable pushing the ball in transition, a style he's played for most of his life. He shows solid instincts and passing ability in these situations, and is even more capable using his creativity and leaping ability to finish around the basket on a well-spaced court. He has no problem weaving through defenders when he's on the move by using his excellent speed and ball-handling abilities either.

In half-court situations, however, things are much murkier, where he doesn't show the steady game-management you'd expect from a high-level point guard. While Jackson is certainly capable of wowing onlookers using his blazing first step to get to the basket out of isolations and pick-and-rolls, or using his ball-handling to get separation for a pull-up mid-range jumper, he's just as likely to turn over the ball over-penetrating, over-dribble the ball, or badly miss an outside shot.

Jackson clearly has a great deal of talent, but he's struggled to find a way to consistently balance all of these things in a half court setting. Further, his outside shot is plagued by inconsistent mechanics and just as inconsistent results that show up both in pull-up and catch-and-shoot situations. His ability to break down the defense and finish around the basket, while much more clearly a strength at this level, is also a concern projecting forward given his physical stature. He already shows some problems finishing in traffic in the lane in college, something that could become even more problematic against bigger, more athletic pros.

Looking towards his junior season, Jackson can do many things to help his game, with cleaning up his perimeter shot and becoming a more consistent threat spotting up and off-the-dribble would certainly go a long way. Becoming a steadier floor general, ideally by putting his speed and versatility to use with a more featured pick-and-roll game would also help, but that's not necessarily up to him to decide. He already sees a staggering 30.8% of his possessions in transition according to Synergy Sports Technology, so it's probably not feasible for him to play a much faster style of play, and finally improving his half-court decision making is critical.

On the bright side, one area he has managed to excel at the collegiate level is on the defensive end of the floor, where he's done a much better job utilizing his strengths and adapting to his shortcomings. Jackson really came into his own last season in this regard, playing very aggressively in perimeter defense by using his speed and length to blanket his opposition on the ball. He shows a good fundamental stance, excellent lateral quickness, and a willingness to move his feet and contest shots well, to the point where being shot over was barely ever an issue. This may change against taller competition in the pros, and his slight struggles getting over screen-and-rolls could become more of an issue as well, but he clearly has the tools to be a very good overall defender at the point guard spot, especially in the quickness-oriented NBA that has evolved in the past few years.

Looking forward, Jackson has a lot of work to do his last one or two years on campus, but has many things going for him projecting ahead. His exceptional quickness and athletic abilities both fit many NBA teams better stylistically than the collegiate game, and it's true on both sides of the floor. He also made some strides with his game as a sophomore, and has a talent level that far surpasses his college resume to date, which leaves plenty of room to take his game upward. For Jackson, becoming more consistent and comfortable in all aspects of his half-court offense needs to be his focus, and it will likely determine whether he can find a long-term niche in the NBA.

[Read Full Article]

---
U-19 World Championship Player Evaluations, Part Three
September 1, 2011
Jonathan Givony

Clearly not a good fit as Team USA's primary ball-handler considering how ill-suited his game is to the international style of play, Joe Jackson was a lightning rod for criticism following USA's incredibly disappointing fifth place finish at this tournament.

Jackson's incredible quickness and lethal ball-handling skills made him something of a legend playing on the AAU circuit prior to committing to Memphis. He's had major difficulties translating those skills to a more competitive setting, though, as evidenced by his uneven freshman season and his experience this summer for USA basketball.

His struggles haven't come from a lack of effort, though. Jackson often tries to make the right play. Unfortunately his lack of experience in a half-court setting against strong defenses caused issues for Team USA at some of the worst moments. In these situations, Jackson often reverted back to his familiar instincts of overdribbling, settling for bad shots and running into brick walls.

Jackson is an extremely gifted athlete who excels in transition and can beat his man off the dribble almost at will thanks to a tremendous first step. However, he must improve his decision making and playmaking skills considerably to overcome his lack of size and court vision.

Jackson's perimeter shooting is incredibly streaky at the moment, due to his inconsistent release point. He made just five 3-pointers in nine tournament games here and was unable to get to the free throw line at a high rate (just 27 attempts) to compensate.

He flirted with a negative assist to turnover ratio for most of the event and had a difficult time getting the U.S.'s athletic frontcourt—its biggest advantage at this tournament—involved.

Heading into his sophomore season, Jackson clearly has a great deal of work to do in order to realize the high expectations he set for himself as a top shelf high school recruit. This event should serve as a learning experience for him and reiterate that he still has a long way to go to reach his full potential.

[Read Full Article]

---
Mcdonald's All-American Week Player Evaluations and Interviews
April 5, 2010
This probably wasn't the best week for Memphis commit Joe Jackson, as he looked somewhat out of sorts in the practices and wasn't really able to do much in the actual game as well.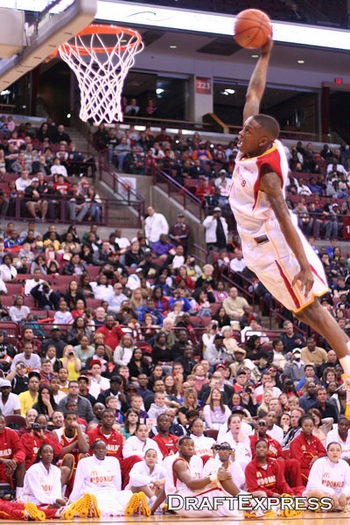 Jim Hlavac / DraftExpress



Jackson's terrific quickness and overall athleticism were constantly on display, but he seemed to get a little too caught up in trying to exhibit his scoring prowess, running into brick walls repeatedly and making some poor decisions. Jackson continues to give off the impression that he's more of a scorer than a true point guard, being somewhat of an Aaron Brooks type, but without the same excellent stroke from the perimeter. There will be a transition that Jackson will need to make at the college level, but he's clearly a superior talent/athlete that should be able to figure things out down the road.

[Read Full Article]

---
Boost Mobile Elite 24 Player Scouting Reports
August 29, 2009
One of the top point guards in the 2010 class, Joe Jackson (#17 Scout, #12 Rivals, #21 ESPN) is also one of the more productive players you'll find. He's a very undersized point guard with a frail frame, but compensates for that with tremendous athleticism, showing a terrific first step, impressive speed in the open floor, and excellent leaping ability.

Jackson is about as aggressive a point guard as you'll find, as he's constantly looking for an angle to get to the basket. He's outstanding in transition, but is also a terrific shot-creator in the half-court, showing tremendous ability to change speeds, and excellent ball-handling skills on top of that. He can get to almost anywhere he wants on the floor, driving either left or right, and being extremely flashy with the ball, often finishing with pretty floater or an emphatic dunk. He is clearly one of the premier scorers at the high school level, and should be able to translate that to the college level as well thanks to his athleticism, instincts and skill-level.

Jackson's aggressiveness looking for scoring opportunities comes at a cost, though, as he appears to have a serious case of tunnel vision once he starts driving the lane, and often looks quite selfish ignoring open teammates. He goes through too many possessions where he is the only one on his team touching the ball, and is prone to taking some very bad shots. He's clearly much more of a combo guard at this stage than a true point, although you can't argue with his productivity.

As a shooter, Jackson is somewhat of a mixed bag, as on one hand he shows an excellent mid-range game, pulling up sharply off the dribble, but he's quite streaky with his feet set from the perimeter. He'll need to improve this part of his game at the college level, as he won't be able to make a living at this diminutive size as a slasher the way he does in high school.

Defensively, Jackson can be an absolute pest when he puts his mind to it, moving his feet exceptionally well and doing a great job staying in front of his matchup. He comes up with plenty of steals and even a handful of blocks, showcasing just how impressive an athlete he is. His poor size and frail frame limits his potential somewhat long-term, though, which is something we'll have to keep an eye on moving forward.

Talent-wise, there is no disputing the things Jackson brings to the table, although there are some question marks about whether or not he has the mentality to transition into being the type of player who makes his teammates better. Super athletic scorers like him are definitely en vogue these days, though, as players like Aaron Brooks and Louis Williams can confirm. He's rumored to be leaning strongly to committing to his hometown school of Memphis, which would unquestionably be a huge get for incoming head coach Josh Pastner.

[Read Full Article]

---
RBK U - Day Two- Top Prospects and Performers
July 11, 2007
Jackson's performance in the afternoon session Monday had heads turning all over the gym. Combining his speed with his ability to finish in the lane, Jackson was successful to the tune of 14 points on 7-of-9 from the field.

In the night cap, Jackson continued to shine dropping a team high 20 points. The super soph also showed no signs of slowing down after already playing two games earlier in the day, when a lot of guys on the court were visibly tired and ready to go back to the hotel.

[Read Full Article]

---