Juan Fernandez
Recent Tweets
All Tweets
DraftExpress: PIT coach here has Ashton Gibbs & Juan Fernandez on his team but he prefers to have them on the bench and use Kyle Kuric & Kim English at PG
2012-04-12 09:39:22
DraftExpress: Top Non-BCS Conference Prospects (#11-15) http://t.co/MovSd34e Orlando Johnson, Drew Gordon, Deonte Burton Juan Fernandez Wesley Witherspoon
2011-11-05 10:17:20
DraftExpress: This has been a dreadful season for Juan Fernandez (shooting 34% on the year), but what a way to redeem himself with that crazy shot.
2011-03-17 04:36:40
DraftExpress: Top Non-BCS Conferences NBA Prospects, Part 2: http://bit.ly/ctjrlF Shelvin Mack, Arsalan Kazemi, Chris Wright, Juan Fernandez, Robert Sacre
2010-11-07 03:40:24
Don't see any similarities whatsoever RT @Caleb_Mezzy: Juan Fernandez: best case Tony Parker? Too extreme?Great pace,can score. Game manager
2010-03-14 14:12:01
Top 25s - Full List
Team: Brescia
Physicals
Positions
Misc
H: 6' 4"
W: 194 lbs
Bday: 07/22/1990
(25 Years Old)

Current: PG
NBA: PG
Possible: PG

High School: Instituto Dr. Alexis Carrel
Hometown: Rio Tercero, Argentina

Predraft Measurements
| Year | Source | Height w/o Shoes | Height w/shoes | Weight | Wingspan | Standing Reach | Body Fat | No Step Vert | Max Vert |
| --- | --- | --- | --- | --- | --- | --- | --- | --- | --- |
| 2012 | Portsmouth | 6' 3" | NA | 194 | 6' 3.5" | NA | NA | 26.3 | NA |



Basic Per Game Statistics

- Comprehensive Stats - Statistical Top 25s

Player Page&nbsp&nbsp| Player Stats | Mock Draft History | Related Articles&nbsp&nbsp| Add to My Draft Express&nbsp
&nbsp
Top NBA Draft Prospects in the Non-BCS Conferences, Part 3 (#11-15)
November 5, 2011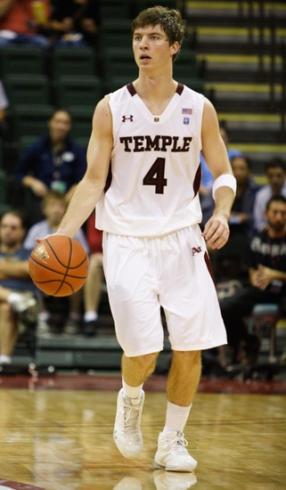 Icon SMI



Jeff Rush

Despite some late heroics in the NCAA Tournament to get the Temple Owls out of the Round of 64 against Penn State, Juan Fernandez took a major step back in his junior season. Fernandez's shooting percentage dropped across the board, including a staggering 12% from the three-point line in a similar number of attempts to the year before. This sizeable drop is interesting because Temple returned most of the important pieces from their 2009-10 team, and it did not appear that we can blame his inefficiency on a change in expectations or his role.

A knee injury and a loss of confidence due to being cut from the Argentinean national team during the summer are typically the two main reasons offered, so it will be interesting to see how he bounces back this season.

At 6'4, Fernandez has very good size for the point guard position, but does not possess the type of athleticism that you look for in your prototypical NBA guard. He makes up for his lack of explosive athletic ability with an advanced feel for the game and a number of crafty moves that allow him to get his shot off against taller and longer players. He also does a good job of playing at different speeds which helps make up for his lack of explosiveness. How much that would translate to the NBA remains to be seen, but he clearly has a lot to offer as far as the college game is concerned.

Fernandez has a somewhat awkward release on his shot in part because of the fact that he often does not get his feet set properly underneath him when he is shooting, but also because of the variety of ways that he gets his shot off against more athletic defenders. Both of those factors limited his consistency last season, but didn't prevent him from shooting 45% from beyond the arc as a sophomore.

Despite his sometimes erratic shooting, Fernandez is adept at creating space nonetheless by thanks to his very versatile in-between game coming off of ball screens. He has a nice repertoire of pull-up jump shots and runners that he uses effectively and will even go all the way to the basket at times to keep the defense honest in guarding him. He hasn't been particularly efficient scoring inside the arc at any point in his career, though, never exceeding 40% from 2-point range at his peak, which is a very poor rate. He doesn't get to the free throw line at a high rate to compensate either.

Fernandez is not the most traditional point guard, but he does show a very solid feel for the game. He is a very good passer off of the dribble, using ball screens and finding rollers, spot up shooters, and cutters through traffic in the lane. That being said, he only averaged 5.0 assists per 40 minutes pace adjusted which puts him behind many of the other point guard prospects in his class nationally, several of which are considered more scorer than distributor. His 1.83 assist-to-turnover is solid, but is improvable considering the pace Fernandez plays at.

Defensively, Fernandez will always be at a disadvantage considering his average athleticism, but is smart enough to know how to compensate. He lacks the strength and quickness to get through screens at times, which forces him to go underneath at give up open 16'-20' looks for the player he's guarding. He is smart though and does a good job playing angles and seeing openings that the offense tries to exploit and covering them up. He will never be considered a lock down defender, and certainly would struggle guarding the world class athletes that he would see at the next level, but like every other part of his game, he has developed ways to make up for his deficiencies.

Heading into his senior year, Fernandez has a lot of questions to answer that will give us a better picture of what level we will see him playing at in the future. The first of which will be about his drop off in his shooting in his junior year. If it is just a blip on the radar he may be able to prove that he is capable of developing into the type of player that can make up for his lack of athleticism by being able to spread the floor and play smart basketball.

[Read Full Article]

---
Final Notes on the 2010 Atlantic 10 Tournament
March 15, 2010
Juan Fernandez struggled, as well, mostly due to fatigue, but still managed to score 18 points on 6/14 shooting on his way to claiming the tournament's Most Outstanding Player award. He uncharacteristically struggled to get opportunities inside of the arc and on more than one occasion, seemingly lacked the energy to get to the rim. He still managed to knock down two of his four attempts from the perimeter, however, showcasing his incredibly quick release. His form remains unorthodox, but consistent, and his range is solid out to the NBA three-point line. He has proven himself as one of the best three point shooters in the NCAA, despite his strange mechanics, and yesterday was no exception.

Inside of the arc, he continued to show his solid mid-range repertoire, adapting well to Richmond post defense that constantly collapsed on him as he slashed to the basket. Though his instincts are solid, he would benefit from squaring his body to the basket before shooting tremendously, as the lack of bounce in his step did not allow him to adjust his body in the air. He does not have a tremendously quick first step, but he is a very creative slasher, utilizing his body and handle to find space to score against a variety of defenses throughout this tournament. He needs to learn how to take contact, however, and earn trips to the foul line as opposed to taking off balanced attempts around the basket with a hand or two in his face.

Fernandez played long stretches of the tournament as a point guard, and at 6'4, his performance throughout was very interesting. He is a very good passer, possessing the vision and creativity to find his teammates in both transition and half-court situations. There is no doubt that he could easily transition to a more traditional pass-first point guard role at the next level. He still needs to get better at running the pick and roll, however, and with Lavoy Allen as his big man, there is much potential for success. Similarly, he does not drive-and-dish nearly enough given his passing ability and his teammate's abilities to knock down perimeter jump shots.

Defensively, he continues to use his intelligence to help compensate for his lack of length and average lateral quickness. He is not a particularly good defender at this point, but he is by no means a liability and showed good effort on this end of the court. His potential at the next level, however, does not seem to be too great and he must continue to improve on this end of the floor.

Fernandez is just a sophomore, however, and should continue to improve as he adds muscle to his frame and gains confidence. He has a serious and professional demeanor on the court and does a good job of communicating with his teammates, though there is always room for improvement in this area. His offensive play was superior, clearly deserving of the Most Outstanding Player award, and it is safe to say that, after Atlantic City, Juan Fernandez has solidified his place as a legitimate NBA prospect.

[Read Full Article]

---
Notes on the 2010 Atlantic 10 Tournament Semifinals
March 14, 2010
Combo-guard Juan Fernandez had another telling game, scoring and facilitating well, despite his physical limitations. Though he is 6'4, he has a slender frame without great length and had some trouble tonight against more athletic and physical defenders. He adjusted quickly, however, and alternated between his unorthodox scoring game and his exceptional passing abilities. Despite his questionable form, he knocked down three point shots and scored from mid-range on his way to 14 points on 5-8 shooting.

He also tallied 7 assists alongside of 0 turnovers, turning to his teammates when Rhode Island focused their defense on him. Fernandez is a very adept and creative passer and has run the point guard position effectively for much of the season.

He was once again a mixed bag defensively, lacking great strength and lateral quickness. He compensates somewhat through his intelligence and communication, but he likely will struggle in this area at the next level.

[Read Full Article]

---
Notes on the 2010 Atlantic 10 Tournament Quarterfinals
March 13, 2010
Elsewhere, Temple combo-guard Juan Fernandez continued to put on a shooting exhibition, showcasing his strengths and weaknesses in front of scouts. At 6'4, Fernandez has nice size, but his frame and athleticism are lacking. While he did a good job of knocking down shots and finding his teammates under the basket, he struggled against more athletic defenders and has yet to prove that he can guard his position in the NBA.

[Read Full Article]

---