Kalin Lucas
Recent Tweets
All Tweets
DraftExpress: The first group working out in Minnesota this afternoon: Kalin Lucas, Malcolm Lee, E'Twaun Moore, Scotty Hopson, Jon Leuer & Jamie Skeen
2011-05-23 11:16:28
DraftExpress: Minnesota Group Workout, Guards: Shelvin Mack, Kalin Lucas, Dionte Garrett, Darius Morris, Josh Selby, Reggie Jackson, Malcolm Lee
2011-05-17 11:20:56
DraftExpress: Didn't look like it tonight. No brace. Was flying up and down the court. Destroyed Kalin Lucas. RT @raracheeen: Does Lee have a knee injury?
2011-03-18 12:21:40
Today's NBA Draft early-entrants: Keith Benson (Oakland), Mike Davis (Illinois) Returning: Scotty Hopson, Kalin Lucas, Durrell Summers
2010-04-16 21:12:01
Kalin Lucas and Durrell Summers returning to Michigan State. Spartans will be picked in top-5 in preseason rankings? http://bit.ly/dbJkPA
2010-04-16 14:10:01
Top 25s - Full List
Team: Kolejliler Ankara
Physicals
Positions
Rankings
Salary
Misc
H: 6' 0"
W: 186 lbs
Bday: 05/24/1989
(26 Years Old)

Current: PG
NBA: PG
Possible: PG

RSCI: 36

Agent: Nick Lotsos

High School: Orchard Lake St. Mary
Hometown: Sterling Heights, MI

Predraft Measurements
| Year | Source | Height w/o Shoes | Height w/shoes | Weight | Wingspan | Standing Reach | Body Fat | No Step Vert | Max Vert |
| --- | --- | --- | --- | --- | --- | --- | --- | --- | --- |
| 2009 | LeBron James Camp | NA | 6' 0.5" | 186 | 6' 1.5" | NA | NA | NA | NA |
| 2009 | Deron Williams Camp | NA | 6' 0.5" | 186 | 6' 1.5" | NA | NA | NA | NA |



Basic Per Game Statistics

- Comprehensive Stats - Statistical Top 25s

Player Page&nbsp&nbsp| Player Stats | Mock Draft History | Related Articles&nbsp&nbsp| Add to My Draft Express&nbsp
&nbsp
Top NBA Draft Prospects in the Big Ten, Part One (#1-5)
September 1, 2010
Walker Beeken

After a solid regular season in 2009-2010, Michigan State's Kalin Lucas had his postseason end prematurely when he suffered a torn left achilles tendon in the Spartans' opening round game of the NCAA tournament. Not only did the injury cost him the opportunity to be on the floor with his teammates as they made their run to the Final Four, but it was also a blow to any thoughts he may have had about declaring for the 2010 NBA Draft, which was perceived by many to be very thin at point guard.

Last season, Lucas continued to build upon what we already saw from him as an NBA point guard prospect. He functioned as his team's primary ball-handler initiating their half-court offense, while also spending time off the ball running off screens and freeing himself for open jump shots. His biggest strength though, is probably his understanding of how to run a team and manage the game from the point guard position. He generally makes good decisions with the ball in his hands, limits his turnovers, and does a nice job balancing getting his teammates involved and picking his spots to assert himself and look for his own offense.

As a creator off the dribble, Lucas may be somewhat limited at the NBA level due to his lack of elite explosiveness. While he does have a good top speed with the ball in his hands, he doesn't possess a lightning-quick first step. He does however display a sense of craftiness and an understanding of how to use change of pace dribbles. He's also comfortable as the ball-handler in pick-and roll situations, often making the correct reads, whether it's a drive to the basket, a jumpshot for himself, or a pass to a teammate. When attacking the basket, Lucas does a good job of initiating contact and drawing fouls, but his lack of size and elevation often prevents him from finishing at the rim.

Shooting is another strong point of Lucas's compared with other point guard prospects. According to Synergy Sports Technology, he shot a solid 42.3% on jump shots in the 2009-2010 season, with almost no difference between his off the catch and off the dribble percentages. One area for him to work on here will be improving his range, so that he can make a smooth transition to the NBA 3 point line.

While Lucas isn't an elite athlete, he does seem have the lateral speed and quickness necessary to defend NBA point guards. His lack of size and length is his biggest issue on this end, though, which could give him trouble challenging shots and defending some of the more physically imposing point guards on penetration. He'll need to continue to play with high energy and utilize his smarts and toughness to help compensate for that.

Lucas is guy who most scouts have probably already built an impression on one way or another after playing at a high major program for three seasons. While his upside may not be tremendous, he's been one of the best point guards in the college game for the past two seasons, and he possesses the all-around skill set and intangibles to potentially be a contributor as an excellent backup point guard or fringe starter in the NBA. The most important thing for him to show this season to make that happen, will be that his achilles injury is not a major concern.

[Read Full Article]

---
Top NBA Draft Prospects in the Big Ten, Part One (#1-5)
August 28, 2009
Joseph Treutlein

After leading Michigan State to the National Championship Game with his steady point guard play last season, expectations are high for Kalin Lucas and the Spartans this season, with most of their key players returning. Lucas had a strong season overall himself, improving notably from his freshman campaign and making a stronger impression in the eyes of NBA scouts, something heíll look to build on as a junior.

Looking at Lucasí game, there is much to be impressed with from what he brings to the table, starting with his floor general abilities. Lucas possesses a sure dribble with good but not great advanced moves, which he uses to manage his teamís offense outstandingly, spreading the ball around the floor in the Spartansí pass-heavy, team-oriented attack. Lucas is equally comfortable in the halfcourt and in transition, making use of his strong court vision and excellent knack for delivering the ball to spaces where his teammates are most comfortable. He is not one to over-dribble, playing just as much off the ball as on it, while showing a good sense of spacing and being a big part of why his teamís offense operates so well.

In terms of creating shots for his teammates, one way he does so is the pick-and-roll game, where he makes excellent reads to complement his precision passing. Lucas doesnít create many good shots for himself out of the pick-and-roll, however, due to his lack of size and not great short-distance burst. This places less burden on defenders to contain him, allowing them to better cover the pick man, something that could pose more of a problem at the next level.

Lucas is a good scorer in his own right, possessing a good outside shot, especially spotting up, where he shows good form when he has his feet set and in rhythm, boasting a high release and good quickness. His touch can be a bit questionable at times, as heís prone to overshoot badly on occasion, and he also has some form inconsistencies pop up when shooting off the dribble. Heís not as good of a shooter pulling up, not having great balance when moving side to side, something he needs to work on, as at his size, being a more deadly outside shooter will definitely help his chances at the next level. He currently shoots under 40% from inside the arc, which is a good indication he still has room to improve in this area.

In terms of attacking the basket, Lucas doesnít have a blazing first step, but he changes speeds very well, has good shiftiness in the lane, has a good top speed, and picks his spots well, which currently allows him to get to the free throw line at an excellent rate. In the lane, he shows good creativity with the ball, but due to his size, he has trouble finishing in crowds and is prone to having his shot blocked, something that should be an even bigger issue at the next level. He shows flashes of an effective floater and pull-up jumper in the lane, but his consistency needs to improve with both. Lucas does most of his damage attacking the basket catching and driving from the wing area, not excelling as much in pure isolation situations.

Lucasí offensive versatility is another plus for him, as he can play on or off the ball in the halfcourt, doing an excellent job of moving and maintaining spacing without the ball in his hands. He does sometimes struggle to get separation in these situations, however, due to his size and good, not great, burst. In transition, Lucas really excels, not slowing down with the ball in his hands, doing a good job of adjusting at top speed, and making good decisions with the ball.

Defensively, Lucas does a good job on the perimeter, playing an aggressive style with a high motor. His lateral quickness is solid, losing to a quick first step on occasion, but his reflexes are excellent, at times showing the ability to stay in front of his man through a series of moves, being right in his face the entire time. His size poses a concern, however, as players are able to shoot over him, especially in the lane, and getting through picks can be a problem.

Projecting to the next level, Lucas will be getting plenty of looks come draft time, and he should fit in well as a backup in a team-oriented offense that takes advantage of his game managing skills. Because heís not a great one-on-one player and is disadvantaged size-wise without elite explosive abilities to make up for it, he may not ever project to a starter in the league, but if he continues to improve his shooting ability and other aspects of his game, itís not out of the realm of possibility for him to find the right situation and truly excel.

[Read Full Article]

---
Blogging through the Final Four (Part One)
April 4, 2009
The star of this game for the Spartans was clearly Kalin Lucas, even if his 21 points, 5 assists and 3 turnovers on 7-15 shooting doesnít quite do justice to how important of a factor he was on the floor tonight. Lucas ran his teamís offense with the poise of a 10 year NBA veteran, doing a great job getting everyone involved and keeping mistakes to a minimum, using clock when the situation called for it, and looking more than capable of going out and creating offense on his own when the situation called for.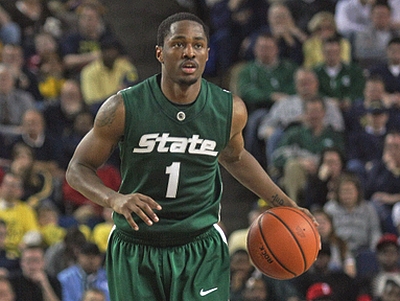 Icon SMI



Michigan State had a decided advantage in transition tonight, and much of that had to do with the speed of their sophomore playmaker. He was able to get his team easy points in the form of layups and jumpers when UConn was late getting back on defense, and was also extremely effective in the half-court, particularly with his long-range shooting. Lucas made three 3-pointers in this game, both coming off screens and spotting up on kickouts. His ability to create off the dribble in one on one situations was incredibly important for the Spartans when things broke down, and he showed an extra gear that helped keep UConnís big men at bay when trying to rotate and block his shot.

Defensively, Lucas was solid as always, although he wasnít quite as important on this end of the floor as senior Travis Walton, one of the biggest keys to this win.

[Read Full Article]

---
Top NBA Draft Prospects in the Big 10 (Part Two: #6-10)
September 13, 2008
A few years ago, a freshman season like Kalin Lucas's would have drawn a fair amount of attention from the basketball community; last season that wasn't the case though. With blue chip prospects now forced to spend at least a year in the college ranks, Lucas's solid first year with the Spartans was lost amongst so many other impressive freshman campaigns. Either way, Head Coach Tom Izzo has to be feeling pretty good about returning a point guard who averaged 10.3 points and nearly 4 assists per game in 25 minutes per game.

At 6'0' (and that might be generous), Lucas is severely undersized for the NBA; a lack of strong leaping ability doesn't help his cause either. What he does possess is excellent quickness as well as a knack for changing speeds very effectively. Lucas certainly will need to improve on his point guard skill set in order to have a legitimate shot at reaching the next level, as he often looks to shoot first and pass second, but you can't teach the terrific instincts and aggressiveness he shows on the floor, and there is very little doubt that Lucas will continue to make strides as he matures in age.

The majority of Lucas's shots come when he looks to spot up on the perimeter. He has a quick release and solid form; he does have a tendency to short arm his shots when he is rushed by defenders though. Lucas certainly has range on his shot, but wasn't a tremendous threat from the perimeter, attempting less than two 3-pointers per game and connecting on 36.4% of them. When given a moment to set his feet, Lucas can be very effective. When he shoots off the dribble he becomes a much streakier shooter, though. Though he has good ball handling skills and a great first step, Lucas is often very off balance when shooting off the dribble. Despite this less than textbook technique, he still connects on a respectable number of these shots.

Lucas is at his most dangerous in the transition game where he gets to use his speed and aggressiveness to his advantage. He is very tough to stay in front of when he has a full head of steam going, and doesn't back down from bigger defenders. He shows great body control around the rim and is capable of hitting some pretty acrobatic shots, but this is a result of his lack of size. Lucas tended to force the issue often when driving the lane, making life easy for bigger defenders who would be waiting for him around the basket. This is certainly a sign of inexperience and will be something to keep an eye on as Lucas will need to drive and dish more often as a sophomore. He has good court vision and doesn't turn the ball over at too high a rate, though, which leaves plenty of room for optimism regarding his playmaking skills, which already show a lot of promise.

Defensively, there is work to be done for Lucas. Certainly he is at a disadvantage since most of the opponents he will be guarding will have several inches on him. He shows quickness on the offense end, but his lateral quickness doesn't appear to be all that great and he bites on a fair number of dribble moves. Getting stronger in his upper body would help him a lot here as well; often bigger guards are able to bump him out of position to free themselves up for good looks at the basket.

Last season Lucas was the young, promising freshman who showed plenty of potential. His inconsistency (18 points vs. Wisconsin, 19 points vs. Pittsburgh, 4 points vs. Ohio State), while a sign of youth, needs to improve this season, especially now with the departure of fellow backcourt partner Drew Neitzel. Lucas also needs to develop his offensive game more and rely less on his natural speed. Adding a couple of dribble-drive moves would make him much more of a threat with the ball.

Lucas is at least a couple of years away before he should even begin considering the NBA, but there is promise when you look at his all-around combination of skills, athleticism and intangibles. He will always be labeled as being a bit too small initially, but improving his perimeter shooting and distributing the ball at a more consistent rate should be enough to intrigue at least a handful of scouts.

[Read Full Article]

---