Keith Appling
Recent Tweets
All Tweets
DraftExpress: Notable Undrafted 3 Artem Klimenko Cristiano Felicio Ioannis Papapetrou Akil Mitchell Keith Appling Andre Dawkins Eric Moreland
2014-06-27 00:11:58
DraftExpress: RT @Joshua_Riddell For @DraftExpress I looked at OSU's Shannon Scott. Others AJ Hammons Andre Hollins Sam Thompson Keith Appling httpu2026
2013-09-23 17:14:46
DraftExpress: For @DraftExpress I looked at OSU's Shannon Scott. Others AJ Hammons Andre Hollins Sam Thompson Keith Appling http://t.co/IuqJy9BinL
2013-09-23 15:26:33
DraftExpress: Top NBA Prospects in the Big Ten, #6-10: http://t.co/tLQzt5Uq - Trevor Mbakwe, Adreian Payne, Brandon Paul, Keith Appling, Christian Watford
2012-09-11 09:41:07
DraftExpress: DX: Top NBA Prospects in the Big Ten, Part 3 http://t.co/Tqf28V3 Tim Hardaway Jr, Aaron Craft, Keith Appling, Adreian Payne, Melsahn Basabe
2011-09-12 01:37:23
Team: Erie
Physicals
Positions
Rankings
Salary
Misc
H: 6' 1"
W: 179 lbs
Bday: 02/13/1992
(23 Years Old)

Current: PG
NBA: PG
Possible: PG

RSCI: 36

Agent: Michael Silverman

High School: Pershing
Hometown: Detroit, MI

Predraft Measurements
| Year | Source | Height w/o Shoes | Height w/shoes | Weight | Wingspan | Standing Reach | Body Fat | No Step Vert | Max Vert |
| --- | --- | --- | --- | --- | --- | --- | --- | --- | --- |
| 2015 | D-League Elite Camp | 6' 0" | 6' 1.25" | 179 | 6' 5.5" | 8' 1.5" | NA | 25.0 | 35.5 |
| 2014 | Clippers Workout | 6' 0" | 6' 1" | 182 | 6' 5" | 8' 0" | 5.5 | NA | NA |



Basic Per Game Statistics

- Comprehensive Stats - Statistical Top 25s
| Year | League | Name | GP | Min | Pts | FG | FGA | FG% | 2Pt | 2PtA | 2P% | 3Pt | 3PtA | 3P% | FTM | FTA | FT% | Off | Def | TOT | Asts | Stls | Blks | TOs | PFs |
| --- | --- | --- | --- | --- | --- | --- | --- | --- | --- | --- | --- | --- | --- | --- | --- | --- | --- | --- | --- | --- | --- | --- | --- | --- | --- |
| 2015/16 | DLEAGUE | Keith Appling | 4 | 31.0 | 10.3 | 3.8 | 9.8 | 38.5 | 3.5 | 8.5 | 41.2 | 0.3 | 1.3 | 20.0 | 2.5 | 3.0 | 83.3 | 0.3 | 2.5 | 2.8 | 4.5 | 1.5 | 0.0 | 2.3 | 3.5 |

Player Page&nbsp&nbsp| Player Stats | Mock Draft History | Related Articles&nbsp&nbsp| Add to My Draft Express&nbsp
&nbsp
L.A. Clippers Mini-Combine Recap and Analysis
May 22, 2014
Keith Appling, 4 points, 2 assists, 3 TOs, 2-for-4 FGs, 0-for-1 3FGs
As was the case in the NCAA Tournament and the second half of his senior year, Appling simply didn't have much of an impact. He did [lay solid defense and show a willingness to pass out of the pick and roll to go along with solid touch on his floater, but overall Appling blended in. He also showed he has a long way to go adjusting to the NBA line, as he hit all backboard on his 3-point attempt. Appling has to find a way to break out of the extremely vanilla mold of player he's become over the past few years, as he has a lot more talent than he's shown the past few months. After not being invited to the NBA Combine and not showing much here, going undrafted looks like the most realistic scenario for Appling at this stage, but a stint in the D-League with a coach that will give him the green light might be exactly what he needs to rediscover his aggressiveness.

[Read Full Article]

---
Keith Appling Updated Scouting Report
April 7, 2014
Josh Riddell

A right wrist injury caused Keith Appling to miss three games in February, but he was able to return and lead Michigan State to the second weekend of the NCAA tournament for the third consecutive year. While the injury seemed to hamper Appling's point production, it did allow him to put his point guard skills on display throughout the year.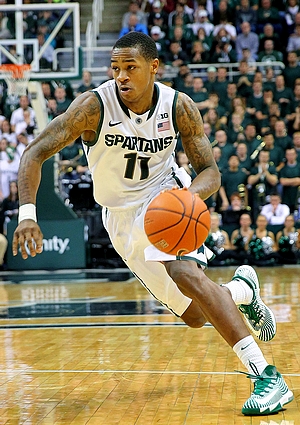 US Presswire



Appling's usage rate decreased from 23.5% in his junior year to 20.5% his senior season, as Tom Izzo clearly instructed his point guard to play more of a facilitating role. His lower usage allowed him to improve his offensive efficiency, as his TS% rose from a mediocre 52% as a junior to a much more solid 56% as a senior. His 49.5% 2-point percentage and 37% 3-point percentage aren't anything to write home about, particularly considering his struggles at the free throw line (66%), but this was the most efficient season he's had since he was a freshman.

Appling's increased focus on distributing allowed him to average by far the highest PPR and assist to turnover ratio of his career, both of which rank third among Top-100 prospect point guards.

Appling has decent physical tools for a NBA point guard, standing 6-2 with good athleticism. While he doesn't always show it, he has excellent speed in the open floor and can finish impressively above the rim with a head of steam, but he never really mastered utilizing these tools consistently at the college level. While his average size and frame won't help his cause among NBA decision makers, they shouldn't eliminate him from the conversation at the same time.

On offense, Appling showed he was capable of running a team by initiating the offense and distributing the ball to his teammates, both in transition and in the half court. He never quite looked all that comfortable running Tom Izzo's conservative offense in his time at Michigan State, but he certainly made strides as his career moved on, particularly by cutting down on turnovers thanks to playing more under control, relative to his prior seasons. He played a relatively minimal role in the half-court for Michigan State at times, though, as the biggest share of his offense came in the open floor, and it didn't always seem like he was trusted to be the main facilitator once the game slowed down.

He played off the ball quite a bit throughout his career, which helped him develop his outside shooting somewhat, something that was previously a major weakness, hitting an average 35% of his jump-shot attempts with his feet set, nonetheless an improvement over what he showed in the past.

In the pick and roll, Appling was useful breaking defenders down off the dribble but he will be handcuffed by his mediocre jump shot, which will allow the defense to go under the screen. He shot only 24% on 37 jump shots off the dribble, according to Synergy Sports. When he does get a head of steam, he is able to get to the rim, usually by splitting the defenders or with a nice inside out move to get around the defense. He makes good decisions out of ball screens, attacking when it is available and finding the open man when driving lanes are cut off, but his lack of in-between game makes him relatively easy to defend. NBA teams will also likely want to see him improve his ability to operate at different speeds and improvise better in the half-court.

He was very good at finishing at the rim according to Synergy Sports, shooting 60.6% on these attempts, making him one of the top guards in the Big 10 in this area. However, he doesn't draw much contact, as his 5.2 free throw attempts per 40 minutes pace adjusted were the second lowest among point guards in our top100. His average size and strength hampers him in this area.

While he can get to the rim out of ball screen actions, he wasn't as proficient in this area out of isolation sets. He had trouble breaking his defender down without the benefit of a screen, as bigger guards were able to cut off his dribble. These bigger players also forced him into difficult jump shots, as Appling struggled when shooting closely guarded jump shots, as his lack of elevation makes it easy for defenders to contest his shots.

Defensively, Appling may struggle at times against bigger guards, especially ones who can shoot over him. However, he has decent strength to not allow himself to be backed down and has great lateral quickness, keeping ball handlers in front of him. He can cut off penetration and puts great pressure on the ball.

Appling's value lies in his ability to play solid defense, not make mistakes, and score occasionally in transition. He shows solid potential as a backup point guard, although it will be interesting to see if the faster pace of the NBA helps him break out of the often vanilla style of play he mostly showcased under Tom Izzo. While an improved jump shot will raise his ceiling as a player, Appling could carve out a nice role in the league by playing to his strengths, being a steady ball-handler and continuing to distribute the ball to his teammates while leading a second unit.

[Read Full Article]

---
Top NBA Draft Prospects in the Big Ten, Part 7 (#11-15)
September 23, 2013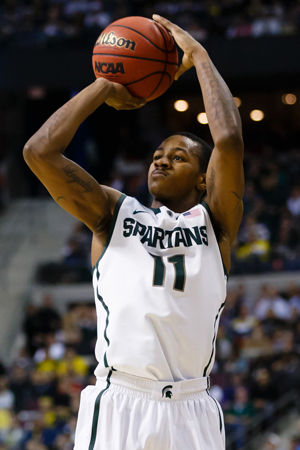 US Presswire



Kyle Nelson

Senior point guard Keith Appling is only 22 years old, but he has already accumulated quite the resume for the Michigan State Spartans. In addition to starting 91 games, he led Michigan State to back-to-back Sweet Sixteen appearances on his way to being named second-team All-Big Ten by the league's coaches as a junior. Yet, despite these accolades, Tom Izzo wants his now-senior point guard to play more like a point guard.

The good news is that, according to Izzo, the former McDonald's American has made great strides during the summer and will be a key contributor for a Michigan State team that could contend for an NCAA Championship. On an individual level, then, scouts are left with the question of what this transformation may mean to his draft stock.

As we wrote last September, Appling's physical profile is above-average at best, as he is stronger than he is athletic with just average size for the point guard position at 6'1 with a 190-pound frame.

On the offensive end of the floor, Appling seemingly took a step back in his development as a junior, averaging a paltry 15.9 points per 40 minutes pace adjusted despite seeing 22.2% of Michigan State's possessions and taking nearly 20% of its field goals.

It should be noted, though, that Appling's junior season was his first without either versatile forward Draymond Green, or veteran point guard Kalin Lucas before him, by his side. Without Green as his co-facilitator in the post, Appling struggled to adapt to his role on a more traditional roster. He saw over 5% more possessions and over 4% more field goal attempts, and led Michigan State in scoring and assists; yet, more possessions and shots resulted in a sharp decline in his shooting efficiency inside of the arc and in his "point guard statistics."

While this doesn't look good, it's worth looking into just how much his role changed on the offensive end of the floor. For starters, he saw more of his possessions in the pick-and-roll and in spot-up situations, with significant dips in his scoring in transition and via isolation. Additionally, over 70% of his shot attempts were jump shots -- versus 59.1% as a junior -- and he took far more mid-range and short jumpers. He also found less of his offense around the rim, even though he was significantly more efficient than in the past.

On film, Appling's most significant flaw remains his jump shooting. Though according to Synergy, he was slightly more efficient in every situation as a jump shooter, a majority of his shots were from long range and he made just 31% of them. This is better than the 25% he shot as a sophomore, but his inconsistent shooting mechanics leave much to be desired. He is at his best unguarded, where he shoots a respectable 37.3%, and when he has the time to get his shot off, but even here, his motion remains a bit slow. Improving in this capacity is essential if he wants a shot at the next level, as is proving to scouts that he can make shots off of the dribble and while guarded, in addition to with his feet set in space.

His shooting woes are a shame given the fact that he actually has solid scoring instincts, showing the ability to knock down shots from a standstill and, occasionally, off of the dribble, score out of the pick-and-roll, and get into the lane. Though he scored around the basket less often as a junior and his average physical profile did him few favors finishing with contact, he made over 50% of his attempts. Likewise, he got to the line at a decent rate for a point guard, to the tune of 5.6 attempts per 40 minutes pace adjusted, even if he will likely struggle at the next level due to his lack of bulk.

Though Coach Izzo's critiques of Appling's point guard play are well known and even though Appling played off of the ball at key junctures in games, he continued to play a steady, unselfish brand of basketball while doing a good job of setting the offense into motion. Rarely did he not set the tempo in the half court or handle the ball at the end of the shot clock. While he is not a particularly advanced passer (4.1 assists per 40 minutes pace adjusted) and turns it over quite a bit, especially when trying to feed the post (3.0 turnovers per 40 minutes pace adjusted), he did a solid job of finding open shooters off of the dribble, suggesting that reports from summer workouts are more than merely hype.

Once again, he did an admirable job on the defense despite seeing a much larger role on the offensive end of the floor. Though he lacks the size to guard multiple positions at the next level, his lateral quickness combined with quick hands and an aggressive attitude make him a very good man-defender, and his awareness on this end of the floor allowed him to anchor one of the NCAA's most impressive defensive teams.

Therefore, it would seem that Appling's stock is once again linked to his improvement as a shooter. He is a capable distributor and an asset on defense, but his prospects in the NBA depend on whether he can develop his game on the offensive end of the floor. The good news is, despite his struggles as a junior, he has both good scoring instincts while showing the potential to improve. This, combined with his summertime hype and matchups against Kentucky and North Carolina, not to mention a loaded Big Ten Conference slate, should allow him plenty of opportunities to prove himself to scouts before graduation.

[Read Full Article]

---
Top NBA Draft Prospects in the Big Ten, Part Three (#6-10)
September 11, 2012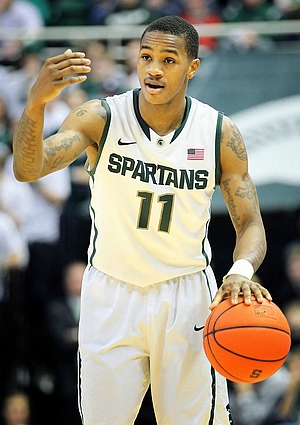 US Presswire



Jonathan Givony

After seeing his role for Michigan State's increase with the departure of Kalin Lucas between his freshman and sophomore seasons, Keith Appling will be expected to take on even more responsibilities as a junior now that half-court offensive facilitator Draymond Green is off to the pro ranks as well.

Showing a solid, but not overwhelming physical profile in terms of size, strength and athleticism, Appling is a role-playing guard who does what he's asked to offensively and is probably best known for his work on the defensive side of the ball.

Appling saw the biggest share of his offensive possessions come in transition situations last year, which is a solid indication of the role he played in Tom Izzo's disciplined offense. Seeing minutes at both guard spots, Appling typically brings the ball up the floor and then dumps it off to one of his teammates (usually Draymond Green) in the half-court, although he will sometimes get it back late in the shot-clock to create in pick and roll situations.

An unselfish guard with a team-first mentality, Appling does a very good job pushing the ball in the open court and finding teammates in drive and dish situations. In the half-court, Appling is still finding his way as a consistently effective shot-creator, especially in one on one situations, something that will be interesting to keep track of this season as his offensive responsibilities inevitably increase. He struggled with his decision making in the half-court at times last season, particularly under pressure, rendering him somewhat turnover prone.

Where Appling will have to improve the most is as an outside shooter, as he made just 28% of the 130 jumpers he attempted last season. Sporting, long, slow, deliberate shooting mechanics with both his feet set and off the dribble, opposing teams have no issues sagging off him and forcing him to beat them outside.

Appling's biggest calling card as a NBA prospect lies in his play on the defensive side of the ball. Although not incredibly big or strong, he's a tough, intense and extremely competitive guard, highly attentive and capable of putting excellent pressure on the ball. Michigan State was the third best defensive team in college basketball last season, and Appling played no small part in that.

Appling's development as an offensive player over the next two seasons will likely play a key role in how he's viewed from a NBA standpoint. If he can improve his outside shooting and show that he can be called upon to create offense reliably off the dribble, he'll be in good shape to carve out a career for himself at the professional level. He has all the makings of a very solid NBA backup point guard, provided he can continue to iron out the wrinkles in his offensive game.

[Read Full Article]

---
Top NBA Draft Prospects in the Big Ten, Part Three (#11-15)
September 12, 2011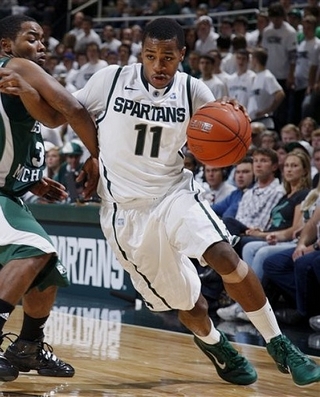 AP



Joseph Treutlein

Keith Appling had a solid debut season for Michigan State, showing a nice package of athleticism and shooting ability. With backcourt teammates Kalin Lucas and Durrell Summers both graduated and no longer on campus, Appling should have immense opportunities to expand his role as a sophomore, as someone will have to account for their missing 62.7 minutes and 23.9 field goal attempts per game.

Standing 6'2 with a nice wingspan and very good quickness, Appling has good size for a point guard but is slightly below average for a combo guard. Billed as primarily a slashing combo guard in high school, Appling made some significant adjustments to his role in East Lansing, where he settled in as a pure shooting guard specializing in three-point shooting. 95 of his 165 field goal attempts on the season came from behind the arc, and plenty more came from shooting mid-range jumpers. He rarely took the ball to the basket in half court settings.

As a shooter, Appling has an exceptionally high and very quick release, showing very good mechanics when he has time to set his feet and get on balance, and acceptable mechanics when shooting on the move. He has no problem putting the ball in the air with a hand in his face and does an excellent job gravitating to open areas behind the arc where he sets up to catch and shoot. Appling hit 41.1% of his threes (and 89.5% of his free throws), establishing himself as a very effective spot-up shooter early in his career, which gives him a nice foundation to build upon.

Looking at the rest of his individual offense, Appling was very limited as a freshman, which can likely be partially attributed to his role and partially to the rawness of this area of his game. Appling rarely puts the ball on the floor going to the basket, and when he does it's usually on a catch-and-drive as opposed to a pure isolation situation. Appling actually shows a nice first step and surprisingly goes left more than right with the ball despite being right-handed, being effective in carefully picking his spots.

His ball-handling is controlled but limited, not showing much in terms of advanced handling, and finding himself in trouble when he finds himself in tight spaces. At the basket, Appling doesn't show a propensity for high-rising elevation, but does a decent job finishing around the rim thanks to solid body control, creativity, and hints of ambidexterity on lay-ups.

In terms of point guard skills, there is really very little that can be taken from Appling's freshman season. He occasionally finds himself in the facilitator role on offense, dribbling the ball at the top of the key and making entry passes into the offensive system, but nothing in terms of driving and dishing or directly creating for others. He does a decent job on entry passes and basic flow-of-the-offense passing, showing adequate vision on the few opportunities he has to use it.

With Summers and Lucas both off the team (and fellow backcourt teammate Korie Lucious also transferring to Iowa State), there will be a massive number of minutes, possessions, and offensive responsibilities for Appling to seize. If he's capable of much more offensively beyond the limited role he played last season, it will be apparent very early in the season.

On the defensive end, Appling is impressive in both man and team defense, using his ample length and motor to play a very pesky style of defense, getting right up into his man on most possessions. He shows good lateral quickness despite a relatively high center of gravity and somewhat awkward stance, while also doing a good job to contest shots and recover from behind when he is beat. Appling's size will likely be his biggest weakness on this end of the court if he can't develop into more of a point guard, as he's clearly undersized for defending 2's and doesn't even have ideal size for a combo guard.

Looking forward, Appling had a nice introduction to the college scene as a freshman, but will likely be asked to do much more as a sophomore, and it will be interesting to see how he responds. Appling clearly brings a nice set of physical tools and shooting ability to the table as a college player, but he's disadvantaged at his size from an NBA perspective if he can't develop into more of a point guard. Still, being a quick, sharpshooting, defensive-oriented guard is a nice foundation to build upon, and Appling should have every opportunity to mature his game this season.

[Read Full Article]

---
Mcdonald's All-American Week Player Evaluations and Interviews
April 5, 2010
One of the lesser heralded prospects at this event, Michigan State commit Keith Appling didn't back down from anyone and did a nice job of acquainting himself with those who were previously not familiar with him.


Jim Hlavac / DraftExpress



A tough and speedy combo guard, Appling is a shot-creator who likes to take the ball strong to the basket, and isn't afraid to draw contact in the process. His perimeter stroke looked somewhat shaky here in Columbus, and he really didn't show much in the ways of playmaking ability, looking much more like a shooting guard than a point despite his small stature. His shot-selection and decision making were somewhat average as well, which isn't really a surprise considering his profile and the stage of development he's currently at. Defensively Appling plays hard and is very pesky guy, something his future coach Tom Izzo surely will appreciate, as he did a good job getting right into his matchup. He has all the makings of a Michigan State player and will surely fit in very well in East Lansing, although his NBA upside is obviously not as high as some of his counterparts in this class.

[Read Full Article]

---