Kevin Pangos
Recent Tweets
All Tweets
DraftExpress: The best part about Kevin Pangos? He'll be at Gonzaga for 4 years. If he hit 9 threes in his first game, what will he do in his last?
2011-11-15 01:45:36
DraftExpress: When you have multiple DX profile entries before you play a college game,you're pretty good. Didn't see this coming from Kevin Pangos though
2011-11-15 01:21:29
DraftExpress: #NikeHoopSummit Scouting Reports: Int'l Guards (Evan Fournier, Mateusz Ponitka, Guo Ailun, Raul Neto, Kevin Pangos) http://bit.ly/g2qyNR
2011-04-13 05:01:28
DraftExpress: RT @JustinDYoung: Halftime world stats: Kevin Pangos 6, Mateusz Ponitka 5, Wiltjer/Bismack Biyombo 4 points. #NikeHoopSummit
2011-04-09 11:10:24
DraftExpress: Kevin Pangos is having a great practice. Shooting ball exceptionally well, directing the offense, really competing. Great get for Zags.
2011-04-06 10:46:24
Team: Gonzaga, Sophomore
Physicals
Positions
Rankings
Misc
H: 6' 1"
W: 185 lbs
Bday: 01/26/1993
(20 Years Old)

Current: PG
NBA: PG
Possible: PG

Rank 37 in NCAA Sophomores
RSCI: 176

High School: Dr. Denison
Hometown: Newmarket, ON




Basic Per Game Statistics

- Comprehensive Stats - Statistical Top 25s
| Year | League | Name | GP | Min | Pts | FG | FGA | FG% | 2Pt | 2PtA | 2P% | 3Pt | 3PtA | 3P% | FTM | FTA | FT% | Off | Def | TOT | Asts | Stls | Blks | TOs | PFs |
| --- | --- | --- | --- | --- | --- | --- | --- | --- | --- | --- | --- | --- | --- | --- | --- | --- | --- | --- | --- | --- | --- | --- | --- | --- | --- |
| 2012/13 | NCAA | Kevin Pangos | 34 | 32.8 | 12.1 | 3.9 | 9.2 | 42.9 | 1.6 | 3.7 | 44.4 | 2.3 | 5.5 | 41.9 | 2.0 | 2.4 | 80.7 | 0.4 | 2.2 | 2.6 | 3.3 | 1.5 | 0.0 | 1.4 | 2.0 |

Player Page&nbsp&nbsp| Player Stats | Related Articles&nbsp&nbsp| Add to My Draft Express&nbsp
&nbsp
Nike Hoop Summit Scouting Reports: International Guards/Wings
April 13, 2011
Walker Beeken

Canadian point guard Kevin Pangos, who had previously played for Nike Hoops Summit Coach Roy Rana in the U-17 World Championships last year, was selected for the World Team based on his ability to run a team, take care of the basketball, make open shots, and get his teammates involved.

Unfortunately, Pangos ended looking a bit overmatched against the athleticism of Team USA, having a tough time getting the World Team into their offense, particularly early on in the game, ending up shooting 1-6 from the field and committing two turnovers in 16 minutes of action.

Pangos performed better in the practice sessions we saw, looking like the solid, mistake-free point guard that he was billed to be coming into the event. He looks to have great intangibles, as he seemed like a very hard worker and was a vocal leader all week.

As a floor general, Pangos does a great job of executing offensively, rarely forcing the issue and generally playing very unselfishly. His lack of burst prevents him from creating his own shot effectively, but he does a nice job of picking his spots and driving when the opportunity presents itself. He's also a very good shooter with his feet set out past the 3-point line, which helps keeps the defense honest.

Pangos will always likely be somewhat limited due to his physical profile, as he stands at 6'1" with a wingspan less than six feet, and has only average speed and explosiveness. He is a very competitive defender, but there are some question marks about his ability to guard bigger and more athletic players at his position. His intangibles and skill set bode well for an excellent college career, though, where he'll be attending Gonzaga next season and playing for Coach Mark Few.

[Read Full Article]

---
2011 Nike Hoop Summit: International Measurements
April 4, 2011
Kevin Pangos
Weight: 181 lbs.
Height (w/o shoes): 6'0"
Height (w/ shoes): 6'1.25"
Wingspan: 5'11.5"
Body Fat: 5.2%
Standing Reach: 7'7"

[Read Full Article]

---
FIBA U-17 World Championships: Top International Prospects
August 7, 2010
The clear-cut leader and go-to guy on this Canadian national team, Kevin Pangos had a strong outing in Hamburg and only added to his already impressive resume.

Not exceptionally athletic (but likely more physically gifted than we initially gave him credit for), Pangos has good size for a point guard to go along with excellent footwork and a terrific basketball IQ.

Pangos is extremely skilled with the ball in his hands. He's also a very good shooter who can make jumpers with his feet set or off the dribble and is particularly effective in the mid-range area. He runs the team steadily and confidently, showing strong ball-handling skills and solid court vision. He's effective in the pick-and-roll but prefers to settle for a pull-up jumper rather than take the ball strong to the rim. When he does get to the basket, he lacks the strength and explosiveness to finish the job, something that might become more pronounced at the college level than it is now.

Defensively, Pangos is smart and competitive. He knows how to use his body effectively and shows terrific fundamentals and patience staying in front of his man. His lateral quickness remains a question mark, though, something that will likely be easier to evaluate in the NCAA than at an international tournament of this nature.

Pangos is a coveted prospect for college coaches and for good reason—he's a rare breed of point guard and seems to have excellent intangibles on top of that. Just how much upside he has left to tap into is anyone's guess, but there's no question we'll be talking about him again over the next few years.

[Read Full Article]

---
Jordan Brand Classic International Game: Top Prospects
April 22, 2010
One of the older players at this event, but still only 17, Kevin Pangos is another in a line of excellent point guards coming out of Canada recently; along with Myck Kabongo and Cory Joseph.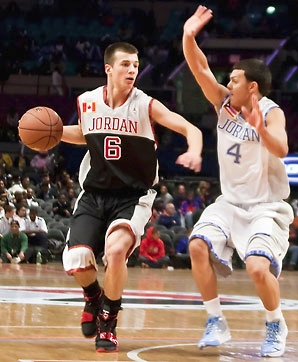 Matt Donders / DraftExpress



Not particularly gifted from a physical standpoint (possessing underwhelming size, strength and athleticism), Pangos compensates for his shortcomings with outstanding intangibles and a terrific basketball IQ to go along with a versatile skill-set. He has a terrific shooting stroke, is a willing passer, and is extremely competitive on the defensive end. He exhibited outstanding leadership skills throughout the practices and was quick to pick up on the drills and plays that were thrown at him, showing an excellent attitude along the way.

While his upside may not be as high as some of the other guards here, Pangos looks like a nice NCAA prospect who should make some college coach very happy. Canadian stronghold Gonzaga is apparently in the mix, and they'd probably be a perfect fit.

[Read Full Article]

---