Khem Birch
Recent Tweets
All Tweets
DraftExpress: Also at the Nike Skills Academy Noah Vonleh Jahii Carson Mitch McGary Willie Cauley-Stein Juvonte Reddic Khem Birch and many more.
2013-06-26 17:28:50
DraftExpress: RT @GoodmanCBS: Khem Birch talks: Ex-Pitt big man sets record straight with CBSSports, talks about schools in mix -- http://t.co/A5wxHUgS
2011-12-29 10:56:48
DraftExpress: That was fast RT @GoodmanCBS: Khem Birch tells CBSSports he's transferring from Pittsburgh. En route to Toronto now http://t.co/RminvyMj
2011-12-16 09:34:22
DraftExpress: Khem Birch has been a major disappointment from what I've seen. RT @The_Big_Show22: What about the opposite way? Who's the most over-rated?
2011-03-29 11:46:00
DraftExpress: National Prep Showcase: Elite 2011 Prospects: http://bit.ly/6n6vgv - Khem Birch, P.J. Hairston, Jakarr Sampson, Michael Carter-Williams,more
2010-11-23 12:08:47
Team: UNLV, Junior
Physicals
Positions
Rankings
Misc
H: 6' 9"
W: 220 lbs
Bday: 09/28/1992
(21 Years Old)

Current: PF/C
NBA: PF
Possible: PF

Pick: 46 in 2015 Mock Draft
Rank 14 in NCAA Juniors
Rank 62 in Top 100 Prospects
RSCI: 11

High School: Winchendon Academy
Hometown: Quebec City, QC

Predraft Measurements
| Year | Source | Height w/o Shoes | Height w/shoes | Weight | Wingspan | Standing Reach | Body Fat | No Step Vert | Max Vert |
| --- | --- | --- | --- | --- | --- | --- | --- | --- | --- |
| 2013 | Big Man Skills Acad | NA | 6' 8.5" | 220 | 7' 0" | NA | NA | NA | NA |
| 2010 | LeBron James Camp | NA | 6' 9" | 175 | 7' 2" | NA | NA | NA | NA |



Basic Per Game Statistics

- Comprehensive Stats - Statistical Top 25s
| Year | League | Name | GP | Min | Pts | FG | FGA | FG% | 2Pt | 2PtA | 2P% | 3Pt | 3PtA | 3P% | FTM | FTA | FT% | Off | Def | TOT | Asts | Stls | Blks | TOs | PFs |
| --- | --- | --- | --- | --- | --- | --- | --- | --- | --- | --- | --- | --- | --- | --- | --- | --- | --- | --- | --- | --- | --- | --- | --- | --- | --- |
| 2013/14 | NCAA | Khem Birch | 33 | 31.4 | 11.5 | 3.8 | 7.4 | 51.0 | 3.8 | 7.4 | 51.0 | 0.0 | 0.0 | &nbsp | 4.0 | 5.7 | 69.3 | 4.0 | 6.2 | 10.2 | 1.2 | 0.6 | 3.8 | 1.3 | 2.3 |

Player Page&nbsp&nbsp| Player Stats | Mock Draft History | Related Articles&nbsp&nbsp| Add to My Draft Express&nbsp
&nbsp
Top NBA Prospects in the Non-BCS Conferences, Part One: (#1-5)
October 29, 2013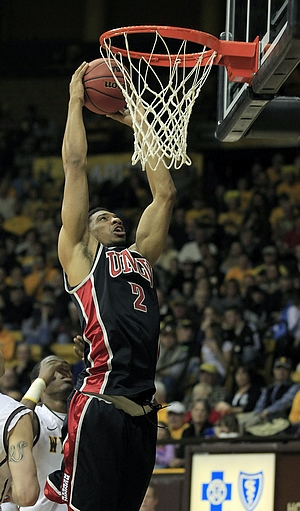 US Presswire



Jonathan Givony

Eligible at the semester break last December as a transfer from Pitt, Khem Birch will finally play his first full season of college basketball as a 21-year old junior at UNLV.

In and out of the team's starting lineup for most of his four month stint last season, Birch ended up playing just under 22 minutes per game, which is likely to increase substantially considering UNLV lost seven of its top nine rotation players. He wasn't much of a factor offensively, using just 17% of the team's possessions in his time on the floor, which was seventh highest on the team. This helps explain why he only averaged only 12.5 points per-40 pace adjusted, which is the eighth lowest rate among the 59 returning college prospects in our top-100 rankings.

Birch's calling card as a NBA prospect revolves around his excellent physical tools. While his height and bulk are below average for an NBA big man--he measured just 6-8 ˝ in shoes and 220 pounds this past summer at the Nike Skills Academy—he has a long 7-0 wingspan and is an outstanding overall athlete. Birch runs the floor extremely well when motivated, being extremely quick with both his first and second jump and capable of playing well above the rim. He's exceptionally agile and mobile for a player his size, with plenty of room to grow as his frame continues to fill out.

Birch saw some touches with his back to the basket last season, but he wasn't very effective down low, making just 13 of 39 attempts in these situations. He doesn't possess the strength or the footwork to be overly productive inside the post, as he can get out of control easily, not really knowing his limitations at this stage seemingly.

Where Birch is much more effective at the moment is playing off the ball. He's a great floor runner when dialed in as mentioned, and can be a serious weapon scoring off cuts and pick and roll finishes with to his ability to dive quickly to the rim with terrific speed. Birch is a tremendous finisher around the basket –he converted 67% of his non-post-up attempts around the rim last season. He can finish off difficult plays with incredible ease thanks to his long arms and the sheer distance he can dunk from, and also uses both hands around the basket fairly well.

Birch's length and athleticism make him a very effective weapon on the offensive glass as well – he pulled down 4 offensive rebounds per-40 last season—as he can often outjump opponents using his quick first or second leap.

Birch showed some flashes of a mid-range jumper last season, as he has decent form and solid touch, looking like he might be able to develop in this area down the road. He didn't have too many opportunities to show that on a team that played very selfishly at times last season and clearly lacked chemistry. He made just 64% of his free throw attempts, so he certainly has work to do in improving his overall offensive polish.

Defensively, Birch is by no means a finished product, but his physical tools give him plenty of room to grow. He was one of the best rim-protectors in college basketball last season, as his 4.6 blocks per-40 ranks as the second best rate among returning top-100 prospects. His length, quickness and explosiveness help him cover a huge amount of ground, which allows him to alter and contest shots all over the floor in impressive fashion.

With that said, there are some question marks Birch will have to answer as he makes the transition from defending collegiate big men to professionals. For one, what position is he best suited playing? His size and lack of bulk indicates that he'll have to defend power forwards, but he really doesn't really have the type of offensive skill-set or feel for the game you typically see at that position, and he does most of his best work around the basket using his superior physical tools.

Birch's awareness appears to be just average at this stage. He's not a great passer, and he tends to fall asleep at times defensively, giving up deep post position and not always bringing the same consistent intensity level on every possession. Additionally, he's very poor on the defensive glass, pulling down just 6 boards per-40 on this end of the floor, which is a surprisingly low rate considering his length and athleticism. Some of that has to do with his shot-blocking prowess, as he's often out of position on the glass after wildly rotating to protect the rim.

This will be a big year for Birch, as with the majority of UNLV's core leaving, there will be plenty of opportunity to step into a significant role if he's up for it. It will be interesting to see what he's done with his body, and whether he's able to show more offensive ability than we saw last season.

[Read Full Article]

---
2011 McDonald's High School All-American Dunk Contest Videos
April 1, 2011
Canadian Khem Birch was the final contestant.





Khem Birch runs behind Michael Gilchrist who passes the ball off the side of the backboard before Khem catches it in both hands and then slams it home.

[Read Full Article]

---
2010 National Prep Showcase: Elite 2011 Prospects
November 23, 2010
Jonathan Givony

When evaluating Khem Birch's performance from the perspective of the second best prospect in the class of 2012--or a top-10 prospect in 2011, which he recently reclassified to—it's easy to be disappointed by what he showed this weekend. Birch did not rebound the way a player with his physical tools should at this level, and he looked quite disappointing in terms of his development offensively as well.

With that said, it's important to remember that Birch is playing on a team without any type of system and no semblance of a point guard on their roster, forcing him to fend for himself when it comes to creating shots for himself. At this point in Birch's development, that's simply too much to ask of him.

Birch still showed many of the things that make him such a highly touted prospect this weekend—mainly his terrific length and explosiveness around the basket, and his fantastic shot-blocking instincts. He's a quick leaper who runs the floor well, finishes with authority and is extremely reactive in the paint, allowing him to come up with a number of highlight reel caliber plays.

Besides his ability to score in transition, off cuts to the basket, and through his work on the offensive glass, Birch remains a very raw prospect. His footwork and post moves are underdeveloped, as is his passing ability and overall feel for the game. He struggles to put the ball on the floor or score outside the paint, which makes his comments about developing into "a 3/4 in college" fairly questionable.

Defensively, Birch has incredible tools, as he's unbelievable explosive and can hedge the pick and roll with great quickness. He has plenty of room to grow here, though, as he'll need to improve his fundamentals through good coaching before he reaches his full potential. He rarely boxes out his opponents, and gives up quite a few offensive rebounds by wildly chasing blocks. When he does block a shot, it's always emphatically into the third row, rather than trying to secure the possession for his team. While he has added strength in the past year, his body still has a ways to go, as at 6-8, he'll definitely need more bulk to handle the rigors of the college game. Additionally, his motor seems to run hot and cold at times, as it doesn't always look like he's giving 100%.

Birch clearly has elite physical tools, and players of his nature are extremely hard to come by, which is why he's such a highly touted prospect. It's only the beginning of the road for him, though, and being thrown into the college game a year earlier (if he's able to get eligible) only means he must work even harder now to be able to live up to the high expectations that inevitably come along with his recruiting rankings.

[Read Full Article]

---
FIBA Americas U-18 Championships: Top International Prospects
July 1, 2010
We wrote about Birch earlier this year after the National Prep Showcase. There isn't a great deal to add, besides confirming what we already know. He's an exceptionally gifted athlete with long arms and terrific leaping ability, but he must continue to fill out his frame, polish his skills and improve his basketball IQ. Right now his main utility is as an offensive rebounder and shot blocker—two areas in which he clearly excels—which will make him a coveted prospect at the college level and gives him desirable skills to build on down the road.

[Read Full Article]

---
2009 National Prep Showcase: Best of the Rest
November 25, 2009
Jonathan Givony

One of the most athletic players in New Haven, Canadian Khem Birch (? Scout, ? Rivals, #11 ESPN) did not take long to leave a very strong impression regarding the type of player he could develop into down the road.

Currently standing around 6-9, Birch possesses a superb wingspan and a very lanky frame that he still has plenty of time to grow into. He's a very bouncy young guy, running the floor extremely well and looking extremely quick getting off his feet.

Birch doesn't possess much in the ways of offensive skills at this very early stage of his development, but he does find plenty of ways to impact the game, mostly through the work he does on the offensive glass, where he is an absolute menace going after loose balls well out of his area. Rarely do you see this type of aggressiveness out of a player so young, which combined with his terrific physical attributes and soft touch, leaves a lot of room for optimism regarding his future. He's an excellent finisher on top of that, running the floor well and presenting himself as a terrific target on the fast break for easy looks around the rim.

Defensively, Birch is limited by his lack of strength, but is still quite an impressive presence around the basket as a weak-side shot-blocker with his superb length. He's very intense as a man to man defender as well, not backing down from players older and stronger than him, really competing and showing nice toughness.

Birch is mostly all upside at this point, with some very clear-cut strengths and a bundle of weaknesses that hopefully will work themselves out as he matures. Our enthusiasm is slightly tempered by the fact that he has academic issues and is a year or two older than most players in his class, having recently turned 17 in September, but there is no denying the potential he possesses. Will he grow another inch or two over the next year or two? Will his narrow frame be able to carry much more weight, particularly in the lower body? Will his perimeter game and post-moves develop? These are the things we'll have to wait and see about in order to get a better gauge for his true potential.

[Read Full Article]

---