Roundup: Cup Hangover
February 20, 2008
Italy has always had a small-market tradition in basketball, but it's not that easy to find a similar situation to Montegranaro's. With less than 15,000 habitants, its team Sutor (Premiata Monegranaro with the sponsorship name) currently ranks second in a devaluated, but still fairly strong Italian league.

One of the key pieces of the team's core is an unorthodox and versatile youngster who answers by the name of Luca Vitali, and who can play all three positions on the perimeter. He's not athletic at all and doesn't deliver any flashy moves, indeed he's not a player whose game jumps out at you, but Vitali is one of the most solid youngsters you can find in Europe. He can shoot, he can pass, he's really smart, and he enjoys excellent size to play in the backcourt.

Coming off a 23-point performance in the Italian Cup, Luca completed his 20+ back-to-back effort with 21 points and 4 assists in a road victory over Scavolini Pesaro. He connected on the winning shot, an NBA-range three-pointer with 6 seconds to go that decided the game in Premiata's favor.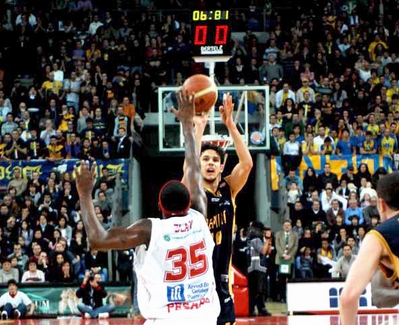 Photo: Luca Tori
Vitali is averaging 11.2 points, 2.2 rebounds, 3 assists and 2.3 steals, coming off the bench to provide perimeter firepower and some real playmaking skills, easily leading his team in assists. He's mature beyond his years and enjoys an excellent basketball IQ, emerging as a reliable player that nobody fears to put on the court.
Beyond that, there's not much NBA potential to speak of. His lack of athleticism is blatant in terms of the American league. But he should be able step up for some big team in Europe down the road.
[
Read Full Article
]
A Look Back At The U-20 European Championships (Part Two)
September 22, 2006
Let's not mislead anyone here: Vitali probably will never step foot onto an NBA court. Still he was the clear leader in Italy (despite the presence of the much more hyped Datome) and was rightfully honoured with a spot in the All-Tournament Team. He was arguably the guy showing the highest basketball IQ in the championship (from what we have seen). He's a rather unusual player, a 6-7 and unathletic point guard, which in the end pushes him often to play on the wing, or even defend power forwards. Vitali astonishes with his decision making. When taking care of the playmaking, he always finds the best solution, the open man, even if he's in the corner of the weak side or the shot clock is running out, perfectly using his size to see the court. He's not quick, but shows very good ball-handling skills and uses his well-built body intelligently when he wants to drive. Playing off the ball, he usually went through screens trying to find an open shot in the perimeter. He seemed to feel especially comfortable shooting from the corner coming off a baseline cut. Luca spent the last season in the highly demanding Italian second division, significantly contributing for his team Premiata Montegranaro to reach the first division. Vitali reflects really well that maturity on court, and he should be able to become a very good player in Europe in the future.
[
Read Full Article
]
Zaragoza, The Best of the Rest: Guards
August 20, 2004
A 6'7 point guard is always intriguing, and Vitali is just that: a 6'7 point guard. He is a nice player with pretty good handles (although he abuses his right hand), and he takes advantage of his superior height to see the floor over his defender. He was one of the few players in Zaragoza who could actually make an assist from the perimeter, though not, of course, as expertly as Spaniard Sergio Rodríguez.

Vitali's game has one fatal flaw: he is too slow and generally too poor an athlete to play the point. On the offensive end he struggles to penetrate and create space. On defense he gets beaten by quicker guards, a problem that is accentuated because he doesn't defend aggressively enough, anyway.

His talent is mediocre as well. He is not a scorer. His shot is very inconsistent, and his mechanics are average at best. He shows no special ability to score while driving to the basket. He fails to take advantage of his height by regularly posting-up his defenders.

As I said, a 6'7 point guard is always intriguing, but Luca seems to have too many weaknesses. Let's remember his name, just in case.
[
Read Full Article
]