Malik Hairston
Recent Tweets
All Tweets
DraftExpress: Couple of timely whistles and two huge 3-point plays by Malik Hairston bring it back to 53-53 at the end of the 3rd. Great ending in store.
2011-02-16 04:11:38
Top 25s - Full List
Team: AEK Athens
Physicals
Positions
Rankings
Salary
Misc
H: 6' 5"
W: 204 lbs
Bday: 02/24/1987
(28 Years Old)

Current: SF
NBA: SF
Possible: SG/SF

RSCI: 10

Agent: Leon Rose

High School: Renaissance
Hometown: Detroit, MI
Drafted: Pick 48 in 2008 by Suns

Predraft Measurements
| Year | Source | Height w/o Shoes | Height w/shoes | Weight | Wingspan | Standing Reach | Body Fat | No Step Vert | Max Vert |
| --- | --- | --- | --- | --- | --- | --- | --- | --- | --- |
| 2008 | NBA Pre-Draft Camp | 6' 4.25" | 6' 5.25" | 204 | 6' 9" | 8' 7.5" | 6.9 | 30.5 | 38.0 |



Basic Per Game Statistics

- Comprehensive Stats - Statistical Top 25s
| Year | League | Name | GP | Min | Pts | FG | FGA | FG% | 2Pt | 2PtA | 2P% | 3Pt | 3PtA | 3P% | FTM | FTA | FT% | Off | Def | TOT | Asts | Stls | Blks | TOs | PFs |
| --- | --- | --- | --- | --- | --- | --- | --- | --- | --- | --- | --- | --- | --- | --- | --- | --- | --- | --- | --- | --- | --- | --- | --- | --- | --- |
| 2015/16 | Greek | Malik Hairston | 8 | 27.3 | 10.8 | 3.9 | 6.9 | 56.4 | 3.4 | 4.8 | 71.1 | 0.5 | 2.1 | 23.5 | 2.5 | 3.0 | 83.3 | 1.0 | 1.8 | 2.8 | 2.8 | 0.9 | 0.6 | 2.0 | 2.6 |
| 2015/16 | Eurocup | Malik Hairston | 7 | 28.9 | 12.0 | 4.1 | 9.3 | 44.6 | 2.9 | 6.7 | 42.6 | 1.3 | 2.6 | 50.0 | 2.4 | 3.4 | 70.8 | 0.7 | 2.0 | 2.7 | 1.9 | 0.7 | 0.1 | 1.4 | 3.0 |

Player Page&nbsp&nbsp| Player Stats | Mock Draft History | Related Articles&nbsp&nbsp| Add to My Draft Express&nbsp
&nbsp
D-League Showcase- Day One
January 6, 2009
Hairston was solid, although unspectacular, not surprising considering his role as a very complete and all-around player. He showed the ability to get to the basket at will as Colorado had no one who could keep him out of the paint. That's a very good sign considering that his ball-handling skills have always been considered one of his bigger weaknesses. He has a solid first step off the catch – facing a guy up, jab stepping and attacking, which was evident in the first half when he took two dribbles from the top of the key, left Trey Gilder way behind him and threw down a ferocious dunk for a three point play. When he begins his dribble however, he is not nearly as quick—his handle is good, but certainly not spectacular—but he uses crafty moves coupled with his strength to get to the hoop. He'll pivot and spin in the lane to push his defender away and find himself at the rim—showing a very high IQ in the process.

His shot looked good yesterday as well, albeit on not that many attempts, with the majority of his shots coming in the paint. His free throws however and the few mid range shots that he attempted displayed good arc and a soft touch, despite the slight hitch that is in his shot – pausing at the top prior to the release. His range extends to about 20 feet and is not comfortable from the 3 point line just yet.

His ball-handling skills seemed a little shaky when he was pressured, picking up his dribble prematurely on several occasions and forcing a few passes in the half-court which led to turnovers. Additionally, his head was down most of the time when he went to the basket, almost making up his mind before the move instead of weighing all of his options. His athleticism is certainly improving as he continues to improve his body, he is a very quick leaper with great hops, which contributes to his adeptness in the lane.

Hairston is in-between being a 2 and 3 right now. He does a lot of things well but doesn't have one particularly great skill that would fill a need for an NBA team at the moment. Saying that however, he is a very good scorer (Almost 20 ppg), a solid athlete, plays with a good spirit and energy, and is a month and a half away from his 22nd birthday. As he continues to polish his all-around game, it would not be surprising to see him develop into a solid rotation player, which is exactly why San Antonio decided to call him up and make sure no one else does that first.

[Read Full Article]

---
D-League Pre-Draft Power Rankings / Allocation List
November 7, 2008
Malik Hairston could very well be the first player called up by an NBA team, as soon as one injury or another happens and the need for a versatile swingman arises. He has an NBA body already to go along with nice physical tools, an advanced skill-set, and excellent intangibles to boot. It was surprising to say the least to see San Antonio decide to keep Desmon Farmer over him, but if Hairston can show improved ball-handling skills and the ability to defend both wing positions effectively, his stay in Austin should not be very long.

[Read Full Article]

---
Orlando Recap: First Team All-NBA Pre-Draft
June 2, 2008
A player no one fathomed would step foot on this setting (besides possibly to conduct a physical) when he entered the NCAA four years ago as a top-10 player in an incredible class, Malik Hairston did a pretty good job reminding people in Orlando why he was so highly regarded to begin with.

Smart, efficient, unselfish, skilled and sporting much sleeker physique (credit Joe Abunassar for helping him lose 20 pounds) than he did two months ago, Malik Hairston quietly, but effectively showed that he has every right to be considered one of the top players at the pre-draft camp. His court vision and all-around feel for the game was the most noticeable thing here comparing him with other players, as he repeatedly found his teammates with beautiful bounce passes off the dribble in every game he played in (even if for some reason he wasn't credited with at least a half-dozen assists in the box-score).

His ball-handling skills look better than we remembered, as he's extremely effective picking his spots and blowing past his man with his surprising first step, even if he tends to struggle a bit with his left hand and some of his advanced moves. His excellent strength helps him out considerably in this area, and he was getting much better lift elevating around the basket than we recalled. He rarely turns the ball over, which is a big plus considering what his role will be in the NBA.

Hairston is a good shooter, as evidenced by the 53% he shot from the field and 43% from behind the arc at Oregon, even if he didn't really make it a focal point to show off NBA range here. He does a good job moving without the ball and is capable of coming off short screens and getting his shot off. He's extremely dangerous with his feet set, but is just average at best shooting off the dribble. To his credit, though, he knows how to pick his spots and rarely will take bad shots. He will have to improve his mid-range game considerably if he intends on becoming a legit offensive option for his team in the NBA.

Defensively, Hairston has good length and knows how to play solid on-ball defense when he puts his mind to it. He has excellent timing and strength, but is slightly undersized to play the small forward position, and doesn't bring fantastic lateral quickness to the table to compensate. He is also not the most aggressive or aware player you'll find in terms of his team defense.

Hairston probably didn't blow anyone away with what he showed at the pre-draft camp, and thus is still most likely a second round pick at this point, but he did show that he clearly has what it takes to make it in the NBA, particularly in terms of his aggressiveness, which has always been a question mark. Teams aren't going to have to teach him how to play basketball, and he still has room to continue to improve on his all-around skill-level, as he's a very young senior at just age 21. He'll never be the star he was once billed as, but he definitely has a chance to be a very good role player.

[Read Full Article]

---
NBA Pre-Draft Camp, Day Three
May 30, 2008
It was indeed Hairston that strung together his second straight impressive performance, not so much in terms of the boxscore (12 points, 8 rebounds, 5-11 FG, 2-6 FT) but more in terms of the talent, versatility and all-around feel for the game he displayed, putting him a cut above pretty much any other prospect in this game. He was again always around the ball, doing all the little things his team needed in order to come away with the victory, whether it was executing his team's half-court sets as the defacto point guard, posting up inside, creating his own shot from the perimeter, pulling up off the dribble and rebounding the ball extremely well. His ball-handling skills look a lot better than we may have given credit for—as he was very effective facing the basket, making some powerful strides to the rim and using his excellent body to shield the ball from his defender. He had four turnovers in this game, a product of spending so many minutes at the point, but it was hard not to come away impressed with the way he played in this game and in the camp as a whole.

[Read Full Article]

---
NBA Pre-Draft Camp, Day Two
May 29, 2008
Malik Hairston's stat-line might not have been that impressive on paper (8 points, 4 assists, 3-4 FG), but he did a very nice job finding teammates within the flow of the offense and playing with and off of Pat Calathes, who he seems to have nice chemistry with. His athleticism looked better than advertised getting off the floor and elevating for dunks. A very nice start for the Oregon senior, who we may have been underrating this season, at his then heftier proportions.

[Read Full Article]

---
Cross-Country Workout Swing: Part Two, Abunassar Impact Basketball
May 20, 2008
We've been a little bit down on Hairston over the past few years, partially due to the incredible expectations that were put on his shoulders after being ranked as one of the top high school players in one of the best high school classes of all time—something that really isn't his fault when you think about it.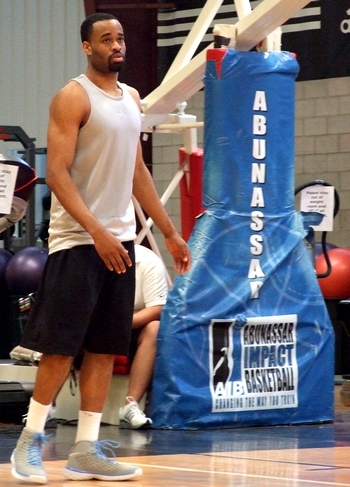 Jonathan Givony, DraftExpress.com



He looks very good out here in Vegas, both skill-wise and in terms of his conditioning. Hairston has always sported a little bit of baby fat since his days as a prep-star, and he seems to have shed a good amount of weight since he started working out here—which definitely helps his cause.

Hairston was very consistent in the shooting drills, showing the same exact mechanics on every attempt and getting his jumper off with a fairly quick release as well, albeit very little elevation. He saw good results both in the drills as well as in the competitive part of the workout, particularly from college range. His overall feel for the game is much better than we initially gave him credit for—he looks like a very natural talent and was able to dominate almost every game he played in, playing very aggressively and taking the ball to the basket extremely well.

What Hairston needs to work on to stick in the NBA is most likely finding his bread and butter that he can hang his hat on when he comes into a game. He's a good, but not great athlete (although he's much improved), has good, but not great ball-handling skills, plays good, but not great defense, is just decent with his pull-up jumper, and definitely needs to improve his overall mid-range game. He can really dominate offensively in a setting like this thanks to his excellent strength, but will need to continue to work on his all-around polish to be able to translate that to an NBA environment as well. There were times when he got to the rim and had a difficult time finishing, either because of his average handle or over-exuberance driving into traffic.

With that said, Hairston is extremely young for his class (he's still only 21) and is certainly not a finished product at this point. He looks to have an excellent attitude and seems like a very intelligent person off the court, which is obviously a big plus. That, combined with his scoring instincts and overall feel for the game will certainly bode well for his future, and gives him a great framework to build upon over the next few years—which will ultimately decide how his career pans out. We're definitely looking forward to seeing how he plays in the NBA pre-draft camp.

Joe Abunassar's take: "Very solid player who does a lot of things well. Shoots the ball very well and has been with us for almost 6 weeks now, so has made huge strides with his body and conditioning and speed as well as improved his ability to create his own shot off the dribble. Very smart player who knows how to play and makes everyone around him better. Strong and has really improved his quickness and first step."


[Read Full Article]

---
NCAA Weekly Performers, 12/12/07--Part Two
December 13, 2007
Malik Hairston has gotten off to the best statistical start of his career, posting new highs in scoring, shooting percentage and three-point shooting percentage. With the departure of Aaron Brooks, Hairston has stepped up on the offensive end, leading the team in scoring through its first eight games. There haven't been many radical changes to Hairston's game since last season; he is continuing to stick with his strengths and with Oregon's ability to spread the floor, and has already posted a few big games.

Physically, Hairston looks to have dropped just some weight from last season, which is a very positive development. He has always been somewhat bulky for a swingman, and while this added weight helps when posting up other perimeter players and crashing the boards at the NCAA level, it has hurt his quickness. His length has continued to help him, mainly on the defensive end, where he is averaging more than a block per game, a great number for his position.

Offensively, Hairston is continuing to do what he does best, rely on his perimeter shooting and his smarts. He is shooting a career best 46.4% from beyond the arc, and is a constant threat to spot up from anywhere on the floor. Hairston's tendency to spot up too often in transition though probably takes away some scoring opportunities he would have if he went towards the basket more. He has also continued to be a dangerous slasher, not so much because of his athleticism, but because of his basketball IQ. Hairston does a great job of taking what the defense gives him, then incorporating a series of head and ball fakes to get to the rim. He does still struggle though against quicker guards who he has trouble beating off the dribble, in these scenarios though he relies on a strong mid-range jump shot.

One issue for Hairston last season that continues to be a trend this season is his ball-handling. In the transition game he seems to have no problems, looking very comfortable. In the half court set though, that same confidence and handle seem to disappear somewhat. This is another reason Hairston has trouble with quicker defenders, because he doesn't appear to have completely developed the skills to handle the ball in tight situations and break defenders down. This will be crucial for him to develop if he is to make it to the next level.

Hairston definitely earns points by being able to handle his own inside the paint. He has always shown the ability to post up other guards and muscle them around, and this season he has been doing a great job of moving inside without the ball when in the half court set. He doesn't have a great vertical leap, but again uses an array of head fakes to get defenders out of position and either finish the easy basket or draw a trip to the foul line. Hairston has nearly doubled the number of free throws he is attempting per game this season as compared to last season, a trend scouts will love to see.

Defensively, Hairston still has some room for improvement. Again, not the quickest of players, he can have trouble against speedy guards who force him to guard them far from the basket. He crashes the boards well and has shown more of a knack this season for blocking shots. Hairston's wingspan coupled with his great timing has made him a shot altering threat for opponents this season.

Hairston's numbers have improved, which is always a positive, but at this point in time it seems more a result of the fact that the Ducks no longer have last season's biggest offensive threat Aaron Brooks than it is a result of Hairston having a tremendous increase in his abilities. While his shooting percentages have improved from the field, he is attempting nearly three more shots per game this season than he did last year, which is a good reason for his rise in scoring. Hairston is still sticking to his guns, which is working for him so far. Three twenty-point performance is a nice indication that he is more of an offensive threat this year than last, but recent back-to-back seven-point performances shows that the consistency still isn't there yet. If Hairston can solidify his defense and become a more constant scoring threat creating his own shot, than the NBA could come calling in June.

[Read Full Article]

---
NCAA Tournament: NBA Draft Stock Watch (Elite Eight, Sunday games)
March 27, 2007
In one of the more unique situational matchups of the tournament thus far, Florida's Joakim Noah and Al Horford took turns guarding Oregon wing Malik Hairston. With a lack of bodies in the frontcourt, Ernie Kent found much success this season going with four perimeter players, and that left Hairston often matched up with opposing big men. The Michigan native is clearly comfortable in the role, as he did a great job of pulling a Florida big man away from the basket and finding a lane before other defenders could react. Aaron Brooks may have been the big scorer for Oregon today, but it was when Hairston was at his best that the Ducks looked like they might have a chance to pull off the upset.

It isn't as if we didn't know Hairston was capable of an effort like this, as his somewhat underwhelming career numbers are more a product of a deep backcourt and a passive nature than anything to do with his skill set. Hairston is a superb slasher, capable of breaking down a defense in a variety of ways. He utilizes a fantastic midrange jumper, which will keep defenders just honest enough for him to get a step to the basket on a slashing move. Hairston does a great job of recognizing what the defense is giving him, and taking advantage of it. He is far from explosive, but makes up for it with a patient style of play that makes him a great teammate.

Hairston's NBA potential is somewhat murky at the moment, because while the junior has made strides with his jumper, he has actually put on some bulk since arriving on the west coast. He moves very much like a small forward, and needs to shed some mass if he wants to make it on the next level. This could happen with a summer of hard work, but even then he will need to get more consistent with his 3-point shot and improve a surprisingly inconsistent free throw stroke. Nonetheless, this was the type of game that reminds us the kind of potential Malik Hairston possesses. It is now his task to become a leader in the absence of Aaron Brooks, and emerge as Oregon's go-to scorer. The tools have always been there. But does he have the mentality?

[Read Full Article]

---
NCAA Weekly Performers -- 1/18/07, Part Two
January 18, 2007
After an underwhelming sophomore season, Oregon swingman Malik Hairston may finally be ready to play himself back onto the scene. Despite dealing with groin and heel injuries that have sidelined him for a few games this season, Hairston has been a large part of his team's early success. In his second game following his recent heel injury, Hairston put up a very strong performance in his team's win over Arizona, scoring 18 points, pulling down eight rebounds, and dishing out four assists, all while shooting an excellent percentage from the field.

Most of Hairston's skills were on display in the game, and despite not living up to the high expectations that were set for him in the past year and a half, Hairston still is a legitimate potential NBA prospect. Standing 6'6 with long arms and built like a tank, Hairston is an imposing presence at the swingman position. He's stepped up his rebounding and defensive efforts this season, being very aggressive on both fronts, and he really had an impact doing such in this game. Defensively he was most frequently matched up with Chase Budinger, and Budinger wasn't able to contribute much of anything against Hairston, scoring only four points despite playing 33 minutes. Hairston was equally aggressive on the boards, using his strength and length to pull down boards in a crowd, getting a nice putback with an and-1 on one occasion.

Hairston hit all three of his three-point attempts in the game, all of them being of the spot-up variety. He has a nice, smooth stroke on his shot, and he gets it off with a high and quick release. He showed a bit of a dribble-drive game as well, though most of his attempts at such are routine straight-line drives to the basket, and he doesn't appear to be all too comfortable getting creative with the ball in those situations. His dribble isn't very low to the ground, and while he doesn't have much trouble handling the ball in the open court, he doesn't appear as comfortable with it in half-court sets at this point. He did however do a very good job moving without the ball, cutting to the basket and scoring a few baskets off passes in this manner.

Hairston also showed off some nice court awareness on a few occasions, dishing crisp passes to his teammates for open shot attempts, hitting cutters and spot-up shooters alike. He's bringing a lot of skills to the table for Oregon this year, and if he can remain healthy and consistently take a more affirmative role in his team's offense, he could play himself back into discussions among NBA scouts. With teammates Bryce Taylor and Aaron Brooks both having solid seasons, it will be tough for Hairston to take on a larger role in the offense, but he's still likely the best NBA prospect on the team.

[Read Full Article]

---