Nike International Junior Tournament Kaunas: Elite Prospects
February 14, 2012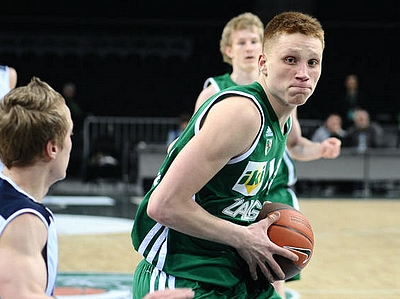 Fotodiena.lt/Roberto Dačkaus
Jonathan Givony
Marius Grigonis
did a solid job showing his all-around game at this tournament, averaging a terrific 13 points (59% 2P, 36% 3P), 7 assists and 6 rebounds in just 23 minutes per-contest.
A 6-6 small forward with a versatile game, Grigonis has good size for the wing to go along with a solid frame and athleticism. A very confident, aggressive offensive player, he is extremely decisive putting the ball on the floor. Showing solid ball-handling skills, body control and footwork, he got to the free throw line at an excellent rate at this tournament. Grigonis is a very adept passer on the move, doing a nice job keeping his head up and finding teammates diving to the rim for easy finishes or spotting up on the wing for open shots.
He's not quite as prolific of a shooter as he is a slasher, but is able to make jumpers both spotting up or off the dribble, sinking 4 of the 11 3-pointers he took here.
On the other end, Grigonis plays with a solid intensity level defensively (and in general), looking most adept at guarding the small forward position at the moment. He crashes the glass and is quick to ignite the fast break.
While it's difficult not to be impressed by the way Grigonis was able to dominate the (fairly weak) competition he faced on his home court in Kaunas, there are some question marks still about how that might translate to the senior level. He's not an exceptional athlete for one, and will surely need to adjust to playing off the ball more than he does for this team. His body language was questionable at times too, particularly with the referees and his teammates, which may just be a sign of immaturity.
Grigonis' upside might not be off the charts as far as the NBA is concerned, but he looks like a potentially useful player for the team that is developing him, Zalgiris Kaunas. We'll have to see how he looks over the next few years as the competition he's facing stiffens.
[
Read Full Article
]
Jordan Brand Classic International Game: Top Prospects
April 22, 2010
Although he got hurt fairly early on in the game, Lithuanian wing Marius Grigonis still managed to show some nice things over the course of the week; particularly in the practices, where he certainly stood out. At around 6-6, he's got good size for a wing, a nice frame, and, as you would expect from a Lithuanian born player, a terrific shooting stroke. Grigonis appears to be a highly unselfish, yet extremely competitive, player with a nice basketball IQ and a mature all-around game. We would have liked to see more, but unfortunately will need to wait for another opportunity.
[
Read Full Article
]