Marquis Teague
Recent Tweets
All Tweets
DraftExpress: Marquis Teague goes 29th. Bulls need another ball-handler with Rose out for the season. Great opportunity for Teague to see minutes early on
2012-06-28 10:23:03
DraftExpress: Scouting Marquis Teague with the help of @UKCoachCalipari, @JayBilas and by popular demand: @YoungJeezy http://t.co/Ib56S0rE
2012-06-21 09:33:58
DraftExpress: NBA Combine Video Interviews: Damian Lillard, Marquis Teague, Jared Cunningham http://t.co/Wi4BEKVq
2012-06-10 10:10:14
DraftExpress: DX: Finding a Niche For Marquis Teague http://t.co/2DaPUJg9
2012-04-27 10:13:16
DraftExpress: DX Article: Finding a Niche For Marquis Teague http://t.co/2DaPUJg9
2012-04-26 03:48:07
Team: Oklahoma City
Physicals
Positions
Rankings
Salary
Misc
H: 6' 2"
W: 184 lbs
Bday: 02/28/1993
(22 Years Old)

Current: PG
NBA: PG
Possible: PG

RSCI: 7

Agent: J.R. Hensley

High School: Pike
Hometown: Indianapolis, IN
Drafted: Pick 29 in 2012 by Bulls
Best Case: Kyle Lowry
Worst Case: Will Bynum

Predraft Measurements
| Year | Source | Height w/o Shoes | Height w/shoes | Weight | Wingspan | Standing Reach | Body Fat | No Step Vert | Max Vert |
| --- | --- | --- | --- | --- | --- | --- | --- | --- | --- |
| 2015 | D-League Elite Camp | 6' 1" | 6' 2.25" | 184 | 6' 7" | 8' 2" | NA | 30.5 | 36.5 |
| 2012 | NBA Draft Combine | 6' 1" | 6' 2" | 180 | 6' 7.25" | 8' 0.5" | 6.3 | 32.5 | 40.5 |
| 2011 | Deron Williams Camp | NA | 6' 2" | 179 | 6' 6" | NA | NA | NA | NA |
| 2009 | LeBron James Camp | NA | 6' 2" | 165 | 6' 7" | NA | NA | NA | NA |
| 2009 | Deron Williams Camp | NA | 6' 2" | 165 | 6' 7" | NA | NA | NA | NA |



Basic Per Game Statistics

- Comprehensive Stats - Statistical Top 25s
| Year | League | Name | GP | Min | Pts | FG | FGA | FG% | 2Pt | 2PtA | 2P% | 3Pt | 3PtA | 3P% | FTM | FTA | FT% | Off | Def | TOT | Asts | Stls | Blks | TOs | PFs |
| --- | --- | --- | --- | --- | --- | --- | --- | --- | --- | --- | --- | --- | --- | --- | --- | --- | --- | --- | --- | --- | --- | --- | --- | --- | --- |
| 2015/16 | DLEAGUE | Marquis Teague | 6 | 31.3 | 15.0 | 5.3 | 14.8 | 36.0 | 3.7 | 11.0 | 33.3 | 1.7 | 3.8 | 43.5 | 2.7 | 5.0 | 53.3 | 0.7 | 2.0 | 2.7 | 5.3 | 0.5 | 0.2 | 3.0 | 2.5 |

Player Page&nbsp&nbsp| Player Stats | Mock Draft History | Related Articles&nbsp&nbsp| Add to My Draft Express&nbsp
&nbsp
Marquis Teague Video Scouting Report
June 21, 2012
Mike Schmitz takes a look at the strengths and weaknesses of Marquis Teague with the help of Kentucky game film, Head Coach John Calipari, ESPN Analyst Jay Bilas, and Teague himself.






---




More DraftExpress Video Breakdowns:


-Perry Jones Video Scouting Report
-Thomas Robinson Video Scouting Report
-Andre Drummond Video Scouting Report
-Quincy Miller Video Scouting Report
-Tony Wroten Video Scouting Report
-Terrence Ross Video Scouting Report
-Tyshawn Taylor Video Scouting Report
-Damian Lillard Video Scouting Report
-Jeremy Lamb Video Scouting Report
-Bradley Beal Video Scouting Report
-Dion Waiters Video Scouting Report
-Kendall Marshall Video Scouting Report
-Moe Harkless Video Scouting Report
-Meyers Leonard Video Scouting Report
-Michael Kidd-Gilchrist Video Scouting Report
-Harrison Barnes Video Scouting Report
-Austin Rivers Video Scouting Report
-Tyler Zeller Video Scouting Report
-Arnett Moultrie Video Scouting Report
-John Henson Video Scouting Report
-Terrence Jones Video Scouting Report
-Jared Sullinger Video Scouting Report


---


Mike Schmitz is a writer for ValleyoftheSuns, a member of the TrueHoop Network. Follow him on twitter and subscribe to his YouTube page.

[Read Full Article]

---
NBA Combine Interviews: Lillard, Teague, Cunningham
June 10, 2012
[Read Full Article]

---
Finding a Niche For: Marquis Teague
April 26, 2012
Joe Treutlein

Marquis Teague was one of the most highly touted recruits in his high school class, and went on to lead the national champion Kentucky Wildcats in minutes played this season, playing an important role on the team throughout the year.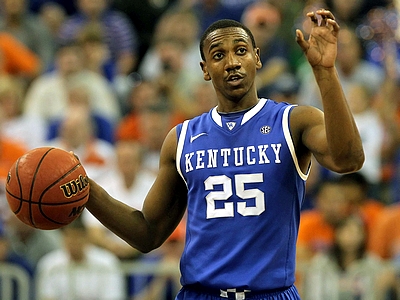 US Presswire



Kentucky had no backup behind him, and no other real ball-handlers alongside him besides Doron Lamb, meaning they had no choice but to get as much as they could out of him.

That paid off in a major way down the stretch in particular, as Teague had an outstanding NCAA tournament run that solidified his standing as a first round pick after a very uneven freshman season.

Despite his excellent showing in March, Teague's 12.3 points per 40 minutes pace adjusted and 49% True Shooting Percentage both rank second to last among all players in our top-100 rankings, as he showed many problems with inconsistency and turnovers throughout the season, which makes him a player who could see his stock vary wildly throughout the pre-draft season.

As we discussed in the past, Teague's physical attributes stand out immediately as among his most impressive attributes, as he has good size and excellent athleticism for the point guard position. Continuing to play with the very fast pace style he was known for prior to stepping foot in Lexington, Teague's blazing speed was on full display all year long, where he played as crucial a role as anyone in Kentucky's highly efficient fast break.

Teague's skill-set remains largely unchanged from high school, as the effectiveness of his game tends to wane the slower the pace is, with his role being much less pronounced in Kentucky's half-court attack. However, while Teague didn't necessarily thrive in the half court this season and certainly had some unimpressive areas of his game, he did do a good job assimilating into Kentucky's system and deferring to the talent around him, playing a very foreign role relative to what he played in high school, as he went from being a clear-cut go-to guy to the Wildcats' fifth-leading scorer.

Looking at Teague's game, his fast break prowess is certainly the first thing that stands out projecting to the next level, where he'd be very well served to be drafted by a team playing with an up-tempo pace. Teague has relentless attacking instincts pushing the ball forward whenever it gets into his hands, and he shows a tight and controlled handle at high speeds with the ball. His nose for getting to the rim is excellent and he shows a pretty good feel for the game overall in transition, doing a good job of weaving through defenders and finding his way to the basket.

Teague's passing game on the break is also impressive, though it's prone to taking a backseat at times, as he knows he has the step to get around anyone once he gets a full head of steam. Still, he shows good vision on the move finding players both spotting up for jumpers and on dump-offs around the rim, and he did a good share of dishing out to all his teammates on the break this year.

In the half court, Teague is much more of a question mark, and he will likely have some transitioning to do at the next level in most situations he could be drafted into. Teague's pick-and-roll game is the aspect of his offense most likely to immediately translate to the NBA, where he could actually benefit from the NBA's stylistic differences from college.

He shows a solid feel in this area of his game, capable of making good passes to his roll man and clearly having the speed to take the ball to the basket for his own offense, though he could use some work on his pull-up jumper.

The rest of Teague's point guard game in the half court is more problematic, as he often showed questionable decision-making and struggles to run a more traditional slow-down offense. He doesn't show the greatest feel for breaking the defense down and setting up teammates here, and often was asked to play off the ball and let other players create, as evidenced by the eight assists per game netted by the rest of his team.

When Teague does have his ball in his hands in the half court, he's prone to pounding the ball atop the key waiting for something to happen. He had issues with turning the ball over through forcing the action both on his drives and his passes, and will definitely need to improve in this area going forward.

As far as Teague's own offense goes in the half court, he clearly has some strong skills here, but hasn't been able to consistently put it all together just yet. Teague does a good job getting to the basket in isolations, where his speed and handling make him very difficult to stay in front of, and he also can take advantage of his ability to drive and finish with either hand.

At the rim, Teague shows enough wiry strength to finish through contact and some nice creativity maneuvering around the basket, but his 1.06 points per shot at the basket according to Synergy Sports Technology is pretty lackluster for a player with his tools. Teague runs into trouble dealing with weakside help in the lane, often settling for just throwing the ball up at the basket and not always showing the greatest effort to maximize his chance at a high percentage shot.

He's even more complacent with putting up his floaters and runners, as he hit an abysmal 5-for-32 of those this season according to Synergy, something he'll clearly need to improve on at the next level if he wants to continue utilizing that weapon.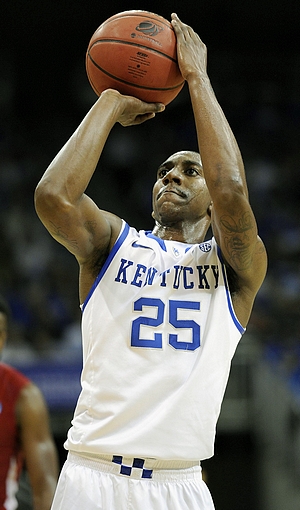 US Presswire



Teague's jump shot is another area he could stand to improve on, showing similar struggles as he did in high school. Boasting the same flat-footed form with a slight hitch we previously saw from him, Teague does a solid job shooting in space but shows problems effectively putting the ball in the basket when contested. On the bright side for Teague, relative to the rest of his shooting, he actually does a solid job pulling up in space, especially coming around screens, where he shows very nice balance and keeps his mechanics fairly consistent. While this isn't an efficient tool in his arsenal at this stage, if he improves the basics of his jumper overall, it's easy to see it quickly translating to his pull-up game, which would greatly enhance his already strong pick-and-roll skills.

On the defensive end, Teague shows outstanding tools with excellent lateral quickness, very good size and length, and flashes of strong aggressiveness getting up into his man. He's prone to letting up out of his stance at times, didn't always get his hand up to contest shots, and showed some complacency on this end of the court throughout the year, but clearly has the tools to be a very effective defender early in his career in the NBA. His combination of speed and wiry strength gives him a nice ability to quickly get through screens when he's putting in the effort as well, which bodes well for his potential defending pick-and-rolls at the next level.

Given Teague's myriad question marks on the other end of the court with how his game will initially translate to the pros, really buckling down and applying himself on the defensive end of the court is the quickest and simplest thing he could do to quickly find a niche in the pros, and is certainly something he should get in the mindset of doing during the pre-draft process.

Looking forward, Teague clearly brings some attractive things to the table with his physical tools, fast-break prowess, developing pick-and-roll game, and defensive potential, but the question marks surrounding his half-court offense, specifically with his point guard abilities, make him a player likely to have stock all over the board from different NBA teams. He'd definitely benefit initially from going to a team with an up-tempo, pick-and-roll oriented offense, while he'd help himself most to focus on improving his jump shot and defense, both of which could make for a much easier transition to the pros and may be necessary for him to secure a long-term niche.

[Read Full Article]

---
Final Scouting Reports: High School Class of 2011
April 22, 2011
Walker Beeken

We were able to get a good look at Kentucky-bound point guard Marquis Teague (#6 Scout, #2 Rivals, #7 ESPN) over the last few weeks as he played in the McDonald's All American Game, Nike Hoop Summit, and Jordan Brand Classic. Teague continued to display his exceptional talents while also showing some of the weaknesses that we've noticed from watching him in prior events and tournaments.

The Indianapolis native stands out immediately with his excellent physical tools at the point guard position. Standing at 6'2" with a solid build, Teague also has tremendous speed and explosiveness that he can utilize to overwhelm opponents physically on both ends of the floor.

He's able to blow by his man and get into the lane off the dribble almost whenever he wants in isolation situations, and he's able to use his strength and elevation to finish well at the rim for a point guard. He's also tremendous in the open court, pushing the ball attacking the basket relentlessly, while also having the instincts to be able to dish off to the open man.

Teague's weaknesses come more into play in the halfcourt when he's asked to run a team and manage the game. We saw this especially in zone situations in practice and in the game a bit at the Nike Hoop Summit in Portland. He tends to take an extra dribble when he'd be better off just dishing off with a simple pass, and generally doesn't display great court vision.

Some of this of this can be attributed to his decision-making still not being on par with his talent level at this stage, and some can be traced to his inability to shoot consistently from the perimeter. He only shot two 3-pointers combined in all three of the games we saw and missed them both, and although he showed in practice that he can make them on occasion, he still has a ways to go as shooter. His mechanics are a bit inconsistent, and his shot a little flat, but his form doesn't need any major work, and he looks to have the potential to improve significantly with time and repetition.

Defensively, Teague has all of the tools to be outstanding with his combination of strength, lateral quickness, and intensity. He overwhelmed the guards on the World Team at the Hoop Summit at times, and he can be a factor at any level if he focuses on fundamentals and competing on every possession.

While Teague may not be considered a pure point guard at this stage, he does look like he wants to be more of a distributor, and his body language and overall demeanor seems to have improved considerably over the past year. It will be interesting to see how he's able to find a balance of getting his teammates involved and maintaining his attacking mentality. As he grows in that area and improves as a shooter, Teague's upside is fantastic, as point guards of his mold with supreme physical tools are very important in the NBA right now.

Looking to next year, Teague should have a chance to be next in the line of great point guards playing for Coach John Calipari, and he'll have plenty of teammates to utilize to help him enhance his individual talents.

[Read Full Article]

---
2011 Nike Hoop Summit: USA Team Measurements
April 12, 2011
Marquis Teague
Height (with shoes): 6-1 ½
Weight: 178
Wingspan: 6-6 ½

[Read Full Article]

---
FIBA U-17 World Championships: Top American Prospects
August 16, 2010
One of the most naturally talented players seen in Hamburg, Marquis Teague nevertheless had his weaknesses as a prospect thoroughly exposed, showing just how much work he has to do to reach his full potential at the college level.

An exceptional athlete who is almost unstoppable in transition, Teague struggled badly to run his team as a point guard in the half-court, looking at times like a fish out of water.

Teague can create his own shot with ease and has amazing potential in the pick-and-roll, but he makes bad decisions at this stage of his career and has limited court vision on top of that. He settles for contested off-the-dribble pull-ups on a regular basis and tends to drive into brick walls hoping to get bailed out by the referees. He only gives the ball to his teammates as a last resort and usually tries to do so in spectacular fashion for a highlight reel assist. His leadership skills also leave something to be desired, as does his body language, which looked poor at times.

With that said, Teague's talent level is exceptionally high and his potential is off the charts, particularly in terms of what NBA teams are looking for at the guard position. His scoring instincts are terrific. He can heat up in an instant, unloading a barrage of spectacular shots before the opponent can even blink. He's had some legendary performances competing on the AAU circuit and was likely ill prepared for the style of play he encountered here in Hamburg, which is not a surprise, considering his lack of experience in this setting.

Teague is already committed to play for John Calipari at Kentucky and will likely be a star from day one at the college level. He still has plenty of things to work on until he gets there, though.

[Read Full Article]

---
Adidas Nations Tournament: High School Prospects
August 24, 2009
Currently the #1 rated point guard in the 2011 class, Marquis Teague (#6 Scout, #2 Rivals, #4 ESPN) was the main engine running his US team in the Adidas Nations tournament.

Extremely fast, shifty and explosive in the open floor, Teague is a terrific athlete who gets to almost anywhere he wants on the court, particularly in transition. He's also an excellent ball-handler on top of that, looking extremely fluid and highly capable of changing speeds and directions on the fly, which makes him even more difficult to stay in front of. He's got great natural instincts as a lead guard and shows flashes of potential on the pick and roll and drive and dish, but still has quite a few issues to work through, which isn't a shock considering his age.

Teague is much more of a scorer than a distributor at this point, but is very much prone to pounding the ball and looking for his own shot, often to the detriment of his teammates. He has a little bit too much flash to his game at this point, often appearing more concerned with making himself look good than trying to make the correct basketball play. He forces the issue on a regular basis, driving head-first straight into the teeth of the defense, only passing the ball when he's absolutely exhausted all other options.

More concerning was the body language Teague showed at times, particularly when faced with adversity. He didn't appreciate the tough, physical defense that the South American team (particularly Christian Cortes) was playing on him, and seemed to completely lose his cool. When scored on, he made it a point to try and "get back" at his matchup with a little mano a mano, and then proceeded to visibly pout when things didn't go his way. Interestingly enough, this is almost the exact criticism we often heard about his brother Jeff (drafted by the Atlanta Hawks) throughout the draft process this summer.

Teague can make shots from the perimeter, but he sports a fairly ugly, flat-footed jumper not all that unlike his brother's. He can defend exceptionally well when he puts his mind to it, moving his feet swiftly with his terrific lateral quickness, and absolutely smothering opponents with his length.

All in all, Teague is clearly an elite-level talent who has quite a few things he needs to iron out before he can reach his full potential. Players with his natural speed and shot-creating ability are about as rare as you'll find, and are extremely coveted in today's NBA thanks to the rule-changes regarding hand-checking. Teague has a chance to develop into an even better prospect than his brother when it's all said and done, as he appears to be light years ahead of where Jeff was at the same age. We'll have to see over the next few years how much his weaknesses are due to his age, and how much they are just things teams will have to accept as being part of the overall package.

[Read Full Article]

---