Michael Dunigan
Recent Tweets
All Tweets
DraftExpress: Excited about the team we built in Casale: Garrett Temple / Matt Janning / Olu Nnamaka / Joe Trapani / Michael Dunigan - solid squad for A1.
2011-07-26 07:42:56
DraftExpress: I work for them yes. Big fan of that guy. See my site's front page. RT @visbol: I assume you were behind signing Michael Dunigan in Casale?
2011-07-21 10:00:15
DraftExpress: Players I thought would get drafted but didn't: Ben Hansbrough, Michael Dunigan, Greg Smith, David Lighty, Diante Garrett, Demetri McCamey.
2011-06-24 01:21:10
DraftExpress: Scouting the Auto-Eligible International Prospects - Jeremy Tyler, Michael Dunigan, Adam Hanga and Giorgi Shermadini http://bit.ly/lgSU2S
2011-06-22 09:04:29
DraftExpress: 4th group scheduled for Minnesota workout tomorrow Charles Jenkins, Josh Selby, Shelvin Mack, Travis Leslie, Jordan Williams Michael Dunigan
2011-05-23 11:55:24
Top 25s - Full List
Team: Canton
Physicals
Positions
Rankings
Salary
Misc
H: 6' 10"
W: 238 lbs
Bday: 07/02/1989
(26 Years Old)

Current: C
NBA: C
Possible: C

RSCI: 24

Agent: Mike Naiditch

High School: Farragut Academy
Hometown: Chicago, IL

Predraft Measurements
| Year | Source | Height w/o Shoes | Height w/shoes | Weight | Wingspan | Standing Reach | Body Fat | No Step Vert | Max Vert |
| --- | --- | --- | --- | --- | --- | --- | --- | --- | --- |
| 2011 | NBA Draft Combine | 6' 8.5" | 6' 10" | 238 | 7' 3.25" | 8' 11.5" | 8.0 | 29.5 | 34.5 |



Basic Per Game Statistics

- Comprehensive Stats - Statistical Top 25s
| Year | League | Name | GP | Min | Pts | FG | FGA | FG% | 2Pt | 2PtA | 2P% | 3Pt | 3PtA | 3P% | FTM | FTA | FT% | Off | Def | TOT | Asts | Stls | Blks | TOs | PFs |
| --- | --- | --- | --- | --- | --- | --- | --- | --- | --- | --- | --- | --- | --- | --- | --- | --- | --- | --- | --- | --- | --- | --- | --- | --- | --- |
| 2015/16 | DLEAGUE | Michael Dunigan | 4 | 30.0 | 17.8 | 6.3 | 9.3 | 67.6 | 6.3 | 9.0 | 69.4 | 0.0 | 0.3 | 0.0 | 5.3 | 7.0 | 75.0 | 4.3 | 4.8 | 9.0 | 1.3 | 0.5 | 1.8 | 1.8 | 3.5 |

Player Page&nbsp&nbsp| Player Stats | Mock Draft History | Related Articles&nbsp&nbsp| Add to My Draft Express&nbsp
&nbsp
Scouting the Auto-Eligible International Prospects
June 22, 2011
Jonathan Givony

A top-30 recruit coming out of high school, Michael Dunigan took the unconventional step of leaving college for Europe following a highly disappointing sophomore season at Oregon. He was overweight at the time, and facing allegations for taking improper benefits, accusations which were later dismissed.

Dunigan signed a three year contract with Hapoel Jerusalem, but was later loaned to BC Kalev/Cramo in Estonia to get more playing time. The team played 50 games in three competitions this season—the VTB United League, the Baltic League and the Estonian league, and Dunigan acted as their go-to guy, scoring over a point every two minutes, while blocking shots and rebounding the ball exceptionally well.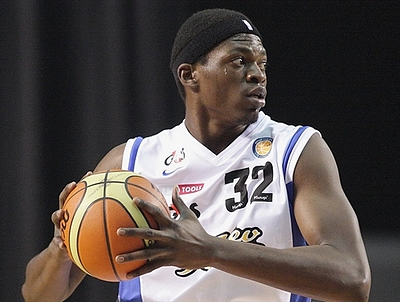 Siim Semiskar/ERR SPORT



Though Kalev does not have a true top-option, Dunigan is the team's most legitimate interior threat, best athlete, and most prolific offensive player. Though he scores a significant portion of his points on hustle plays and catch-and-finish opportunities around the rim, Dunigan also sees a consistent stream of touches with his back to the basket, something he may struggle to translate against better competition.

Dunigan has been most consistent working off the ball. Showing good timing on his cuts and a knack for being in the right place at the right time when driving teammates need an outlet, he has finished at a very good rate around the rim (converting 69% of his attempts) with his long wingspan and much improved conditioning and leaping ability. He also draws a foul on over 25% of his used possessions, which is part of the reason he was so efficient in his minutes on the floor—ranking 2nd amongst all big men in this draft in points per possession.

His tremendous 7-3 ¼ wingspan allows him to crash the glass at a good rate, but the improvement in his physique –trimming down to 238 pounds and just 8% body fat-- has played a role in that as well. Having lost some 30 pounds since turning pro, Dunigan appears more active and explosive than he was during his time at Oregon, as evidenced by how much more frequently he now plays above the rim, and how much better he's rebounding.

Dunigan wasn't asked to show much of an offensive game stepping away from the rim—he only shot a handful of jumpers on the season, although he did make a few of them and also hit 71% of his free throws. He isn't a great passer or the most skilled player around and doesn't possess an incredible feel for the game, but to his credit, he knows his limitations and is very effective in the role he's asked to play.

Defensively, Dunigan plays with very good intensity and shows toughness as a rebounder, but lacks great fundamentals and struggles a bit when stepping out on the perimeter and hedging screens. He gives up a little too much space at times in the paint, relying a bit too heavily on his length and shot-blocking instincts to bail him out, but wants to compete and was very effective this season against the competition he faced. Standing 6-10 in shoes, with a 7-3 wingspan, he should have no problem guarding most NBA centers as he continues to add weight to his frame.

Automatically eligible for the 2011 NBA Draft, Dunigan is a bit of an unknown in this draft as he was very much off the radar of most international scouts playing in Estonia, but is surely worthy of taking a flyer on in the second round thanks to his physical tools, pedigree and versatility.

[Read Full Article]

---
Situational Statistics: the 2011 Big Men Crop
June 21, 2011
Michael Dunigan ranks as the second most efficient player in our sample at 1.122 PPP overall. Turning the ball over at a 19.1% rate (2nd most), Dunigan compensates by converting 68.6% of his finishing opportunities (4th). He shot an average 50% in the post, but most of his touches came off of cuts (28.7%) and other hustle based plays. Dunigan's size and improved physique allowed him to score consistently around the basket in the Baltic League despite his relative inexperience.

[Read Full Article]

---
NBA Combine Interviews: Jeremy Tyler, Dunigan, Benson, Williams
May 22, 2011
[Read Full Article]

---
Analyzing the 2011 NBA Combine Measurements
May 21, 2011
Michael Dunigan, who at 6-10 in shoes with a 7-3 1/4 wingspan and gigantic hands has more than enough size to play center in the NBA

[Read Full Article]

---
Top NBA Draft Prospects in the Pac-10 (Part One: #1-5)
September 12, 2009
Jonathan Givony

A rare back to the basket oriented big men, Michael Dunigan had an up and down freshman season that regardless put him firmly on the radar screens of NBA talent evaluators due to the obvious pro potential he clearly possesses.

Standing 6-10, with a massive frame, long arms, and decent athleticism, Dunigan passes the look test on first glance and then some. He's a somewhat plodding, below the rim big man who is relatively mobile for his frame, but isn't going to blow anyone away with his highlight reel tape.

A threat to establish deep post position at any time thanks to his terrific strength, Dunigan has extremely soft hands which allow him to catch virtually anything thrown his way. The overwhelming majority of his offense comes in this fashion, as he doesn't possess a plethora of moves he can go to if he needs to create his own offense. Dunigan regardless gets to the free throw line at an excellent rate, although he only converts on 58% of his attempts once there. He seems to have nice touch around the rim (especially on his turnaround jumper and jump-hook), to complement his quick feet, so it may only be a matter of time until he improves substantially in these areas.

The rest of Dunigan's offense needs plenty of work. Right now he's a fairly poor passer, looking somewhat single-minded once he catches the ball and decides to go to work. He doesn't run the floor all that well, often appearing to be the last one up the court, jogging at a leisurely pace. He also shows very little resembling a face-up game, looking fairly awkward when attempting to shoot jumpers outside of 8 feet (which is reflected in his poor free throw percentages) and also not possessing any real ball-handling skills either. At 6-10, NBA teams would probably like to see Dunigan be able to spend at least a little time at the power forward position, but right now his skill-set is much closer to that of a traditional center.

Defensively, Dunigan doesn't do much to change that perception either. He looks fairly heavy trying to step out and move his feet on the perimeter, where his poor fundamentals really get exposed. He tends to over-commit and bite on pump-fakes fairly regularly, often leaving his teammates high and dry in the process. Dunigan is an extremely foul-prone player, which is one of the main reasons he played just a hair under 20 minutes per game on average last season. In the post, things aren't a whole lot better, as he regularly gives up deep position and then gets burned by average college big men. He does have some tools on this end, though, showing the hands and timing to make some nice plays from time to time, especially in the form of an occasional block or steal, but his lack of experience really shows.

As a rebounder, Dunigan can't be described as anything more than average at best, at least as far as production is concerned. The lethargic impression you get at times while watching him play seems to show up the most vividly in this area, as he just doesn't crash the glass as well as a player with his size, bulk and length should at the college level, especially on the defensive end.

Despite the seemingly harsh criticism, Dunigan actually may have a very bright future ahead of him. The tools he brings to the table are undeniable, and many of the issues he faces are very much correctable, especially in terms of fundamentals, technique and effort. It will be interesting to see how Dunigan builds off the solid freshman campaign he put together, as that will teach us quite a bit more about his long-term NBA potential.

[Read Full Article]

---