Nemanja Nedovic
Recent Tweets
All Tweets
DraftExpress: (super early) Top performers from the 2014 Vegas Summer league (PER) Josh Davis Tim Hardaway Bernard James Nemanja Nedovic Russ Smith
2014-07-12 22:42:15
DraftExpress: Phoenix takes Nemanja Nedovic with the #30 pick which has been acquired by Golden State. He's the 7th European player drafted in 1st round.
2013-06-27 22:50:04
DraftExpress: Highlights of top prospects from the adidas EuroCamp Lucas Nogueria Nemanja Nedovic Raul Neto V.Chikoko and more http://t.co/yA72lWDynW
2013-06-20 09:22:10
DraftExpress: I interviewed Nemanja Nedovic today at the @adidasEuroCamp. Really impressed by how intelligent he comes off. Carries himself really well.
2013-06-10 10:29:53
DraftExpress: Top Prospects attending the adidas EuroCamp include Rudy Gobert Lucas Nogueira Nemanja Nedovic & more. Full rosters http://t.co/2g9PdxQi8f
2013-06-04 11:02:22
Team: Malaga
Physicals
Positions
Salary
Misc
H: 6' 4"
W: 200 lbs
Bday: 06/16/1991
(24 Years Old)

Current: PG/SG
NBA: PG
Possible: PG/SG

Agent: Misko Raznatovic

High School:
Hometown: Belgrade, Serbia
Drafted: Pick 30 in 2013 by Warriors
Best Case: Jeremy Pargo
Worst Case: Mike Taylor

Predraft Measurements
| Year | Source | Height w/o Shoes | Height w/shoes | Weight | Wingspan | Standing Reach | Body Fat | No Step Vert | Max Vert |
| --- | --- | --- | --- | --- | --- | --- | --- | --- | --- |
| 2013 | Eurocamp | 6' 3" | 6' 4" | 200 | 6' 6.75" | 8' 3" | NA | 30.0 | 35.0 |
| 2011 | Eurocamp | 6' 2.80" | 6' 3.98" | 195 | 6' 5.17" | 7' 7.34" | 5.3 | 32.4 | 41.0 |



Basic Per Game Statistics

- Comprehensive Stats - Statistical Top 25s
| Year | League | Name | GP | Min | Pts | FG | FGA | FG% | 2Pt | 2PtA | 2P% | 3Pt | 3PtA | 3P% | FTM | FTA | FT% | Off | Def | TOT | Asts | Stls | Blks | TOs | PFs |
| --- | --- | --- | --- | --- | --- | --- | --- | --- | --- | --- | --- | --- | --- | --- | --- | --- | --- | --- | --- | --- | --- | --- | --- | --- | --- |
| 2015/16 | ACB | Nemanja Nedovic | 8 | 15.3 | 8.6 | 2.4 | 6.5 | 36.5 | 1.0 | 2.8 | 36.4 | 1.4 | 3.8 | 36.7 | 2.5 | 3.0 | 83.3 | 0.0 | 1.0 | 1.0 | 1.9 | 1.3 | 0.0 | 1.8 | 2.4 |
| 2015/16 | EURO | Nemanja Nedovic | 7 | 12.6 | 5.9 | 2.3 | 5.1 | 44.4 | 1.1 | 2.4 | 47.1 | 1.1 | 2.7 | 42.1 | 0.1 | 0.3 | 50.0 | 0.0 | 0.7 | 0.7 | 1.6 | 0.1 | 0.4 | 0.9 | 1.1 |

Player Page&nbsp&nbsp| Player Stats | Mock Draft History | Related Articles&nbsp&nbsp| Add to My Draft Express&nbsp
&nbsp
adidas EuroCamp Highlight Videos: Bebe, Nedovic, Neto, Chikoko, more
June 20, 2013
[Read Full Article]

---
adidas EuroCamp Interviews: Nedovic, Karnisovas, Hollinger, more
June 13, 2013
[Read Full Article]

---
Nemanja Nedovic Evolving In Lithuania
December 10, 2012
Scouting Report by Jonathan Givony, Video Analysis by Mike Schmitz

Nemanja Nedovic caught our eye for the first time four and a half years ago at the 2008 Nike International Junior tournament in Madrid. A few seasons later when we went to scout and interview Jan Vesely in Belgrade in February of 2011, Nedovic again popped onto our radar screen with an impressive dunk right in Vesely's face during Partizan's game against Red Star.

Still, it hasn't been until now, his draft-eligible year as a 1991-born prospect, that Nedovic has fully broken out as a major player on the European scene.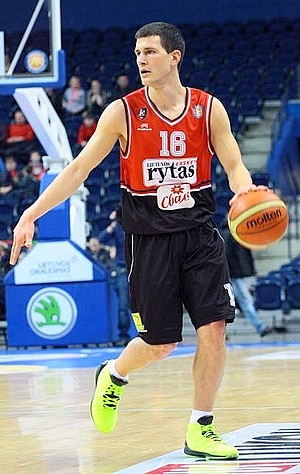 bc.lrytas.lt



Nedovic stands out first and foremost thanks to his excellent physical tools, ranking as one of the very best athletes in European basketball. He measured 6-4 in shoes at the adidas EuroCamp in 2011, with a 41 inch vertical, that places him amongst the most explosive leapers ever tested in our database.

Visually, it's not difficult to tell that Nedovic is as athletic as virtually any prospect in this draft as you can see in the following scouting video we compiled, as he clearly has an excellent first step and is able to play above the rim with ease.

Video Analysis



After a frustrating season spending most of his time in the doghouse of old-school Serbian coach Svetislav Pesic, Nedovic decided to leave the Red Star club he grew up with in Belgrade this past summer. He signed with Jonas Valanciunas' former team Lietuvos Rytas, which was invited to compete in the prestigious Euroleague despite possessing a relatively small budget. Exposure, and an opportunity to be a leading player at the highest level of competition outside the NBA, was what attracted Nedovic to Lithuania. This will provide him with experience that will surely benefit his development long-term.

While it has provided an unbelievable platform for his development, playing for one of the weakest teams in the competition has also exposed Nedovic's flaws on a weekly basis, as his sub-40% 2-point percentage and negative assist to turnover ratio in the Euroleague will attest. Nevertheless, many NBA scouts have come away impressed with what they've seen from Nedovic over the course of the season, and feel that he still has significant upside to grow into as he continues to mature and gains experience.

Nedovic is most effective in isolation and transition situations, where his explosive first step and excellent speed in the open floor allow him to attack the basket and finish above the rim in impressive fashion.

With that said, he's still learning the nuances of creating his own shot and scoring efficiently on a consistent basis, as he's not as effective inside the arc (43% 2P% through all competitions) or getting to the free throw line (41 attempts in 21 games) as you might hope.

While capable of using a nifty in and out dribble or crossover to create space for himself at times, Nedovic's overall ball-handling skills are still a work in progress. He struggles to get all the way to the basket consistently in the half-court, instead settling for floaters and off-balance pull-up jumpers from 5-10 feet away, which are significantly lower percentage shots than attempts at the rim. He doesn't appear to have great touch on these types of shots at this stage, and struggles to finish with his off-hand. He's converted just 46% of his attempts around the basket this season, and doesn't draw enough fouls to compensate for that.

With his size, first step and explosiveness, Nedovic has the potential to develop into a high quality shot-creator, but he isn't quite there just yet at this stage of his career.

On the plus side, Nedovic appears to have taken a step forward with his perimeter shot, which was a major weakness for him early on. After shooting 22-82 (27%) from beyond the arc last season, he's now up to 34% (24-70), playing in half as many games thus far, despite drawing significantly more attention from defenses this season. On film, there's a lot to be encouraged by, as Nedovic shows good mechanics and confidence, and will regularly make 3-pointers with both his feet set and off the dribble. He's also shooting 73% from the free throw line, a slight improvement from the 70% he shot last season.

The question that has followed Nedovic throughout his career, whether he's a point guard or combo guard, has still yet to be answered at this stage. On one hand he sees a decent amount of time with the ball in his hands for Rytas, looking relatively unselfish and capable of creating opportunities for teammates, usually in the form of drive and dish plays.

On the other hand, Nedovic's turnover rate is relatively high, as he's coughing up the ball up on 18% of his possessions and generating an assist on 20% of the ones he used. European stat-keepers are much stingier with crediting assists than their American counterparts, but a near 1/1 assist to turnover ratio is not impressive on either side of the ocean for a player that handles the ball as much as he does.

Ignoring the numbers, and just focusing on the film, it's clear that Nedovic has not yet developed a great understanding for reading defenses at this stage of his career, particularly in the pick and roll, where he shows just an average basketball IQ. His decision making is not great, as he commits far too many unforced errors. It's pretty clear that he's better suited to play alongside a steady and experienced ball-handler who can take pressure off him, something he doesn't have in Rytas.

Defensively, Nedovic clearly has great tools, with his excellent size and athleticism, as well as a strong frame that should fill out nicely in time. With that said, he's not always as effective as he could be on this end of the floor, as his fundamentals are not great. He tends to fall asleep in his stance on a regular basis, losing his focus and not giving the best effort. While he has the lateral quickness needed to move his feet and get over the top of screens, he's not always physical enough fighting through them, which can put his teammates in trouble.

Despite these flaws, it's not rare for younger players to struggle defensively early on in their careers. As long as Nedovic continues to put a solid effort in and gains experience through good coaching, he should be able to develop into a capable player on this end of the floor, potentially being able to defend either guard position at his size.

Still only 21 years old at this point, and being fairly young basketball wise in terms of experience, Nedovic clearly has very good upside to continue to improve with his excellent physical tools and the budding skills he already displays. He looks like a solid candidate for a team to draft in the late first round or early second and possibly stash overseas for a year or two depending on their roster situation and flexibility.

[Read Full Article]

---
2011 adidas Eurocamp: Day Three and Final Recap
June 14, 2011
Speaking of guards, we have not done Nemanja Nedovic justice in our daily recaps. The guy put together a very solid three-day performance. He had people talking and talking positive, and that is more than 90-odd-percent of the campers here could say.

Against the Croatians in the evening game, Nedovic ran the team exceptionally. The final score was 103-74. It was the first time a team in the camp scored over 100 points, or anywhere close. Satoransky and Neto each had more assists, but Nedovic was a calming influence on the team. He played very confidently and picked his spots very well driving when the lane opened up and moving the ball if not. He finished with 9 points and 4 assists, but looked in total control of the game at all times.

Nedovic is one of the most intriguing NBA prospects at this camp from our perspective, as he combines stereotypical European fundamentals with excellent size, a well developed frame and outstanding athleticism. He's yet to turn 20, but put together a very strong season for Red Star in the Adriatic league (11 points, 2.5 assists per game in 22 minutes), and then proceeded to absolutely explode in the Serbian league (16.4 points, 4 assists per game in 21 minutes).

Unlike most European guards, he projects as being able to defend his position at the NBA level, as he stands 6-4 with a great build and quick feet. He's somewhat stuck between the point guard and shooting guard positions at the moment, and surely needs to improve the consistency of his outside shot, but he's surely one of the most intriguing guards on the international landscape.

We caught up with Nedovic at the camp and asked him about his progression as a player over the last year…



[Read Full Article]

---
European Roundup: Reliable Radosevic
November 26, 2010
Coming off a solid showing at the U20 European Championships, Serbian guard Nemanja Nedovic has been one of the most productive young players in the Adriatic League this season. Though he hasn't been able to lead Crvena Zvezda (1-7) to many victories, Nedovic has figured prominently into his team's offensive attack after playing a bit part for them last season.

Standing 6'3, with a solid frame, Nedovic is a very good athlete, especially for the European game. Reminiscent of Goran Dragic in some ways, Nedovic has the explosiveness to play above the rim with space and the quickness to get to the basket off the dribble. Spending the majority of his time running the pick and roll or going one-on-one from the top of the key, the Belgrade native does a fine job using screens and hesitation moves to create lanes to get to the basket. Highly aggressive when he has a head of steam, Nedovic is at his best creating contact at the rim. Though he is a bit out of control at times, he is able to attack with either hand, shoots a solid 55% in finishing situations, gets to the line at a very good rate, and makes some excellent passes threading the ball to cutters through traffic.

Away from the rim, Nedovic isn't nearly as effective as a scorer or as a passer at this point in his career. He can create his own shot from the perimeter, but he has shot just 25% from three point range this season and needs to refine his mechanics when pulling up off the dribble. He looks a bit stuck between positions as well, forcing some difficult shots from the outside and looking to create his own offense rather than making the easy pass or using his quickness to drive and dish. His ability to develop as a shooter and point guard will be key to his NBA potential.

Defensively, Nedovic shows solid lateral quickness and very pesky hands, but may struggle to keep up with the faster floor generals in the NBA, at least initially. His effort level wavers at times and he makes some mistakes, but he's capable of using his athleticism to pressure the ball in the Adriatic League.

Just 19 years old, Nedovic still has plenty of time to improve his offensive arsenal and develop his intensity defensively. Averaging in double figures in his first real taste of Adriatic League basketball, Nedovic could develop into a high-level producer on the European level in time, but could garner quite a bit of attention on the NBA front if he improves his perimeter tools and becomes a more fundamentally sound floor general. Regardless, he took a big step forward this summer, and deserves mention here for how well he's played in starter's minutes.

[Read Full Article]

---
Euroleague Final Four: Nike International Junior Tournament
May 11, 2008
Nemanja Nedovic (6-3, 1991, Red Star) won't turn 17 for another month or so, but he has some tools that make him worthy of keeping on the radar for now. He can put the ball in the net getting to the rim or from long range, and looked pretty pesky getting in the passing lanes as well. He's not a bad athlete either.

[Read Full Article]

---