Pablo Aguilar
Recent Tweets
All Tweets
DraftExpress: DX Euro-Roundup: Xavi Rabaseda getting it done for Fuenlabrada in ACB. Updates on Pablo Aguilar, Mamadou Samb, Lucas Nogueira bit.ly/65QGHg
2010-12-10 05:20:53
NBA Early-Entry Deadline: Robin Benzing, Pablo Aguilar, Bogdan Bogdanovic, Edwin Jackson, Mindaugas Kuzminskas and Xavi Rabaseda pulled out.
2010-06-15 12:05:04
Arturo Ortega, agent of Spanish PF Pablo Aguilar (Granada, '89), confirms his client has indeed made himself eligible for the 2010 draft.
2010-04-26 11:16:04
Top 25s - Full List
Team: NON-NBA College Team: Gran Canaria
Physicals
Positions
Salary
Misc
H: 6' 8"
W: 210 lbs
Bday: 02/09/1989
(26 Years Old)

Current: PF
NBA: PF
Possible: PF

Agent: Arn Tellem

High School:
Hometown: Granada, Spain

Predraft Measurements
| Year | Source | Height w/o Shoes | Height w/shoes | Weight | Wingspan | Standing Reach | Body Fat | No Step Vert | Max Vert |
| --- | --- | --- | --- | --- | --- | --- | --- | --- | --- |
| 2009 | Eurocamp | 6' 8" | 6' 9" | 212 | 7' 1" | 9' 0" | NA | 26.0 | 32.0 |



Basic Per Game Statistics

- Comprehensive Stats - Statistical Top 25s
| Year | League | Name | GP | Min | Pts | FG | FGA | FG% | 2Pt | 2PtA | 2P% | 3Pt | 3PtA | 3P% | FTM | FTA | FT% | Off | Def | TOT | Asts | Stls | Blks | TOs | PFs |
| --- | --- | --- | --- | --- | --- | --- | --- | --- | --- | --- | --- | --- | --- | --- | --- | --- | --- | --- | --- | --- | --- | --- | --- | --- | --- |
| 2015/16 | Eurocup | Pablo Aguilar | 7 | 17.0 | 7.0 | 2.7 | 6.0 | 45.2 | 1.7 | 3.1 | 54.5 | 1.0 | 2.9 | 35.0 | 0.6 | 0.6 | 100.0 | 1.4 | 3.0 | 4.4 | 1.9 | 0.1 | 0.4 | 0.7 | 1.3 |
| 2015/16 | ACB | Pablo Aguilar | 6 | 16.5 | 8.5 | 3.2 | 6.2 | 51.4 | 1.7 | 2.7 | 62.5 | 1.5 | 3.5 | 42.9 | 0.7 | 1.0 | 66.7 | 1.2 | 2.2 | 3.3 | 0.3 | 0.5 | 0.3 | 1.0 | 1.3 |

Player Page&nbsp&nbsp| Player Stats | Mock Draft History | Related Articles&nbsp&nbsp| Add to My Draft Express&nbsp
&nbsp
European Roundup: Rabaseda Rolling for Fuenlabrada
December 10, 2010
A player we covered in considerable depth last season, Pablo Aguilar opted not to stay in the NBA draft after declaring in late April. He was having a tremendous year for CB Granada at this point last year, and while he hasn't performed poorly for the new team he was loaned to after being signed by Real Madrid this summer--CAI Zaragozaóhe hasn't been quite as productive either.

The biggest change for Aguilar from last season has been the role he plays offensively. 68% of his field goal attempts now come from 3-point range, as opposed to last year, where less than half of his shots were from behind the arc. Though he has a good-looking stroke, his shooting percentages from long-range have dipped considerably this year, from to 36.4% to a much less flattering 31.8%. For a player who relies so heavily on his perimeter stroke as almost his sole source of offensive production, this is a devastating development. Last season Aguilar would mix up his game a bit more and get himself to the free throw line on occasion. This year, he's attempted only 9 free throws in 213 minutes.

Closer to the rim, many of the things that we noted about Aguilar's last season game remain true, even if his usage is down. He's a very smart passer, can catch and finish, and will play within the team concept, but he doesn't create his own shot, isn't dynamic with his dribble, and hasn't been a factor on the glass since he's been pigeon-holed as a one-dimensional spot-up shooter of sorts. Aguilar's already underwhelming rebounding rate is down even further from last season, which likely makes him even less attractive to NBA teams.

We can draw similar conclusions about his defensive ability. He's competitive, and his high basketball IQ allows him to be in the right place at the right time more often than not, but it's questionable how he's fare against bigger power forwards, and his lateral quickness could be a major concern on the perimeter at the NBA level. Scouts question his toughness and ability to make his mark in traffic and on the glass, two areas where Aguilar's lack of assertiveness limits him severely.

Though Aguilar has not been quite as good this season as he was last year, he's still a quality role-player who does all of the little things. He's unfortunately not playing very well in his draft-eligible year, but he could still garner some NBA attention thanks to his ability to stretch the floor from the power forward spot.

[Read Full Article]

---
European Roundup: Super Mature Aguilar
November 30, 2009
In what is quickly shaping up to be a fairly underwhelming crop of international draft prospects, one name that surely stands out from the pack is that of Spanish power forward Pablo Aguilar.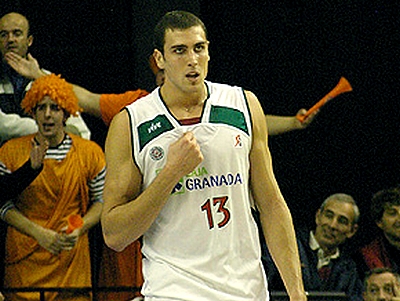 ACB.com



Despite competing in the toughest domestic league in European basketball, the Spanish ACB, at the tender age of 20, Aguilar has emerged as arguably the most consistent player on CB Granada's roster, playing 30 minutes per game. Needless to say, it's extremely rare for a player this young to see such heavy playing time at this level, which should begin to tell you quite a bit about Aguilarís maturity and dependable style of play.

Aguilar is a face-up four man in the mold of Matt Bonner, Ryan Anderson or Jorge Garbajosa. Heís not the most versatile player youíll find offensively, showing very little in the way of a post game and being somewhat limited trying to create shots for himself facing the basket, but he offers plenty of value thanks to his ability to space the floor and contribute in little ways to various parts of his teamís efforts.

Aguilar is first and foremost an outstanding shooter, having made 41% of his 3-pointers on the season on over five attempts per game. As it stands, half of his field goal attempts come from beyond the arc. Heís terrific with his feet set, even with a hand in his face, and is smart enough not to take many shots off the dribble, which is not his forte.

The word Ďsmartí comes up quite a bit when watching Aguilar, and for good reason. He plays a very mistake-free brand of basketball, having committed just six turnovers in over 300 minutes of action in 10 games this season, a big reason why his coaching staff seems to trust him so much. Watching him on film, itís not difficult to see how well he executes in his teamís half-court offense, as he plays with great poise and finds ways to make things happen. His 3/1 assist to turnover ratio would be considered outstanding for a point guard, let alone a power forward, and he currently leads the league in turnover ratio, coughing the ball up on a minuscule 6% of his possessions.

Aguilar is a solid athlete for a European prospect, but would only be considered average by NBA standards. He lacks the strength or explosiveness to finish in traffic around the rim at times, only converting a sub-par 41% of his 2-point attempts, and not getting to the free throw line much at all to compensate. Filling out his frame and continuing to work on his ball-skills should be his big priorities.

Defensively, Aguilar is extremely effective at this level, showing great competitiveness and smarts, showing the ability to use his length very well. He is more than willing to get physical in the post, bodying up his man despite his noticeable lack of strength, displaying excellent timing and fundamentals to help get the job done. That timing, along with his terrific wingspan, helps him rank 2nd in the ACB at the moment in blocked shots.

On the downside, Aguilar is just an average rebounder, particularly on the defensive glass, and his good, but not great lateral quickness might become more of an issue on the perimeter in the faster paced and more athletic NBA. Not being the biggest guy in the world at just 6-8, he needs to continue to get stronger and play with the same intensity he usually does if heís to avoid being targeted on post-up plays as well.

While heís probably not going to knock anyoneís socks off with his physical attributes or upside, Aguilar is slowly but surely developing into a solid NBA prospect. He would certainly have to land on the right team--a slower paced, more half-court court oriented that plays unselfishly--like Utah, Cleveland, Orlando or Portland for example, to be effective, but there is a place in the League these days for guys like him. If anything a team can draft him in the 2nd round and see how he develops over the next few years--thereís a pretty good chance that he will emerge eventually as one of the best power forwards in the ACB and a Spanish national team player--ala Jorge Garbajosa.

[Read Full Article]

---
2009 U-20 European Championship Review: Bigs
October 7, 2009
Spainís Pablo Aguilar was injured for most of the tournament, sitting out the first five games. In the remaining four matches he managed a couple of decent performances. In the semifinal against Greece he had his personal scoring high of 16 points, but only on 6/18 shooting from the field.

Aguilar is able to contribute consistently to his team as both a scorer and rebounder. He has nice shooting mechanics and touch facing the basket, but struggled to find his rhythm here in this tournament, possibly due to some average shot-selection. Heís clearly much better as a catch and shoot threat than trying to create shots off the dribble.

Aguilar is a nice athlete with long arms and a quite lean but strongly built body frame. He has solid hands and is a pretty good passer and ball handler. He runs the floor very well, consistently giving a good up and down effort. It would be interesting to see him improve his ball-handling skills and take more initiative attacking the basket as well, as he is agile with fairly quick feet too. Improving his ability to finish strong around the basket would also benefit him.

Defensively he again gives off a strong impression, showing solid lateral quickness when he needs to step out and defend the perimeter, being able to stay in front of most forwards. Heís even attentive in the passing lanes, coming up with a couple of steals every game. Heís also tough and intense enough to hold off his opponent in the post, not being the type to back down. His weak side awareness and positioning seems to have improved, being a real factor with his 1.8 blocked shots per game. Still he might lack a bit of size to guard some power forwards at the higher levels of competition. As a rebounder he also does a good job, even if he doesnít greatly pursue the offensive glass, he definitely takes care of boxing out his opponent and usually secures the rebounds that are in his area.

Aguilar is certain to become an important ACB player for years to come--he already averaged 20 minutes per game with Granada this past season. With further development to his ball-handling skills and frame, itís possible he could reach an even higher level than that.

[Read Full Article]

---
Reebok Eurocamp Summary, Part One
June 11, 2009
Likely the top Spanish player in the 1989 age group, Pablo Aguilar surely doesnít have the hype of his counterparts in the 1988 (Victor Claver) or 1990 (Ricky Rubio) classes in Spain, but is regardless a very solid basketball player.

Standing just 6-8 with an underdeveloped body, Aguilar is undoubtedly a bit undersized for the power forward position. He does make up for that with a great wingspan and very big hands, though, to go along with solid athleticism. Aguilar did all kinds of little things for his team here in Treviso, be it getting in the passing lanes, coming up with blocks, crashing the offensive glass, or contributing to his teamís ball-movement with heady passes. Itís clear that he was one of the most experienced players at this camp after playing nearly 20 minutes per game this year in the extremely tough ACB league, despite being just 20 years old. He has a good feel for the game and appears to be a very competitive and coachable player, which certainly bodes well for his professional future.

Offensively, Aguilar appears to be somewhat limited at the moment, not being strong enough to be much of a presence in the paint, and lacking the ball-handling skills to create his own shot consistently from the perimeter. He is a very good shooter from beyond the arc, though, even if he does sport a somewhat flat looking shot.

Aguilar doesnít appear to be a great NBA prospect on first glance, as he doesnít share the same size or upside of some other European power forwards, but he will at the very least develop into a great pro in his native country of Spain, if not more than that. If he continues to develop over the next two years the way he did this past season, heís going to be a player that NBA teams will have to look at.

[Read Full Article]

---
U-18 European Championship: The Bigs
September 5, 2007
One of the most solid pieces on the Spanish squad surrounding Rubio, Aguilar is a pretty energetic power forward with a deadly spot-up jumper that always helps his team open up the floor. Standing somewhere between 6-8 and 6-9, he enjoys a nice wingspan, while heís a fairly strong player despite not looking very bulky. Quick, nicely athletic, reactive, he plays bigger than his size on defense, although heís a bit one-dimensional on the offensive end.

Still an average ball-handler, itís not common to see him putting the ball on the floor, even if he was slightly more active in this department than in previous years. So even if he can eventually display a pull-up jumper from mid-range, heís mostly about static shots, enjoying range out to the three-point line. Heís a reliable guy from any distance when left open, showing quick mechanics, although he tends to lose balance on the release. Aguilar is still not a productive post player, lacking polished footwork and not showing particular ability to finish over his opponents unless he goes for the turnaround shot. A solid player off the ball, heís also a nice passer with a good understanding of the game.

Defensively, Aguilar is not always equally intense, but he gets the job done in the key games and minutes. He enjoys good lateral quickness, heís tough and physical, pretty competitive, and he can even get off the floor easily to block some shots if the proper opportunity arises. His reliability on the defensive end, plus his solid jumper, will help him make an easy transition to pro competition in Europe. Still, he will have to seriously expand his skill set to become a more intriguing player.

[Read Full Article]

---