Trending Prospects (12/23/2011)
December 23, 2011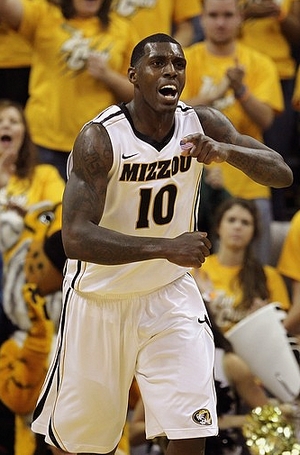 AP
Jonathan Givony
A major factor behind Missouri's 12-0 season start,
Ricardo Ratliffe
has established himself as one of the most productive and efficient big men in college basketball in his final year of eligibility.
Initially unable to meet the NCAA's academic standards out of high school, Ratliffe spent two years at Central Florida Community College, emerging as a dominant force and the #1 JUCO prospect in the country.
That dominance has translated to the division one level this season as well, as Ratliffe ranks top-20 amongst prospects in our database in scoring on a per-minute basis, while shooting an outrageous 76% from the field.
Slightly undersized for a center at 6-8, Ratliffe possesses an extremely long wingspan and a chiseled frame that he's learned to use to his advantage. While not an exceptional athlete in terms of raw explosiveness, his combination of strength, length and aggressiveness renders him extremely effective at this level.
Ratliffe plays only 24 minutes per game, but he scores prolifically in that time, to the tune of 25 points per-40. He's mostly a finisher on this Missouri team, which plays an up-tempo four-guard style and has a number of excellent shooters and passers at their disposal.
Ratliffe has some basic back to the basket moves (most notably to set up his jump-hook) but he does most of his damage on the move, finishing plays created by others. He's especially dangerous on the pick and roll, setting wide, physical screens and then rolling to the basket with terrific timing.
Ratliffe is not afraid to throw his weight around inside the paint, and his combination of length and extremely soft hands makes him a very reliable target for his guards to dish the ball to. He does an exceptional job of finishing plays with very soft touch, being capable of finishing with either hand around the basket, and using the glass very well. Finishing 80% of his shots around the basket (#1 in the NCAA), Ratliffe is almost automatic within five feet, despite the fact that he rarely tries to play above the rim. While not a high flyer, he gets off the floor quickly, being very decisive with his moves. That helps him avoid committing turnovers (2.2 per-40), but also plays a part in him not getting to the free throw line very often (3.7 attempts per-40).
Outside of his interior scoring, Ratliffe doesn't offer much outside the paint, only have attempted two jumpers all season. He's not the kind of player you want making decisions with the ball on the perimeter either, as his basketball IQ appears to be just average. Ratliffe is essentially an undersized center on both ends of the floor, which may hurt him a bit come draft time since its unlikely he'll be able to produce quite as effectively against NBA-sized front-courts.
Ratliffe has improved as a rebounder this season, which certainly helps his cause. He crashes the glass well both offensively and defensively, taking advantage of his superior length, strength and aggressiveness going out of his area for loose balls.
Like many undersized big men in his mold, Ratliffe's biggest question marks may revolve around his potential on the defensive end. He lacks size for a center and doesn't have the quickness or explosiveness to be much of an intimidator protecting the paint. On the other hand, he may not be quick enough laterally to guard most power forwards, particularly in pick and roll situations, where he struggles to take proper angles and often looks a bit lethargic. While his scoring prowess is certainly attractive, he'll likely impress NBA scouts more in the next few months by stepping up his play on this end of the floor as games become more meaningful for Missouri.
Nevertheless, Ratliffe is certainly producing the way you'd expect a future NBA player to, even if we're only twelve games into the season. If he can continue to do so as the season progress, he's likely to attract a lot more scrutiny.
[
Read Full Article
]