Team: Colorado
Physicals
Positions
Salary
Misc
H: 6' 5"
W: 203 lbs
Bday: 09/30/1985
(30 Years Old)

Current: SG
NBA: SG
Possible: SG

Agent: Bernie Lee

High School: Lawrence Academy
Hometown: San Bernardino, CA
Best Case: Josh Childress
Worst Case: Matt Walsh

Predraft Measurements
| Year | Source | Height w/o Shoes | Height w/shoes | Weight | Wingspan | Standing Reach | Body Fat | No Step Vert | Max Vert |
| --- | --- | --- | --- | --- | --- | --- | --- | --- | --- |
| 2008 | NBA Pre-Draft Camp | 6' 4.25" | 6' 5.5" | 203 | 6' 9.75" | 8' 8" | 9.2 | NA | NA |



Basic Per Game Statistics

- Comprehensive Stats - Statistical Top 25s
| Year | League | Name | GP | Min | Pts | FG | FGA | FG% | 2Pt | 2PtA | 2P% | 3Pt | 3PtA | 3P% | FTM | FTA | FT% | Off | Def | TOT | Asts | Stls | Blks | TOs | PFs |
| --- | --- | --- | --- | --- | --- | --- | --- | --- | --- | --- | --- | --- | --- | --- | --- | --- | --- | --- | --- | --- | --- | --- | --- | --- | --- |
| 2011/12 | Greek | Richard Roby | 8 | 29.0 | 16.4 | 6.3 | 11.6 | 53.8 | 5.4 | 8.1 | 66.2 | 0.9 | 3.5 | 25.0 | 3.0 | 4.0 | 75.0 | 1.1 | 3.6 | 4.8 | 0.6 | 1.1 | 0.4 | 3.4 | 2.3 |

Player Page&nbsp&nbsp| Player Stats | Mock Draft History | Related Articles&nbsp&nbsp| Add to My Draft Express&nbsp
&nbsp
NCAA Weekly Performers, 1/30/08-- Part One
January 31, 2008
Richard Robyís journey as a prospect the past three years is about as strange as youíll ever see in college basketball. Following his sophomore season, Roby was viewed as a borderline first round pick, but chose to go back to school and further develop his game. Unfortunately, his development seemed to regress, as his shooting percentage dropped from 42% to 38%, while his three-point shooting percentage dropped from 36% to 27%, even though his offensive burden didnít significantly increase. Now, a senior, Roby has posted career highs in every shooting category, and by significant margins, too.

When looking at Robyís game, itís important to first mention Coloradoís new coach, Jeff Bzdelik, who has drastically changed the teamís style of play, bringing in a Princeton offense and slowing the teamís pace from 73 to 63 possessions per game. The team as a whole is taking much better shots, with their shooting percentage up from 42% to 45%, and three-point shooting up from 31% to 34%. Roby is obviously leading the charge here, as his shot selection is greatly improved, forcing far fewer bad shots, and benefiting from the offenseís ball movement with more open looks.

Looking at Robyís actual game, his shooting mechanics have cleaned up some, with him being more consistent than he was last year, but still showing a few problems. Most notably, he rarely holds his follow through on his shot, and at times appears to be rushed, which leads to some bad misses. He also has a tendency to push forward on his shot at times, which offsets the advantage he has with his superior length, leaving him prone to being blocked on the perimeter at times. Despite these problems, Roby is still shooting a solid 39% from behind the arc as Coloradoís go-to scorer, which is a testament to how much natural ability Roby has as a shooter. At times, Robyís quick-release is a thing of beauty, most often when he has space and gets his feet set, where his shooting motion is much more consistent and his success is more frequent. If he ever got to work with a shooting coach and really hammered out some of the inconsistencies in his shot, he could be an outstanding shooter, but these are criticisms that have been aimed at Roby as long as heís been a draft prospect.

Roby has also done a very good job utilizing shot fakes from the perimeter this year, faking the three and taking one or two dribbles forward for a pull-up jumper, which he hits fairly well in space. The rest of his mid-range game is pretty inconsistent and unreliable, and to his credit, heís really cut down on using it this year, not taking many off-balanced, contested shots off the dribble, something that hurt him in the past.

In terms of attacking the basket, Roby shows a decent dribble with both hands, though it can be sloppy at times, and he doesnít show much proficiency with it in a crowd. On his dribble-drive moves, he over-relies on his spin move, but does a solid job getting to the basket when in single coverage. Roby isnít especially quick with the ball, and doesnít have an explosive first step, so he probably wonít be very good in isolation drives at the next level, though he does do a good job making off-ball cuts. At the rim, he struggles to finish through contact, not possessing the greatest strength, but doesnít really shy away from it, getting to the line a fair share. When he isnít dealing with a weakside defender, Roby shows nice touch off the glass, showing a nice proficiency for using reverse lay-ups, and he can finish with either hand.

On the defensive end, Roby has played well this year, using his hands and length very well to pick off passes even block some shots, while playing fairly aggressive defense in general, showing a solid stance and often contesting shots on the perimeter. Laterally, he is just average, and heís definitely lacking in strength, getting pushed around whenever heís forced to defend the post. Robyís rebounding has been much improved this year as well, where he uses his length to come from out of position for boards.

Roby, while just an average athlete, has very good length, and clearly has a lot of natural talent, which makes his potential at the next level intriguing. While heís been a very good college player this season, thereís question about how some of his abilities will translate, and if he stands out enough in one area to earn himself a role in the NBA. Roby definitely has the potential to be a stand-out spot-up shooter, but will likely need to work with a shooting coach to fix some of the kinks that lead to his inconsistency in that area. Other than that, he needs to continue to improve his decision-making, something heís already made nice strides with this season. Roby could be a second round pick this year, and will have both pre-draft camps (starting with Portsmouth) and private workouts to attempt to distinguish himself for NBA scouts and executives.

[Read Full Article]

---
Top NBA Draft Prospects in the Big 12 (Part Three: #11-#15)
October 13, 2007
Richard Roby began his career at Colorado as one of the most heralded freshman prospects in the country. Shooting 44.5% from the field and 37.4% from the perimeter, Roby averaged 16 points, 5 rebounds, and 2 assists per game during his first season in Boulder. By the time he had finished his sophomore year, Roby was considered one of the premier shooting guards in the country, and led the Buffaloes to a 20-10 record. Despite flirting with the NBA following his sophomore year, he didnít find the waters particularly welcoming and ended up returning to school. He then went onto have one of the most fascinating regressions in recent memory. By the time the disastrous season had come to an end, Roby had seen his percentages drop across the board, and had an embarrassing 7-20 record to show for his efforts.

Roby still displays the skills and ability that made him a prospect two years ago. He has a scorerís mentality and has refined shooting instincts with the potential to make him a potential contributor down the road. However, the key word is potential. He has good touch with a quick release and limitless range, but his mechanics could use work. While his shot looked pretty consistent during his sophomore year, he now has one of the most inconsistent release points among draft prospects. In fact, he shoots the ball from the perimeter differently almost every time he takes one. Sometimes he has a smooth and fluid shooting motion that recalls a player like Reggie Miller, and then on the next play, he kicks his feet out like Dirk Nowitzki and launches it from above his head. The next time down he might even try a fade-away shot released from his chest. He must work on establishing consistency in his release point.

As with his perimeter jumpshot, Robyís turnaround jumper and ability to pull-up from midrange would be far more of an offensive weapon if he was more consistent. Because heís a volume shooter and a 17.3 point producer for the Buffaloes, his ability to shoot the ball has the ability to win and lose games. Last season, as the pressure mounted with NBA scouts watching and the Buffaloes relying on him more than ever as a primary scoring option, his shot selection went down the drain, and he started settling for too many tough and ill-advised jump shots. He finished last season shooting 38.3%, which ranked him near the bottom of legitimate draft prospects, mostly near guys much younger than him (he will be a 23 year old senior). Even more disturbing is that he ranks fourth amongst returning draft prospects in field goal attempts as well.

If Roby were to improve his ball-handling ability, then he could become a much better scorer because he already possesses the instincts to be a formidable shooter. He creates space well and uses screens to get open, but in the NBA, as is proving accurate in college, the fact that he is big for a shooting guard will not be nearly enough to compensate for his lack of a handle. He dribbles the ball out of control and too high to really be considered a threat to score off the dribble at the next level.

Roby likes to slash, being able to go to the basket with either hand. Though because of his poor decision making skills, it isnít hard to see why he turns the ball over more than he should. When he drives to the basket, he is the only player on the floor. Drive and dish is not really in his vocabulary at this point. Roby can finish with either hands, and though he is not overwhelmingly athletic, he is a good finisher with a variety of different ways to the ball in the basket, adding a nice floater by the end of the year. But perhaps more impressive than his finishing ability is his creativity with the ball when heís driving. Roby has the ability to spin in the lane to avoid defenders and has shown the ability to evade defenders with other similar tricks. We can only imagine what would happen if he tightened up his handle.

Roby isnít a bad rebounder, primarily due to his length, as his 5.5 rebounds per game would indicate. However, because of his lack of quickness, this length is not as much of a factor and defenders around the basket constantly beat him. He is a little on the skinny side as well and does not do a good job of fighting through screens, often going behind them and giving his man far too much room on the perimeter. His instincts are not as refined as they should be at this stage in his development, making him a fairly average defensive prospect as far as the NBA is concerned. In terms of his athleticism, Roby is not as smooth as you might expect a player with his game to be. He is a step slow, and though he is fast in the open court, he is not fast enough to blow by defenders in the lane. This lack of quickness puts him at somewhat of a disadvantage on the defensive end as well.

Despite how badly Roby played last year, his senior year might bring about a certain amount of redemption. With the signing of former Air Force coach Jeff Bzedlik and the inevitable institution of the Princeton offense, shooters like Roby should thrive. His NBA potential depends on such improvement, as heís going to have to show that he is the same player he was as a freshman and sophomore, as well as prove that he can win games as a primary option for the Buffaloes.

[Read Full Article]

---
NCAA Weekly Performers -- 1/10/2007, Part Two
January 11, 2007
Coloradoís Richard Roby put together his most promising performance of the season versus Texas, giving draft fans a glimpse of the player he has the potential to become, when not hoisting questionable shot after questionable shot on a consistent basis. He showed off his ability to create for others, which has been problematic for him thus far this season due to his lackluster offensive teammates and shaky shot-selection.

Roby clearly looked to score first whenever he touched the ball, using his explosive first step and long strides to gain ground on helpless Longhorn defenders. He showed off an excellent long range jumper, both on the move, from a stand-still, and off the dribble. The Buffalo junior was able to get his midrange pull-up jumper off whenever he wanted, fully exploiting the height advantage that he had over the Texas guards. From 3-point range he was virtually automatic when not forcing the issue, boasting NBA range when shooting the ball from the perimeter. While Roby's shot is adequate while on the move or off the dribble, it is a bit slow when his feet are set, as he brings the ball below his waste and is slow getting into the shooting motion, something that could hamper his effectiveness at the next level.

While Robyís scoring prowess is clearly his strong point, he did a surprising job creating for others in a losing effort. He would have easily wound up with more than the three assists he was credited for if his teammates were able to convert scoring opportunities based off his penetration. For a player who is regarded as a bit of a one man show at Colorado, is was pleasant to see Roby actually look to his teammates once in a while.

While the 2006 NBA Draft early entrant had an excellent game offensively, there were still some obvious flaws in his game. His ball-handling is not up to par for a shooting guard, as his handle can be a bit high and out of control at times. More importantly however was the fact that Roby seemed to lose focus very easily, especially on the defensive end. He appeared to constantly lose track of his man throughout the game, resulting in the collapse of the Colorado defense. Richard did however play the best defense of anyone on Texas phenom Kevin Durant, but it was a team effort as Colorado did a much better job rotating as a whole on the defensive end late in the second half.

Many are speculating that this will be Robyís last year at Colorado, largely due to coach Ricardo Pattonís resignation effective at the end of the season. He has stated publicly that he does not want to go through a rebuilding process, which Colorado will surely undergo during the 07-08 season. Last year, Richard would have likely been drafted, but made the right decision returning for his junior season. As it stands now, he would be a likely second round pick in the 2007 draft, with the potential to move into the late first round if he is able to play more consistently, due to his scoring ability and the 2007 draft classí lack of elite shooting guard prospects.

[Read Full Article]

---
Top NBA Draft Prospects in the Big 12 (Part One: #1-#5)
October 26, 2006
Richard Roby possesses all the length and athleticism youíd want from an NBA shooting guard, but heís a little below average in size. Generously listed at 6í6 and 200 pounds, Roby doesnít have ideal height and could certainly use some added strength to his frame.

Roby had a pretty strong sophomore season, being the main option for Colorado on the offensive end. Robyís production was inconsistent, though, and he really struggled towards the end of the Big 12 season, when teams were specifically game-planning for him.

Including Roby, Colorado will have only five returning players this upcoming season. Aside from Roby, none of them were starters, and none of them averaged more than 15 minutes per game. Roby will be the focal point of the team this season even more so than last, and it will be interesting to see how he handles the added attention.

At times, Roby is a deadly outside shooter, though heís very inconsistent, especially when his shot is contested. Robyís shooting form is not ideal, as he pushes the ball forward on what is basically a 45 degree angle, making his shot highly susceptible to being blocked. Even when it isnít blocked, Robyís shot is frequently altered by defensive pressure. Roby also has a tendency for his arm to drift to the right when heís rushing his shot, decreasing his accuracy.

To Roby's credit, he dealt with many double teams last year, and with his very quick release, he was often able to get off some very tough shots in a crowd. And in spite of his non-textbook form, he did shoot 42% from the field and 36% from behind the arc, which is not bad considering the offensive burden he had to take on, often being forced to take a heavy load of tough shots.

When Robyís open, and has time to get his feet set, he is a very good shooter from behind the arc. When heís moving, he does do a good job of keeping his body upright and balanced, but his accuracy suffers due to his inconsistent release point, and possibly a lack of strength. He has a lot of shots fall short, especially when fading away, leading one to believe some more lower body strength would definitely help improve his shooting accuracy.

Roby does a good job moving without the ball, usually staying in motion and gravitating towards the open spaces on the floor. He uses screens well to get spacing, and gets his shot off quickly coming off them.

Roby has a decent dribble-drive game to complement his outside shooting, being proficient handling the ball with either hand, and occasionally employing the use of crossovers and spin moves to get past his defender. He has a pretty quick first step, and usually can get a step on his defender. Once in the lane, Roby has a lot of trouble, often forcing up contested pull-up jumpers, being unable to create a good shot attempt for himself. When he does take it to the basket, he doesnít finish well, and doesnít take contact well at all. If he doesnít get fouled, his drives usually result in him just throwing the ball in the general direction of the basket.

Roby does finish well in transition, though, using his athleticism and speed to get ahead of the defense and usually emphatically dunking the ball. He also likes to pull-up for a spot-up three when on the break.

Roby possesses pretty good court vision in the half court, usually making his best passes to the post from the perimeter. He recognizes seams in the defense and keeps his head up when he has the ball, occasionally letting him find an open teammate near the basket. Roby does have a tendency to make some lazy passes, though, leading him to commit unnecessary turnovers.

Defensively, Roby possesses good enough lateral quickness to play in the NBA, though his mentality could use some work. He is inconsistent in his effort to play fundamental man-to-man defense and stay in front of his man. He also has a tendency to drift from his man without the ball, often gambling in the passing lanes. With his length and quickness, Roby is excellent at picking off passes, and he anticipates them well, though he could work on gambling a little less. He also possesses good hands, allowing him to pick opponentsí pockets often.

Roby has the tools to play in the NBA, but his game could use some fine-tuning before he enters the draft once again. Adding some strength, committing more consistently to defense, working on a more consistent shot release, and working on finishing around the basket should be among his priorities. Itís also very questionable whether heíll be able to consistently get off his shot in the NBA with his forward motion, as he has already some trouble at this level of play. Roby has shown plenty of flashes of NBA abilities, and even plays at that level for stretches of games, but he needs to become a more consistent player on both ends of the court. That will be a tough task for him this season, especially considering the state of his team will require him to take on an even larger offensive burden than he had last season. Making things even tougher on him is the fact that he already burned his lone draft card, meaning there will be no more testing the water for him. Next time he decides to enter, there will be no looking back.
One person who will certainly not be back following this season is his head coach Ricardo Patton, who announced he will be leaving Colorado when his contract is up in July.

[Read Full Article]

---
Richard Roby Interview
March 28, 2006

DraftExpress: You were one of the very first players to announce that they were entering the NBA Draft. Can you tell me a little about why you decided to enter this year?

Roby: I thought that I had a good enough year thatÖIíve been on the NBA radar all season. I thought I had a good year, but I didnít end the season like I wanted to. It probably put a question mark in their minds about me a little bit. I feel that if I go to camps and workouts that Iíll be able to change their minds. Plus Iím just testing the waters. Iím not hiring an agent, so I can always come back to school.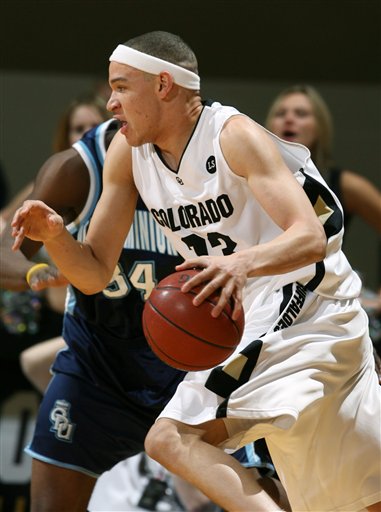 AP



DraftExpress: You mentioned your struggles late in the season. What was different? Why do you feel you struggled so much after having such a hot start?

Roby: There were two parts during the season that I had my highs. Right before Christmas, and right in the beginning of the Big 12 season. After I had those games where I was scoring a ton of points, teams really began to key on me and we didnít really make any adjustments to counter that. I knew it was going to be like that after a couple of games. Teams were going to try to ďXĒ me out of the games and we were doing the same things that we were doing before and that wasnít going to work with the changes the defenses were making. Because of that, I struggled a little bit. When I would struggle, my team would usually struggle.

DraftExpress: Didnít it go through your head that the struggles you just talked about could have really affected your draft stock?

Roby: I took it into consideration. It made me much more careful about whether I put my name all the way in or if I take it out. Itís really going to come down to the workouts. Plus this year, Iíve been hearing that a lot of teams need players that play my position, so a lot of teams will need two guards this year and thatís what I play.

DraftExpress: Now you spoke of about how youíre just testing the waters, but itís been reported that you withdrew from all your classes. How are you going to be eligible at Colorado for next season if you were to pull out?

Roby: I did withdraw from all my classes, but I picked up two correspondence classes to make sure that will keep me eligible for next year. I talked to all the eligibility people and academic advisors to make sure that I did everything correctly to play next year.

DraftExpress: Earlier you had mentioned how key you felt that workouts and the pre-draft camps were. Are you open to playing in the NBA Pre-Draft Camp in Orlando?

Roby: Yes. Iím not 100% if Iím going to play in it, but itís still definitely an option. I donít want to close the door on that option yet.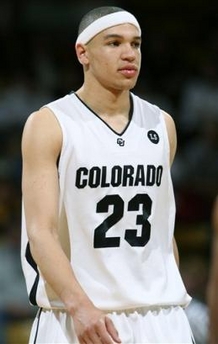 AP



DraftExpress: So if you were in the situation that you werenít a definite first round pick, youíd go play in the Pre-Draft Camp?

Roby: Yeah, definitely. Iím never nervous about playing in anything where I can showcase my game. Iím never nervous about me going up against anybody or me being exposed. Personally, I just feel that I would excel. I have a lot of confidence in my game.

DraftExpress: Where do you feel that youíll be picked in this yearís draft if you stay in?

Roby: Iíve heard from different people, but Iíve heard 14-22, even into the early second round. Mostly what Iíve been hearing though is mid to late first round. Thatís mostly what Iíve been hearing. You never know whatís exactly true or not though.

DraftExpress: Whatís it going to take for you to stay in this yearís draft?

Roby: Iím going to have to have good workouts and be confident in the information that Iím receiving from people. Iím just going to put it in Godís hands basically. I feel he has a plan for me. I think if I have good workouts for the teams individually against some of the other top playersÖthat will really determine where I go.

DraftExpress: So are you looking for a first round promise to stay in?

Roby: Definitely. If itís even close, Iíll come back to school.

DraftExpress: What areas of your game are you really looking to improve in the period that we have now before workouts with NBA teams begin?

Roby: I could polish up a little bit of everywhere, but mainly ball handling type things and creating separation. Also, you can never shoot enough, so thereís definitely going to be a lot of shooting.

DraftExpress: Have you decided what youíre going to do as far as pre-draft training?

Roby: Iím not 100% yet, but there are a couple of options that Iím looking at right now. Iím going to talk to my mom and Kenyon [Martin, his half brother], and then make a decision.

DraftExpress: Are you looking to go back to California to train, or will you go wherever you feel you can improve the most?

Roby: If youíre going to get me ready, Iím going to be there. Iíd prefer to stay in California, but if that doesnít work out, then Iíll deal with it. Iíve been away from home since I was 14, so thatís not a problem.

DraftExpress: Thanks Richard, that about covers it all. I appreciate you taking the time out of your hectic schedule to talk to us. Best of luck with your pre-draft training and workouts leading up to the draft.

Roby: Thank you. Iíll definitely keep in touch.

[Read Full Article]

---
In Case You Missed It...the Top Weekly Performers, 1/16-1/23
January 24, 2006
Averaging 27 points over his last three games, and generally just having a really nice all-around sophomore season is smooth 6-6 Colorado swingman Richard Roby. Against Missouri last week Roby went off for a career high 33 points on 6-11 shooting from behind the arc, and then followed that up with 21 points in an easy win over Baylor before finishing off a terrific week with 27 points on 12-21 shooting in a narrow and very important 2 point victory over Oklahoma State. That win brought his team to 3-2 and a share of 2nd place early on in the Big 12 and 13-3 on the season overall. Taking care of business at home in their next two games against Nebraska and Kansas State should see them return to the top 25 for the first time in a couple of seasons.

A big reason for that is the play of their sophomore stud Roby who has established himself as a legit NBA prospect. Roby has nice size for the shooting guard position at 6-6 with very long arms to go along with that. His best attribute as far as the NBA is concerned has to be his outstanding stroke from the perimeter, featuring deep range, effortless mechanics and a quick release. Watching him shoot it is not hard to notice how much talent he has in this area. He moves off the ball extremely well and is generally a very intelligent player in everything he does. He does not force the issue and is very adept at finding teammates with a variety of shrewd passes, showing an outstanding feel for the game. Defensively he uses his long arms to the fullest to get in the passing lanes and even block shots when the opportunity arises. Being more than just a one-dimensional player on the catch and shoot, Roby can score pulling up off the dribble from mid-range as well. He uses the threat of his shot very well to get his man in the air and then smoothly slash right by him, but lacks a bit of strength to finish at the basket and is better off elevating for a jump-shot instead. Not being a very explosive athlete, he doesnít have a great first step or very good ball-handling skills and therefore isnít the best slashing threat in the world.

There has been some early-entry talk revolving around Robyís name lately and you have to wonder if the hype might be coming a little prematurely for him. In a draft that appears to be stacked with wing players, itís tough to see where a player like Roby fits in in the first round. Heís yet to fully grow into his frame, is lacking a lot of polish beyond his shooting stroke, and is not really an explosive athlete. While he has his half brother Kenyon Martinís complexion, he certainly does not have his quickness or hops. Thatís not to say heís not an extremely talented player, but it will probably take an NCAA tournament run or a couple of superb performances against some of the top perimeter talent in the league before he truly solidifies himself as a first round prospect.

[Read Full Article]

---
In Case you Missed It: the Best NCAA Performances 2/22-3/1
March 19, 2005
Lost somewhere in the Mountain Time zone is perhaps the best freshman guard you haven't seen play. Richard Roby, a fearless and athletic lead guard averaging a shade over 16 points a contest, has been carrying his Colorado teammates for most of the season. On Saturday, the talented freshman out of San Bernadino, Cal. had his best statistical game of the year, nailing seven three-pointers en route to a season-high 30 points in the Buffaloes' close loss to Kansas State.

Roby, whose complexion and game reminds one a little of Notre Dame's Chris Thomas, is a superior leaper with a quick, no-hitch release. He is the half-brother of NBA star Kenyon Martin, and definitely has basketball in his blood While his team's season has been an unquestionable disappointment (13-13, 11th in the Big XII), Roby has been a bright spot in Boulder. The youngster leads his club in scoring, steals, threes made and, tellingly, turnovers. But while his game needs seasoning, Roby's talent is undeniable to anyone who watches him play. He is unflinching in pressure situations and, undoubtedly, should show more control and improved decision-making next season. Despite a lost season for the Buffaloes, Roby is one to keep an eye on.

[Read Full Article]

---